I can't believe 2018 just passed like that in a blink of an eye. Don't you think the period between Christmas and New Year's gives off such a weird feeling? Like you're still in a Christmassy mood yet you need to keep reminding yourself that Christmas is over. And New Year's Day is when you realise that not only is Christmas well and truly over (the malls in Singapore don't seem to believe in the 12 days of Christmas because Chinese New Year decorations are up), but that even the YEAR is over!
My New Year's resolution for this year is to get off my ass and try something new, each and everyday. I think trying new restaurants and cafes is the easiest (!) but I also want to have new experiences be it in terms of travelling to new places, reading new books or even watching new performances. I have actually been in that framework of mind since December, so I can say December saw a few first from me. One of which is still etched in my mind is my one day trip to JB with 2 friends. It's the first time I have travelled overseas with friends (not family) in more than a decade, and also probably a decade since I last visited JB. I am itching to go again! Blog post on that JB day trip will be up soon.
Another first that I can report is watching a musical in Mandarin, the Musical TARU! It is a Mandarin production that has been locally adapted from Korea's No. 1 Family Musical. I have not watched any theatre performances in the longest time due to time constraints, and much less one in Mandarin! It was also Edward's first musical and the husband's first musical in Mandarin! My Mandarin isn't that great, although I definitely can understand conversational Chinese. Even people who do not understand Mandarin can watch the musical because English subtitles are provided via two screens mounted on the left and right walls beside the stage. I had to depend a lot on the subtitles though because it often is a little bit more difficult to decipher what is being said when it is being sung instead of spoken.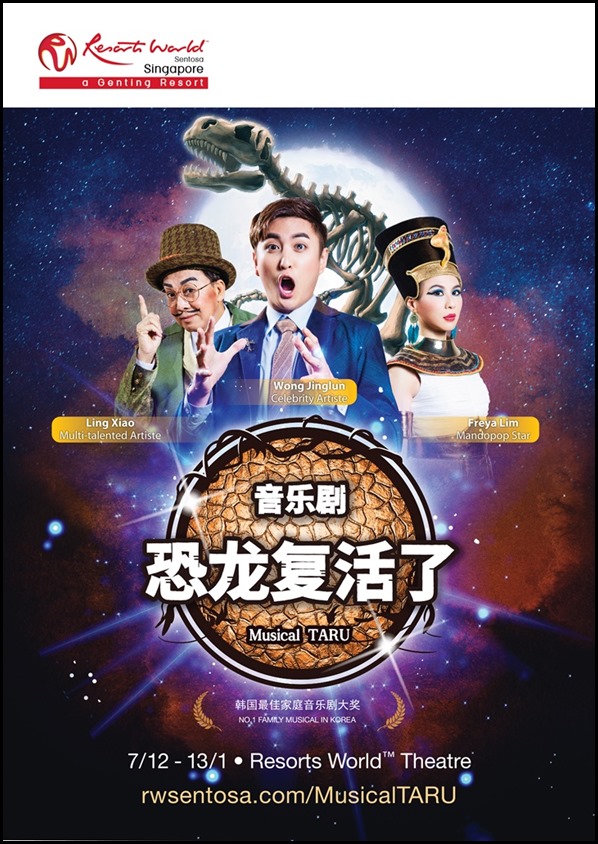 The language didn't deter Edward though. He was more mesmerised by everything else. Can you imagine a toddler absorbing the huge spectacle in front of him, from the grand props, to the singing and dancing, and just so many people prancing on stage? I was pleasantly surprised that he clapped vigorously when it was time for the audience's applause! Such a cute sight of a little toddler clapping as if he were a musical buff all along. He also managed to sit through nearly the entire performance (there was a 15 minute intermission in between two 40 minutes of performance) and only started to get off his seat and disturb Pa Pa 15 minutes towards the end.
I too was wowed by the spectacular setting on the stage. I must say they would make for great pictures if we were allowed pictures (I was allowed some as Media). The cast also looked like they were in top form, full of energy and never missing a beat. The scene changes also seemed pretty seamless. I must admit though that the storyline was a bit predictable and would probably appeal more to children. Some of the songs were also quite catchy and I wouldn't mind listening to them again. I was also happy to have been able to learn a few new Mandarin phrases, and super happy for Edward to have had this opportunity to be immersed in a Mandarin performance. I hope he managed to see that Mandarin can be useful and fun too.
Watch the curtain call of Musical TARU below. You can simply sense the energy of the cast! Love the Egyptian mummy and how he flings the bandages around!
Go check out the Musical TARU, especially if you have young kids or kids who love dinosaurs! They will be spell-bound!
---
Add me on Facebook, Instagram and Twitter if you want to be kept up to date with the latest happenings in the food and lifestyle scene in Singapore!
---
What:
Musical TARU (恐龙复活了!) More information and pictures via this link : Musical TARU
When:        
Premieres on 7 December 2018, Friday, and running till 13 January 2019, Sunday, for 31 shows on selected nights at 8pm and selected weekends' matinees at 2pm
Duration:
80 minutes (without intermission)
Language:
Mandarin (with English subtitles)
Where:
Resorts World Theatre, Resorts World Sentosa
Tickets:
Tickets are priced at S$38, S$58, S$78, S$88 and S$108. Prices exclude SISTIC booking fees and handling charges. Tickets can be purchased via: (65) 6348 5555 | www.sistic.com.sg | Resorts World Theatre Box Office
** This post was brought to you in collaboration with Resorts World Sentosa.