*Media Invite*
313 Somerset is having a yummy promotion that you might just want to consider if you plan to shop there this weekend, or if you work in the Orchard area. From now until 31 August 2012, if you purchase the 313 Dining Wallet, you will get $40 worth of dining vouchers for the price of only $19!
313 Dining Wallet
These coupons are colour-coded into different dining options: SNACKS/DESSERTS, DRINKS, LUNCH & DINNER. Each coupon can only be used once. The LUNCH coupon can only be used from 11.30 am — 2.30pm while the DINNER voucher can be used from 6pm until closing time. All other vouchers can be used any time of the day. In addition, there is a $5 Coffee Bean voucher, a $5 Famous voucher and a $10 Flying Bread voucher.
There's no need to worry about not utilising all the Lunch, Dinner and Snack vouchers cuz if you think about it, the 3 additional vouchers already amount to $20. That means that anything else you eat is FREE! Great huh! Of course, if you want to utilise all the vouchers and you don't want to have to keep going to 313 Somerset, your best bet would be to utilise them on a weekend. Have a leisurely lunch, shop a little, and then have dinner! Be careful though, the vouchers are not valid for Blue Mountain Cafe and Paradise Inn on Fridays — Sundays.
Here's the full list of 313 Dining Wallet participating outlets where you can utilise you vouchers.
Reviews of some of the food outlets at 313 Somerset
I had the opportunity to sample some of the delights from the outlets participating in the 313 Dining Wallet promotion. The prices listed are what you would have to pay if you did not have the vouchers.
~~~LUNCH~~~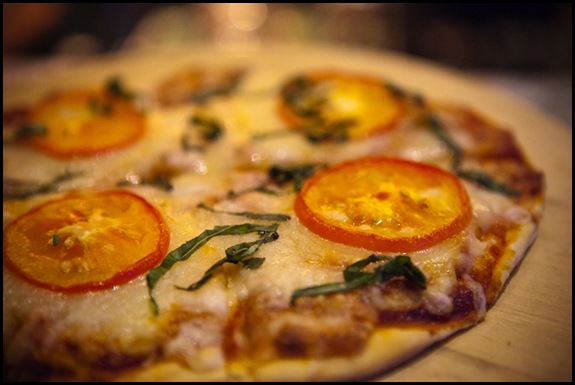 Malones Irish Restaurant and Bar — 5 inch Margherita pizza with tomatoes and mozzarella $8.90++
The pizza isn't very big and is rather thin too so it may not be enough for big eaters. Taste-wise, I liked that the toppings were very juicy.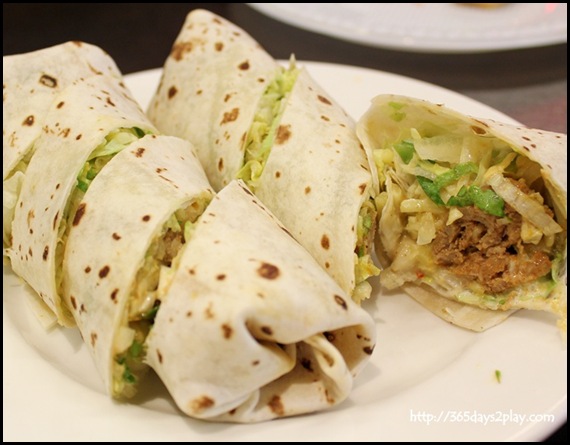 The Flyin' Bread – Small Wrap + a Cookie $7.40
I liked the healthy tasting wrap. There was just enough mayonnaise to pull together the flavours of the meat and vegetables, without drowning them. The wrap itself also had a nice flavour and texture. I could consider having this for lunch. And it doesn't feel that small either. Eh? We didn't get to sample the cookie!
~~~Dinner~~~

Paradise Inn – Stir-Fried Hor Fun with Beef.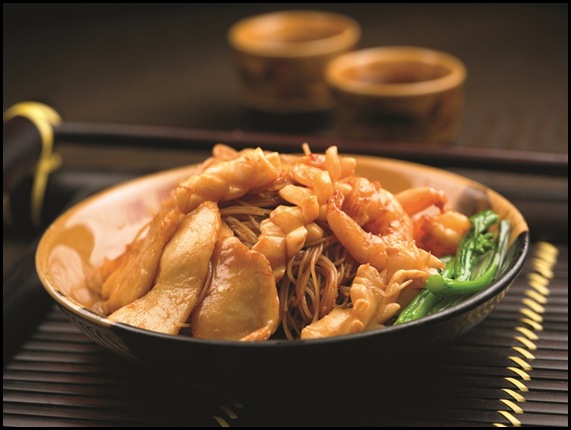 Paradise Inn – Braised Vermicelli with Seafood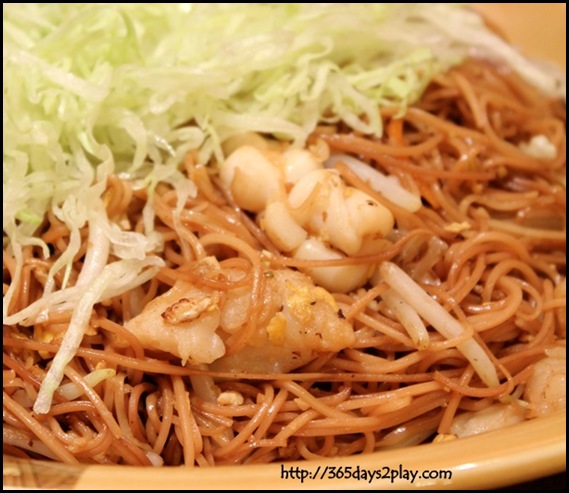 Paradise Inn – Homemade Style Fried Vermicelli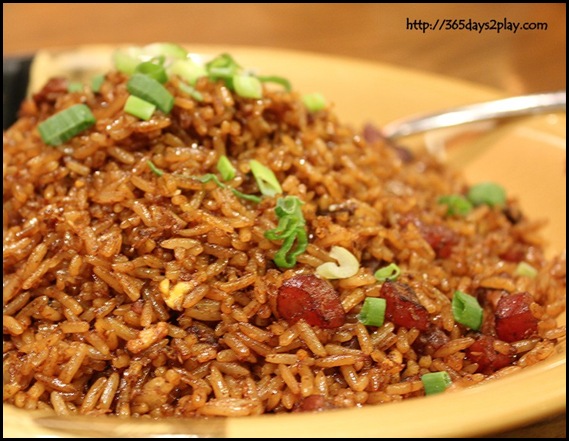 Paradise Inn – Fried Rice with Chinese Sausages and Mushrooms
I think many people are familiar with Paradise Inn. They serve delicious Chinese food at pretty affordable prices. All of the above dishes come with a drink and the usual price is $15.40++. Personally, I like the 2 vermicelli dishes the most. The Seafood one was chock a block with seafood, while the homemade style vermicelli had a very nice springy texture which I love, although this dish had less ingredients.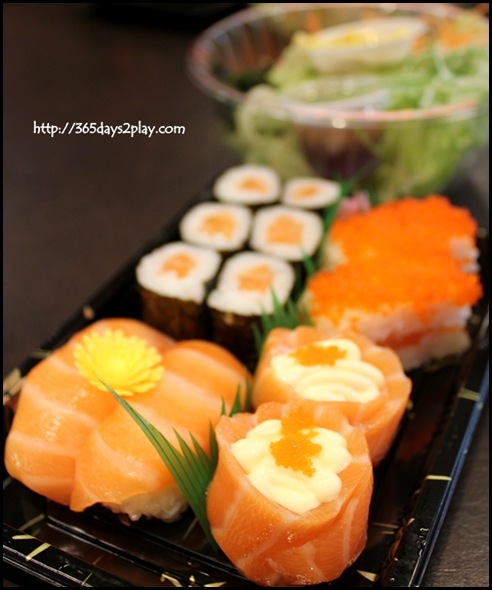 Umisushi – All Salmon Platter and Vegetable Salad $9.40
Salmon lovers may want to consider using your dinner coupon on this. Sushi pieces tasted very fresh and had generous amounts of salmon. And if that wasn't healthy enough, there is a side salad to boot.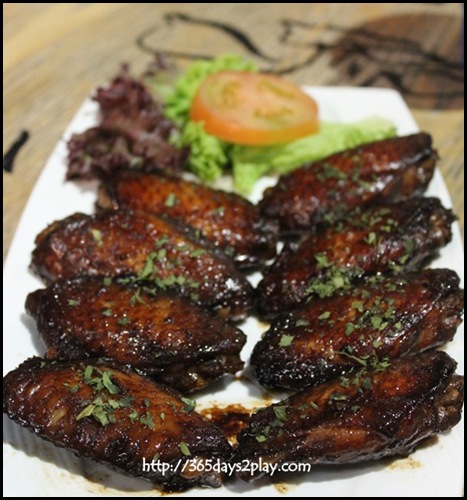 Charlie Brown Cafe Special Dinner Set which includes Soup, Charlie Wing Rice, Soft Drink and Ice Cream $20
Sticky sweet chicken wings. Quite palatable, but I think I prefer barbecued chicken wings with the crispy charred edges and a smoky flavour.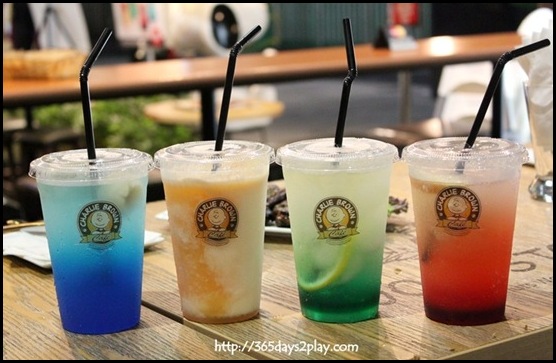 A drink comes with the set, but I would advise you to leave it alone. It tasted like sugar water with added colour… Very pretty though.
~~~Snacks/Desserts~~~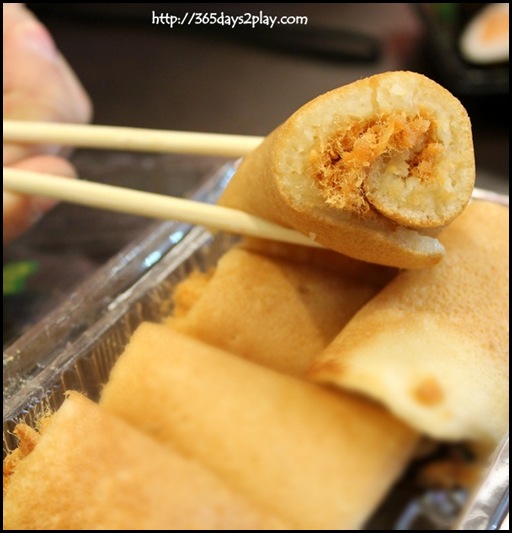 Jollibean Chicken Floss Pancake $2.40
If you're a fan of the Jollibean pancake, you might just want to try this. I personally am not a fan because I never did like the thick pancake. Also, the chicken floss just didn't seem to go well with the pancake. A moister filling would have been a much better choice.
313 @ Somerset
Address: 313 Orchard Road, Singapore 238895
Tel: (+65) 6496 9300
Fax: (+65) 6496 9301