Nothing gets me rushing out the house like a new cafe opening in the Eastern part of Singapore. Even though Singapore may be getting a little saturated in cafes as a whole, one can never have too many cafes in your own neighbourhood. I'm sure you'd agree with me on that, unless well, you live in Tiong Bahru.
This time round, it's a new cafe in the Bedok Reservoir area that opened just last week! And will you believe it, I've already visited it twice! Once on Saturday evening at about 9.30pm where the kitchen had closed and we could only order drinks or cakes. We returned again the next morning to check out the brunch menu. The brownie with ice cream was nothing spectacular, but the brunch menu was really good, especially for the affordable prices charged!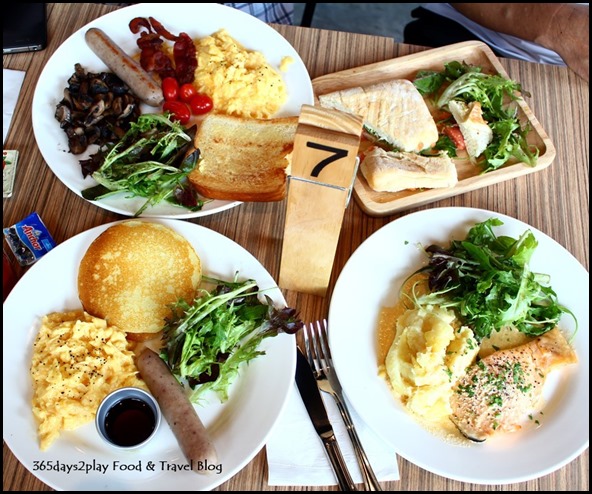 What we had for brunch!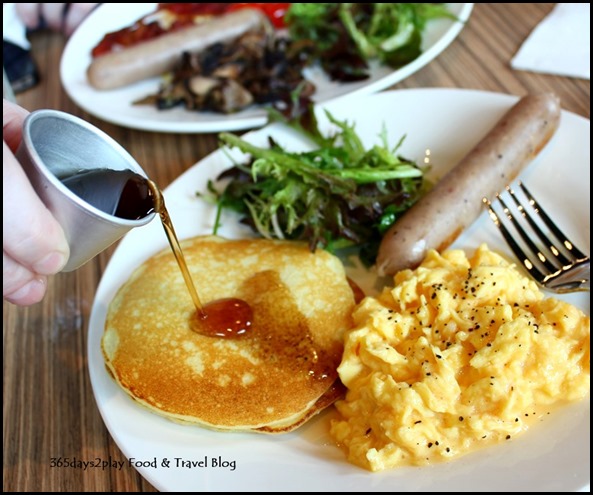 Refuel Pancake with bratwurst sausage and scrambled eggs $9.90
This, in my opinion, is the most value for money dish on the menu. Not only does it have a good serving of eggs and sausage, you are also given 3 pancakes. I thought the pancakes were smaller than usual, but trust me, you'll be very full by the time you get to the end of the dish. This is like a savoury dish and dessert mixed into 1. First you eat the eggs and sausage with one or 2 of the pancakes, and you finish off by dunking the entire sweet syrup onto the pancakes and turning it into dessert. Really good! The eggs were creamy and soft, the bratwurst was tasty and flavourful, and the pancakes were light and fluffy. For $9.90, you really couldn't ask for any better. As it is, I'm craving those pancakes right now!
Another look at the creamy scrambled eggs. They are not so creamy as to be cloying thankfully.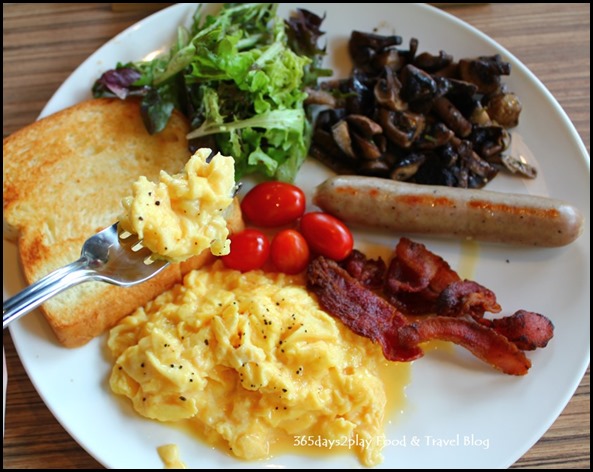 Full Tank (Bratwurst, bacon, scrambled eggs, mushrooms, toast, tomatoes, potatoes & salad) $13.90
The Partner ordered this Full Tank, also known as the all day breakfast. A very well rounded dish with the mushrooms and bratwurst sausage being the highlight for him. Speaking of the sausage, it did strike us as looking like the cheap and tasteless variety, but it was really very flavourful and juicy. According to the Partner, all day breakfasts HAVE to include a hashbrown, which was missing in this plate.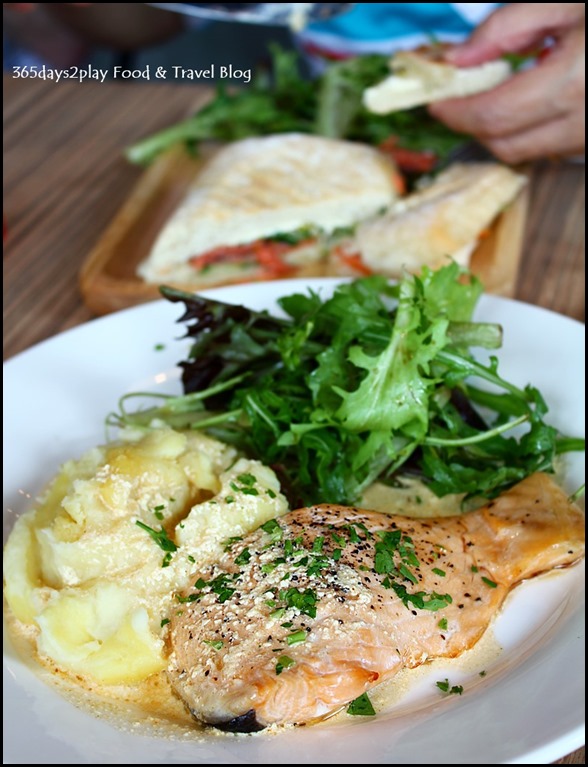 Baked Salmon fillet with mash potatoes, creamy spicy sauce & salad $13.50
My mother ordered this and had no regrets. The creamy spicy sauce seemed to have curdled, judging by the separated milk solids. But otherwise, the salmon was nicely cooked and still tender. The sauce had just a slight hint of spice and lemongrass I believe. The mash potatoes were also very moreish.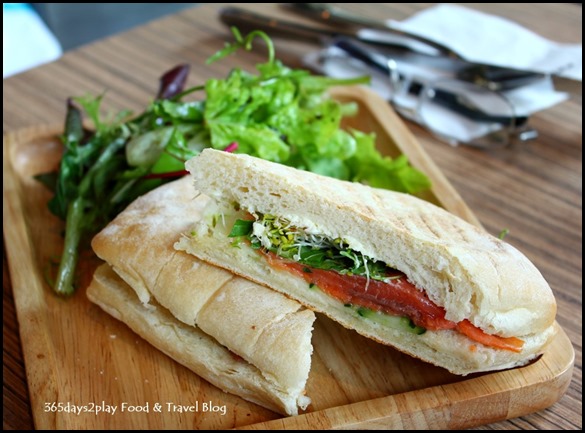 Smoked Salmon and Cream Cheese Sandwich $10.90
My father wanted to order the baked salmon dish, but decided to go for the smoked salmon sandwich instead to have a bit of variety. The sandwich was alright, nothing spectacular in his opinion. You might want to go for the baked salmon instead if you can't decide between the two.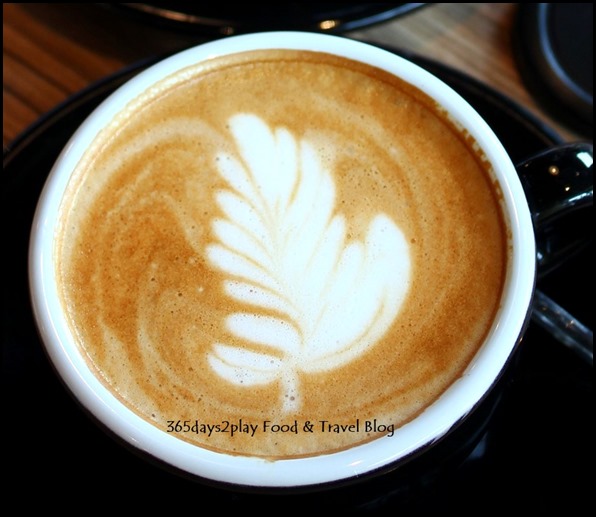 Flat White $5.20
And how could we leave Refuel Cafe without trying their coffees. Food may be cheap, but the coffee isn't. Flat white was pretty good, but had a slight bitterness to it. Perhaps they need a bit more time to hone their skills. Nevertheless it was still a palatable and enjoyable cup! Check out Percolate for flat whites that cost only $4!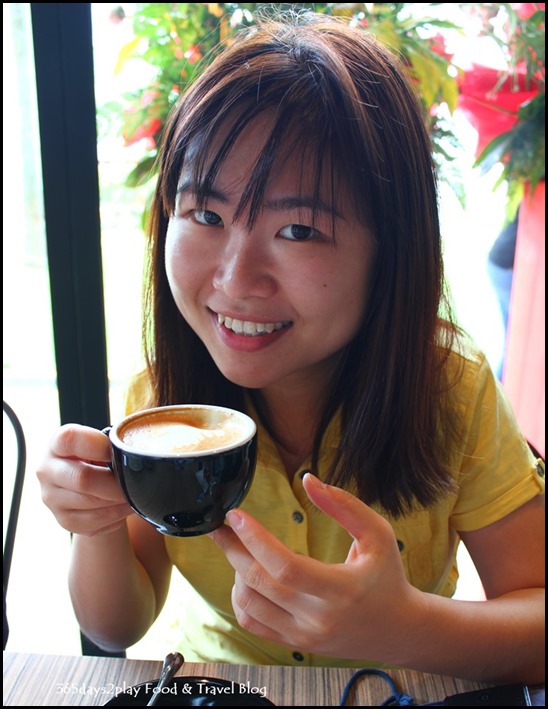 Hmmm, I thought I did comb my hair before getting out the house?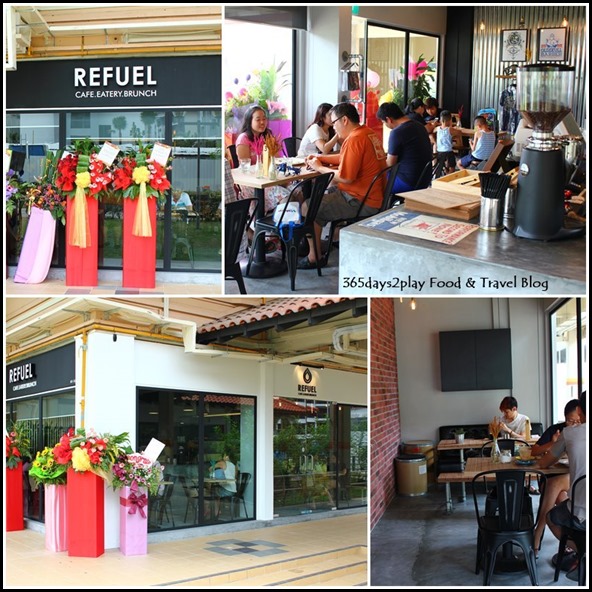 I love the Bedok Reservoir neighbourhood that Refuel Cafe is located. The whole area seems so peaceful and laid back, with numerous interesting shops that you seldom see. Spotted 2 bird shops, a party goods store, a book shop and even an automated Laundromat. There's also a 24 hr Muslim coffeeshop which I might just check out the next time I have a midnight prata craving. And the Bedok Reservoir Park is just ahead. After desserts on our first visit, we spent some time strolling around and working the calories off at the free fitness stations. It can get quite dark and quiet at night in this area though.
Refuel Cafe is opposite the upcoming Archipelago condo, and just 2 minutes walk from the Sheng Siong Supermarket. You can see it if you are driving along Bedok Reservoir Road but you gotta have your eyes peeled as it isn't very obvious.
Here's my take on other great cafes in the East (Marine Parade, Katong, Bedok, Simei, Changi)
---
Add me on Facebook, Instagram and Twitter if you want to be kept up to date with the latest happenings in the food and lifestyle scene in Singapore! 
---
Refuel Cafe
Blk 744 Bedok Reservoir Road #01-3029 Singapore 470744
Tel : 6448 0015
Email : contact@refuel.sg
Hours : Mon: 11:00 – 22:00   Wed – Sun: 11:00 – 22:00  Closed on Tuesdays