During my stay in London back in May, I had the privilege of dining at one of Four Seasons Hotel's London restaurants. There are two Four Seasons Hotels in London, one being at Park Lane and the other being at Ten Trinity Square. Although I desperately wanted to try more, the choice was whittled down to La Dame de Pic at Four Seasons Hotel London Ten Trinity Square for 2 reasons. One is that La Dame de Pic in London is a Michelin-starred restaurant, having being awarded the star in 2018 & 2019 Michelin Guide. The other reason being that La Dame de Pic would be opening a restaurant in Singapore so it would be a great opportunity to compare both restaurants, or to simply visit just to reminisce my holiday in London.
La Dame de Pic London offers distinctive French cooking from the acclaimed Anne-Sophie Pic. She is the only current French female chef to hold 3 Michelin stars. Anne-Sophie had not originally contemplated being a chef and was never formally trained. However she was born into a family of chefs. Her family's restaurant Maison de Pic in Valence originally won 3 Michelin stars under her grandfather Andre in 1934, and then later her father. The restaurant lost its 3rd star in 1995 after the sudden death of her father, however Anne-Sophie managed to regain the stars on her own in 2007.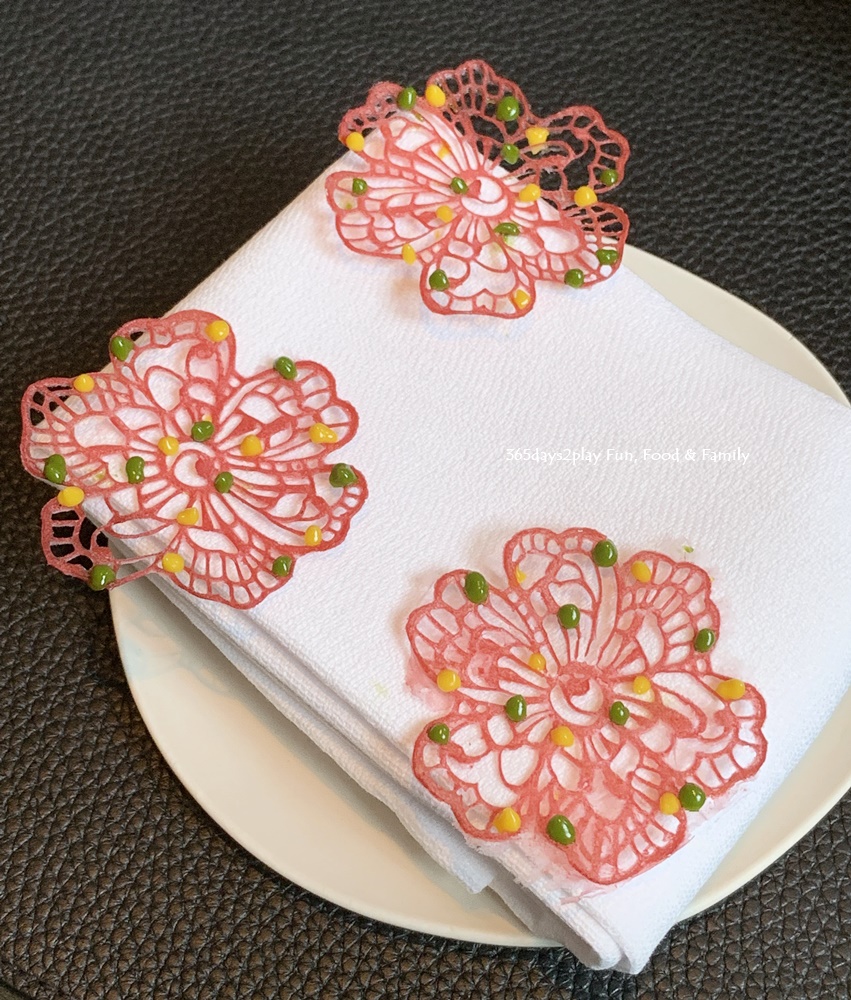 Beetroot Flower Amuse Bouche
What sets Anne-Sophie apart from other chefs is her imaginative approach, exploration and creation of new flavour combinations and using undervalued ingredients such as beetroot, turnip and cabbage. This, we certainly witnessed at the start of our meal when the amuse bouche dishes were served. It's a pity the amuse bouche dishes are at the whim of the chef, because I certainly would have paid to be able to try them again.
The delicate as air beetroot flowers, and delicious too, would surely amaze even seasoned diners. The appearance of a waffle put a playful spin to the atmosphere and my only question then was how to scoop more of the delicious coffee cream onto my waffle and eat it with decorum, while concurrently distracting my toddler from swiping my share of the waffle because he'd already inhaled his. The second amuse bouche was equally tasty. There must be some magic in the Jasmine because who knew that carrots and yoghurt would go so well together?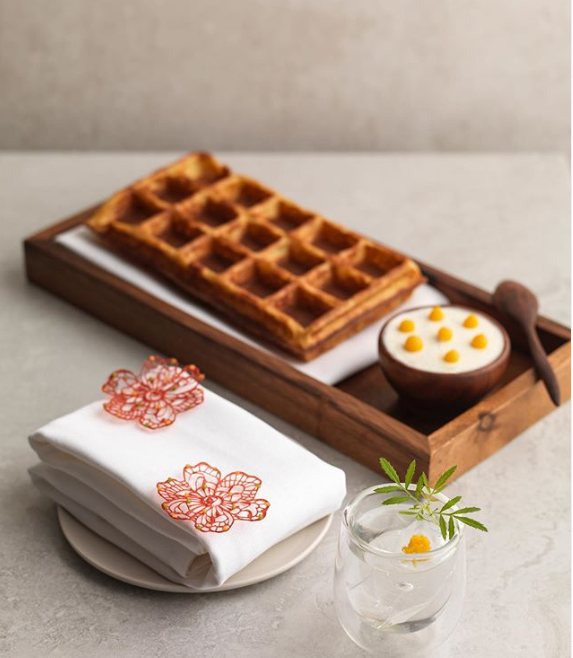 Curry waffle with coffee cream and bitter orange, beetroot flower and a miniature gin & tonic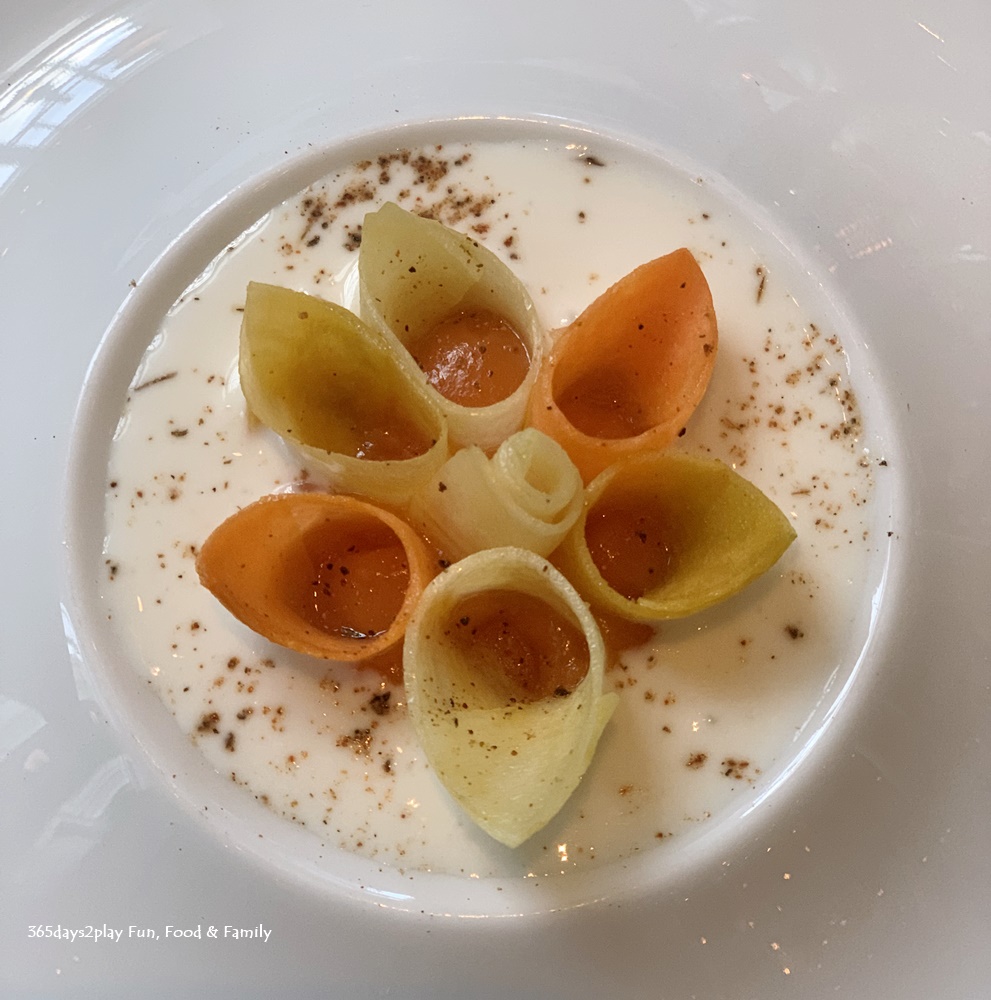 Amuse bouche of carrots with jasmine yogurt and voatsiperifery pepper
The starters that we ordered were also very good. The Partner enjoyed his Scottish Langoustine which I did not taste because I was completely absorbed by my own starter. La Dame de Pic has a way with creams because that smoked eel ice cream blew my mind. It isn't as strong tasting as it sounds, but the smoked eel flavour was definitely detectable (a good thing), and together with the ocietra caviar and scallops in yuzu, transformed the humble beetroot.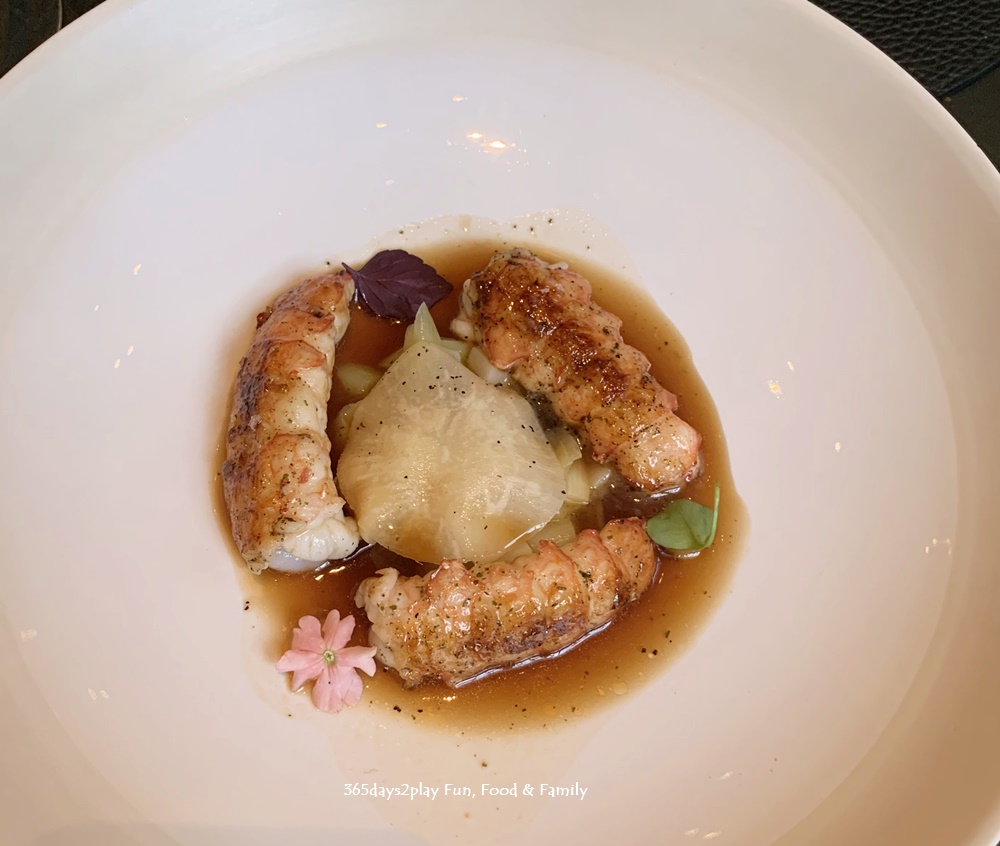 Scottish Langoustine (Marinated in acacia honey, korerima and angelique white asparagus with yuzu) £28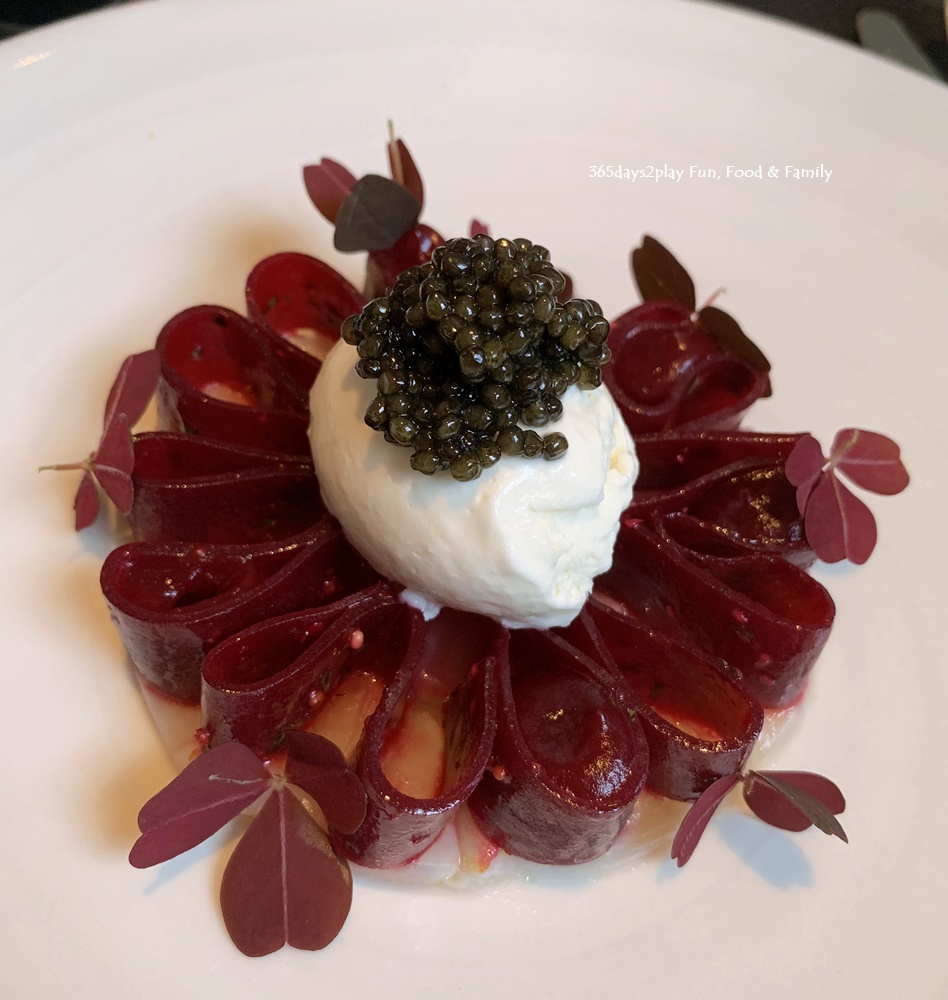 Scallop (Marinated in yuzu, ocietra caviar, beetroot and vietnamese coriander, smoked eel ice cream) £33
The mains were more of a hit and miss with us, partly due to us making wrong order choices. I had ordered the venison and foie gras because I love foie gras, and had mistakenly assumed the venison to be in steak form. The foie gras was but a thin sliver and the venison was some how not as juicy and tender was I would have liked. The veal shortbread had a melt in the mouth texture and was really enjoyable. It may look a tad small on the plate, but do not be mistaken because the Partner could only finish 2/3 of it due to its richness.
Venison and Foie Gras (Pithivier, Likouaia pepper, meyer lemon with nikka whisky and crispy spring salad) £43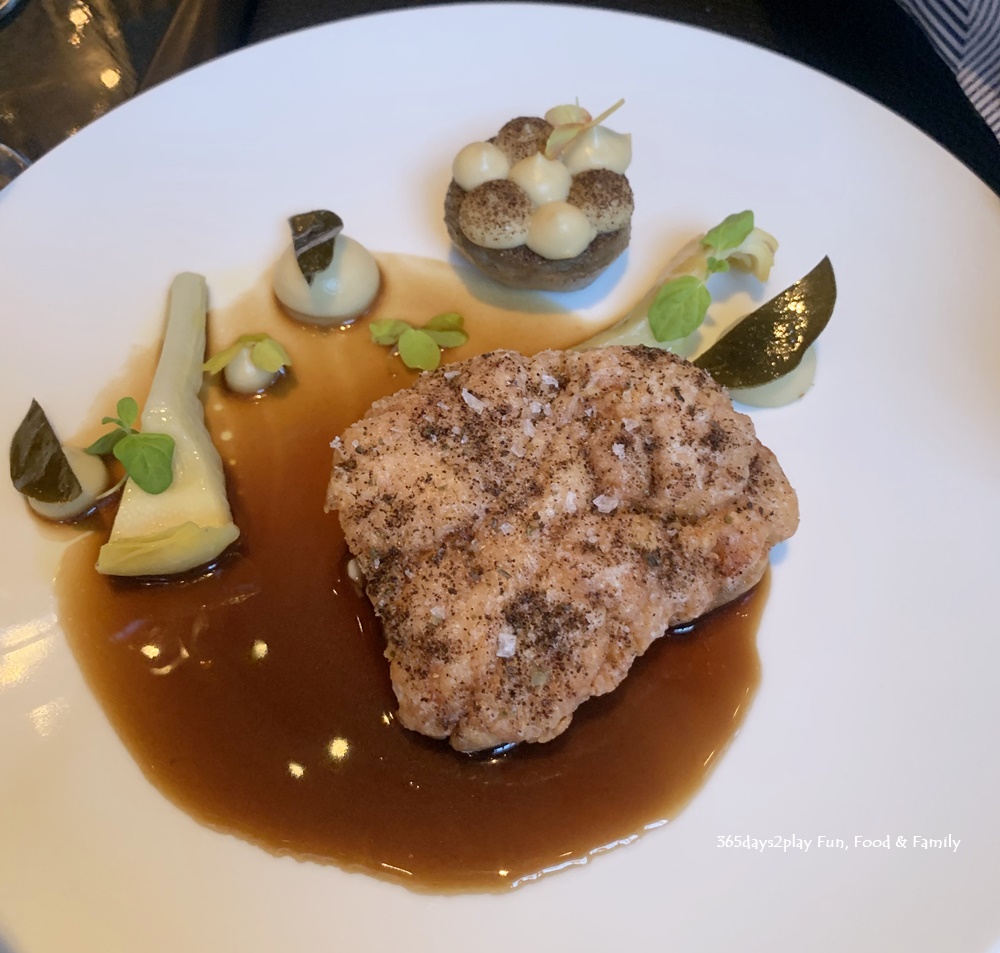 Veal Sweetbreads (Baked with Gruyere and millesime pepper, purple artichoke with Amaretto, coffee and capers) £42
I did not really enjoy my dessert as well. This sometimes happens when you expect a dish to be a certain way, but it turns out to be quite the opposite. I like my tiramisus literally soggy with coffee liquor, and not too much mascarpone cream so that I can get to the soggy sponge easier, but this was more cream than coffee sponge. I know there are variations to how tiramisus are made, but I suppose the raspberry confit was the nail in the coffin. A tart and tangy flavour in a tiramisu just doesn't work for me. It was stated in the menu, so bad me for not having paid attention to it when ordering. Thankfully, the Partner did enjoy his creamy White Millefeuille.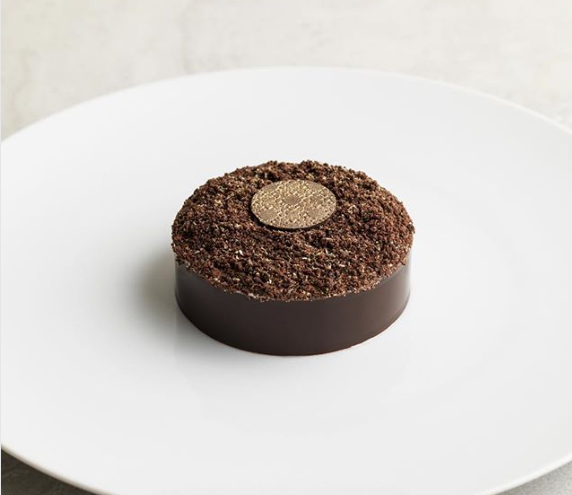 Tiramisu (Coffee Sponge and raspberry confit, cacao nibs infused mascarpone cream) £12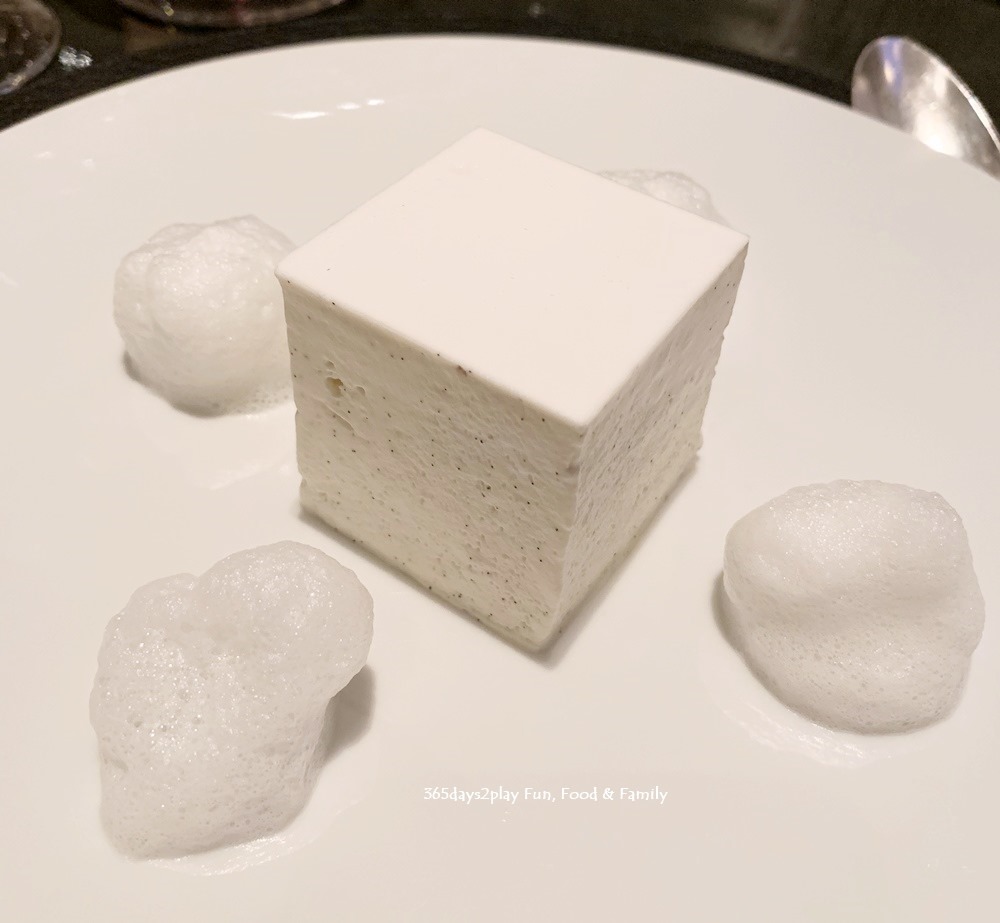 The White Millefeuille (Tahitian vanilla cream, jasmine jelly, voatsiperifery pepper foam) £12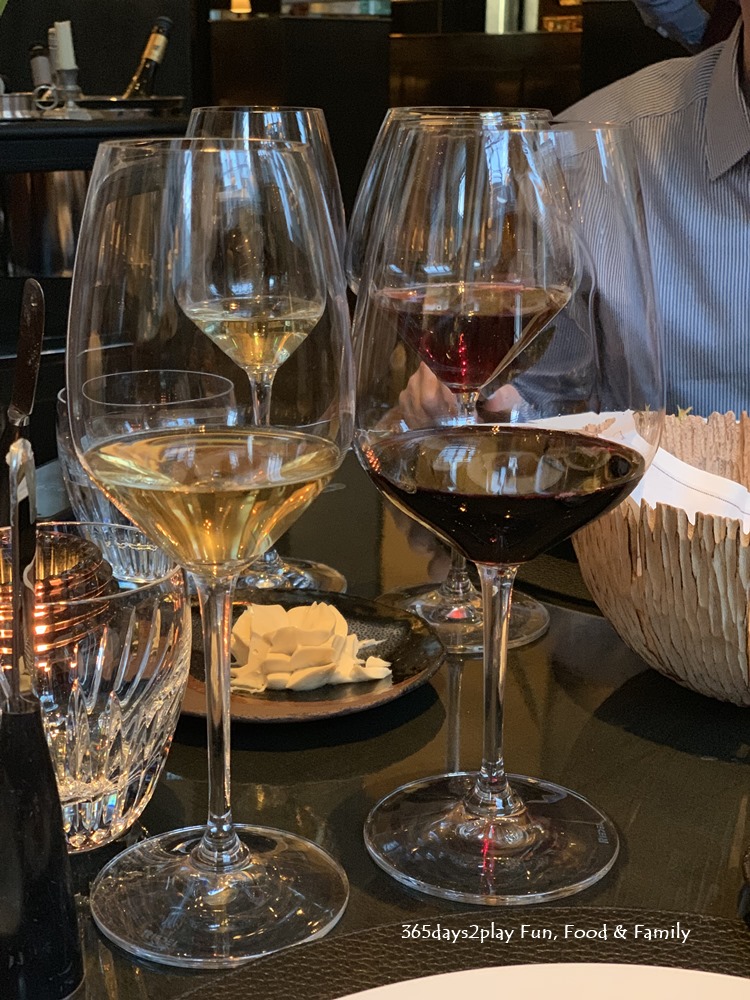 Wine Pairing
Happy Diners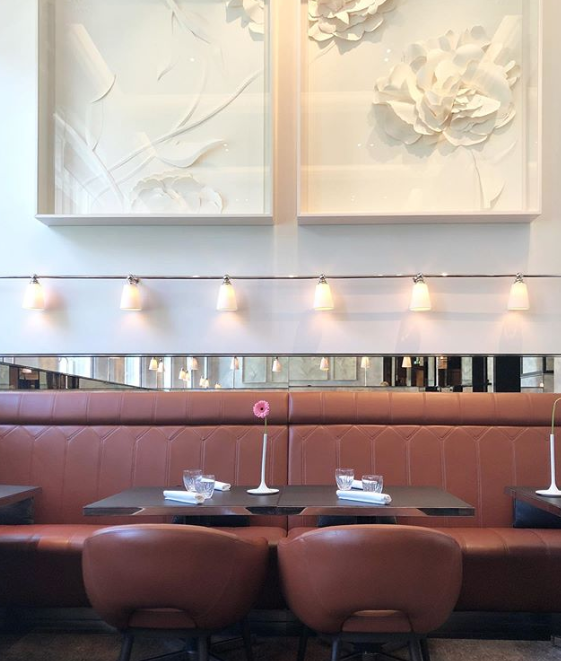 The mains and desserts didn't work so well for me, and I think I'll put it down to having chosen the wrong dishes. But what I remember more are the outstanding amuse bouche and appetisers, and to be able to sample dishes like those again is reason enough to return.
*Thank you Four Seasons Hotel La Dame de Pic London for hosting us.


---
Add me on Facebook, Instagram and Twitter if you want to be kept up to date with the latest happenings in the food and lifestyle scene in Singapore!
---
La Dame de Pic London
10 Trinity Square, London EC3N 4AJ, UK
Opening Hours : lunch 12:00 to 14:15 | dinner 18:00 to 21:30 | closed – Sundays
Tel +44 (0) 203 297 3799
https://www.ladamedepiclondon.co.uk/ 
Reservations : https://www.ladamedepiclondon.co.uk/#reservation
Menu : https://www.ladamedepiclondon.co.uk/menus/