Recently, I received an email from a lady living in Australia asking me for recommendations for 2 "must visit" cafes in Singapore when she is here. After thinking long and hard, and taking into account proximity to tourist locations, I finally recommended Casa Verde at the Singapore Botanic Gardens.
I love Casa Verde because of its unique location. It's right smack in the middle of the Botanic Gardens, which means you get to dine in lush greenery, with the sounds of some fountains to aid your digestion. The breakfast at Casa Verde is quite good, and very affordable. An English Fry-up aka Big Breakfast aka Gourmet Breakfast costs only $14! If you come before 11am, you get a drink thrown in as well. There are some local favourites like Laksa and Mee Siam too, but I'd rather go to a hawker centre for that.
Seating is a bit of a problem on the weekends when everyone descends upon this place, children, dogs and more. If you don't mind not having the free drink, you can still enjoy the all day breakfast at other times of the day.
Here's what we enjoyed for brunch some months ago. We arrived just after 11am so we had to order from the lunch menu.
Whole Day Gourmet Breakfast (Choice of fried or scrambled eggs, mushrooms, back bacon, Cumberland sausages, has brown, grilled tomato & 2 slices of toasted country bread served with butter and preserves) $14 — You know I have this love affair with eggs, I just can't resist posting close up shots of eggs. I think for $14, this is a pretty good deal! My favourite breakfast joint Epicurious still takes the trophy, but this is not too bad either. Only thing is, they don't have baked beans.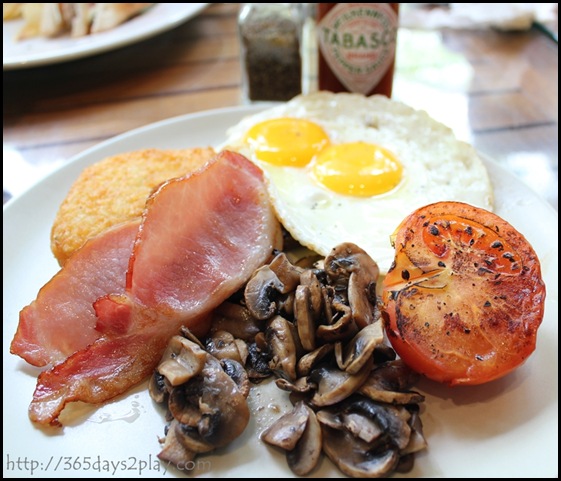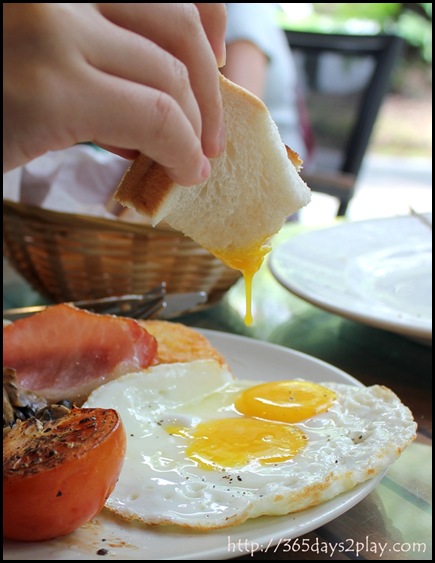 This is also part of the Whole Day Gourmet Breakfast Set, just that I have chosen eggs done sunny side up instead of scrambled. I like it that the bacon used is back bacon. Streaky bacon just feels too oily and sinful for me when not cooked by myself.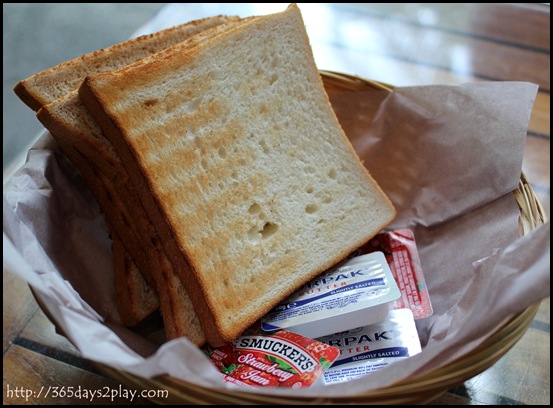 Lovely warm toast to go with all the eggs.
Tuna Mayonnaise on Foccacia $12 — There are not that many pescetarian options at Casa Verde so my father was forced to order this despite not liking tuna all that much. In the end, the tuna mayonnaise was a bit too creamy to his liking. We have eaten really good tuna mayonnaise sandwiches before at Egg3 Cafe and this one at Casa Verde didn't quite match up.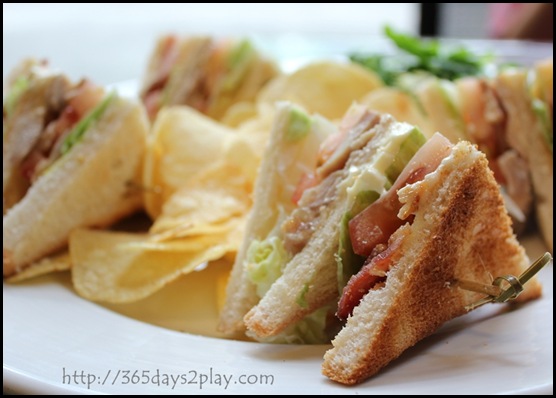 Casa Verde Club Sandwich $12.50 – Loved the chicken within the sandwich. It was tender and flavourful. Tomatoes and lettuce tasted fresh and complemented the chicken well. Once again, the chef was rather heavy handed with the mayonnaise. If you don't like too much of it, be sure to tell them in advance.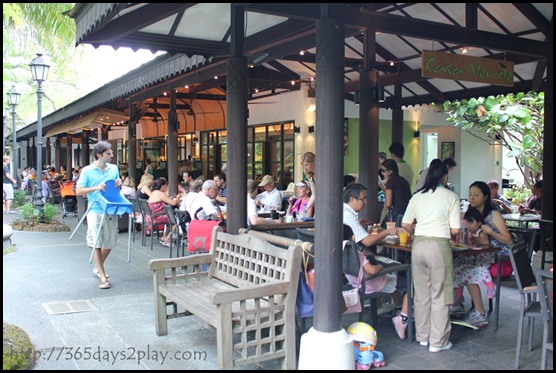 Crowded crowded crowded! This was 1pm on a Sunday!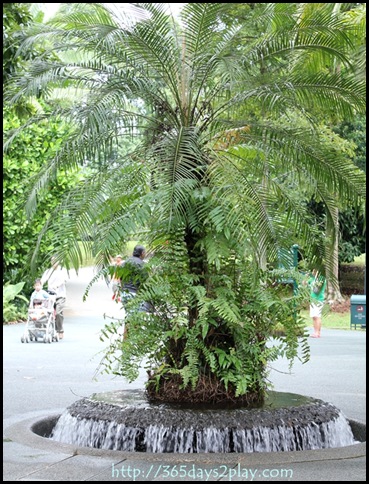 Dining amidst greenery is a really good way to spend a lazy weekend
Casa Verde (by the Les Amis Group)
Visitors Centre, Singapore Botanic Gardens, Cluny Road Singapore 259569
Tel: 6467-7326
Sundays to Thursdays: 7.30am — 11am (Breakfast) 11.30am — 6pm (All-day Dining) 7pm — 11pm (Dinner — Last order at 9.30pm)
Fridays, Saturdays and eves of Public Holiday
7.30am — 11am (Breakfast) 11am— 6pm (All-day Dining) 7pm — 11pm (Dinner — Last order at 10pm)
http://www.lesamis.com.sg (click here for menu and prices)