Tucked away in the Newton area, just off bustling Orchard Road is Skyve Wine Bistro. It occupies the former Monk's Hill Secondary School. The place is pretty old school, pun intended. There are lots of plants all around which makes you feel as if you are dining in a park. Skyve has just revamped their menu and we were lucky to have the opportunity to check it out. The area is pretty quiet at night even though it's Newton.
Featuring an all-day wine and dine concept open for breakfast to after-dinner drinks, the wine bistro offers three different spaces perfect for any occasion. Those inclined towards a quick tipple can opt for the alfresco area, while the indoor area comprise of the main dining hall with mismatched classroom-like chairs and a lounge area with long benches to reflect its "old school" character.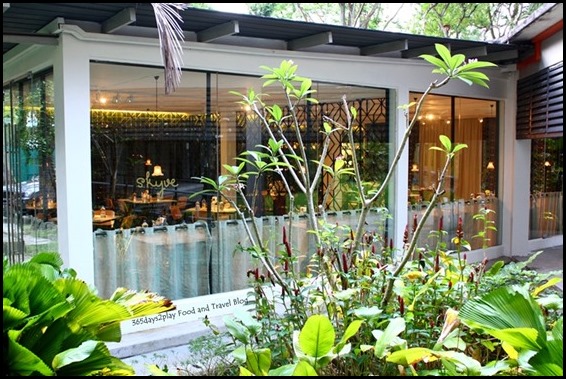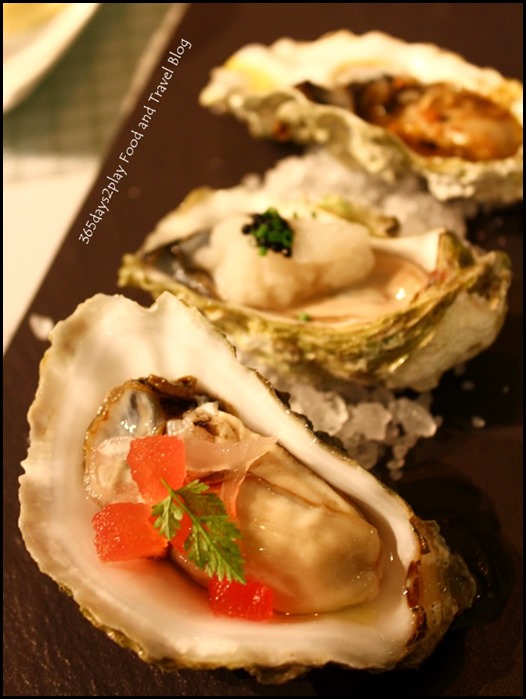 'Escargot' Style Oyster – gratinated in nori butter, shaved bonito flakes, toasted sesame seed ($34++ for 1/2 dozen)
Compressed Watermelon Oyster – diced compressed watermelon, pickled watermelon rind, extra virgin olive oil ($34++ for 1/2 dozen)
Lychee 'Saketini' Granita Oyster – lychee & sake sorbet, seaweed "caviar" ($34++ for 1/2 dozen)
Ooooh a must order for those who love oysters! There are a few styles to choose from, but these were the 3 that we got to sample. I like the Lychee Saketini Oyster the most, although the compressed watermelon oyster was a close second. I think sweet flavours do go well to enhance the natural taste of the raw oysters. Didn't like the escargot style one as the oyster was cooked.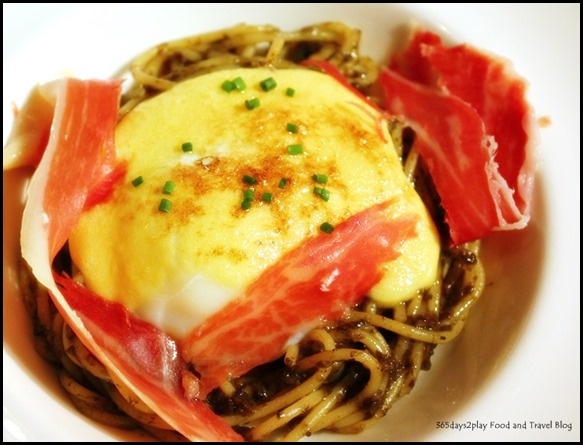 Sous Vide Egg & Spaghettini – soft poached egg, spaghettini in truffle salsa, iberico ham, truffle hollandaise ($18++)
While I love each of these items dearly, I thought that in totality, this was a very heavy dish for a starter. In particular, the truffle hollandaise was unnecessary as it masked the true flavours of the yolk.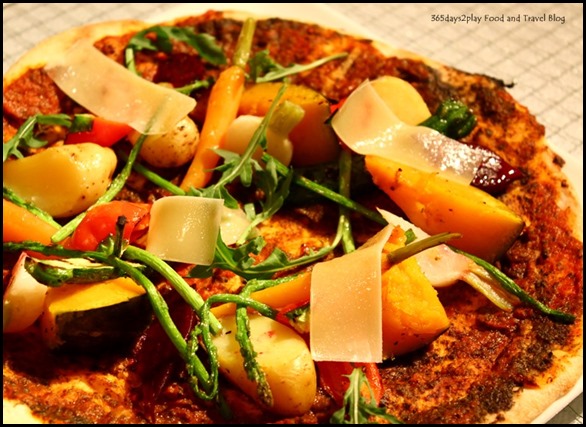 Vegetarian Pizza – sous Vide & Grilled seasonal vegetables, truffle salsa, arugula leaves, shaved parmesan cheese ($34++)
There is a hell of a lot going on for this pizza. The vegetables were all deliciously sweet and moist after having been cooked using the sous vide method. However, I'm not really sure if this is my idea of a pizza. The pizza base just seems to be an afterthought. I think this pizza would appeal to vegetarians and those who like to eat the toppings more than the pizza base, but personally I'd stick to my Napolitan styled pizzas anytime.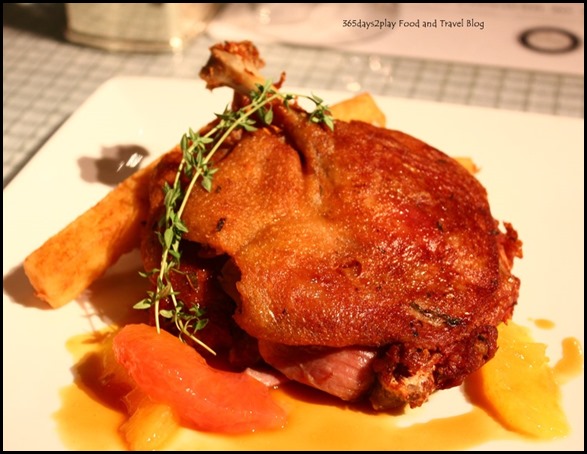 Asian Inspired Confit of Duck Leg – sous vide crispy duck leg in Asian five spice, pickled fennel and orange segment salad, polenta fries, orange sauce ($36++)
It's easy to overcook duck and an unskilled chef would produce a stringy piece of meat. I think the duck truly benefited from the sous vide cooking method. I love how crisp the duck skin still looks. The Asian 5 Spice adds an interesting flavour to the duck, although it still tastes pretty "Western" if you know what I mean. Love the orange slices, they add a delightful refreshing taste to the meat.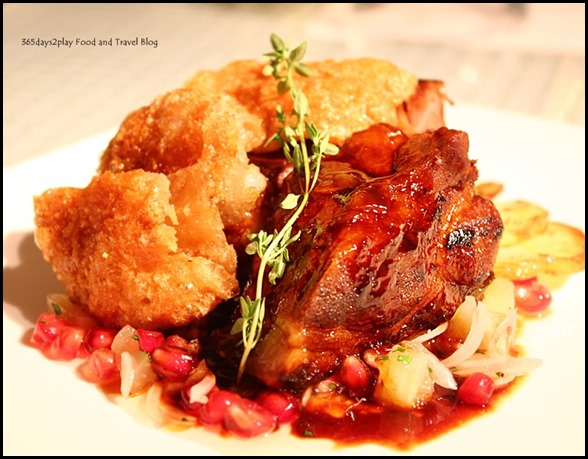 Sous Vide Pork – pork Shoulder braised in root beer and spice, savoury crackling skin, pineapple and pomegranate salsa, toragashi pepper, plum salt ($36++)
The pork shoulder was simply tender and melt in the mouth. The root beer lent an interesting caramel flavour to the pork, although I thought it was just a little too overwhelming.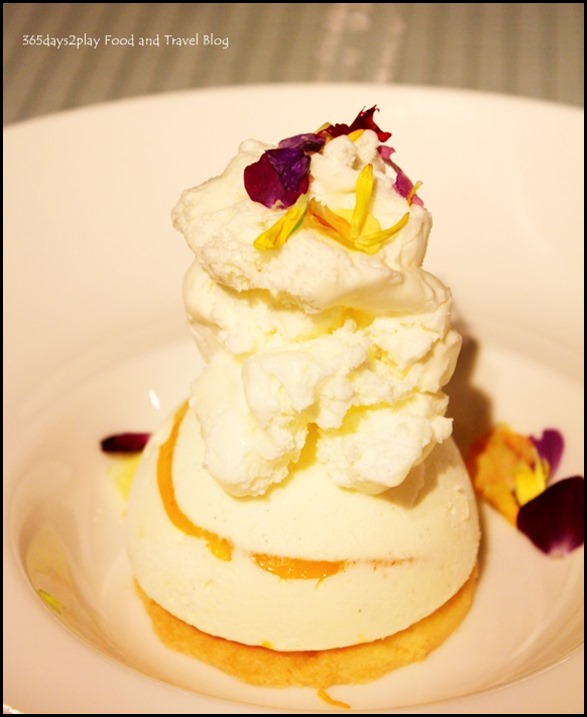 Mango & Cheese Semifreddo – rippled frozen mousse, Frozen lime foam, sablee cookies ($12++)
A light dessert to end off the meal. The sablee cookie tasted nice, but did not really blend in with the frozen mousse.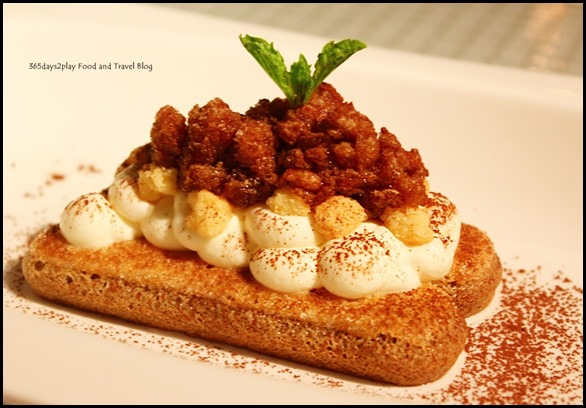 Tiramisu – lady finger sponge infused with coffee liqueur, whipped mascarpone cream, kahlua granita ($12++)
My favourite dessert of the evening!! I have to declare upfront that I love my tiramisus literally almost soggy with coffee liqueur, and the Tiramisu from Skyve fits the bill. I like it too that it's served in this manner as compared to in a glass or bowl. The reason for this is because I can get straight to the sponge without having to deal with the mascarpone cream.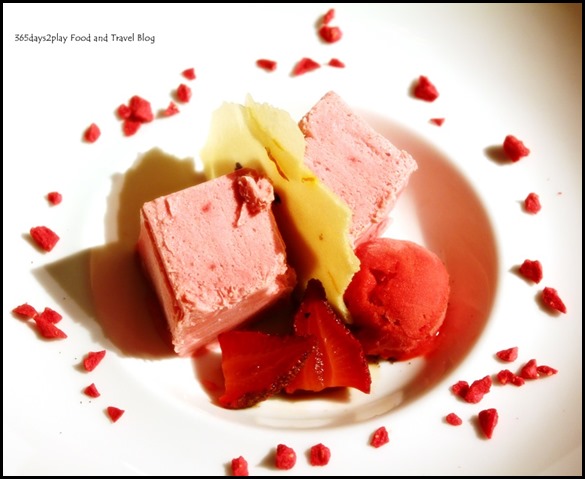 Inspired By Reds – strawberry parfait, sous vide strawberry in balsamic vinegar, raspberry sorbet, flower tuile, dehydrated raspberry ($12++)
This was not only a really pretty dessert, it tasted great as well! The chef must really love strawberries and raspberries to come up with such an innovative dessert. There is gelato as well as sorbet, for those who like them all. Another must order if you love berries.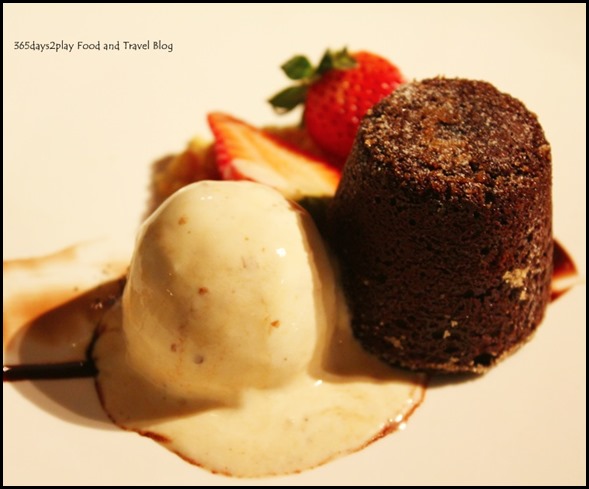 Callebaut Warm Chocolate Molten Cake – warm callebaut chocolate fudge center, maple walnut gelato ($14++)
This was a little disappointing because the centre was not molten at all.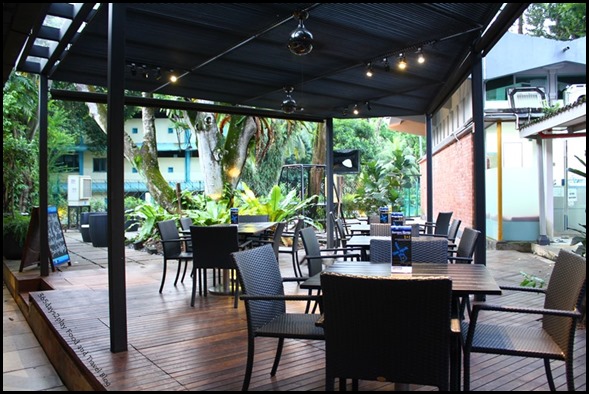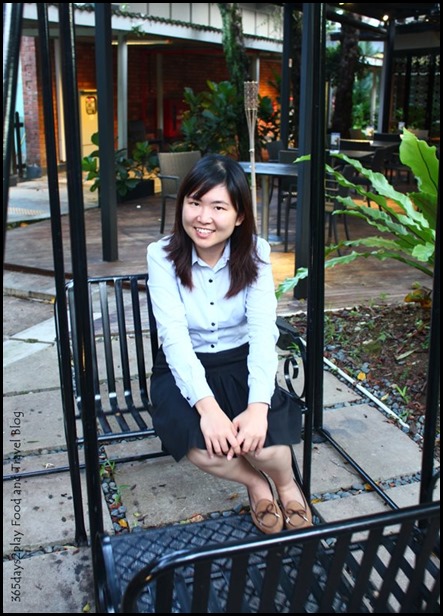 ~~~~~~~~~~
Add me on Facebook, Instagram and Twitter if you want to be kept up to date with the latest happenings in the food and lifestyle scene in Singapore!
~~~~~~~~~~
Skyve Wine Bistro
Address: 10 Winstedt Road
Block E, #01-17 Singapore 227977
For reservations: (65) 6225 6690
Website: http://www.skyve.sg
Operating Hours: 10am to 1am (all-day dining), Daily
Parking: Behind the bistro or along the road after 7pm