A few days ago, I caught my very first Cirque du Soleil performance. The name Cirque du Soleil has been around for 3 decades, but due to various reasons including costs (it costs a pretty penny!), I've never been able to watch one until recently. If you're new to Cirque du Soleil, and have the impression that they return to Singapore every couple of years or so, note that it's not actually the same show returning. The current one being featured at Bayfront is Kurios – Cabinet of Curiosities and is Cirque du Soleil's 35th production since starting in 1984.
If you've never watched a Cirque du Soleil performance, now is the best chance because I am told that Kurios – Cabinet of Curiosities is one of the better performances around. A Cirque du Soleil performance is not just your average circus show with acrobats and death defying acts. It's so much more than that. It's music, it's theatre, its drama, it's beautiful costumes and of course heart-stopping jaw-dropping acts, all beautifully weaved together in a fantasy storyline and whimsical stage props. Speaking of props, there are 426 props in Kurios, the most of any production in Cirque du Soleil's history.
Kurios – Cabinet of Curiosities is a tale in which time comes to a complete stop, transporting the audience inside a fantasy world where everything is possible. In an alternate yet familiar past, a scientist ("The Seeker") is convinced that there exists a hidden world — a place where the craziest ideas and the grandest dreams await. Out of his curio cabinet steps an international cast of 47 artists from 17 countries, a collection of otherworldly characters made up of world-class gymnasts, acrobats, contortionists, hand-puppeteers, yo-yo wizards, clowns, actors and musicians. Together they turn the Seeker's steampunk world upside-down as they are guided by an energetic gypsy jazz, electro swing soundtrack.
Without revealing too much, because part of the magic is in the novelty of seeing it for the first time, some of my favourite acts included the:-
Upside Down World – This is no mere balancing act on a tall stack of chairs, you will never imagine what happens at the end!
Aerial Straps – There are a number of "trapeze-type" acts but I love this one the most because of how graceful and fluid it looks. The acrobats swing so close to you accompanied by mesmerising music, how I wish I could reach out to join them in sailing through the air.
The Invisible Circus : "You've never seen anything like this… and you never will!" Whoever came up with this comic act is a creative genius! A hilarious act despite not being able to see anything, and a welcome break for the pounding heart!
And of course, the lovable mish mash of characters who traipse around seemingly randomly to entertain you as the stage is set for the next act.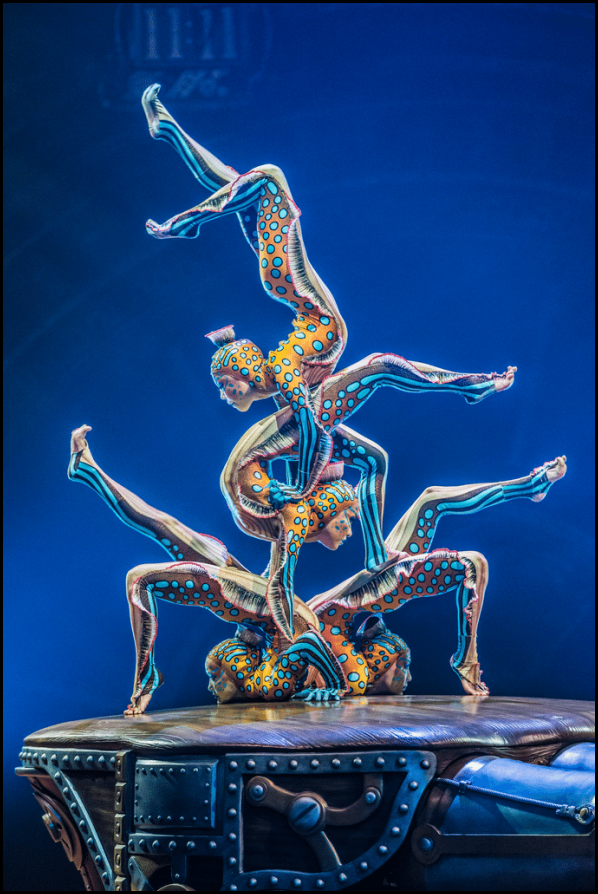 There were many "what was that?" moments where I wish I had a replay button to have a second look. As a friend aptly summarises, in this technological age where we are constantly glued to our digital devices for instant entertainment, it is a refreshing change to be able to be absorbed and entertained in this manner. And in this era of safety, it is quite something to see death-defying acts with no safety nets, not visible anyway. What you are witnessing is human perfection through sheer practice and dedication, not something that is achieved via a few clicks of a button.
Is the show child-friendly? Yes it is. The whole experience is so surreal, everyone becomes a child again in this wonderous spectacle. But if you had to choose between taking the kids vs some other adult, I say let the adults go. It's not often that one gets an opportunity to feel a sense of child-like wonder.
No videos are allowed, but you may take photos with your camera (no flash) but I say ditch the itch to document the performance (save for a couple of souvenir snapshots) because due to the distance and low lighting, it's unlikely that your photos will amount to anything good. But more importantly, allow yourself to be fully immersed in this surreal world of yesteryear, which is really part of the whole experience. Also, the pace is so swift, its easy to miss something if you blink! Really, a 2D picture will in no way capture the magical feeling of the sound and spectacle that you are witnessing.
Kurios – Cabinet of Curiosities is on until 18th August 2019. If you're worried about not getting the choicest seats, don't worry because the venue is actually quite cosy. The stage doesn't feel very far away even when standing at the entrance.
*Many thanks to Cirque du Soleil and Sliding Doors Entertainment for facilitating this review. Photo credits to Cirque du Soleil.
---
Add me on Facebook, Instagram and Twitter if you want to be kept up to date with the latest happenings in the food and lifestyle scene in Singapore!
---
Cirque du Soleil — Kurios Cabinet of Curiosities
Under the Big Top, Bayfront Avenue, beside Marina Bay Sands
12A Bayfront Ave, Singapore 018970
https://www.sistic.com.sg/events/kurios0819