RECIPES, a full-fledged restaurant managed and operated by SHATEC, will be serving a Four Course Set Dinner Anniversary Menu in celebration of its 30th year. This special menu comprises dishes created by well-known chefs, all of whom are SHATEC alumni. The special menu will be available only on 7th and 14th June (Fridays) for dinner at $42++ per pax. Do show your support for our home grown celebrity chefs as well as encourage the next generation of students from SHATEC to walk towards the route of culinary success!
It's interesting to note that many of our movers and shakers in the hospitality industry were formerly from SHATEC. Here are some illustrious members:
Simon Song — Executive Chef at Four Seasons Hotels and Resorts, Maldives
Ignatius Chan – Owner of Iggy's and a world-renowned restaurateur
Justin Quek — Owner of SKy on 57 at Marina Bay Sands
Arthur Kiong — CEO of Far East Hospitality
Nicholas Lim — Regional Director of Trafalgar Tours
We also got a chance to sample the dinner anniversary menu created by 4 famous SHATEC Alumni but cooked and served by SHATEC students. Of the 4 chefs below, I recognised Chef Pang Kok Keong's name without any difficulty as he is the owner of Antoinette, the lovely Parisien style patisserie cafe where you can find the best hazelnut nutella crepes in Singapore!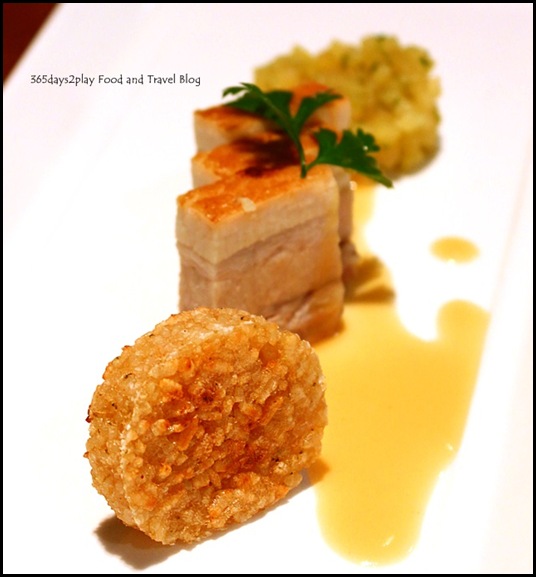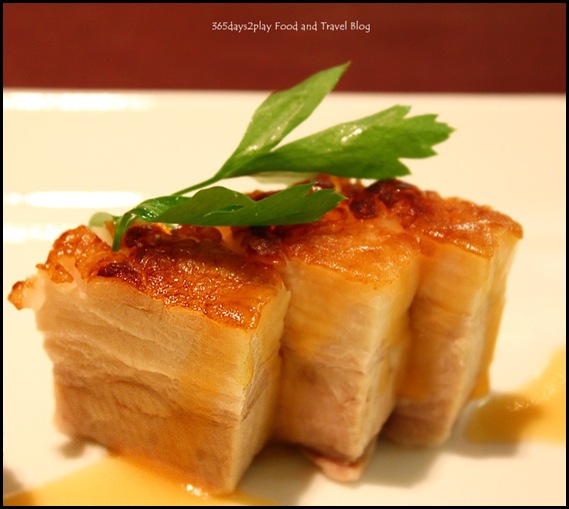 Appetiser — Slow Cooked Pork Belly with Apple Salsa
Created by Chef Randy Chow, Class of 1986
Certainly a very eye catching dish with lots of potential, although I'm not so sure what I'm supposed to do with the rice cracker.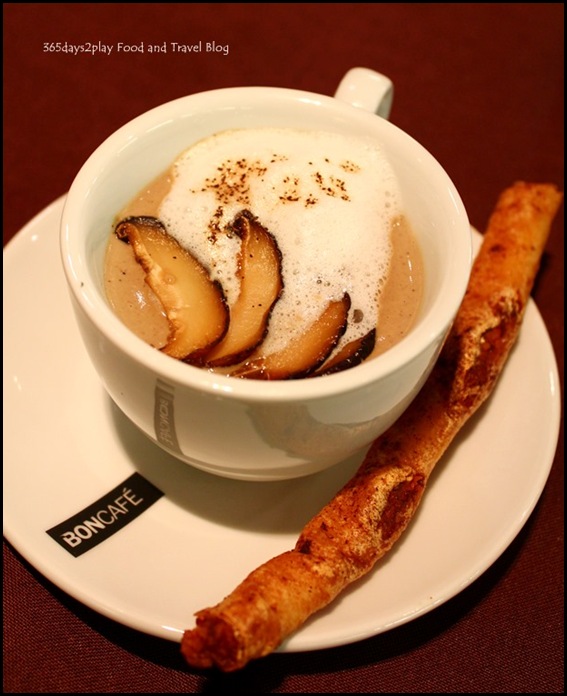 Mushroom Coffee with Crispy Cinnamon Roll with Prawn Paste
Created by Chef Eric Teo, Class of 1986
This is a soup that would appeal to people who love thick, rich and heavy mushroom soups. I loved the crispy roll with prawn paste, which was piping hot, crispy on the outside and bursting with sweet prawn flesh on the inside.
Main Course — Sous Vide Chicken Breast in Smoked Oil, Fig Glazed Foie Gras, Caramelised Endive, Manchego Espuma, Thyme Jus
Created by Chef Tony Khoo, Class of 1986
Wow, sous vide is really making a grand entrance in Singapore's culinary scene. In the past 1 month, I've visited several restaurants that use the sous vide method of cooking. If you don't already know, is a method of cooking food sealed in airtight plastic bags in a water bath for longer than normal cooking times—72 hours in some cases—at an accurately regulated temperature much lower than normally used for cooking, typically around 55 °C (131 °F) to 60 °C (140 °F) for meats and higher for vegetables. The intention is to cook the item evenly, and not to overcook the outside while still keeping the inside at the same "doneness", keeping the food juicier.
While I don't really like the idea of plastic bags undergoing heat treatment, I have to agree that the chicken breast in this case benefitted from the sous vide cooking method. I have to confess, I detest eating chicken breast in Singapore, because 99.9% of the time, the breast is tough and stringy. Somehow it's not the case for chicken breast in other countries but that's another discussion for another day. I am happy to say that this was the most tender chicken breast I have ever eaten in Singapore. I'm amazed. Thank you.
A word of warning though, the main course is power packed with VIP ingredients, namely the chicken breast itself, and a whole slice of foie gras. It's almost like having a free appetiser! I didn't even manage to get down to eating the cheese, the yellow slice in the picture. It was that power packed. Enjoy.
Dessert — Fondant Au Chocolat
Created by Chef Pang Kok Keong, Class of 1993
The chocolate cake with liquid centre was a little bit too crusty on the outside, but luckily when paired together with the delicious pistachio vanilla ice cream, it was not so noticeable.
Tea and coffee are also included in the 4 course Dinner Anniversary Menu, going at $42++ per pax. The ala carte menu is not available on 7th and 14th June (Fridays). I had a look at it nonetheless, and the prices are really very reasonable for a restaurant located in the City Hall area. Like a semi buffet set lunch costs less than $20?! A hot chocolate costs $3.50?!
A big thank you to all the deserving SHATEC students who helped to prepare the meal as well as man the restaurant. Hope to see you graduate with flying colours and open your very own restaurants!
******
Add me on Facebook, Instagram and Twitter if you want to be kept up to date with the latest happenings in the food and lifestyle scene in Singapore!
******
Recipes, a Bistro by SHATEC
100 High Street
#01-03 The Treasury
Singapore 179434
Tel : 6338 2798
Monday — Saturday: 9.00am — 10.00pm
Closed on Sundays & Public Holidays