[Media Invite]
After our lovely 2N3Ds at HARRIS Waterfront Resort Batam, we were sad to have to leave the resort as we still had so much more we wanted to do! Alas time waits for no man but at least we still had one final night in Batam, albeit at sister property HARRIS Hotel Batam Center. The two properties are quite different. HARRIS Waterfront is a resort where there are lots of activities such that you will not want to leave the property.
HARRIS Hotel Batam Center on the other hand is more no-frills. It is a value-for-money hotel where you plan to be out the whole day touring and enjoying Batam. Therefore, the decor is a little dated, and the toilet amenities offered are basic. However the room is still clean and that splash of orange colour (HARRIS's corporate colour) is enough to make the room cheery. We managed to snag a room with a great view of the "Welcome to Batam" sign, Alun Alun Batam Centre and Batam Mega Mall. (Promo code available right at the end of the post!)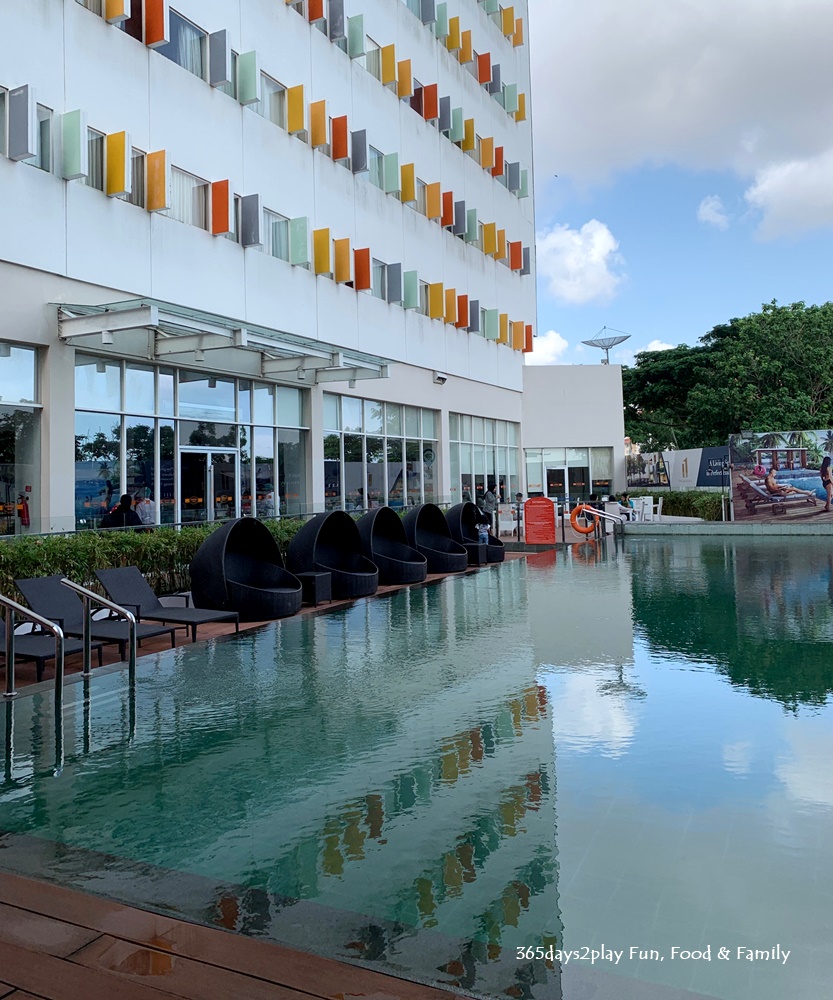 HARRIS may not be the poshest of hotels, but what it boasts is a great location.
It's next to the Batam City Ferry Terminal. You don't have to spend money on transfers to a hotel far away. You don't have to lose precious time traveling to a far a way location. For first timers to Batam, it's always comforting to know the hotel is right next door to the ferry terminal so there's less headache or worry about safety or missed connections or having to drag your luggage for long distances. You may be glad to know that despite being next to the ferry terminal, HARRIS still provides transport next door so you don't have to wheel your luggage over the uneven flooring at the carpark.
It's next to the Batam Mega Mall. Lots to do at this mall that we visited twice within a span of 24 hours! It has a huge supermarket to stock up on cheap goodies. It has a huge Time Zone where we spent a good part of our time. The exchange rate and charges are favourable so getting our arcade fix is cheaper than in Singapore. I think we spent about SGD$30 there over the course of 2 visits!
It's next to the Alun Alun Batam Centre, which is like a civic city park of sorts. I'm not 100% sure because we didn't have time to visit, but from our hotel window, we could see that there was much going on on a Sunday. There seemed to be a flea market, as well as performances / concert. If you like to experience some of the atmosphere, you could consider coming here.
Oh and did I mention that HARRIS Hotel Batam Center also provides massage services? There is a tiny massage centre located in the hotel with just 4 rooms. It's really no frills because the rooms are separated by curtains rather than proper walls. But what it offers is a really good rate for the massage, starting at approx 330,000 IDR (approx SGD $33) for 60 minutes. Sure, there might be other cheap massage places dotted all over Batam, but this is a time saver and energy saver! Very good for if you're only planning to stay 1 or 2 days in Batam.
Scroll down to see pictures and more comments.
Here are some pictures of how HARRIS Hotel Batam Center looks like. The ground floor is quite welcoming  especially the spacious restaurant which is where you will have breakfast the next day. Bottom right is the tiny spa counter on the spa level. Hopefully the construction works to redo the hotel carpark would have been completed now that it is 3 months since we visited.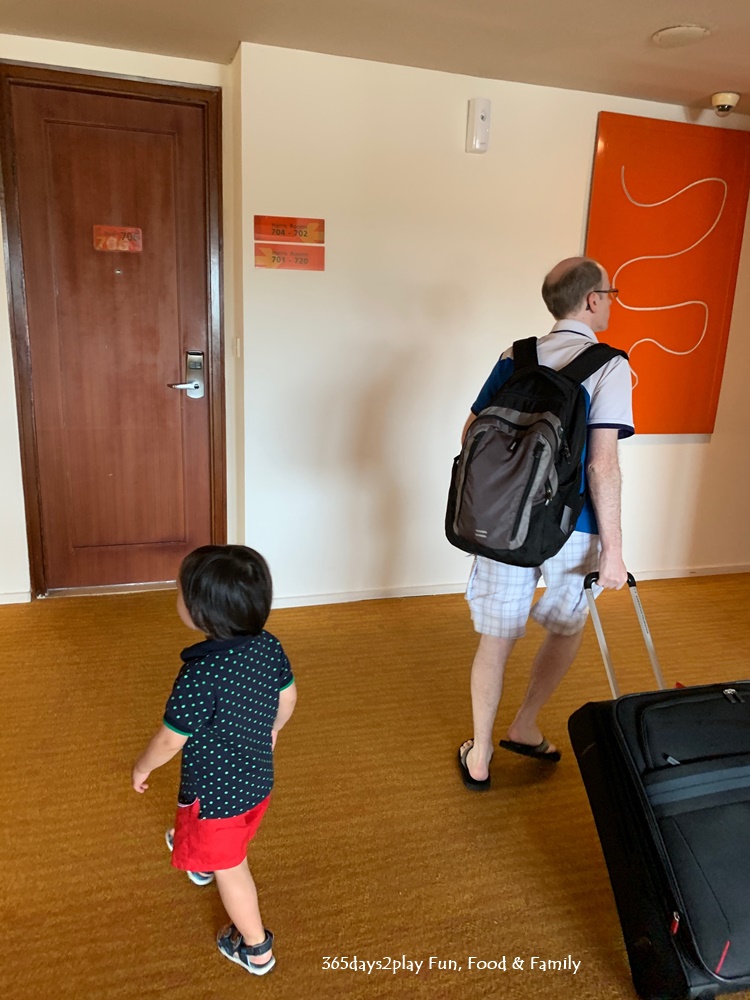 Not sure where these two think they are going…..Who's going the right way and who's wrong?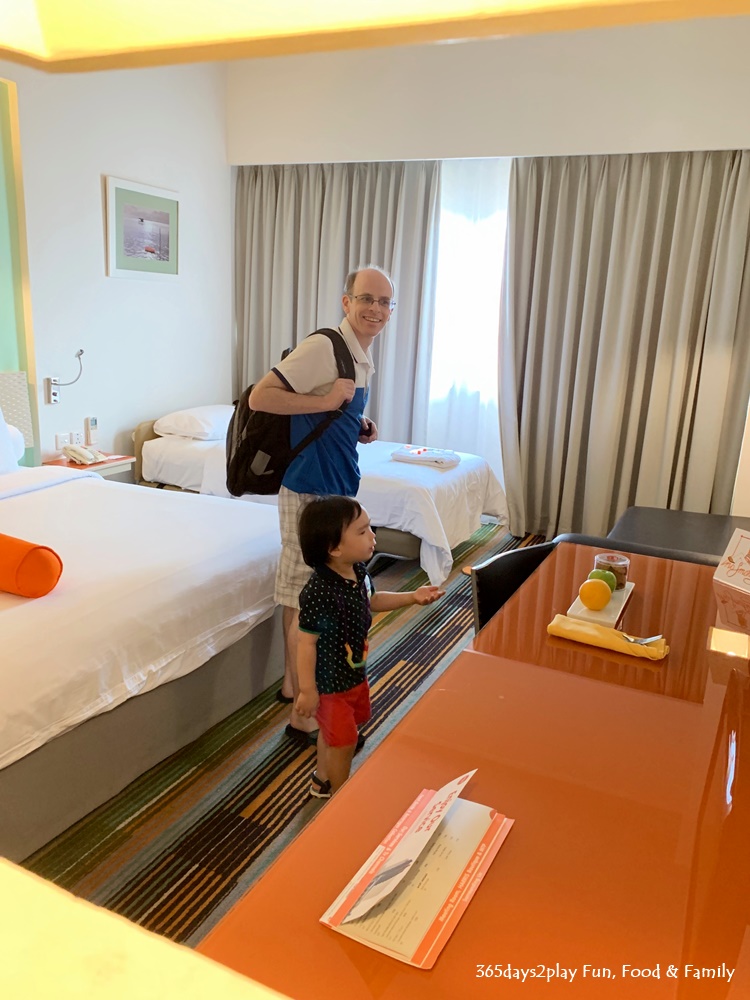 The room is bright and cheery, again thanks to the corporate colour of orange. We had unblocked views towards the Welcome to Batam sign. We have an extra bed in the room as we requested for it for Edward.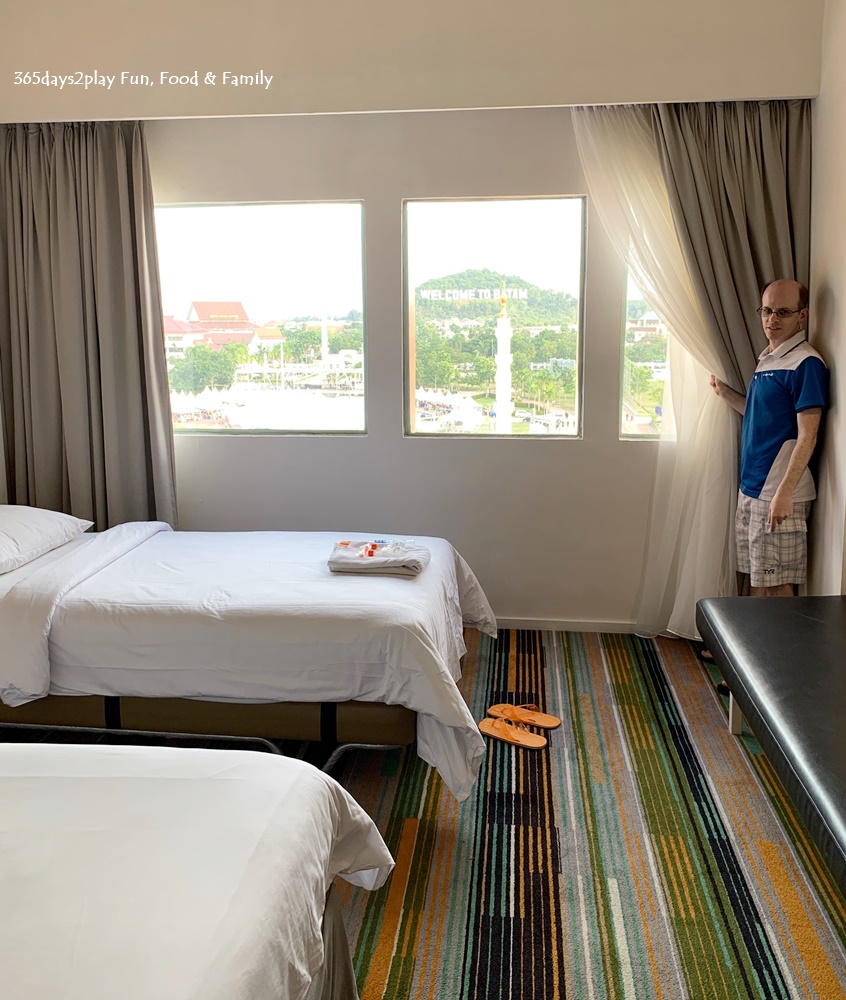 Nice and bright. I love it when we have a view. I like watching the people below going about their daily affairs or commutes.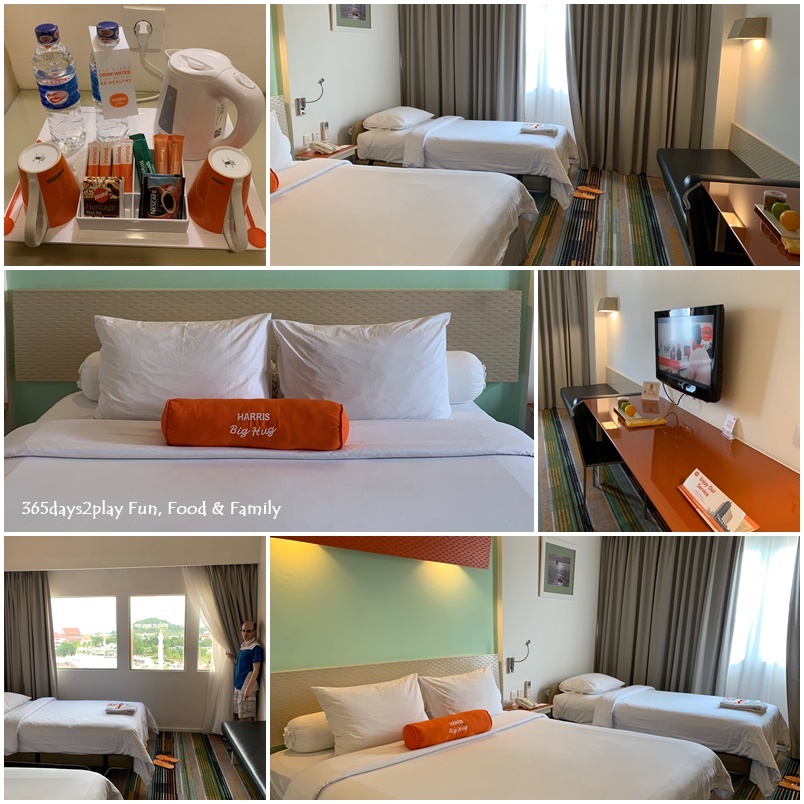 More pictures of the room and amenities.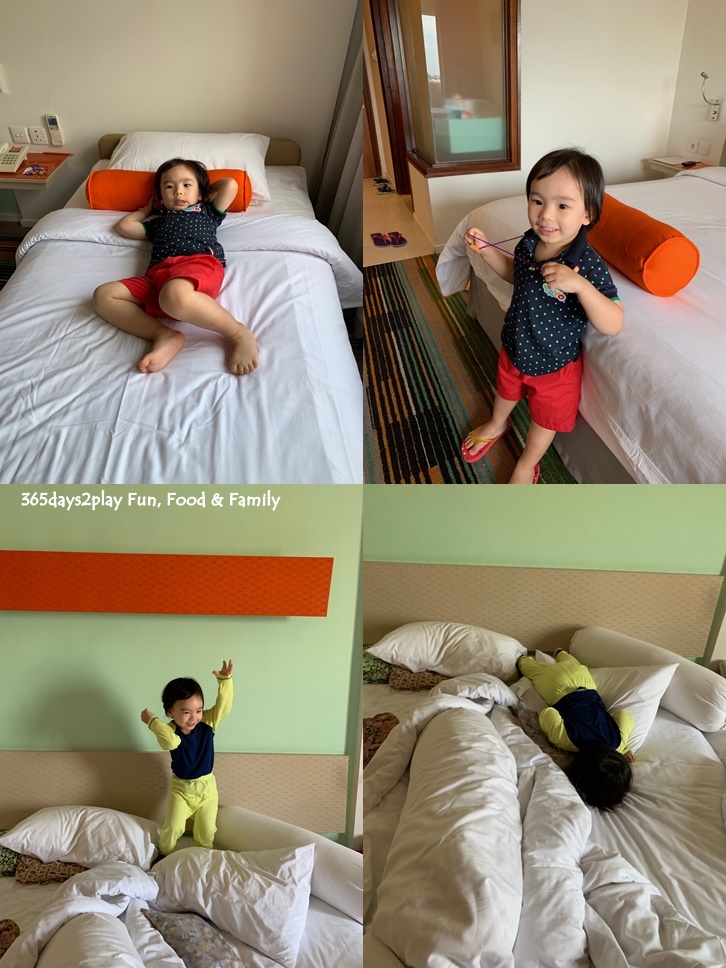 The beauty about children is that be it a 5 star hotel or a budget one, they will find ways to have fun. Give them a bouncy bed or something interesting, and they'll be at it!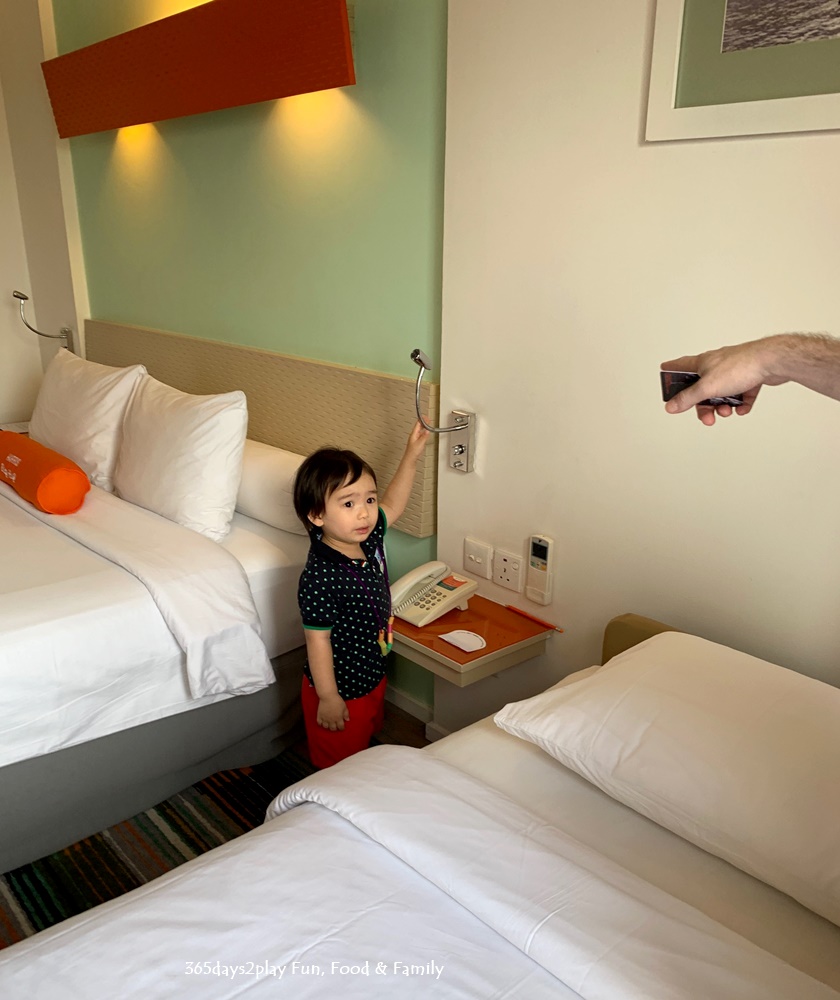 No touching that night light! See I told you they will find a way to entertain themselves. This night light was conveniently placed for Edward to shine it about the room and blind us!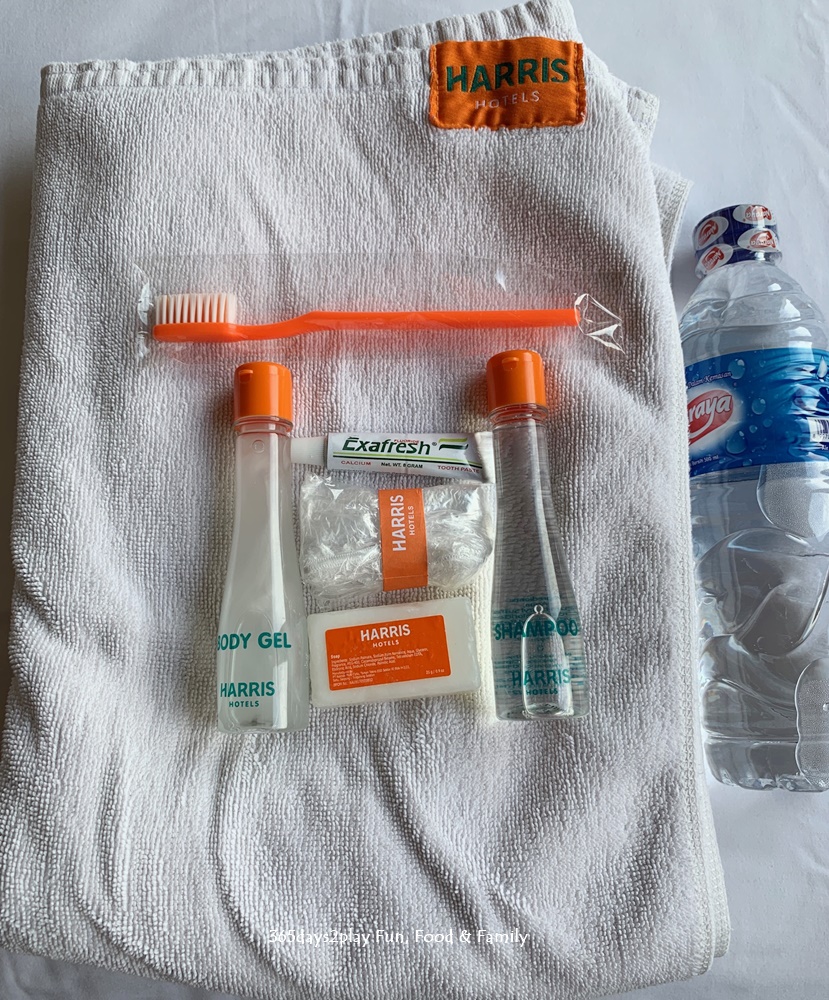 The toiletries provided by HARRIS, so you know what to bring if you need more.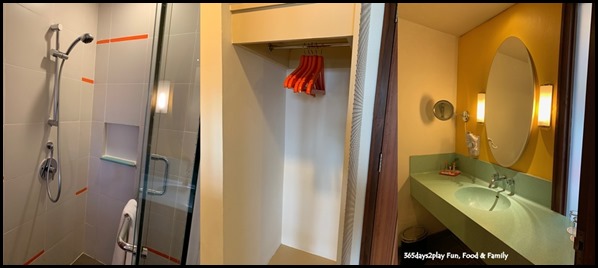 The bathroom was the one place I didn't really like as it looked really dated, smelled a little musty and had some cracks here and there. Still, we didn't spend too much time in there so I guess it wasn't a big problem.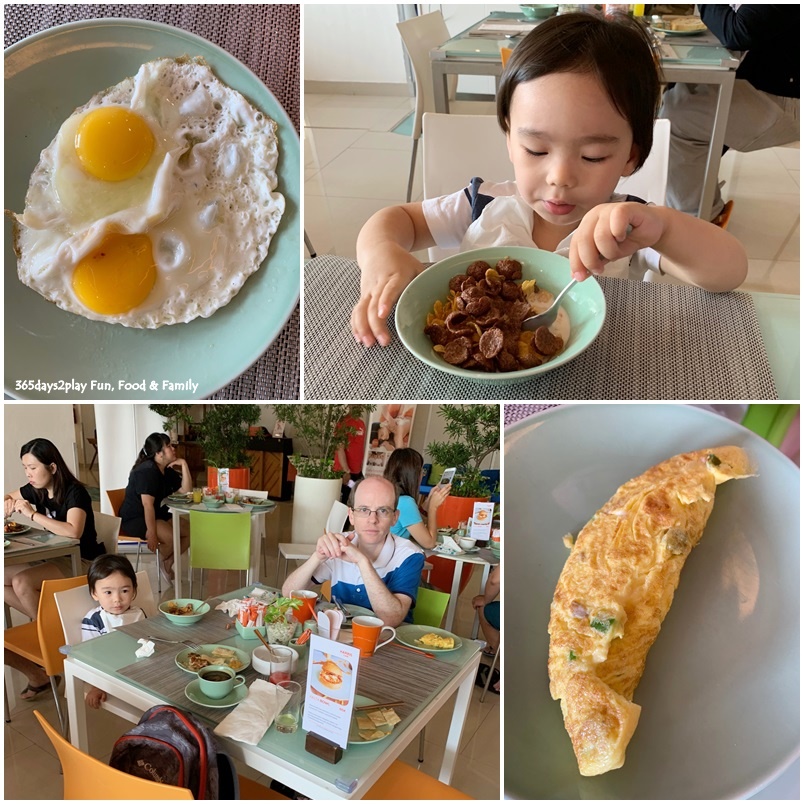 Our breakfast was the next morning on a Sunday, and the restaurant was quite packed. They had some empty seats at a long communal type high table, but due to the high chairs, it wasn't suitable for Edward so we had to wait a while to snag the table that we eventually got. Do come early if you want to secure the table of your choice.
The buffet breakfast is pretty extensive, with a variety of local breakfast dishes, and also a live egg station. Those who like sweet treats will be particularly happy as there were lots available. Just look at the donut wall!
What we had for lunch at the hotel restaurant just before our ferry trip back to Singapore. Do check out the Harris Rice Bowls. Comes in several options like Black Pepper Beef or Nasi Goreng. It's served in a takeaway box, which is very useful if you're pressed for time. You can even eat it on the ferry.
When we were not at the hotel, we mainly spent our time at the Batam Mega Mall. Although you can jaywalk across the road diagonally to the Mega Mall from HARRIS, we found the option of using the pedestrian footpath to the Ferry Terminal, and then using the overhead bridge from there to the mall to be a more pleasant experience. The jaywalking method requires you to firstly dodge traffic, squeeze past a narrow footpath next to an open drain (fears of Edward accidently being jostled and falling in) and then dodge more cars turning into the mall carpark.
Mainly bought chips and Indomie at the supermarket. Had "cheap coffee" and free donut at J.Co. They even have a BreadTalk there, but strangely, the breads sold are of different flavours as compared to what is available in Singapore.
We had soooo much fun at Timezone. It was Edward's first time there and he was just bouncing all over the place. Unfortunately he was still a bit too young for the ball throwing games, just not enough strength to roll or throw the ball far enough. But he went wild with the racing games with Papa. We spent about $30, won enough tickets to redeem some local chocolates and biscuits. It was fun, and cheaper than playing in Singapore!
DISCOUNT for HARRIS Resort Waterfront Batam and HARRIS Hotel Batam Center
If you're planning a trip to Batam, I'd highly recommend the HARRIS properties! And if you do indeed decide to stay at the following Batam HARRIS properties, do use my promo code for a 10% discount! Click on the links below to access the discount, or key in promo code : 2Play if prompted.
HARRIS Resort Waterfront Batam
https://booking.tauzia.com/21/HARRIS-Resort-Waterfront-Batam?utm_source=web365days2play&utm_promo=2play
HARRIS Hotel Batam Center
https://booking.tauzia.com/23/HARRIS-HOTEL-Batam-Center-Batam-Island?utm_source=web365days2play&utm_promo=2play
---
Add me on Facebook, Instagram and Twitter if you want to be kept up to date with the latest happenings in the food and lifestyle scene in Singapore!
---
HARRIS HOTEL Batam Center
Jl. Engku Putri, Batam Center
Batam, Indonesia 29461
Ph: +62 778 749 8888
Fax. +62 778 749 9999
Email: sales-harris-batamcenter@tauzia.com