Glad to finally see a legit looking 3rd wave / hipster cafe at East Coast Park. For the longest time, I've always hoped and prayed that there will be more of such cafes at East Coast Park. I mean don't you agree that ECP has so much potential? Alas when Parkland Green opened in 2014, there was but 1 tiny ice cream cafe, which wasn't very good either, and they are long gone.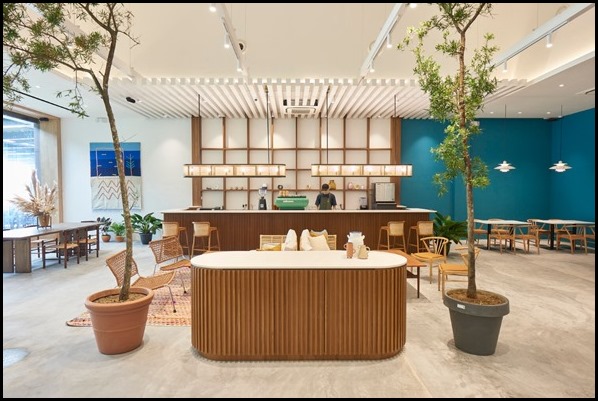 Photo source: East Coast Commune
When Marine Cove (where the ECP Mcdonald's is) opened in 2016, again, no cafes. I don't count Coffee Bean and Tea Leaf since they are a chain. But yes, finally in 2020 with Hill Street Coffeeshop vacating the middle outlet in the row of 5 outlets there, we now have East Coast Commune.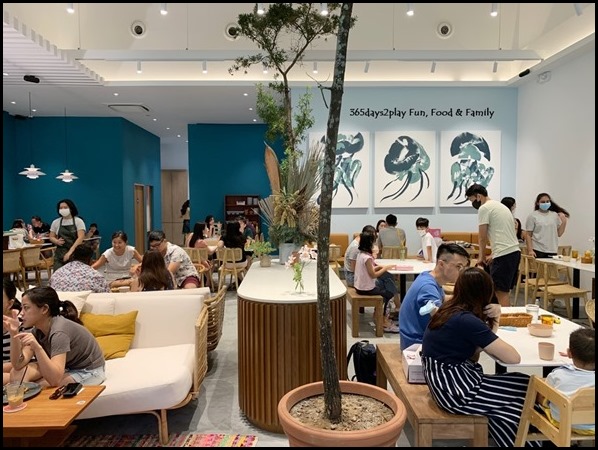 If you come on a quiet day, East Coast Commune feels like a peaceful oasis. The cafe is very tastefully furnished. Large plants are placed strategically to break up the space and to give visual impact. The use of a teal palette for the walls also adds to the oasis vibe.
Yes it may sound weird to call it an oasis, when it is after all located in a park, but because it's usually hot like hell in Singapore during the day, escaping into this cool, spacious and pleasing environment seems like entering an oasis. Of course, weekends are more hectic, but at least let it be spacious hectic than cramped hectic!
Fun Fact: This building at Marine Cove used to be the old bowling alley if you remember, hence the super high ceilings.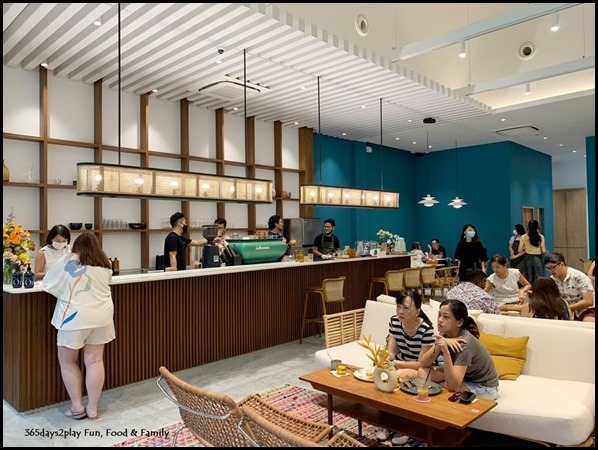 The menu is pretty wallet friendly here. Their sandwiches and waffles are around $9-$14 on average. Another highlight is the use of sourdough for their sandwiches and waffles, which makes you feel like you're getting even more value. However do note that portion sizes are not huge here, so you may need to add on a little extra if you are a big eater.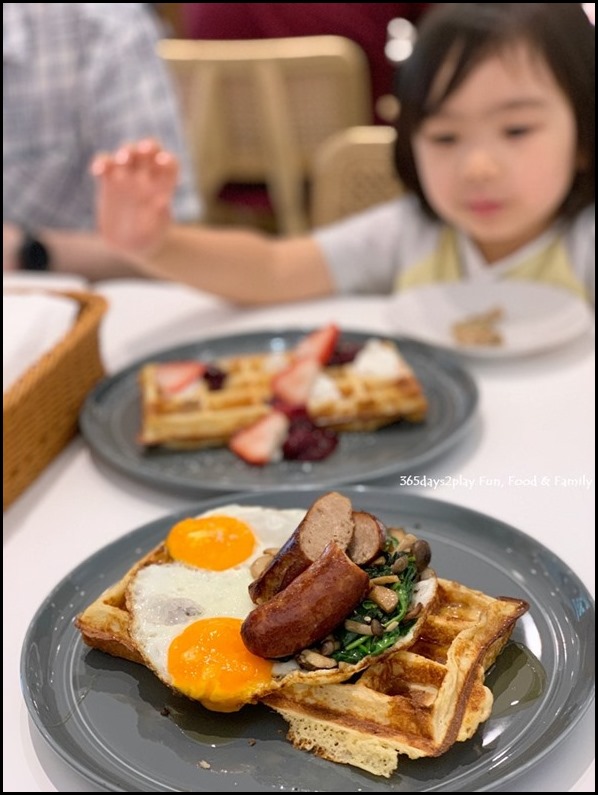 I was torn between the Chicken Waffles and the Big Breakfast Waffles, both $14. However I saw Chicken Waffles arriving at the next table and it was just a piece of fried chicken and waffle. It looked kinda small from my angle (and not as instagrammable!) so I decided to take my chances with the Big Breakfast Waffle.
Thank goodness I did because my meal looked much bigger with 2 fried eggs, sausages,, mushrooms, spinach and maple syrup drizzled on the sourdough waffle. I loved everything about my meal. Sausages were tasty, eggs had nice crispy sides (although egg yolks could have been a tad runnier) and what's not to love about spinach and mushrooms.
The maple syrup on the waffle worked for me despite this being a savoury meal.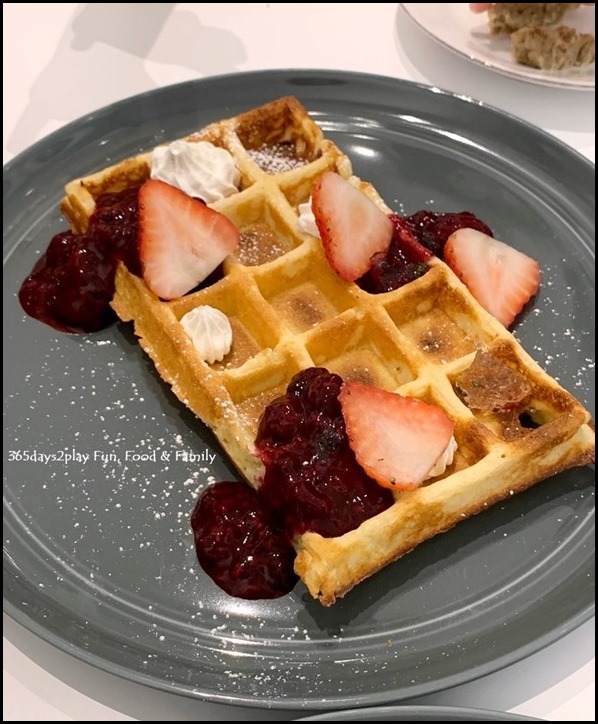 My father did not have so much luck with his waffles. He got the Berries and Mint Waffles $12. The portion size did not fill him for lunch. Also, we were expecting a more generous amount of fruits rather than the few strawberry halves that we got.
Perhaps all the fruit went into making the compote, which there was a generous amount of, but psychologically one thinks of compote as jam (albeit atasified jam) ie condiment….. so he was left unsatisfied.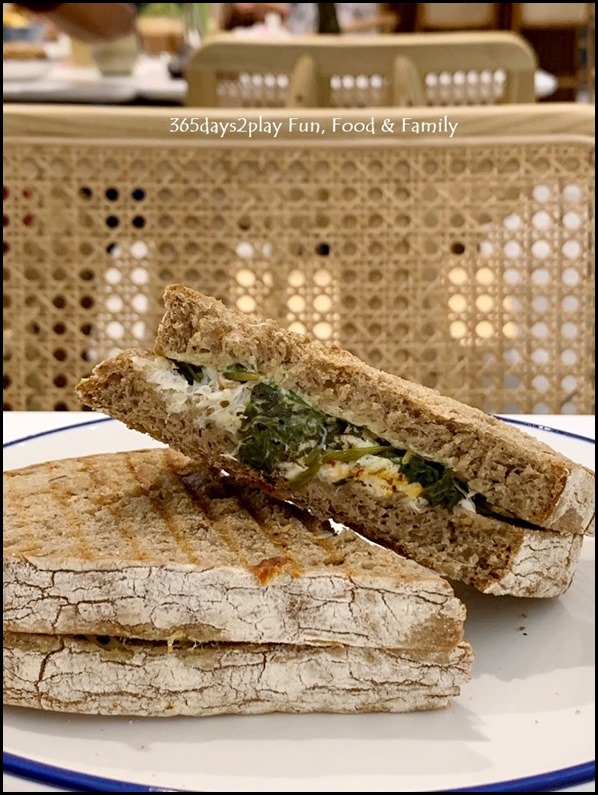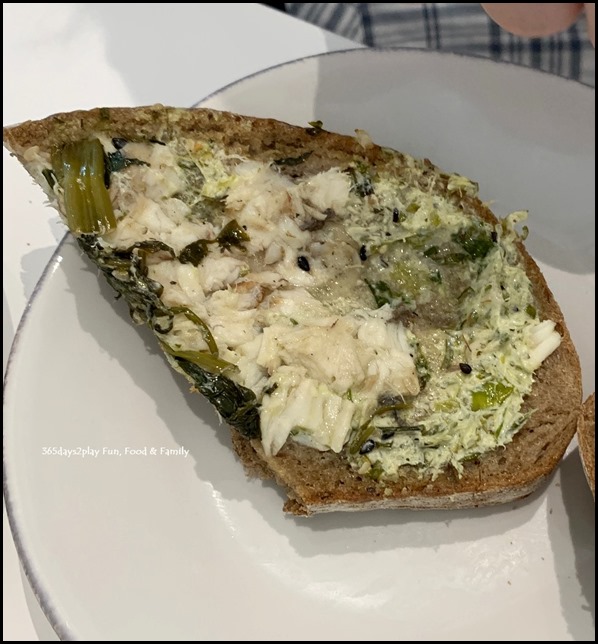 The husband decided to go for something he doesn't usually order, which is the fish sandwich $9. It came with Smoked Barramundi, Ponzu Kangkong, Garlic Chive Cream Cheese and Pickled Shallot on Country Loaf.
According to staff, you either love or hate this sandwich because of the jarring flavours from the smoked fish, tangy kangkong and cream cheese. Glad to report that the husband really liked this sandwich although the kangkong did get to him towards the end.
As for Edward, he polished off all the bits that we had cobbled together from our 3 meals and asked for more.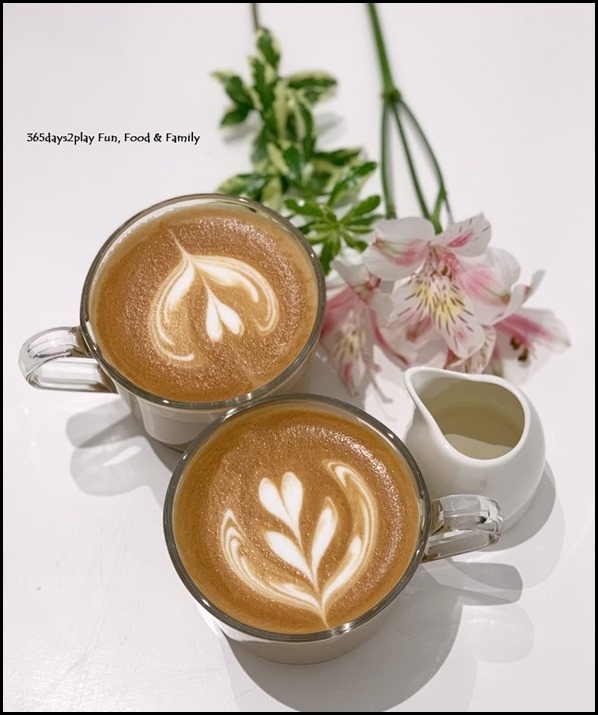 We decided to end off the meal with 2 cups of flat whites. I felt the coffee was too strong and bitter for me despite putting sugar syrup, whereas my father loved the strong coffee and didn't even add any sugar. Interestingly, they give you sugar syrup rather than sugar cubes or granules.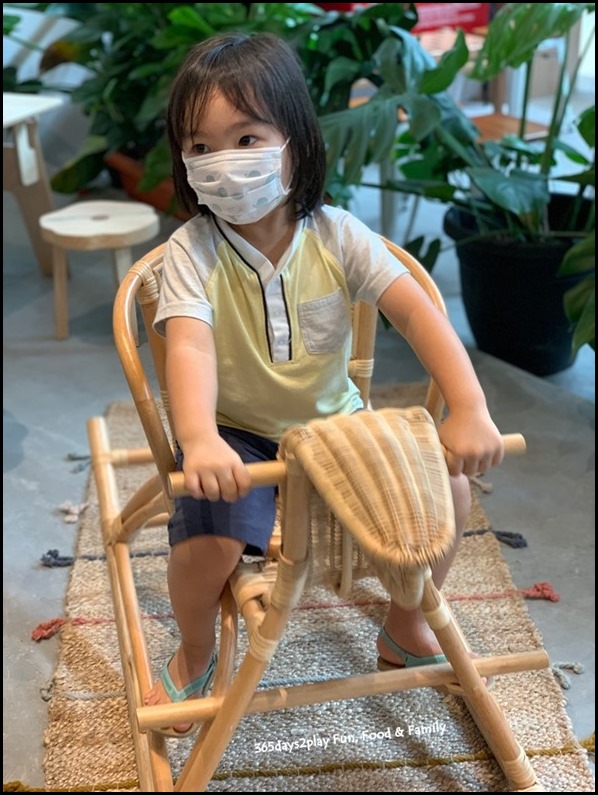 The cafe is pretty child-friendly. I hear they have a nursing room and baby changing room. That's a first I'm hearing for a cafe!! Incredible! There is a tiny play area with a bookshelf of books plus a rocking horse which Edward hogged when he wasn't having his meal.
They also have a limited kids menu with things like oatmeal and petite fusili going at $6. Not sure which kid wants to eat oatmeal when out for lunch so most likely the kiddos will be sharing the adults meals if they also don't want pasta.
In fact, calling this a hipster cafe might be inaccurate when 80% of the people dining there were families with young kids.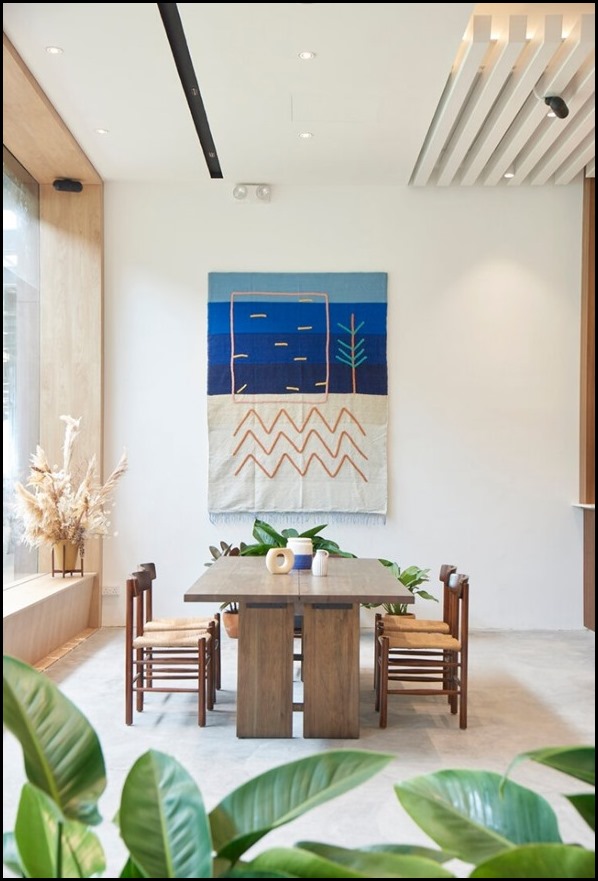 Photo source: East Coast Commune
In conclusion, so glad this beautiful cafe opened at East Coast Park, with wallet friendly prices. Definitely coming back again soon. With a great location like Marine Cove, and when the huge kids playground finally reopens again after we are done with COVID-19, I believe business will be rosy for months to come.
And can I suggest that more cafes open up along East Coast Park? Parkland Green is sorely lacking in cafes, and there are a couple of empty units next to the underpass and facing the field / dog run as I write this. So much potential!
---
Add me on Facebook, Instagram and Twitter if you want to be kept up to date with the latest happenings in the food and lifestyle scene in Singapore!
More ideas on what to eat at East Coast Park
---
East Coast Commune
1000 East Coast Parkway #01-03, Singapore 449876
Opens 9am-6pm daily
Website: https://www.eccommune.com/
Instagram: https://www.instagram.com/eccommune/
Facebook: https://www.facebook.com/eccommune/