Now that the Christmas festivities are over, it's time to change direction and start planning for Chinese New Year. And when it comes to all things Chinese, bigger is better! So here's a list of where to go for the most decadent and luxurious Yu Sheng you can find in Singapore for your reunion dinners / lohei to help you HUAT BIG in the year of the Metal Rat!
Interestingly, unlike in previous years, not many restaurants are featuring the rat image in their Yu Sheng creations. Perhaps the rat does not lend itself well to being recreated in Yu Sheng form, unlike say a horse, a monkey or even the pig. However, if you scroll down, you will see that Fullerton Hotel has done a pretty nice rat version. Do you know of any other Rat Yu Shengs out there? Head on over to my Instagram Stories to vote if you'd like to have a depiction of the Rat in your Yu Sheng. After all, the Rat IS part of the Chinese Zodiac.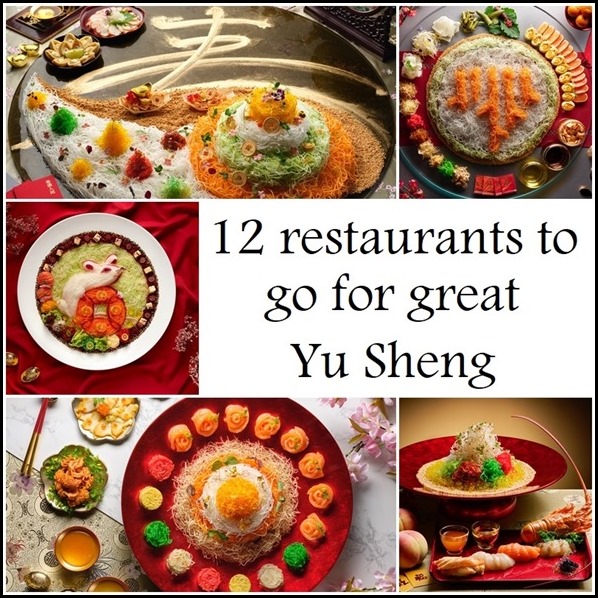 Wan Hao Chinese Restaurant at Marriott Tang Plaza Hotel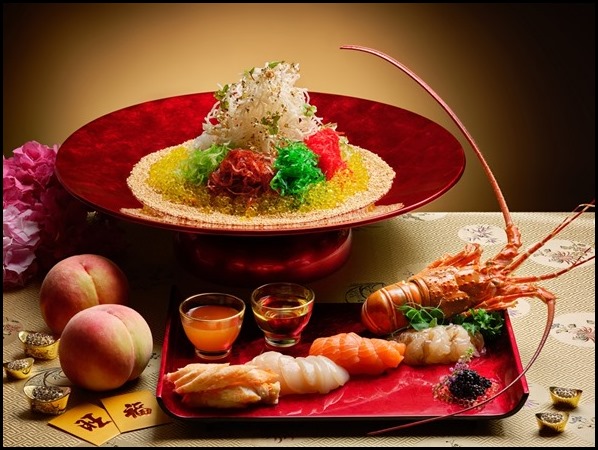 Check out the Lobster, Alaskan Crab, Scallop, Salmon, Caviar and Crispy Fish Skin Yu Sheng from Wan Hao. Is there literally anything else expensive that isn't included in this? The crunch comes from the crispy fish skin added, and not run of the mill crackers. Diners also have a choice of White Peach Sauce, Kumquat Sauce or traditional sauce to go along with the Yu Sheng. This super indulgent Yu Sheng only comes in a large serving, at $268 per Yu Sheng. If that's too decadent for you, there are still 5 other Yu Sheng versions to choose from, including a Pear and Avocado Vegetarian Yu Sheng, at $128 for a large serving. But I say, go for at least the Boston Lobster, Caviar and Crispy Fish Skin Yu Sheng at $188 for a large serving. What's Chinese New Year if you're not over indulging?
Where : Wan Hao Chinese Restaurant | SINGAPORE MARRIOTT TANG PLAZA HOTEL 320 Orchard Road, Singapore 238865
When : 3 January – 8 February 2020
More information : 6831 4605 | http://singaporemarriott.com/cny |
singaporemarriott.festive@marriotthotels.com
Reviews : https://365days2play.com/tag/wan-hao-chinese-restaurant/
Hai Tien Lo at Pan Pacific Singapore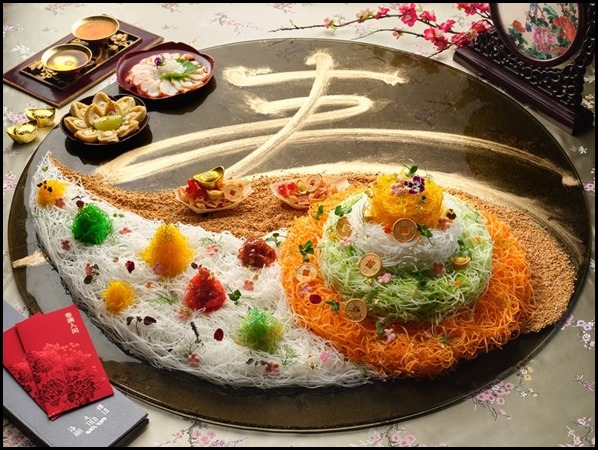 This Abundant Wealth Yu Sheng may remind you of a beautiful painting, and you won't be wrong because Executive Chef Ben is an admirer and collector of traditional Chinese painting featuring natural landscapes and this Yu Sheng is inspired by "Shan Shui" (Mountain Water). Shredded vegetables are used to create a breath-taking masterpiece creatively depicting a majestic mountain towering over a cluster of smaller mountains, representing flourishing growth. Symbolising an abundance of wealth for the coming year, paper boats containing deep-fried flour crisps appear to "cruise" along a meandering river made with peanut crumbs. Auspiciously-named 丰山水起齐齐发, is served with Lobster, Abalone and accented with Gold and Silver Flakes.  SGD388 serves seven to ten, available for dine-in upon advanced order and not for takeaway.
Where : Hai Tien Lo | Pan Pacific Singapore, 7 Raffles Boulevard, Marina Square, Singapore 039595
When : 30 December to 8 February 2020
More Information : 6826 8240 | http://ppsinshop.sg | dining.sin@panpacific.com
Reviews : https://365days2play.com/tag/hai-tien-lo/
Racines at Sofitel Singapore City Centre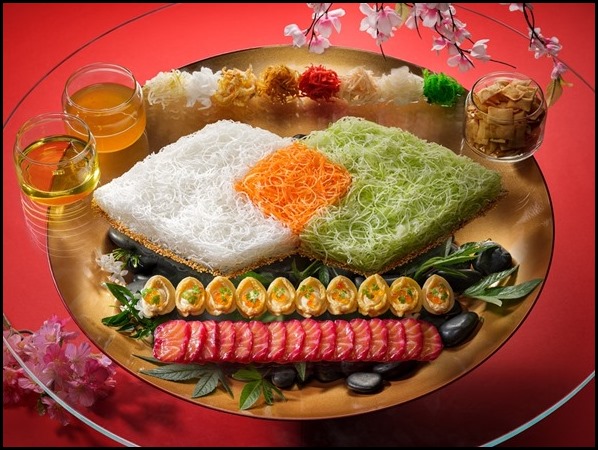 Toss to good fortune with Racines' duo of auspicious Yu Sheng. The Traditional Yu Sheng ($108+) features a harmonious dance of pickled chayote, cornichons and kohlrabi that coalesces with shredded celeriac, caviar lime and homemade cured trout. Meanwhile, pictured above is the Luxe Abalone Yu Sheng ($138+), which brings a touch of opulence with generous helpings of premium sliced abalone. Diners may choose from three types of dressing to complete their Yu Sheng order: authentic plum dressing, a balanced variant infused with yuzu, and a sweet and spicy Thai-style oriental option. The Yu Sheng selection is available for both dine-in and takeaway at Racines.
Where : 9 Wallich St, 5th floor Sofitel Singapore City Centre, Singapore 078885
When : 6 Jan 2020 to 8 Feb 2020. Early bird discounts if ordered before 5 Jan 2020
More Information : 6428 5000 | http://www.sofitel-singapore-citycentre.com/gastronomy/racines/ https://bit.ly/BoutiqueMagnifique | ha152@sofitel.com
Li Bai at Sheraton Towers Singapore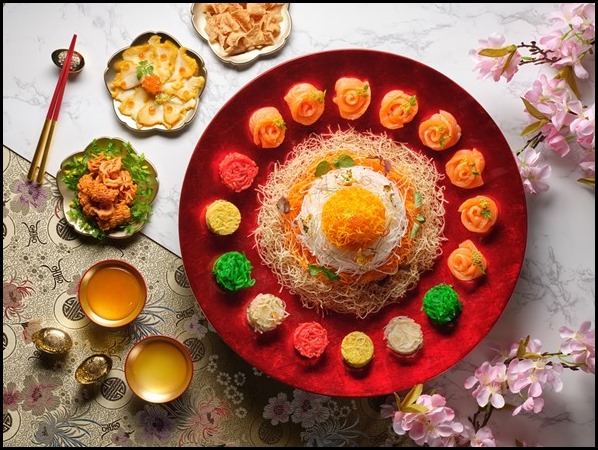 A new addition to the selection of takeaway items, the Salmon Roe and Sea Whelk Yu Sheng Platter  ($118 (small), $208 (large)) features a generous serving of salmon roe and succulent sea whelk atop a mélange of quintessential ingredients like pomelo, yam, sweet potato, white radish, carrot and pickled ginger. A slightly more affordable yu sheng can be had with the new Coral Clam Yu Sheng Platter which features coral clam atop an appetising mix of ingredients such as yam, sweet potato, white radish, carrot, pickled ginger and pomelo $98 (small), $188 (large). Available for dine-in and takeaway.
Where : Sheraton Towers Singapore | 39 Scotts Road Singapore 228230
When : 2 January to 8 February 2020
More Information : 6839 5623  | https://shopatsheraton.oddle.me/
libai@sheratonsingapore.com
Jade at Fullerton Hotel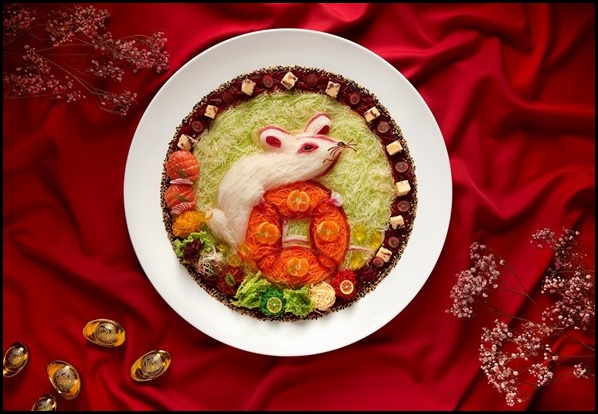 The Special Edition Gold Rush Salmon Yu Sheng, arrayed in the striking image of a rat treasuring a traditional gold coin, painstakingly crafted from white, green and pink radish strips. The perfectly balanced flavours include Champagne jelly accented with gold leaf, tangy sweet honey pineapple dressing, and cranberry cheese, a nod to the Zodiac Rat's favourite snack which contributes a creamy, fruity complement to the fresh ingredients. The Special Edition is priced at S$388++ and requires 3 days' advance order. The regular Gold Rush Salmon Yu Sheng with Champagne Jelly, Olive Oil and Honey Pineapple Dressing is available in Small (S$78++ for 2 to 5 persons), Medium (S$118++ for 6 to 8 persons) and Large (S$138++ for 9 to 11 persons).
Where : Fullerton Hotel | 1 Fullerton Square, Singapore 049178
When : 6 January to 8 February 2020
More Information : 6877 8943 | shop.fullertonhotels.com |  fullertonshop@fullertonhotels.com
Koma at Marina Bay Sands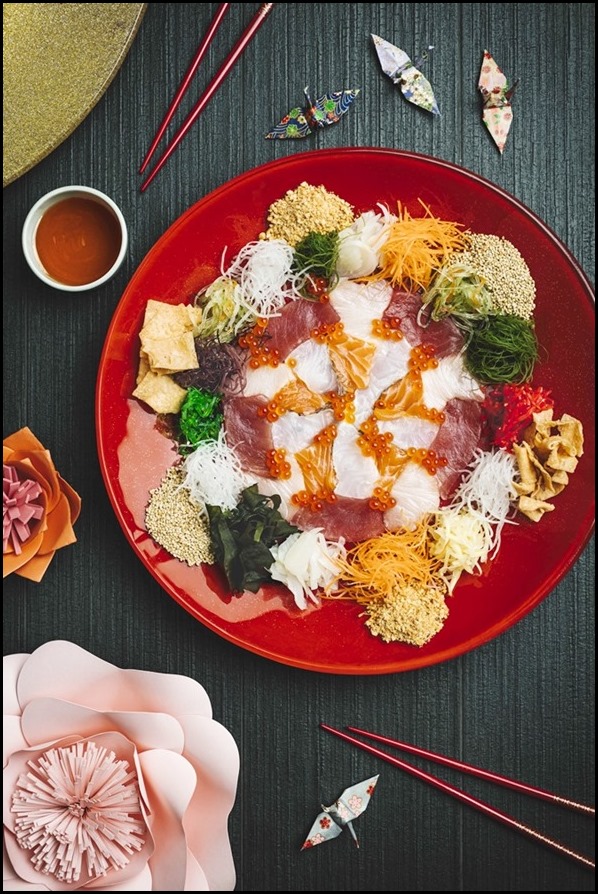 For a modern twist to traditional Chinese New Year fare, head to KOMA as the Japanese restaurant and sushi bar presents two types of lo hei to usher in the Year of The Rat. The KOMA lo hei (S$138++) is an opulent seafood spread comprising maguro, hamachi, with sake (salmon), tai (sea bream) and ikura. For a truly luxe dining experience, guests can
indulge in the KOMA signature lo hei (S$588++) which will see the addition of fresh awabi (abalone), fugu (puffer fish), and a whole fish sashimi portion of kodai (baby sea bream). Additionally, sashimi lovers can indulge in KOMA's Kodai whole fish sashimi ($128++), the Awabi whole sashimi (S$388++), or the premium fugu whole fish sashimi (S$288++).
Where : Marina Bay Sands, 2 Bayfront Ave, #B1-67 Singapore 018972
When : 18 January to 2 February
More Information :  6688 8690 | koma.reservations@marinabaysands.com
Lavo at Marina Bay Sands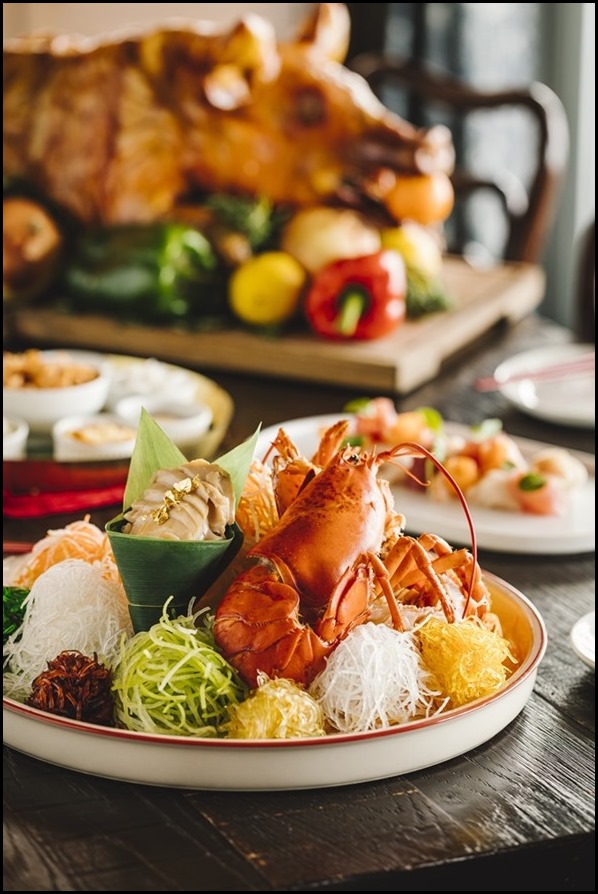 Here's a Western restaurant offering Yu Sheng as well. Pursue prosperity 57 storeys above ground at Lavo. Enjoy a memorable reunion dinner at LAVO Italian Restaurant & Rooftop Bar with festive staples such as the longevity lo hei (S$28++ per pax), an elegant platter of abalone, smoked salmon and hamachi.
Where : Marina Bay Sands | 10 Bayfront Avenue, Singapore 018956 | Hotel Tower 1, Level 57 Sands Skypark
When : 23 January to 8 February
More Information : 6688 8591| lavo.reservations@marinabaysands.com
http://lavosingapore.com/
Min Jiang at Goodwood Park Hotel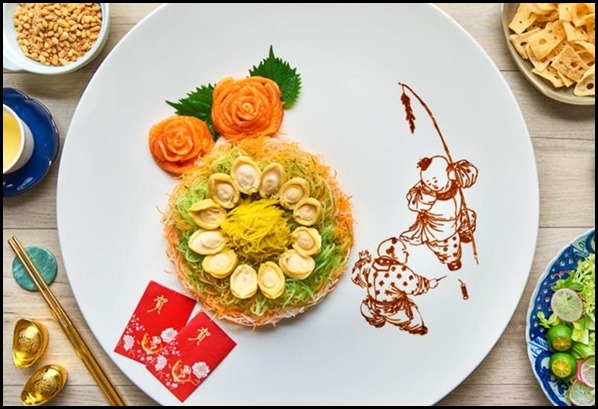 The Joyful Abundance Yusheng 鸿运鲍鱼三文鱼鱼生  is embellished with an intricate illustration signature to the restaurant. With a pair of children jovially playing, the painting evokes a sense of nostalgia, happiness and togetherness on this special occasion. Also featuring cheesy deep-fried chee cheong fan strips, the yusheng is adorned with raw salmon slices arranged as a flower with baby abalones alongside a medley of vegetables such as wild arugula, yellow frisee, red shiso, red and white radishes, pickled melon strips and fresh pomelo. On the side are crushed peanuts, sesame seeds and pine nuts, replete with a dressing made from calamansi juice, plum sauce and strawberry jam. Dine-in: $168++ per large portion only | Takeaway: $179.75 nett per large portion only
Where : 22 Scotts Rd, Goodwood Park Hotel, Singapore 228221
When : 7 January to 8 February 2020
More Information : 6730 1704 | http://festivepromotions.goodwoodparkhotel.com | min_jiang@goodwoodparkhotel.com
Syun at Resorts World Sentosa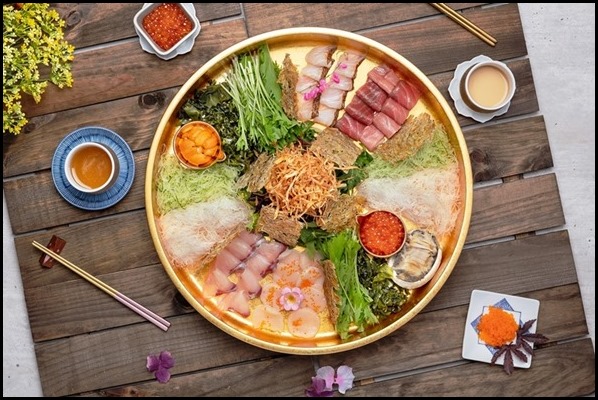 Come to think of it, Japanese restaurants with an abundance of fresh sashimi are well equipped to offer Yu Sheng even though this is not part of the Japanese dining culture. If you're looking for quality sashimi, check out Syun's Prosperity Yusheng 春风洋溢鱼生 (S$128/set for 2 — 4 pax, S$288/set for 6 — 8 pax). Comprising prized treasures from the sea, the platter features Awabi (Abalone), Kanpachi (Amberjack), Maguro (Tuna), Uni (Sea urchin), Tai (Sea Bream), Ikura (Salmon roe) and Hotate (Scallop) served with shredded daikon, Japanese Mizuna (Potherb mustard), Wakame and Gobo (Burdock); and tossed with tangy sesame ponzu and yuzu citrus soy ginger dressing.
Where : Resorts World Sentosa | 26 Sentosa Gateway Crockfords Tower, #02-135 & 135A, Singapore 098138
When : 10 January 2020 — 8 February 2020
More Information : +65 6577 6688 |
https://www.rwsentosa.com/en/promotions/restaurants/haul-in-boundless-opulence
TEPPAN by Chef Yonemura at Resorts World Sentosa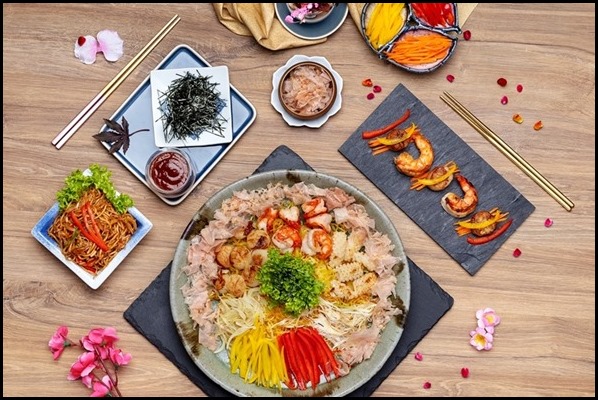 For a fun and unforgettable meal for both the young and old in the family this Lunar New Year, bring them to TEPPAN by Chef Yonemura. They will be wowed by the teppanyaki showmanship as well as acclaimed Michelin-starred Chef Masayasu Yonemura's innovative French-Japanese fare. The restaurant's Flambé Yu Sheng (S$48/set for 2 pax, available only for dine-in) is a unique warm salad dish of yakisoba served with julienned vegetables and an assortment of Japanese seafood like prawns and scallops grilled fresh a la minute on the teppan and tossed with a housemade ginger sauce.
Where : Resorts World Sentosa |  26 Sentosa Gateway, #01-229 The Forum Singapore 098138
When : 10 January 2020 — 8 February 2020
More Information : +65 6577 6688  |
https://www.rwsentosa.com/en/promotions/restaurants/haul-in-boundless-opulence
Hua Ting at Orchard Hotel Singapore
Prosperity Yu Sheng (Salmon Belly) with Organic Vegetables and Wolfberries 发财鱼生 (三文鱼捞生) (S$88 for small and S$148 for large). Topped with the nutritious wolfberries, the dried red fruit has been used in traditional Chinese medicine for thousands of years. The highlight is the use of specially imported Crystal Ice Plant, best known for its crunchy texture, that tops off the dish and is accompanied by other Organic greens to make this a healthy and appetizing Yu Sheng.
Where : Orchard Hotel Singapore | 442 Orchard Road, Singapore 238879
When : 1 January till 8 February 2020
More Information : 6739 6666 | orchardhotel.com.sg | huating.ohs@millenniumhotels.com
Paradise Group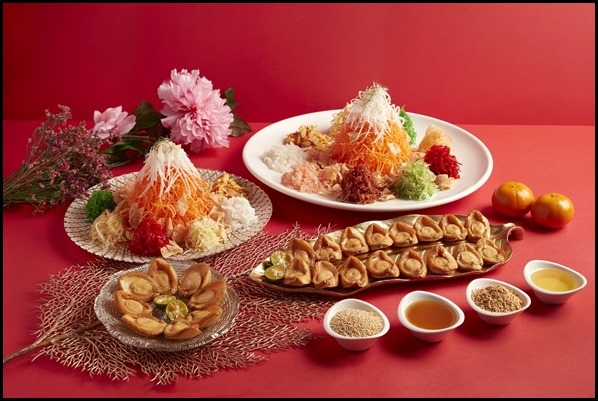 Prosperity Abalone Yu Sheng樂天鲍鱼捞起(S$46.80/ 8 pax dine-in and takeaway; S$66.80/ 12 pax dine-in only) is a symbol of abundance, prosperity and vigour. With varying textures from different ingredients accompanied with exclusive recipe tangy plum sauce and topped with abalone, Paradise's Yu Sheng is the colourful dish to kickstart the festive mood. The yusheng includes a can of abalone and a medley of vegetables freshly prepared daily in the kitchen.
Available at: Beauty in The Pot, Paradise Dynasty, Canton Paradise (excluding Changi Airport T3 and Westgate outlets), Paradise Classic, Paradise Hotpot, LeNu (The Seletar Mall and Funan) outlets. Selection of Yu Sheng differs for Taste Paradise and Paradise Teochew.
When : 1 January to 9 February 2020
More information : www.paradisegp.com
Photo Credits : All photos provided by the respective restaurants
Disclaimer : Some of the information above is based on media sessions attended
---
Add me on Facebook, Instagram and Twitter if you want to be kept up to date with the latest happenings in the food and lifestyle scene in Singapore!
---