Listen up people! If you're planning a big party or an intimate evening, you would no doubt have had some thoughts on what sort of alcohol to provide. Champagne's always a crowd pleaser, however most people can't provide that without being afraid of burning a hole in their pockets!
Well, fret not, now that bestselling French bottle-fermented sparkling wine Jaillance bubbles onto our shores for the first time with two offerings — the brut Sémillon from Bordeaux and the demi-sec Muscat, Clairette from Die. Sweeping accolades at the International Wine Challenge, the International Wine and Spirit Competition, the Decanter World Wine Awards, the Concours National des Crémants and the Concours Effervescents du Monde, these sparkling wines are sure to bring the holiday spirit into any celebration, just in time for the upcoming Christmas and New Year festivities.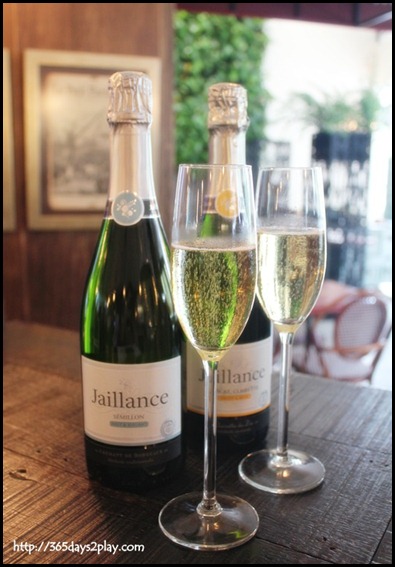 Jaillance originates from the Drí´me Valley, nestled between Vercors and Provence, and represents the Cave de Die, a cooperative founded in 1950 under the leadership of Henri Bonnet. More than 120 000 connoisseurs and enthusiasts visit its cellars every year in Die and Bourg-sur-Gironde to savour its collection.
What's the difference between sparkling wine vs Champagne?
For those not in the know, Champagne IS sparkling wine, produced from grapes grown exclusively in the Champagne region of France. Sparkling wine made using the exact same method as Champagne but with grapes not from the Champagne region cannot be called Champagne.
The point of this is that because there can only be a limited amount of Champagne produced in the Champagne region, and because the average person does not know that there is more to sparkling wine than just Champagne, Champagne the sparkling wine obviously commands a premium.
The thing is, not everything called Champagne equals quality. For the same price, you would probably get a superior tasting sparkling wine of other origins as compared to sparkling wine from the Champagne region. And that's where Jaillance comes into the picture. Can you believe it that these award winning wines are retailing in Singapore for $26.90 (Muscat,Clairette) and $29.90 (Semillon)???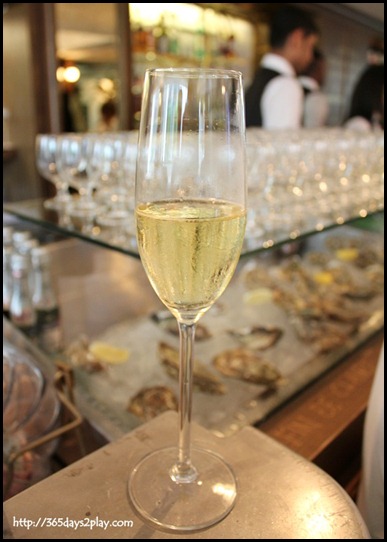 Personally, I favoured the demi-sec Muscat, Clairette from Die much more than the brut Sémillon from Bordeaux. Demi-sec means slightly sweet, whereas brut means dry. The demi-sec has a slightly higher sugar level in it, which was more palatable to the sweet-toothed me.
I'm no wine connoisseur so obviously I don't think I can tell the difference between a good quality sparkling wine vs a good quality champagne. What I can say is I did enjoy drinking these sparking wines very much. More so as compared to a champagne I drank at a subsequent event later that week!
Canapés from Balzac Brasserie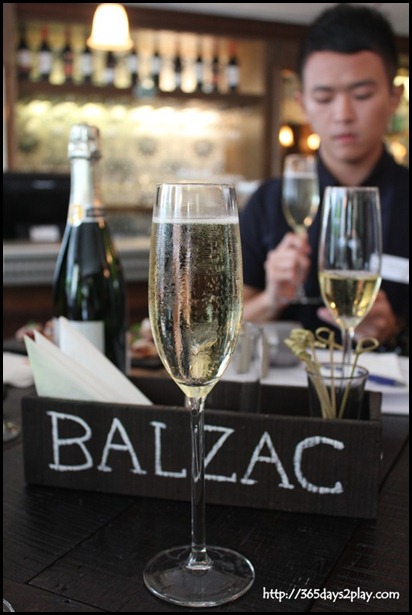 We got to pair our sparkling wines with canapes courtesy of Balzac Brasserie at Rendezvous Hotel. Balzac Brasserie is a French bistro which I have not tried to date, but based on the quality of the canapes served, and the nice, light & airy ambience at Balzac, I'm quite keen to come back again soon!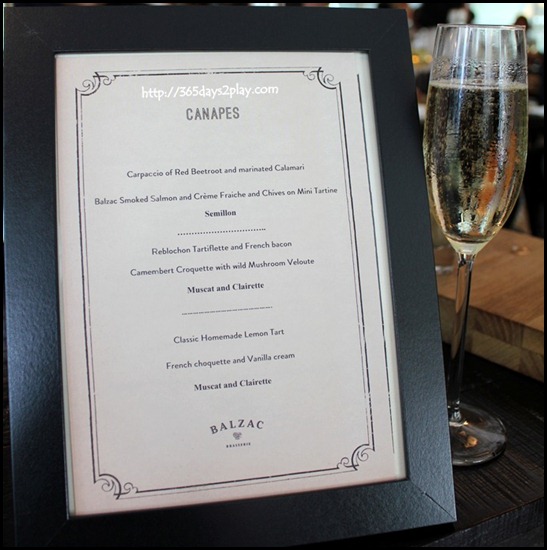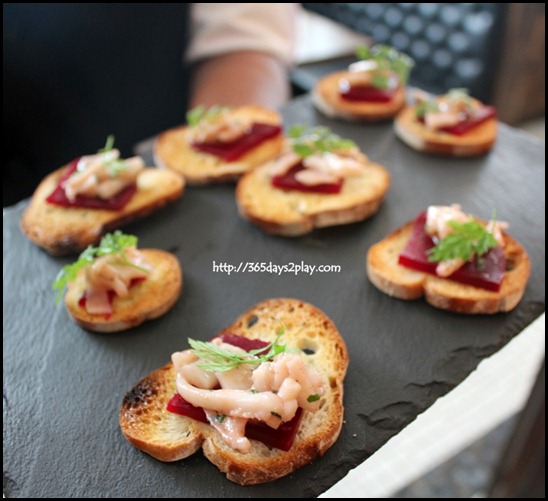 Carpaccio of Red Beetroot and marinated Calamari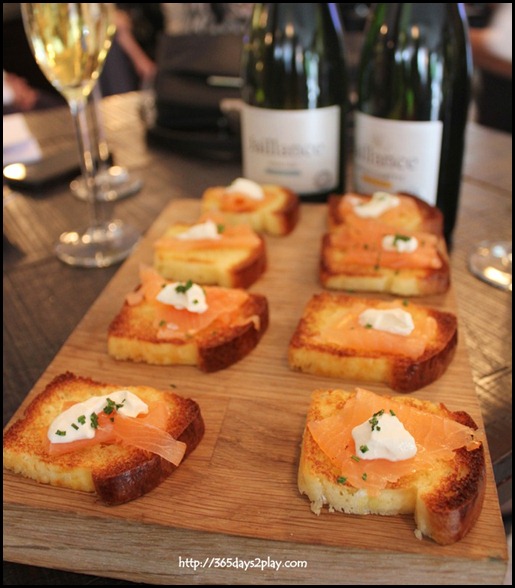 Smoked Salmon and creme Fraiche and Chives on Mini Tartine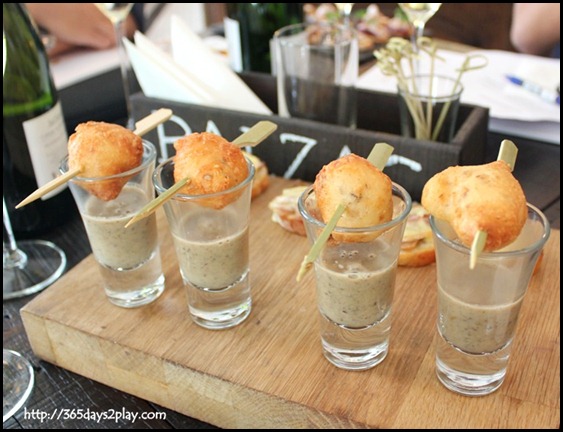 Camembert Croquette with wild Mushroom Veloute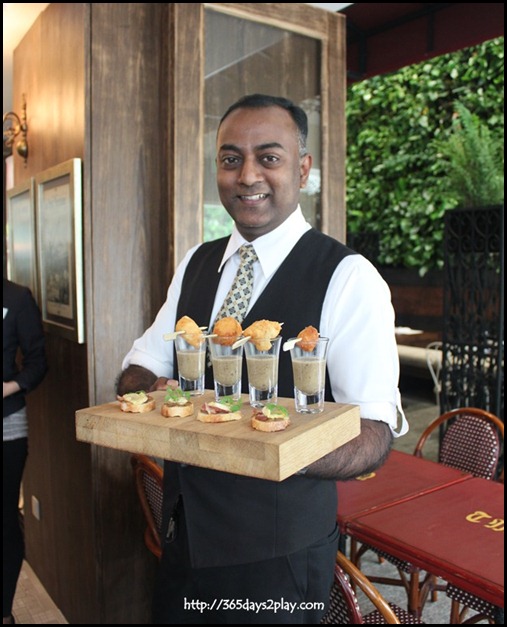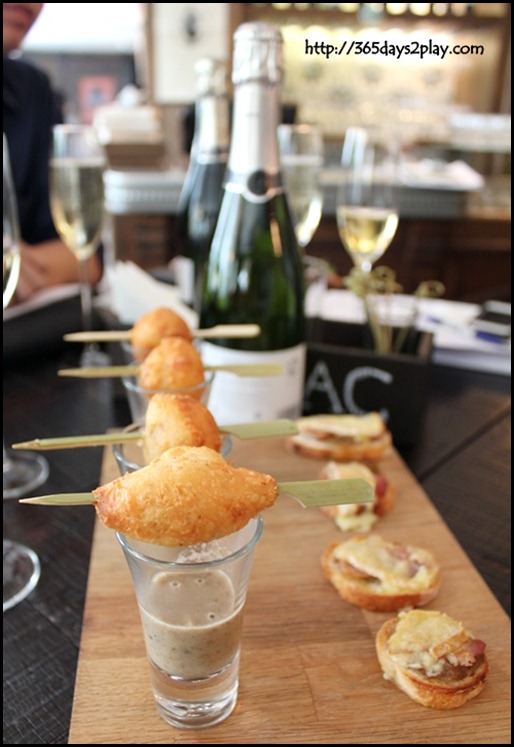 Reblochon Tartiflette and French Bacon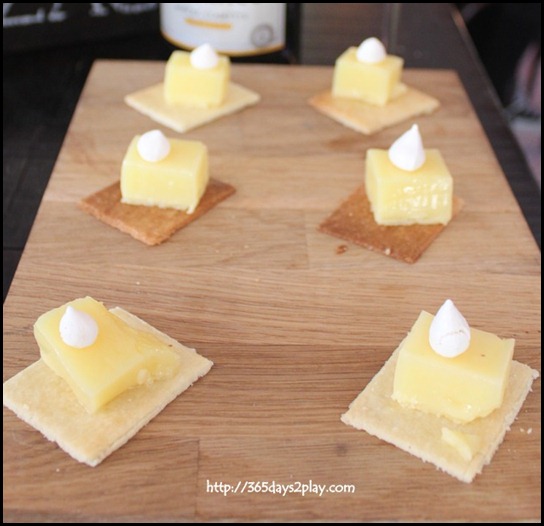 Classic Homemade Lemon Tart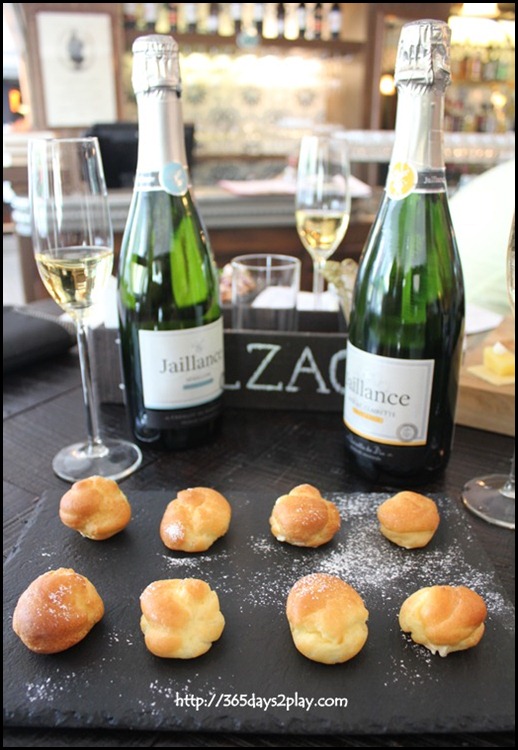 French choquette and Vanilla Cream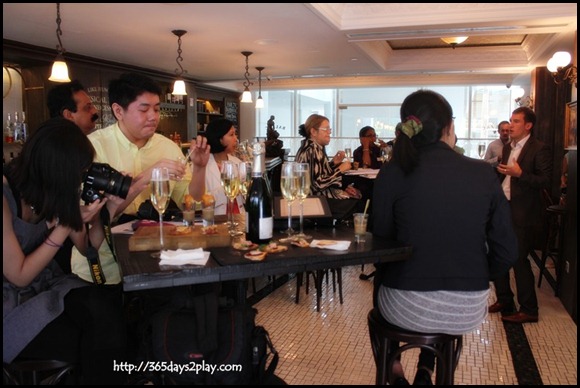 Mr Oliver Campos delivering a speech on the history of Jaillance and the method of producing sparkling wines.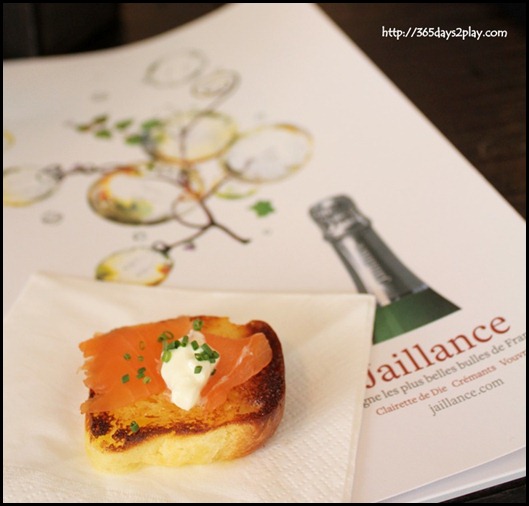 Jaillance…
You can find Jaillance at Cold Storage, MarketPlace and Bottles & Bottles now and at NTUC FairPrice, FairPrice Finest and FairPrice Xtra from November onwards. The Muscat Clairette retails for $26.90 while the Semillon retails for $29.90. Have fun, and drink wisely!