Here's a restaurant that is right smack in town but yet may be flying under the radar due to its second floor location at the quiet Capitol Building just opposite the bustling Raffles City Shopping Centre. Nevertheless, it's a restaurant I want to recommend because the food served here is good! I was here last week to sample their Chinese New Year 2020 offerings and I was impressed. Scroll down further to read more.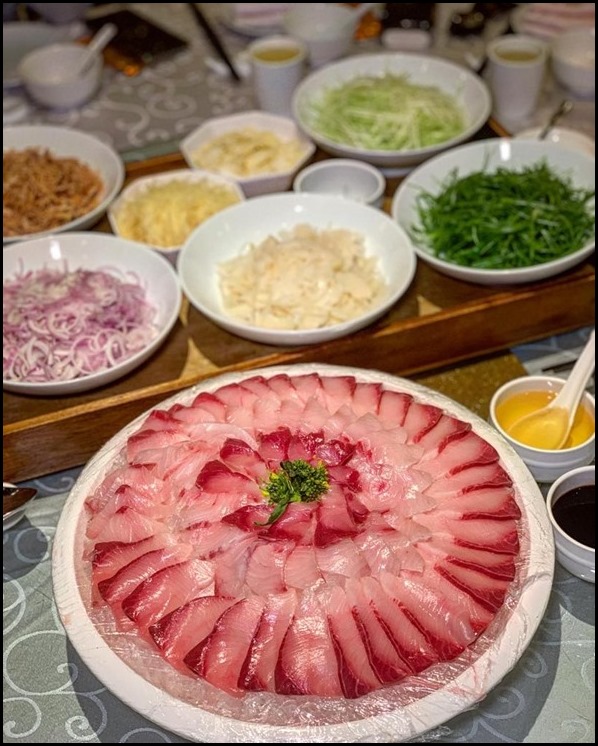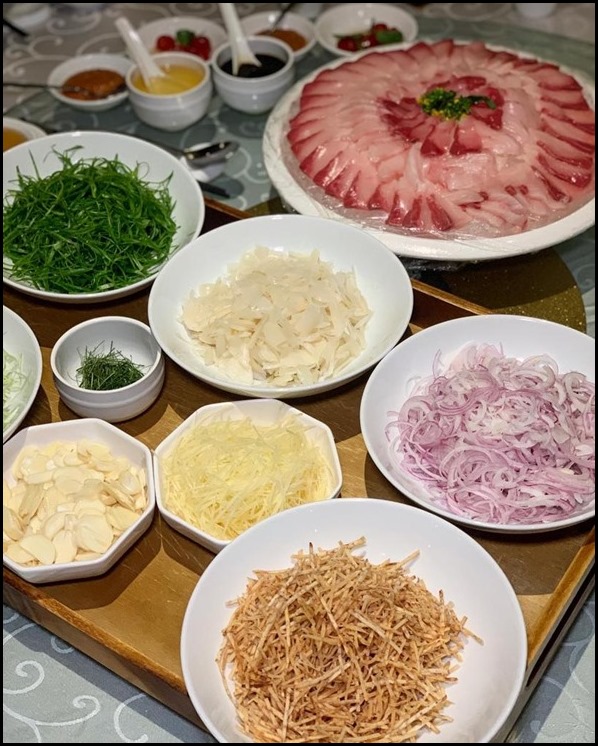 Prosperity Shun De Yu Sheng
Dine-in $118++ for Small ( 6 diners) | $180++ for Large (10 diners)
Takeaway (no service charge for takeaway) $118+ (6 diners) | $180+ (10 diners)
This has got to be the most unique yu sheng I have eaten to date because it does not require tossing! It's a very refined version where diners are served individual plates of the yu sheng, with the remaining ingredients laid out for subsequent helpings. First of all, the fish. Hamachi is used and it had such a lovely flavour! And you would think that condiments such as onions, spring onions, garlic (?!) and even lemongrass seem completely out of place in a yu sheng, but they work surprisingly well together, topped with the savoury soya sauce. I literally had to stop myself from getting a fourth serving lest I look impolite to other diners! So glad to know that this dish is available all year round and not just during Chinese New Year. History has it that a similar dish like this was the inspiration to our modern day Yu Sheng.
Oh if you must have some tossing for your lo hei to feel more celebratory, there are other yu shengs to choose from.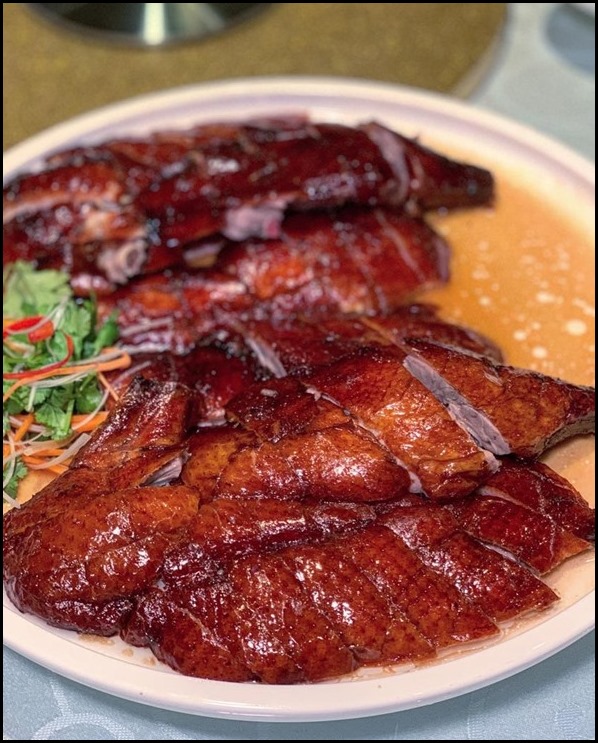 Roasted Silver Hill Irish
S$58++ for half a duck and S$108++ for a whole duck
Not all ducks are equal, some say the Irish ones are one of the best in the world. Certainly this version here was very good. Crispy skin and succulent meat. All in all, well roasted.
Wok-fried Prawn Ball with Traditional Nanyang Style
S$36++ for small, S$54++ for medium and S$72++ for large
Most restaurants are painfully boring when it comes to fried prawns. The usual suspects are cereal prawns, salted egg prawns or wasabi mayo prawns. Loved this Nanyang style prawn where the batter has a bit of an Asian spice mix in it. I think they may have added lemongrass/curry spice. Could do with less salt though as it was a tad bit salty.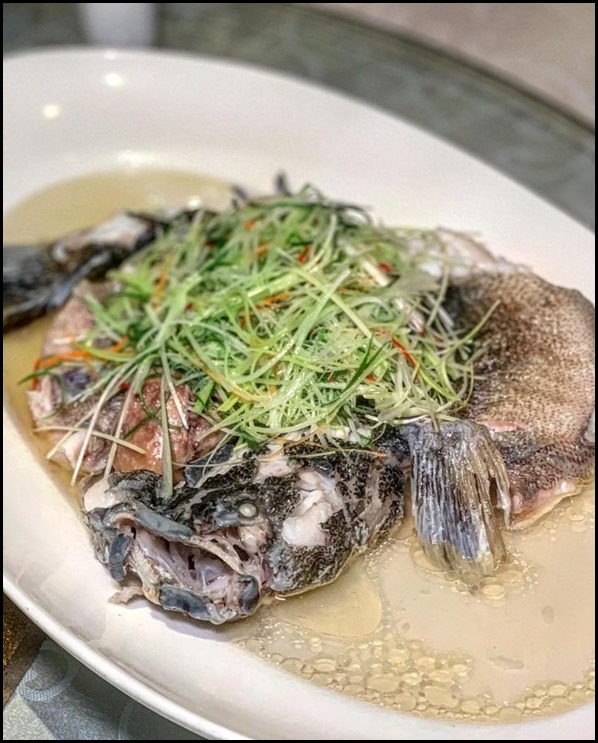 Steamed Marble Goby Fisherman Style
Fish prepared simply without the use of heavy sauces to showcase the freshness of the fish.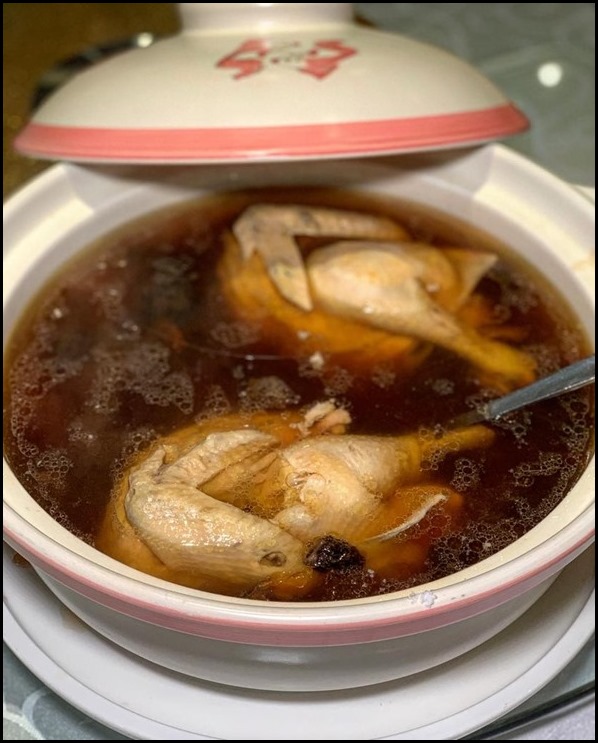 Chicken Soup with Morel Mushroom and Peach Gum
A light yet fortifying broth after simmering the chicken for hours. Supremely tender chicken, with the morel mushrooms giving a bit of bite.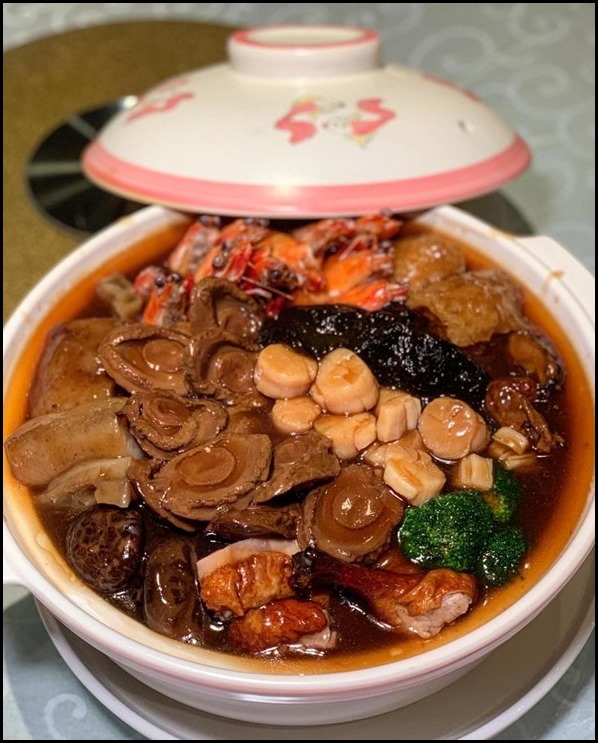 Signature Famous Treasure Pen Cai
Dine-in: S$388 ++ for Small, S$588++ for Large
Takeaway: S$388+ for Small (6 diners), S$588+ for Large (10 diners)
Buy 1 small Pencai and enjoy a complimentary small Yu Sheng.
Buy 1 big Pencai and enjoy a complimentary big Yu Sheng.
The piece de la resistance, pencai or pot of treasures is a must have for Chinese New Year so that you will be blessed abundantly throughout the whole year if you eat like a king during Chinese New Year! Although the broth is not as flavourful as I would have liked, if you're more focussed on the ingredients, the pen cai does boast all the familiar favourites like abalones, scallops, sea cucumber prawns and black moss.
A bit more about Famous Treasure's background. This restaurant was opened on 2 July 2018 and if it sounds familiar, that's because it is an extension of The Famous Kitchen located at Sembawang. The restaurant serves predominantly Nanyang cuisine, a cuisine that includes Teochew, Hokkien, Cantonese and Hainanese cuisines under its umbrella. It has an elegant and contemporary interior and can accommodate up to 150 diners.
*All the dishes above except the Fish are available as ala carte orders. Some may also be found within set menus. Set menus start from $258++ per 4 pax.
---
Add me on Facebook, Instagram and Twitter if you want to be kept up to date with the latest happenings in the food and lifestyle scene in Singapore!
Check out other Chinese New Year Recommendations
---
Famous Treasure Restaurant
13 Stamford Rd, #02-28 Capitol Piazza Singapore 178905
Open Daily Monday to Sunday
Lunch: 11.30am — 3.00pm (last order 2.30pm)
Dinner: 6.00pm — 10.30pm (last order 10.00pm)
http://www.thefamoustreasure.com/
reservation@famoustreasure.com.sg
Contact: +65 6881 6668 / +65 97307548