The Thomson-East Coast Line Woodlands, Woodlands South and Woodlands North Stations (aka TEL 1) will soon be opening on 31 January 2020. In preparation for this momentous occasion, the 3 stations hosted an open house party on 11 January 2020 for the public to preview the stations. Aside from the free rides on these 3 stations throughout the day, there were also a lot of fringe activities held at each of the 3 stations as can be seen in my video below.
Quizzes, hands-on activities for the kids and even a bomb-shelter tour by the SCDF. Many people crowded the quiz stations because there were many freebies to be won. We ourselves managed to snag our hands on a number of post-it notes by the Gracious Bunch, some toy duck figurines (not sure of the relevance!). You can also buy these knick knacks and other quirky merchandise inspired by Singapore's buses and trains at Knackstop.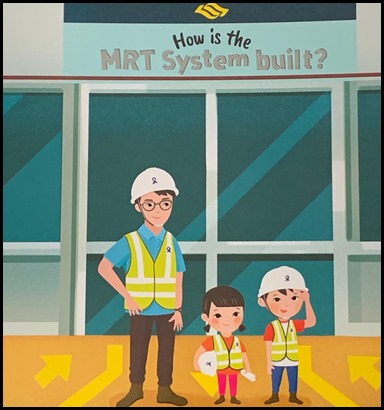 But the best thing we got was a <How is the MRT System built> book published by the Land Transport Authority of Singapore. The book features a story about exactly what the title says in a format easy for children to digest. There are even some simple activities at the end of the book plus a cardboard cut out of a train model to be put together. Fantastic book for train-mad children like my son is.
Some interesting facts about the 3 Woodlands stations
Woodlands North Station is humongous as it is next to the potential Rapid Transit System (RTS) linking Singapore to Johor Bahru.
The stations feature two lifts instead of one to cater to an aging population as well as to be more inclusive
The new MRT train maps with the circle line drawn out as a circle are used
Larger wayfinding signage and exit signs
Exits labelled by number instead of alphabet
One Family room available for changing of diapers, and child height toilet bowl. Strangely located within the disabled toilet, which could mean long queues for those who need it. Watch my video to see this family room toilet!
Watch the video below to get a preview of the upcoming Thomson-East Coast Line 1 stations!
---
Add me on Facebook, Instagram and Twitter if you want to be kept up to date with the latest happenings in the food and lifestyle scene in Singapore!
---