Do you get the feeling that if you've tried one dim sum restaurant, you've tried them all? While the culinary scene in Singapore has been hotting up and throwing out all manner of new and exciting dishes, it has not been the same case when it comes to dim sum. Don't get me wrong, I love eating har gow, siew mai and cheong fun, and these are must orders whenever I have dim sum, but I also want a few new dishes as well to whet my appetite and make the entire experience memorable.
Well, I'm glad to say I've finally found a restaurant that serves dim sum I've never tried before, and the dim sum dishes taste good! It might be a bit tiresome to have to go into Sentosa, but at least Avenue Joffre is just a 3 min walk from the monorail station, and it is well worth the effort. And the best part is, the prices are very reasonable for the quality that is served. Most of the dim sum dishes are priced at a standard $6++ per basket.
But before I delve into the dim sum proper, I would like to add that their roast meats are fantabulous too! The meats are marinated for 1/2 a day and roasted over lychee-wood, rendering the meats with a subtle fruity flavour.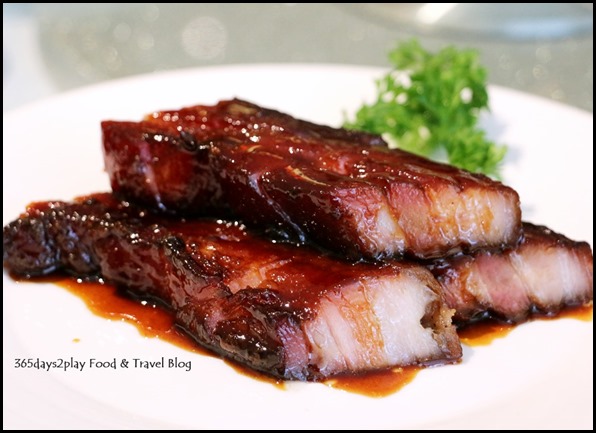 Honey-glazed BBQ Pork $18
Just look at the lusciousness of the bbq pork, so juicy and tender, and enveloped by the sticky sweet honey glaze! Each slice has been cut extra thick for you to get maximum impact.