Do you get the feeling that if you've tried one dim sum restaurant, you've tried them all? While the culinary scene in Singapore has been hotting up and throwing out all manner of new and exciting dishes, it has not been the same case when it comes to dim sum. Don't get me wrong, I love eating har gow, siew mai and cheong fun, and these are must orders whenever I have dim sum, but I also want a few new dishes as well to whet my appetite and make the entire experience memorable.
Well, I'm glad to say I've finally found a restaurant that serves dim sum I've never tried before, and the dim sum dishes taste good! It might be a bit tiresome to have to go into Sentosa, but at least Avenue Joffre is just a 3 min walk from the monorail station, and it is well worth the effort. And the best part is, the prices are very reasonable for the quality that is served. Most of the dim sum dishes are priced at a standard $6++ per basket.
But before I delve into the dim sum proper, I would like to add that their roast meats are fantabulous too! The meats are marinated for 1/2 a day and roasted over lychee-wood, rendering the meats with a subtle fruity flavour.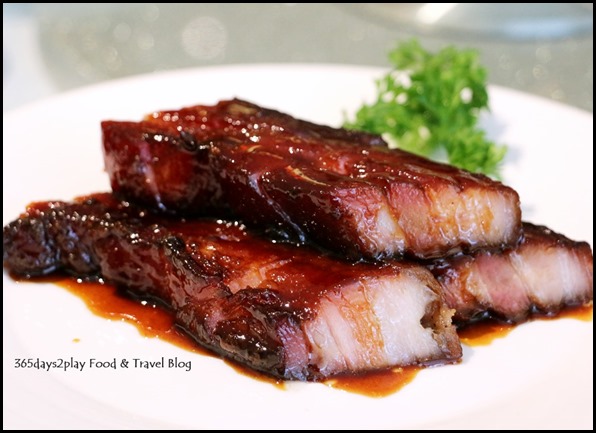 Honey-glazed BBQ Pork $18
Just look at the lusciousness of the bbq pork, so juicy and tender, and enveloped by the sticky sweet honey glaze! Each slice has been cut extra thick for you to get maximum impact.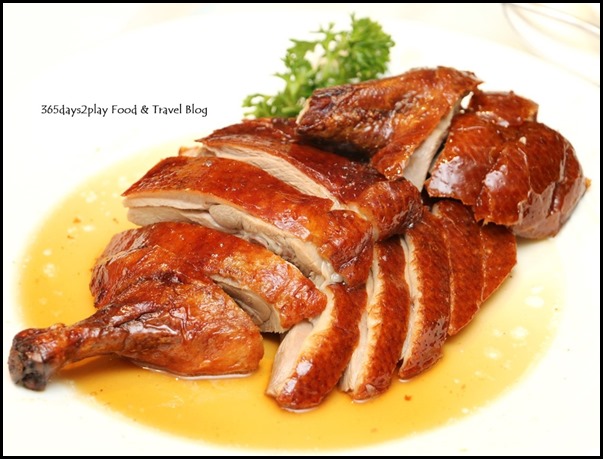 Roasted Cantonese Duck $22
As you can see, the duck has been roasted to perfection, with no charred black bits. Even the breast meat was tender, which is a testament to the cooking skills of the chef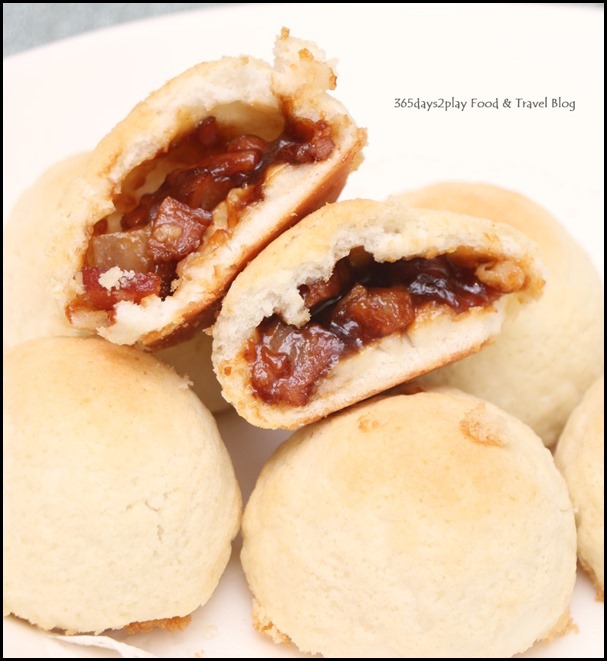 Snow Mountain BBQ Pork Buns
Similar to bo-luo bao, more of the fantastic char siew can be savoured in these fluffy buns. I wouldn't mind going for the normal char siew buns though, as the sweet crispy bits at the top detract from the wonderful goodness encased within.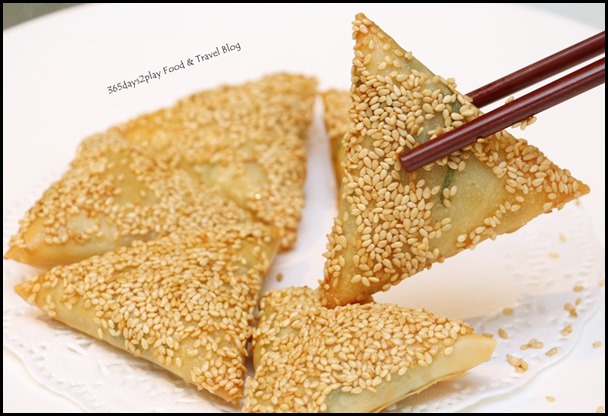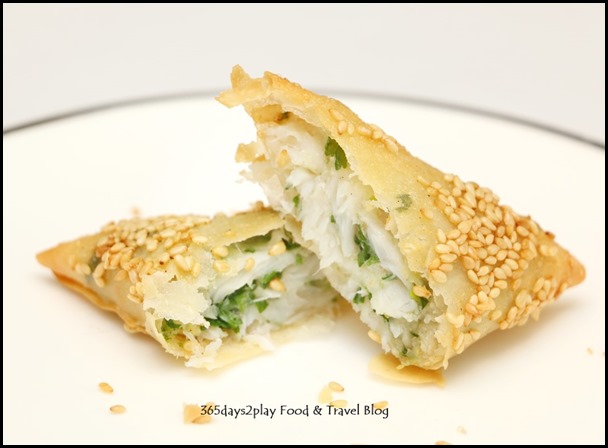 Deep-fried Golden Pockets with Sliced Mandarin Fish Filling
This was one amazing golden pocket. I don't think I've ever tasted a dumpling/parcel made in this manner before. The fish filling was substantial as you can see from the picture, and it's mostly fish, as compared to other places that stuff in other unnecessary fillers. The result is a piping hot delicious fish filling after you dive past the wafer thin parcel.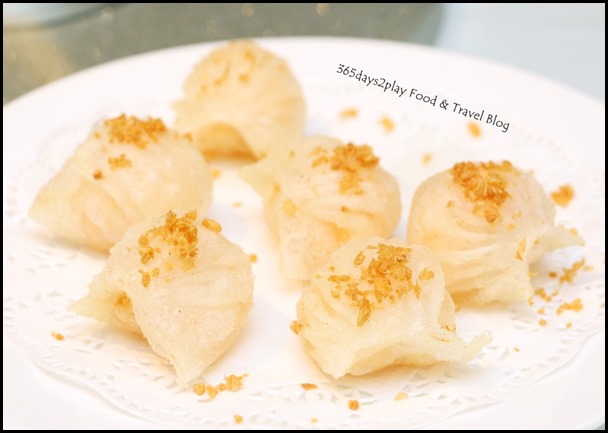 Deep-fried Shrimp Dumplings with Shredded Bamboo
I thought I would prefer the usual steamed shrimp dumplings, but surprisingly, only the exterior is fried. The prawn within tastes exactly like its steamed cousin, remaining plump and juicy probably because it quickly steams within the casing due to the heat. Quite a nice contrast of crispy exterior vs steamed interior.
Pan-fried dumplings with sea cucumber, prawn & pork
Ok this one was not my favourite due to the rather thick skin and the average tasting filling inside.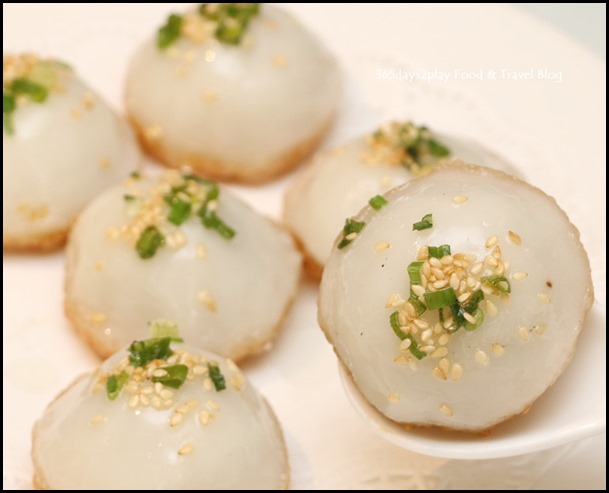 Pan-fried Glutinous Rice Balls with Pork & Vegetable Filling
Looking at this one, I thought it would be a big ball of sticky mess, but how wrong I was. The glutinous exterior was dainty soft at the top and crispy at the bottom. So dreamy and exquisite. It's hard to make a glutinous item feel refined, but I dare say Avenue Joffre has done just that. 
Steamed deluxe jujube & walnut cake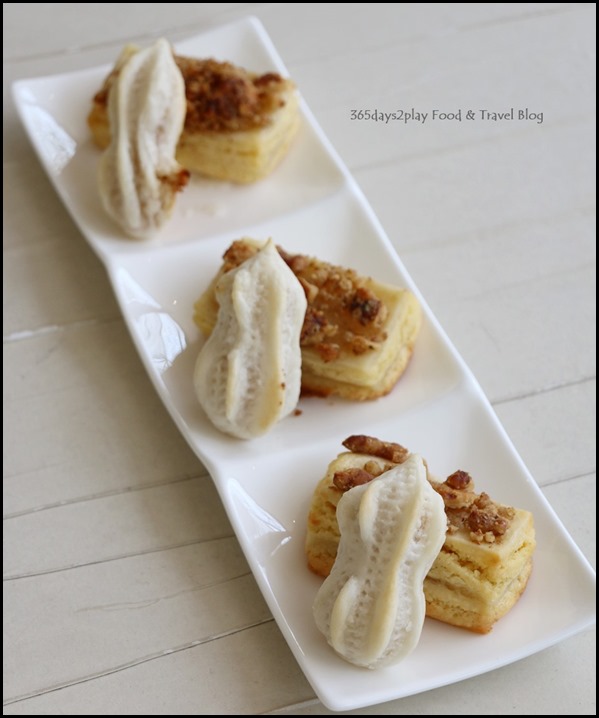 Peanut Pastry
The desserts were a little more ordinary or down to earth tasting as compared to the savoury dim sum dishes. I did like the cutesy looking peanut pastry that has been prepared 2 ways, which got more addictive after I nibbled at it.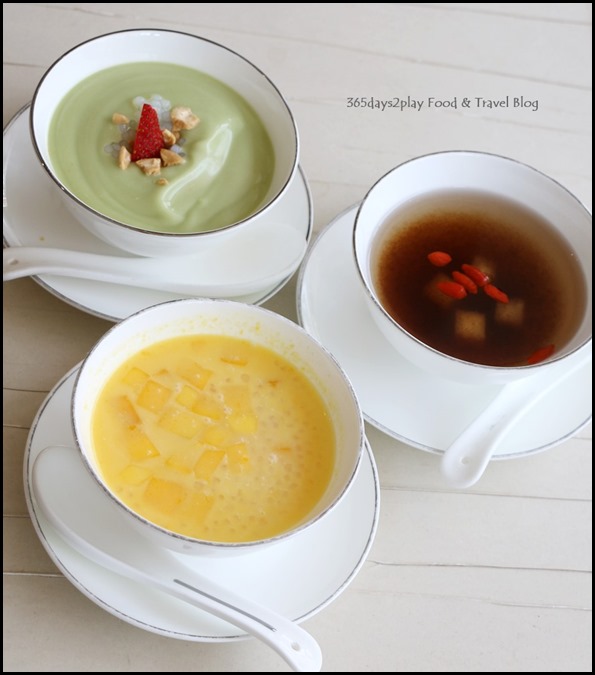 Avenue Joffre boasts a number of sweet dessert soups. I had to go for my favourite mango sago soup which I finished to the last drop, while the one pictured above is some avocado concoction and the one on the right is a throat soothing soup.
---
Add me on Facebook, Instagram and Twitter if you want to be kept up to date with the latest happenings in the food and lifestyle scene in Singapore!
Read about my previous dinner visit to Avenue Joffre.
---
Avenue Joffre
26 Sentosa Gateway, #02-137/138/139, Resorts World Sentosa Singapore 098138 (Entry by Festival Walk and Crockfords Tower) Just a short 3 min walk from the monorail station.
Tel : +65 6570 3213
Website: www.avenuejoffre.com
Facebook: https://www.facebook.com/avejoffre
Lunch: Monday to Sunday 12pm — 4pm (Last Order 3.30pm)
Dinner: Sunday to Thursday 6pm — 10pm (Last Order 9.30pm) Friday, Saturday and Public Holiday's Eve 6pm — 10.30pm (Last Order 10pm)