Prior to having Edward, I loved going to the bookshops to browse cookbooks and food magazines. These days, you'll catch me at the Early Readers section instead. Don't get me wrong, I would dearly love to have the time to browse cookbooks again, but priorities beckon.
And when it comes to buying books for Edward (who has recently turned 2, another post his 2 year birthday celebrations coming up soon), I never knew that I could be such a shopaholic. I almost think I'm addicted to buying books! You won't see me buying clothes every time I step into the mall (I am really good at analysing the purchase off), but I could most certainly buy a book or more if I were to enter the book shop. The idea of going to the bookshop and buying something conjures up excited feelings in me. I actually look forward to going to the bookshop, like you would to a cafe or a movie for example.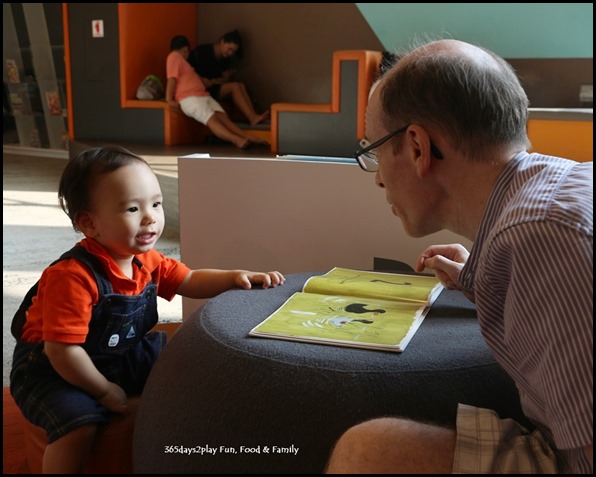 I like bringing Edward to the library too, where we can hoard, I mean borrow more books to read. I'm not sorry to say, but I judge a book by its cover, and pages. That is to say, I tend to borrow books that are still in pretty good condition. Do you blame me for liking things that look new? The thing is, there are thousands of books at the library, all looking very suitable. There's no way to know which book is good or not, and since no book can be totally bad, why not just borrow the books that are still in relatively mint condition, and cherish the book like an owned one, even if it is for 3 weeks?
Anyway, I thought you might like to know what books Edward currently loves. When he was younger, I used to focus a lot on those dictionary type books aka Baby's first words or Baby's first 100 words, where there is a picture and one corresponding word. I've amassed quite a number over the last 2 years, because these books are relatively cheap and can be gotten for less than $10. In fact, I have quite a number that are less than $5! Now you know why I have so many books.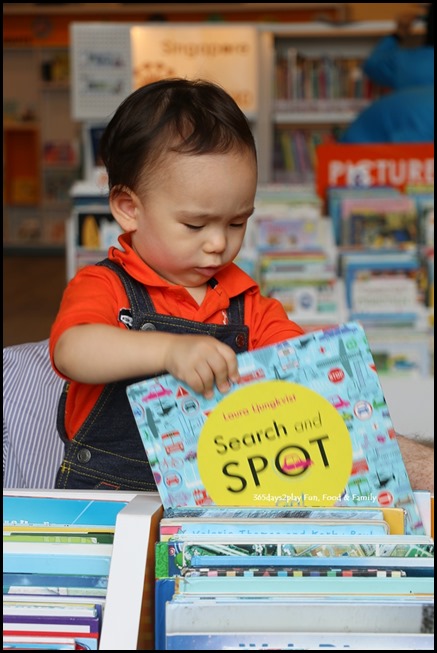 Having fun browsing for his own books….and turning the library upside down.
How often do you visit the library?
These days, now that Edward is 2 years old, he's into books that have a lot of sound and rhythm. And also books that have numbers in them. I think he loves the numbers books because he's very much into numbers these days, and also because its predictable! At their age where everything is new and has to be learnt, I think they feel a sense of achievement to be able to tell what is on the next page of the book! Which reminds me, in our bid to teach them more and more new things, we still need to allocate time for recap!