Prior to having Edward, I loved going to the bookshops to browse cookbooks and food magazines. These days, you'll catch me at the Early Readers section instead. Don't get me wrong, I would dearly love to have the time to browse cookbooks again, but priorities beckon.
And when it comes to buying books for Edward (who has recently turned 2, another post his 2 year birthday celebrations coming up soon), I never knew that I could be such a shopaholic. I almost think I'm addicted to buying books! You won't see me buying clothes every time I step into the mall (I am really good at analysing the purchase off), but I could most certainly buy a book or more if I were to enter the book shop. The idea of going to the bookshop and buying something conjures up excited feelings in me. I actually look forward to going to the bookshop, like you would to a cafe or a movie for example.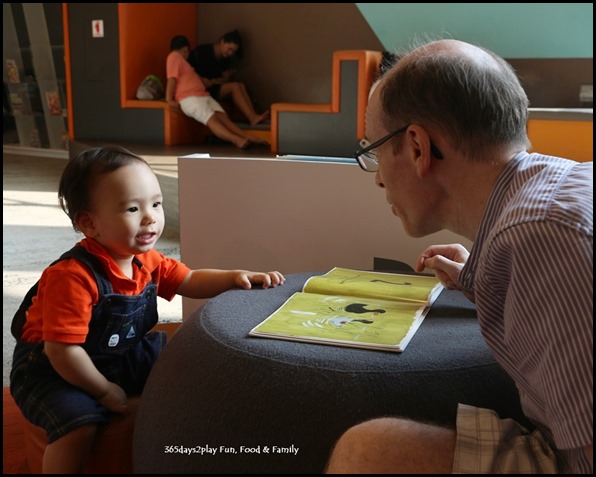 I like bringing Edward to the library too, where we can hoard, I mean borrow more books to read. I'm not sorry to say, but I judge a book by its cover, and pages. That is to say, I tend to borrow books that are still in pretty good condition. Do you blame me for liking things that look new? The thing is, there are thousands of books at the library, all looking very suitable. There's no way to know which book is good or not, and since no book can be totally bad, why not just borrow the books that are still in relatively mint condition, and cherish the book like an owned one, even if it is for 3 weeks?
Anyway, I thought you might like to know what books Edward currently loves. When he was younger, I used to focus a lot on those dictionary type books aka Baby's first words or Baby's first 100 words, where there is a picture and one corresponding word. I've amassed quite a number over the last 2 years, because these books are relatively cheap and can be gotten for less than $10. In fact, I have quite a number that are less than $5! Now you know why I have so many books.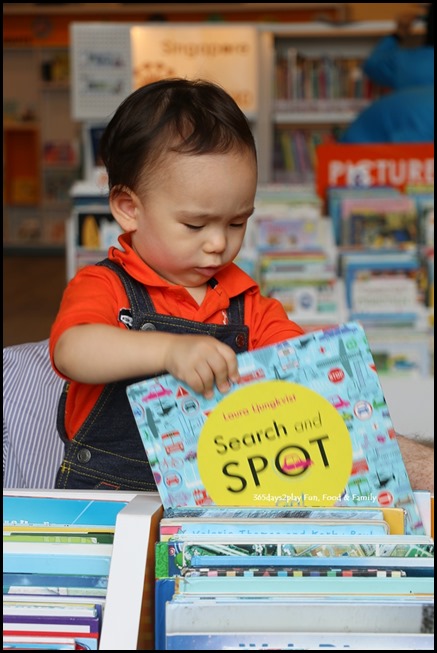 Having fun browsing for his own books….and turning the library upside down.
How often do you visit the library?
These days, now that Edward is 2 years old, he's into books that have a lot of sound and rhythm. And also books that have numbers in them. I think he loves the numbers books because he's very much into numbers these days, and also because its predictable! At their age where everything is new and has to be learnt, I think they feel a sense of achievement to be able to tell what is on the next page of the book! Which reminds me, in our bid to teach them more and more new things, we still need to allocate time for recap!
1. Oi Dog! by Kes & Claire Gray and Jim Field
This is Edward's current MOST FAVOURITE book! The husband happened to pick out this book at the library just because it looked interesting. We had no idea that Edward would be interested but he loves this book so much, come bed time, he will repeat Oi Dog many times to tell us it's time to read! We even had to bring this book along for our staycation last week lest he throw a fit if we didn't have the book with us. I wonder what's going to happen when we have to return it to the library.
Oi Dog! is the sequel to Oi Frog! (which we have not read yet). In this world, apparently there are rules on who sits on what so dogs are supposed to sit on frogs. Well Frog is tired of that and has decided that dogs will sit on logs, cats will sit on gnats and so forth! It gets more and more hilarious as the plot moves on, with accompanying crazy illustrations. It's certainly very entertaining for the adults to read. I'm not sure if Edward appreciates the the hilarity of it all, or if he simply loves all the rhyming words, but this is definitely his current favourite book.
Click here to buy Oi Dog! from Amazon.
2. Goodnight Tractor by Michelle Robinson and Nick East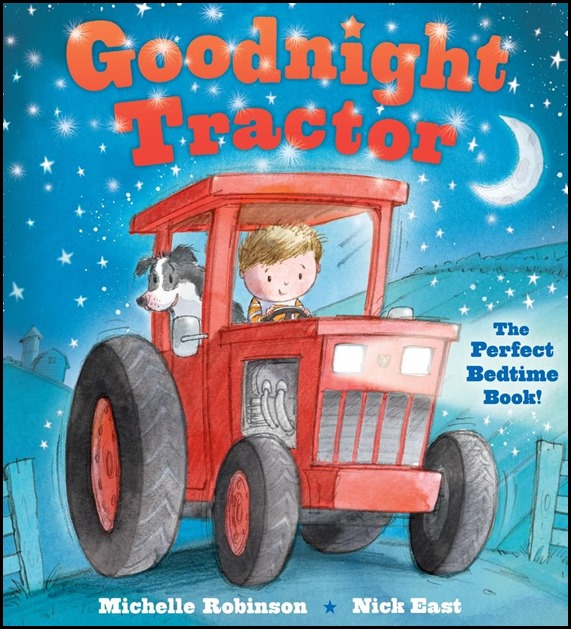 We've had this book for nearly a year now. You know when I was new to toddler books and I first received this book, I thought what a crazy book. Like I can understand why you would say goodnight to the farm animals, but why would anyone say goodnight to tractors, combines, wagons and ploughs?
But what doesn't make sense to adults makes perfect sense to toddlers! Lots of rhyming words here which Edward enjoys, and it also mentions all the farm animal names as well as the vehicles. These goodnight books don't actually put Edward to sleep though.
Click here to buy Goodnight Tractor from Amazon.
3. Bedtime with Ted by Sophy Henn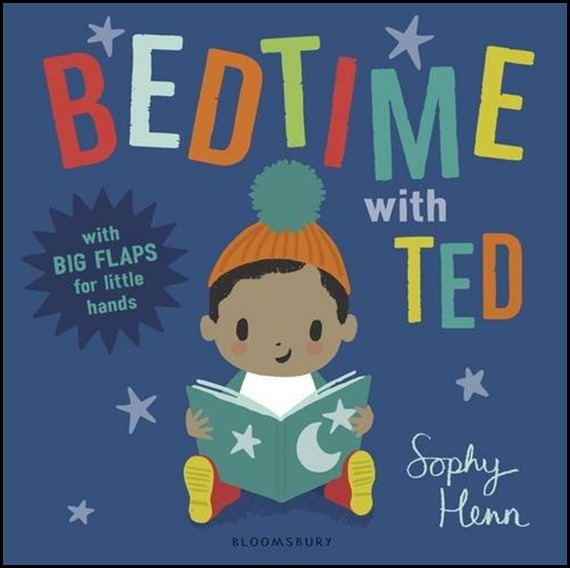 This is yet another one of those bedtime stories. Not the best of books if you want your kid to actually fall asleep after reading this, because there are flaps which your toddler can fiddle around with. I think Edward liked this book precisely because of the flaps!
Click here to buy Bedtime with Ted from Amazon
4. Black and White Rabbit's ABC by Alan Baker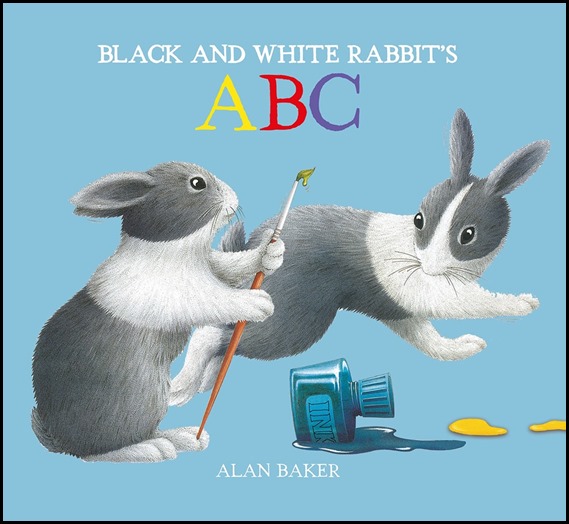 There are many ABC books out there, you know A for Apple, B for Ball, kind of books. This one is quite different as there's actually a storyline going from A to Z. And the letters don't only refer to nouns (things), they could refer to adjectives or verbs, which is very good if you want to up your toddler's reading level one notch. As mentioned, the predictability of the story (B comes after A, C comes after B) is another thing that's helps sustain a toddler's interest.
Click here to buy Black and White Rabbit's ABC from Amazon
5. Peter and Jane by Ladybird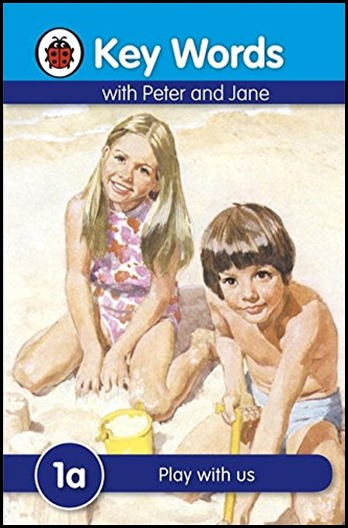 Ok this book bucks the trend as it is quite different from the 4 books above. There are no rhyming words here. What's great about the Peter and Jane series, especially the 1st few levels, is that there are just a few words per page. If you start at 1a, it is literally "This is Peter". "This is Jane". And you have the corresponding picture next to it. The key words used are common words and are introduced gradually, and repeated frequently in the book. I feel it really simplifies the reading process to a toddler. Imagine being inundated with tons of words. I would highly recommend this book when teaching your child to read. I myself read this series decades ago when I was learning to read. If only there were a Mandarin version too. If anyone knows of a Mandarin version of this or similar, please share with me!
Click here to buy Peter and Jane from Amazon
*This article contains affiliate links to Amazon.com, however all the opinions expressed are my own.
---
Add me on Facebook, Instagram and Twitter if you want to be kept up to date with the latest happenings in the food, family and lifestyle scene in Singapore!