I'm always on the look out for places which serve organic, healthy and delicious food and I was shocked to discover that one such place exists at The Central since last year! As you know, I used to work around that area and it would have been great if I could have had the opportunity to introduce this gem of a place to my meat loving and organic abhorring colleagues.
So I finally made it down to Real Food yesterday, with my parents and the Partner in tow. Real Food is fairly large for a cafe, and we managed to get seats without any problems. Aside from cooked meals, Real Food also has a small section featuring organic groceries, and books.
According to the Real Food website, all their meals, dressings and sauces are made from scratch using basic organic ingredients. Absolutely no artificially processed ingredients, preservatives, trans-fats and colouring is used. Most of the dishes are vegan, meaning they contain no animal products including milk or eggs. There are some egg dishes though, like the poached egg sourdough sandwich.
We skimmed through the menu. Everything sounded really delicious, and it was great to know that they would all be healthy and organic. My mother (a health fanatic) even exclaimed that for the 1st time, she could order anything she wanted without having to think twice about it's nutritional value!
In the end, my father and the Partner settled for the fried rice, my mother took the stuffed salad while I ordered the dumpling noodles.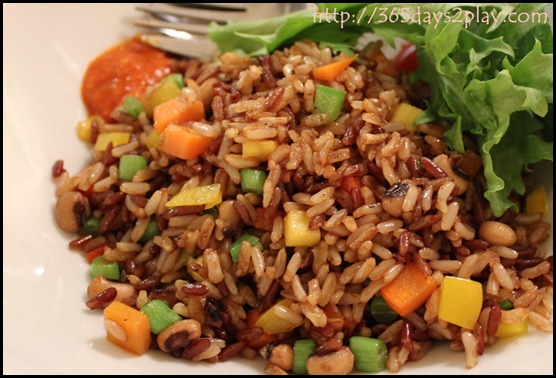 Fried Rice $6.80 – Brown rice stir-fried with garlic (on request), pineapple, capsicum, French beans, carrots, mushrooms, black pepper and fresh corn. After trying the 3 main dishes we ordered, I found this to be the best tasting. Obviously one reason is that the rice is fried. But the great thing is that it doesn't taste oily and heavy. On the contrary, the rice is very light but firm and hardly feels fried. There is a lot of crunch to it thanks to the diced vegetables. The dish feels substantial even though there is no meat at all. I loved this dish very much and I would most definitely order this again when I am back.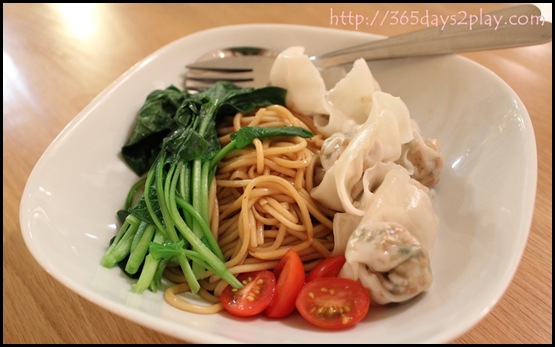 Dumpling Noodles Dry 8.80 — Special handmade dumplings, wholegrain ramen noodles with green leafy vegetables, cherry tomatoes, and a side of vegetable soup. The special dumplings are really delicious as they contain at least 10 ingredients in them including diced carrots, mushrooms and chestnuts. They were so nice, I wish there was more filling in the dumplings. The noodles I didn't fancy so much. The texture was a little soggy. Hey and I just realised that I wasn't given the soup!!!!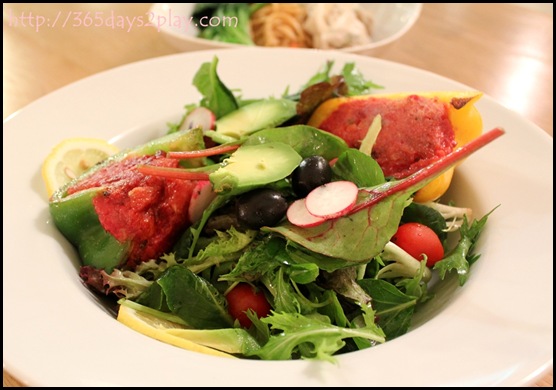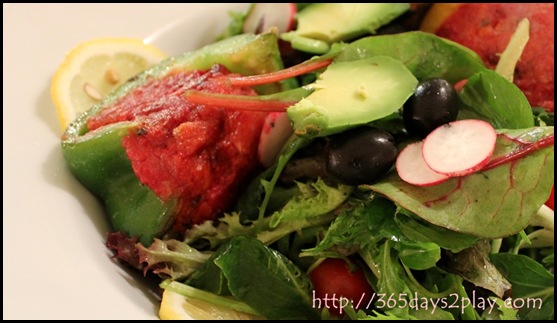 Stuffed Veggie Salad 9.80 – Grilled organic capsicum, filled with a homemade patty made from grated beetroot and carrots, mashed potatoes, onions and fresh thyme. When the salad arrived, we were like, "oh my god, is that the salad we ordered? It's huge!" According to the staff, all their salads here are very substantial. I loved the stuffing inside the capsicum. It has a very special taste which just had me craving for more. I wonder if they use this stuffing in their sandwiches as well, it would be worth a try. The rest of the salad was a bit more normal, with the stuffed capsicums being the stars of the dish.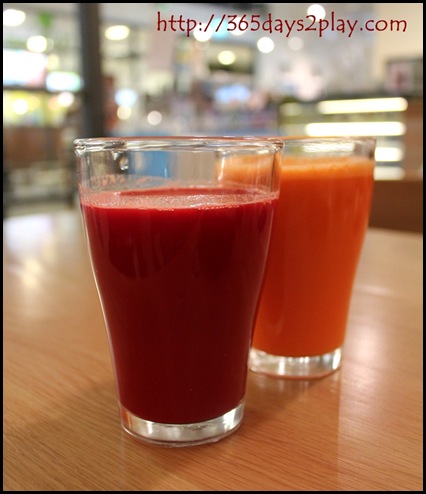 Slow pressed juice – $4.60 The front one is beetroot carrot, while the back one is carrot, ginger, pineapple. Pretty affordable prices, considering that the juice is slow pressed, with no added ice or water. BTW, beetroot is really good for health and so delicious when combined with carrot juice or apple juice. I know those of you out there unaccustomed to drinking vegetable juice might think of beetroot juice as being totally repulsive. Trust me, it's DELICIOUS! It's sweet and refreshing and the juice doesn't taste like it originated from a vegetable!
I've been thinking of getting a slow pressed juicer myself. I did some basic research and it seems you can get a single gear one for about $450. Double geared ones are better, but far more expensive, like maybe $1000? Conventional juicers, the ones that go at high speed and make a heck of a noise, they create so much heat they kill off the enzymes in the juice. That's why its far better to get a slow/cold pressed juicer for the full health benefits.
I know I know, eating the fruit fresh is the best way to go. But let's face it, I really don't foresee myself munching carrots and beetroots the minute I hop out of bed in the morning. Down a cup of juice to get vital nutrients, I still can manage.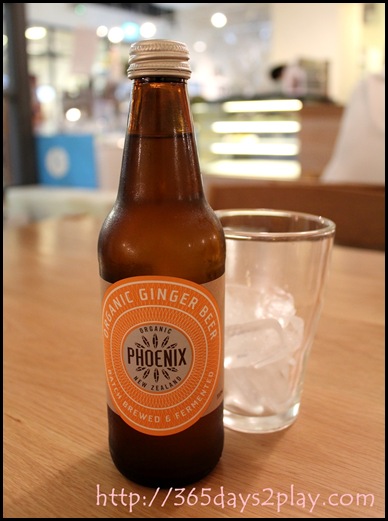 Organic Gingeer Beer $4 — Made in New Zealand!
Vegan Ice Cream $4.50 for 3 scoops — Rice milk is used instead of milk. I tried the hazelnut flavoured one and it's pretty good. The texture is practically the same as normal ice cream. Almost can't tell that it's not made from milk. The mulberry one has a texture and taste similar to that of frozen yoghurt. It's the vanilla flavoured one that you can really tell that this isn't real ice cream. The texture is somewhat rough and the vanilla almost tastes medicinal if you think hard about it. The girl manning the ice cream stand is very helpful. Ask her for free samples!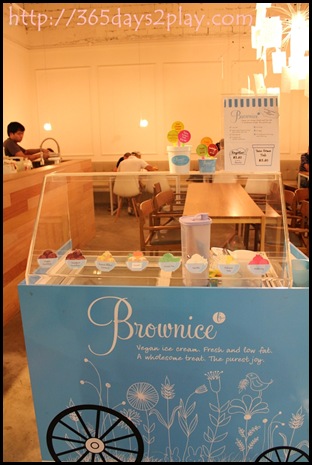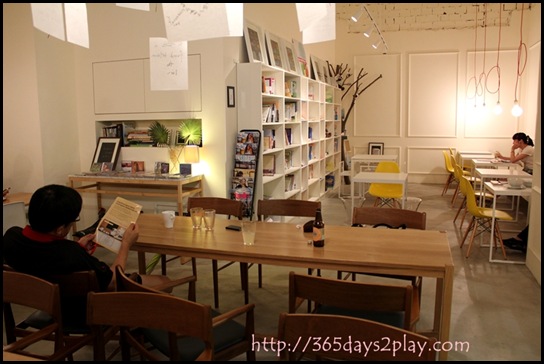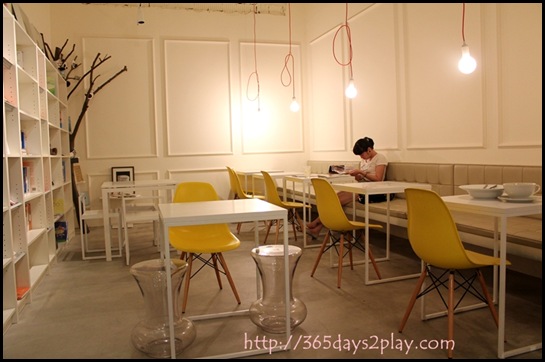 On the whole, I think that the food here is very reasonably priced. Organic ingredients tend to be more expensive, yet the most of the main dishes only cost $6-$12. And despite the food being vegan, our dishes were tasty and satiated us. We will definitely return again. The groceries at the grocer section seemed over priced, so we didn't buy anything. For example, the Fairtrade coffee costs about $9 at a normal supermarket but Real Food was selling it at $12. The little bookshop stocks books with a healthy mind healthy body theme, good for those who are searching for books on natural healing etc.
Real Food : Cafe, Grocer, Books
6 Eu Tong Sen Street
The Central #B1-52/53, Singapore 059817
T: +65 62244492
Mon-Sat 10am – 930pm
Sun & P/H 10am — 4pm