There are precious few vegetarian restaurants around, much less those which are good. I'm so glad to report that one such vegetarian restaurant exists and it is located in the East, specifically East Coast Road! It's the row of shophouses just opposite 112 Katong, but for some reason, I always walk past it without noticing it's there. There are a lot of nice eateries located along that stretch, ranging from Peranakan to Indian, to Vegetarian to even cupcake stores. Bet many of you also know Saveur the French restaurant, it once used to be located at the Ali Baba Eating House at the junction of East Coast Road and Joo Chiat Road!
Anyway, enough of other restaurants. Today I want to just focus on my latest find, Naïve! My mother originally wanted to go to Dann's Pescetarian Cafe for their fantastic warming fish soup but it closes early at 7pm. Since I'm the food blogger, everyone expects me to be the walking directory. I have this secret weapon called Google but if you try googling "Organic or Vegetarian restaurants in the East, Singapore", you would probably not find anything useful. We're really not into the vegetarian mock meats kind of thing either. So I was really so glad when after 10 minutes of searching, I found out about Naïve. I was a little apprehensive since the review was done a few years ago. I called up and luckily the restaurant hadn't gone kapoot!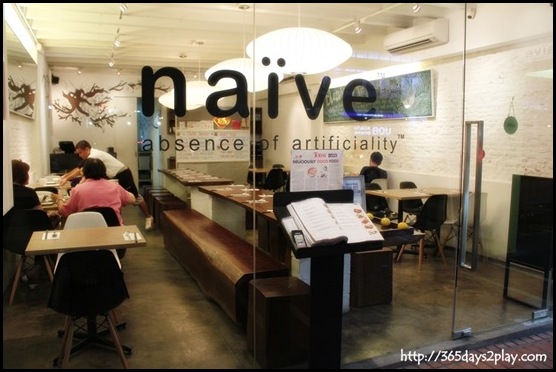 Pretty self explanatory why the restaurant is named so…
Seriously, to cut to the chase, all of us loved the food at Naïve! It's really a shame that we haven't chanced upon it earlier! Naive does vegetarian food in Chinese Cze Char style, but in a nice modern looking type of restaurant. They also serve some Western dishes but we didn't try any. All the Chinese dishes we tried were great! The food was tasty, not oily or greasy like alot of lousy Cze Char places are apt to be, and refreshing tasting! I totally didn't feel like I wasn't eating meat. I'll put a disclaimer up front though, I am more used to not eating meat than the average person because my father is a pescetarian. But I would think that if you're keen to try out cze char dishes without meat, Naïve is certainly a good restaurant to do so.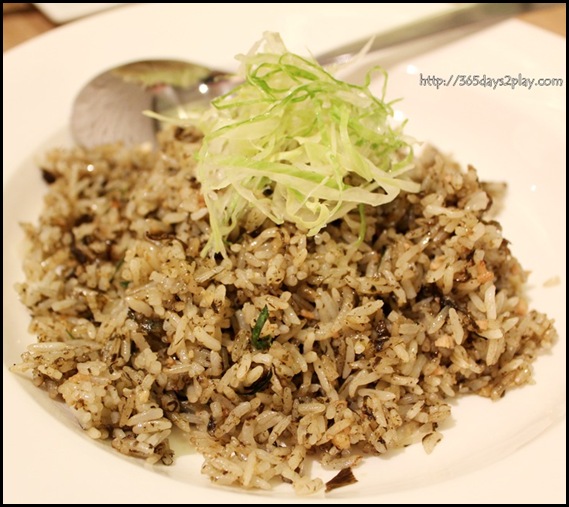 Olive Brown Rice $8
I think brown rice has suffered from a bad reputation for quite a long time. I recall 10 to 20 years ago, the only type of brown rice one could get in Singapore would be the rather reddish kind. It had a very rough texture and of course when compared to white rice, wasn't as nice to eat. These days, there are quite a variety of brown rice available to the consumer. Seriously, if I hadn't told you so, would you have noticed that this above was brown rice? This dish tasted like olive fried rice. Tasty and fragrant!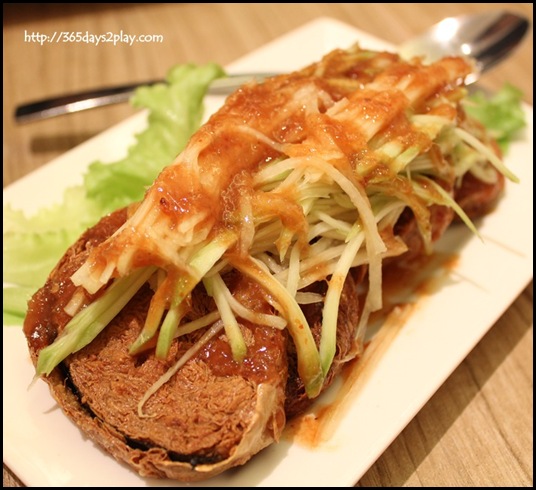 Mango Tofu Cake with Thai Sweet & Sour Sauce $11.90
This tofu cake was fried to a crisp, and was a delight to eat. It was very crispy on the outside, and a little bouncy on the inside as it's made of folds and folds of Tau Kee. The green shreds above are mango in sweet and sour sauce, which added a tanginess to the tofu. Very delicious.