Today marks my 4th visit to Dann's Daily. Although I have a policy of not visiting the same place too often (so that I have more stuff to blog about), we really like going to Dann's for their excellent coffee. If you're living in the East, this is probably the only place nearby to get a good cuppa without having to go all the way into town. And of course, my parents in particular love it at Dann's for the healthy fare.
They are always having daily specials, and one of today's specials was the Durian Steamed Cupcake going at $7!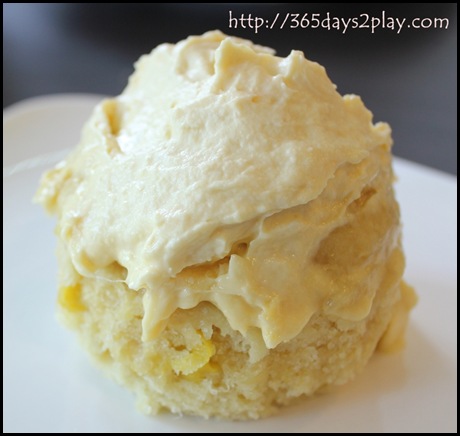 This is the 1st time I was trying their steamed cupcake. To be frank, I was rather apprehensive about the "steamed" part as I am so used to baked cakes. The texture of the muffin turned out to be pretty okay and a little heavier than the usual cup cakes. The lady boss told us that the muffin is choc full of durian puree! But in my opinion, the thing that took the cake was the durian cream piled on top of the cup cake. It was SO GOOOOD. It had just the right amount of sweetness, it was light and fluffy and tasted like fresh durian. I mean it's basically fresh durian puree with zero sugar added. Even the cupcake part has very little raw sugar used. So simple yet so good when the real stuff is used! If I go to Dann's again I'm going to ask for more of the Durian cream!!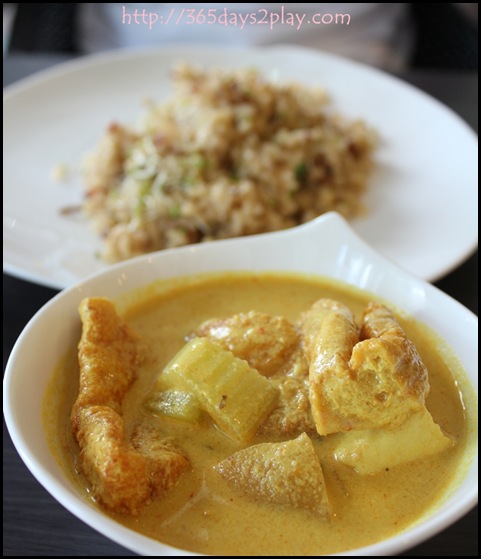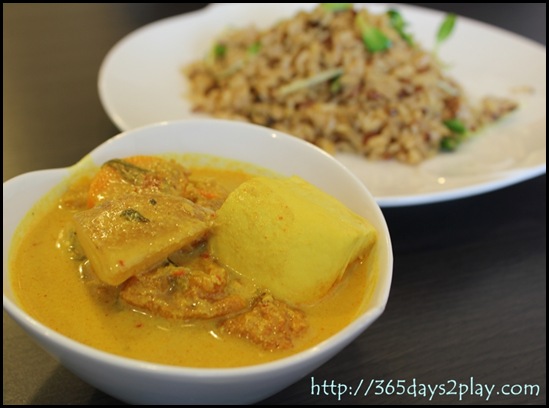 Curry of the Day with Organic Brown & Wild Rice $10 — This is a vegetarian curry, comprising of tau pok, tau fu, tau kee etc. You know how the usual types of curry makes you feel like you've sinned after having a big bowl? This curry doesn't give you that feeling. It's light and refreshing and still packs a punch despite it having almost no "bad" ingredients. A well balanced curry that had just the right combination of ingredients. I dipped my sandwiches in them and it was good! All the ingredients are in the right proportion.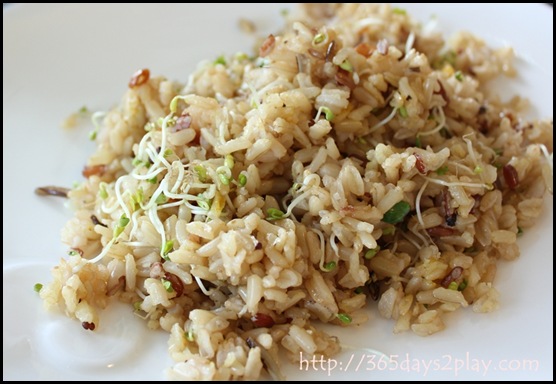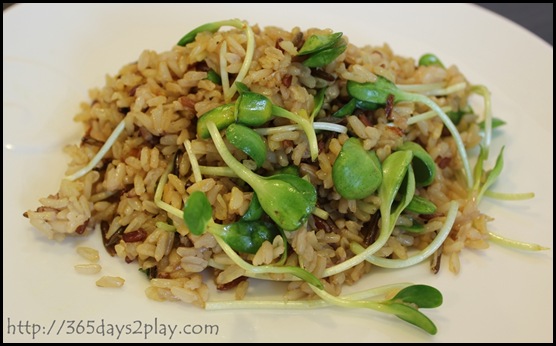 Closer look of the Wild Rice, which you can also order on its own for $6. I like brown rice so I've no problems eating this, but I guess it would take some getting used to for those who are accustomed to white rice.
BTW, I recall a time when I was younger and I loathed brown rice. We got that rice from NTUC and it's almost reddish in colour. I suspect a lot of Singaporeans developed a dislike for brown rice after eating that brand of rice. Try switching to different types of brown rice and you may actually find yourself developing a taste for it!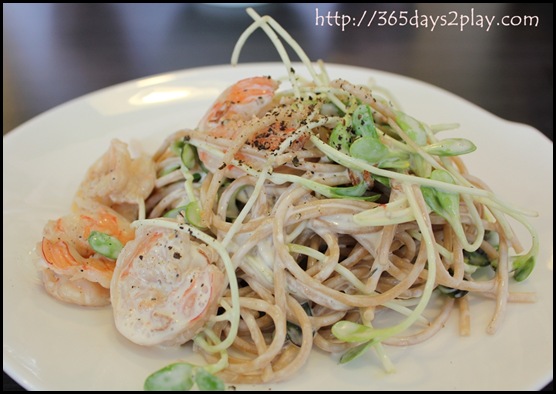 Prawns Creamy Whole wheat Pasta $12.50 — Ok while I like brown rice, I realise I don't much fancy whole wheat pasta. Find the pasta to be stiff and rough and a little unwieldy on the fork. They just refused to twirl! Maybe Penne instead of Spaghetti would be better. The prawns were quite good, had a nice crunch to them. Cream sauce was okay, would have preferred it to be slightly heavier to cover the roughness of the whole wheat pasta. On the whole, a very healthy pasta dish.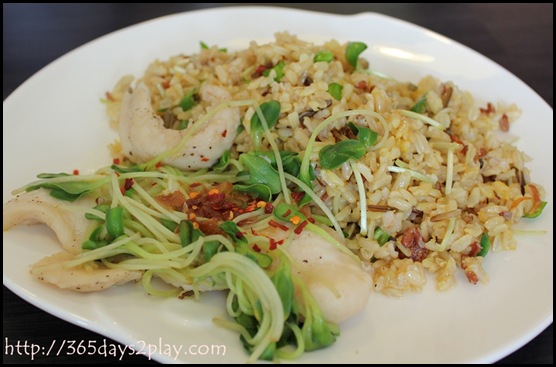 Dann's Daily Special Fish with Wild Rice — I love the fish that Dann's daily serves, be it with their rice or in their toasties. The fish is always so flaky and flavoursome. You know how fussy I am with fish.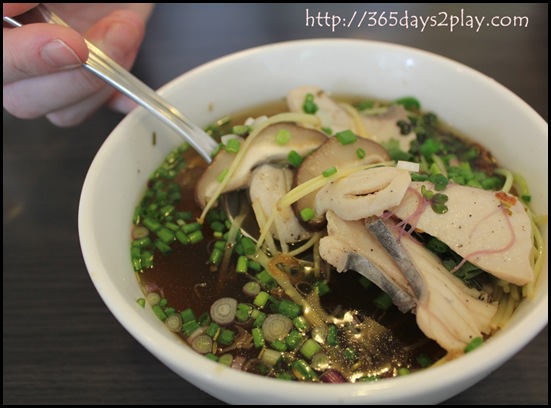 Fish soup $8 — Fish tasted fresh and was accompanied by a rich yet light broth. Comfort food for a dark and dreary day.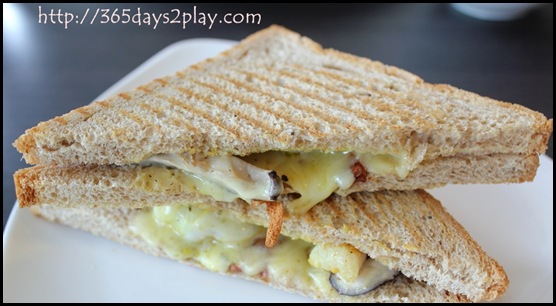 White Fish, mushroom and cheese toastie $5 — Very nice, fish was once again very tasty. Mushrooms used were shitake I believe. I could have done with more cheese, as I just love overloading my sandwiches with cheese. I thought I would still be hungry after having this for lunch, but surprisingly I was rather full after this.
Kaya Toastie $4 and Chocolate Toastie $4 — Kaya was quite ordinary. As for the chocolate toastie, I was already expecting something along the lines of Nutella. And everyone knows how sweet Nutella is, so I was fairly disappointed. Being the sweet tooth that I am, I wouldn't order this again but I guess this would appeal to people who like chocolate for the chocolate taste and not the sugary sweetness oops… Also, considering that the toasties with savoury fillings cost only $1 more, I'd rather order those instead.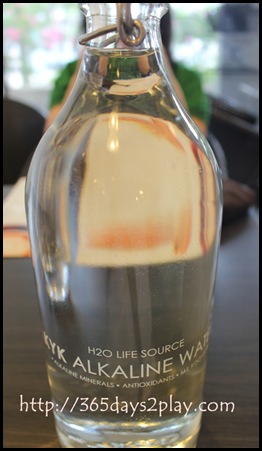 KYK Alkaline Water — This alkaline water is used in the dishes as well as for you to drink when you're there. I don't know much about alkaline water but these days the health experts all seem to be talking about it.
Dann's Daily Pescetarian Cafe
20 Eastwood Road
#01-06 Eastwood Centre
(It is facing the bus-stop and the main road, and is opposite Bedok Food Centre)
Singapore 486442
Tel: 6449 1355
Opening Hours:
Tue to Sun
9am — 9pm
(Closed on Mondays)
Click here to see my previous review on Dann's Daily as well as pictures of their cafe latte.