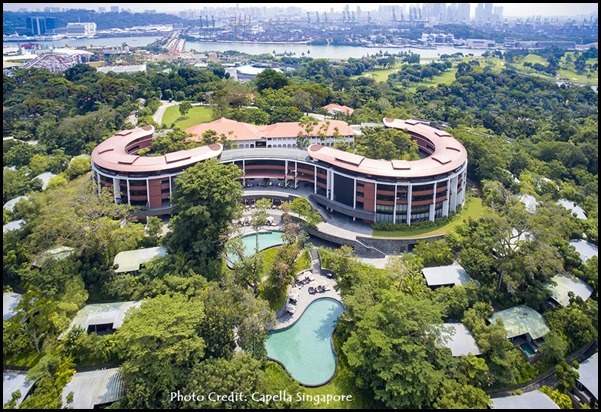 To kickstart Capella Singapore's intention to showcase wellness initiatives for 2017, there will be a creative food festival featuring award-winning French guest chef Olivier Rodriguez from 14 – 16 April 2017. Chef Olivier has a wealth of culinary experience under his belt. He has worked in various Michelin-starred restaurants including Le Chantecler and Les Jardins de Opera in France, as well as the Signature in Mandarin Oriental Tokyo, where he obtained and sustained a one-Michelin star rating for 7 years.
Currently he helms & ecle in Tokyo, and for 3 days only, you will be able to taste his style of cooking and experience the food in a communal dining setting. Coulicious will see Japanese rice dishes undergo French and Italian classical cooking techniques and paired with a unique coulis (aka a thick vegetable or fruit-based sauce).
This communal dining is like no other communal dining I have ever experienced, and I thought I'm Asian! If you and your dining companions order the 5-course Omakase set, each of you will be given different dishes, per course. (There are 3 different dishes per course so it would be ideal if you came in threes so that you can sample all 3 dishes) It's supposed to be really informal and casual dining, where everyone digs into each other's plates. To be frank, this sort of communal dining is not for me. I am fine with sharing dishes like you would in most Chinese restaurants, where the dishes are placed in the centre and people can take what they want, when they want it. I draw the line at having to use my used spoon to dig into my dining companion's plates and vice versa. And besides, these are small dishes we are talking about, 5 mouthfuls per dish I would say? I would be totally stressed out having to make sure I keep enough of my dish for the next person. And what if you received a dish you liked very much and didn't want to share? Or even more horrifying, what if you are ill and don't want to spread your germs around? Having said that though, this concept would be great for couples looking for a romantic night out! You one mouth, I one mouth….
Despite what I think is an impractical sharing system, I must admit that Chef Olivier's food tastes fabulous! The flavours are refreshingly different, no doubt from the extensive experimentation with different types of vegetable and fruit purees to get to the combinations that work. You won't get bored dining on Chef Olivier's dishes, that's for sure. Except for one or two minor issues, the execution was generally spot on too, everything was cooked to the right level of tenderness or doneness.
Scroll down for pictures of the 5-course Omakase meal that we had yesterday (Starter : Coulicious : Ocean : Farm : Sweet). The pricing indicated is for ala-carte orders, but the pricing has been deliberately inflated to encourage you to order the Omakase instead.
Starter
Steamed apple & foie gras, dry fruit compote & cardamom-flavoured apple coulis $42.
Ima smack any hands that try to take a bit out of my precious foie gras!