[Media Invite]
It's my favourite time of the year again and I'm happy to report that Baby loves Christmas! We'd taken him to Capella Chef's Table Festive Family Tea last weekend and he absolutely loved it! He was smiling and making excited noises the minute we stepped into Chef's Table. I wouldn't be surprised, I too was wowed by the festive Christmas decorations in the homely and cosy Chef's Table. A pretty Christmas tree by the side, and Christmassy firs to adorn each table. Btw it was Baby's first official "engagement", and he behaved well!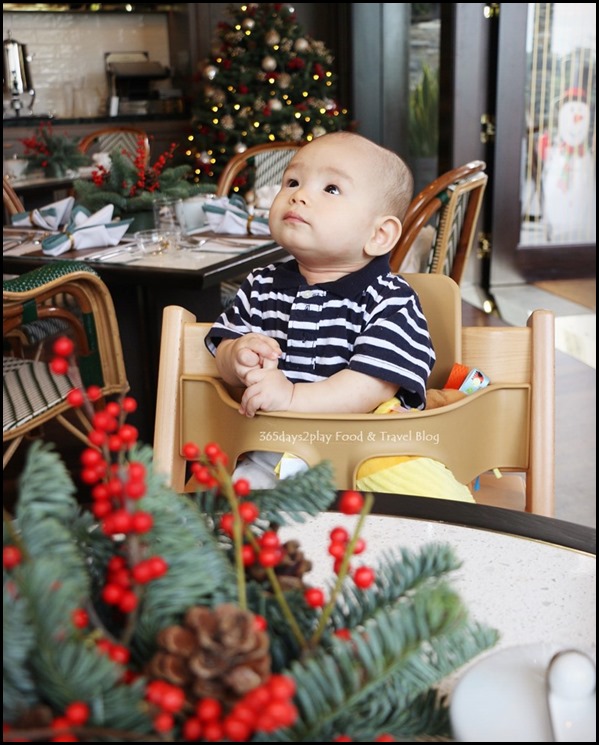 Dear Santa, I wish for many toys this Christmas and a real live Christmas tree!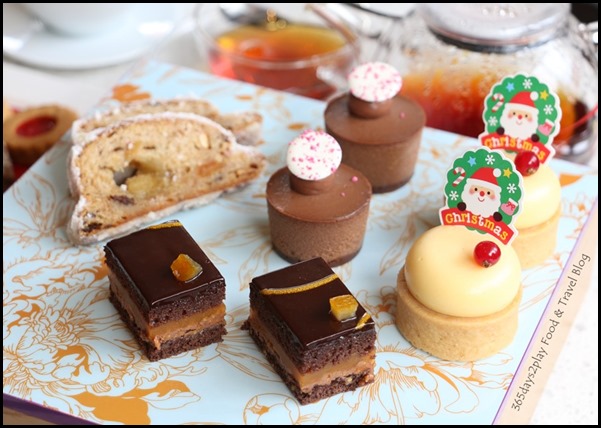 Here's a picture of the very festive looking dessert tray, comprising Apricot Cardamom Chocolate Sacher, Lemon Curd Tartlet with Castanea Paste, Almond Marzipan Stollen and Dark Chocolate Cheese Cake with Gingerbread Crust.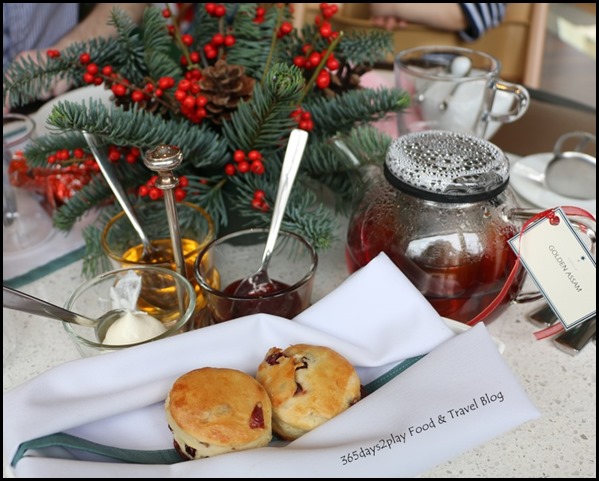 Cranberry Scones with a generous amount of clotted cream, jam and honey.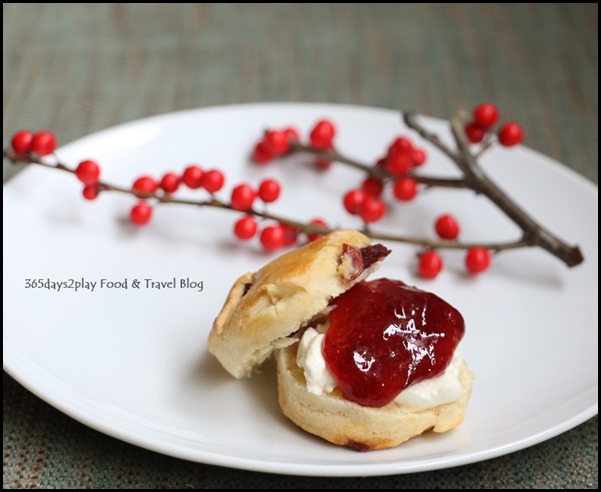 Always have to take a shot of the scones adorned with the clotted cream and jam. Simple snack that makes a striking impression…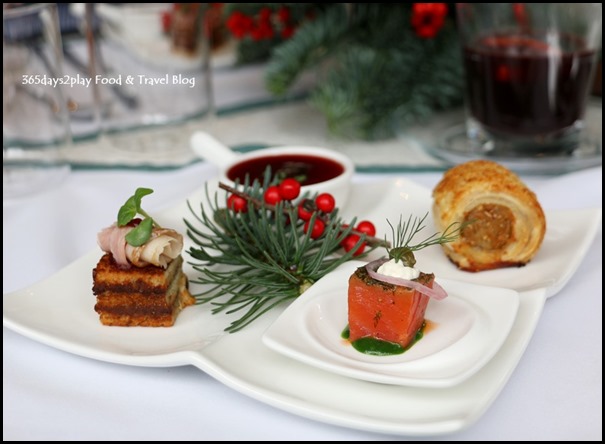 Clockwise from bottom right: Home-cured salmon gravlax, Christmas Feuillete with Parmesan, Custard Duck Liver with fresh black truffle and port wine sauce, mushroom croque sandwich with cheese and smoked duck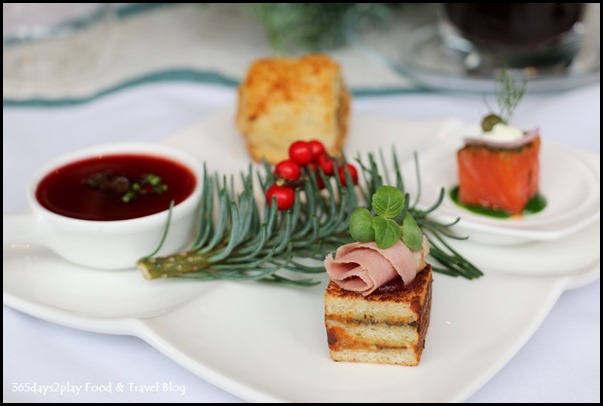 Another picture of the savouries from another angle
Assorted Christmas Cookies. Was so stuffed by then I had to pack these to go!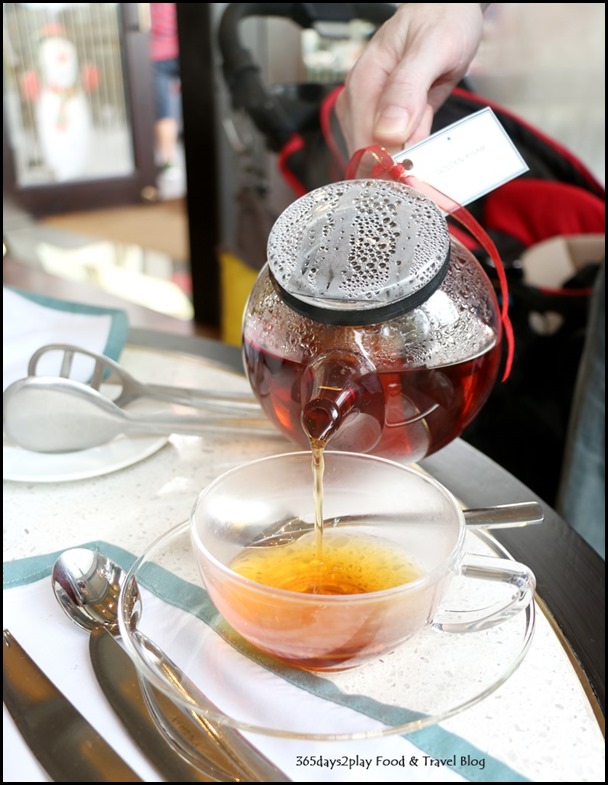 Chose the Golden Assam for my tea coz I tend to favour stronger tasting teas. Even the teapot has a festive ribbon tied to it.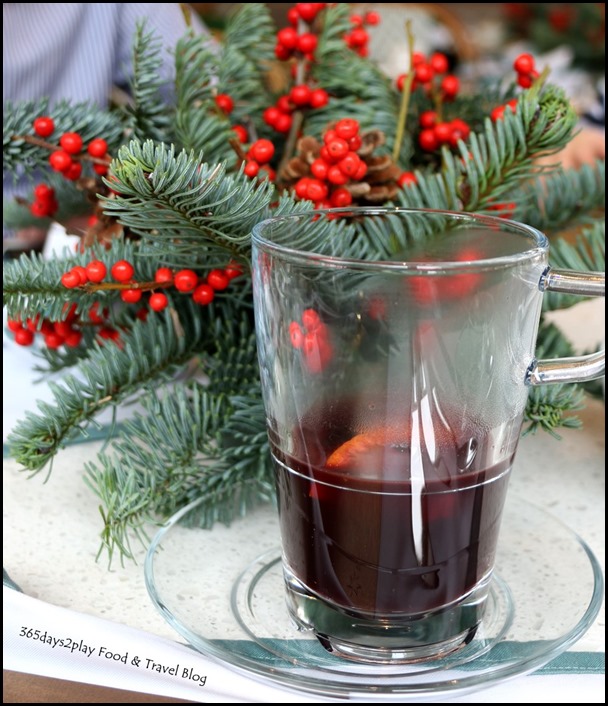 Oh did I mention that they served us a glass of mulled wine each? I think it's my first time trying mulled wine and I absolutely loved it! It was served warm, and tasted like rich alcoholic fruit stew. In fact, it didn't taste very alcoholic and I wish I had more of it! I even drank half of the Partner's portion since he was driving.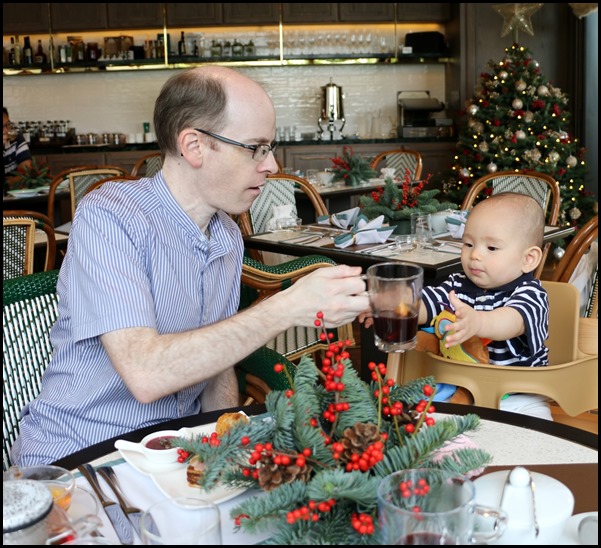 Baby liked it too!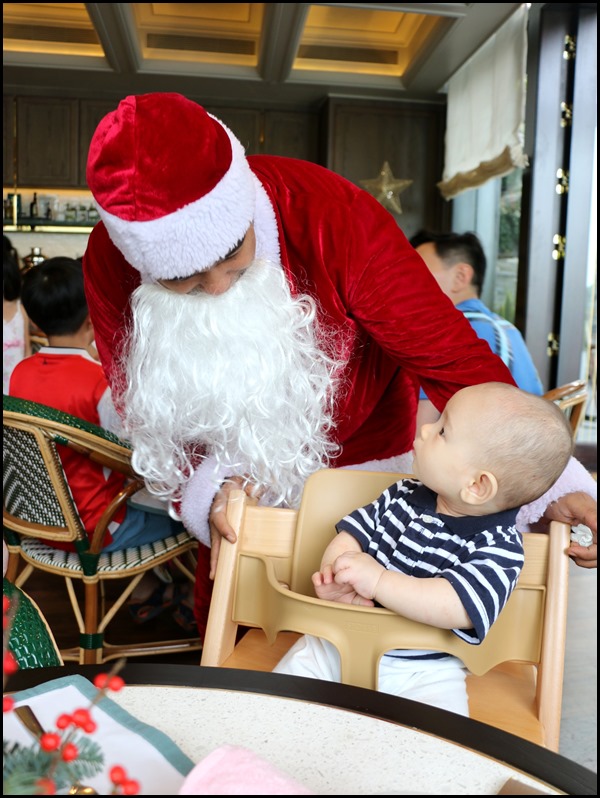 Santa? You mean you're real?
And how about a Santa Claus thrown in for good measure? Now, if only he'd consider walking around and giving out presents…hmmm… Btw I just wanted to add that Capella is so baby friendly! Just look at the high quality baby chair from Stokke!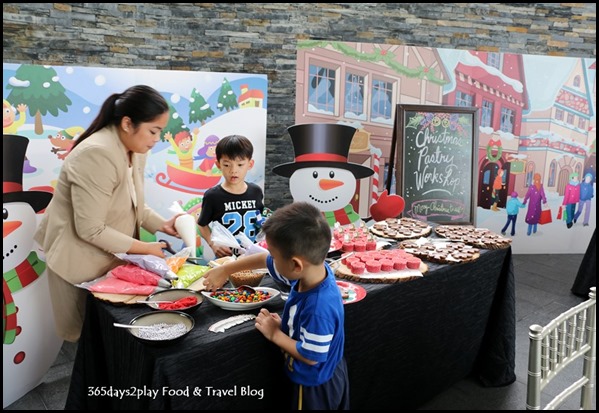 The Festive Afternoon Tea is on from 1 — 30 December at $39.90++/pax. However, specially on 3rd and 17th December only, children can be entertained at the Cupcake and Gingerbread men decoration corner. On those 2 days, the charges are $52++/pax. Too bad Baby was too young to enjoy this hand's on activity. Next year maybe!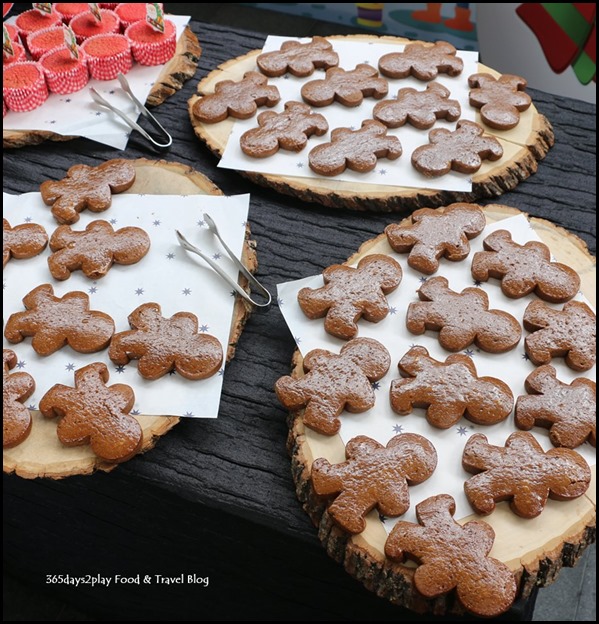 Look at all the naked Gingerbread men waiting to be dressed and decorated!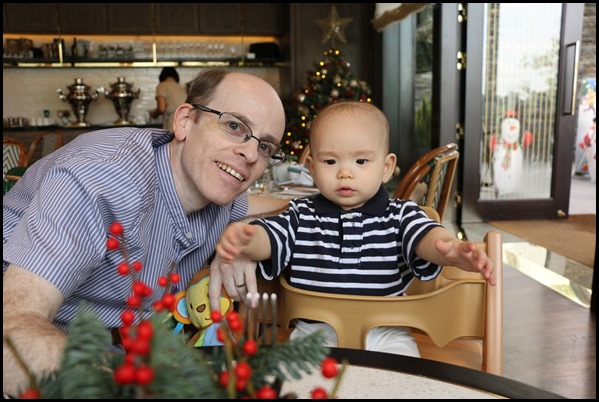 He wants those table Christmas decorations!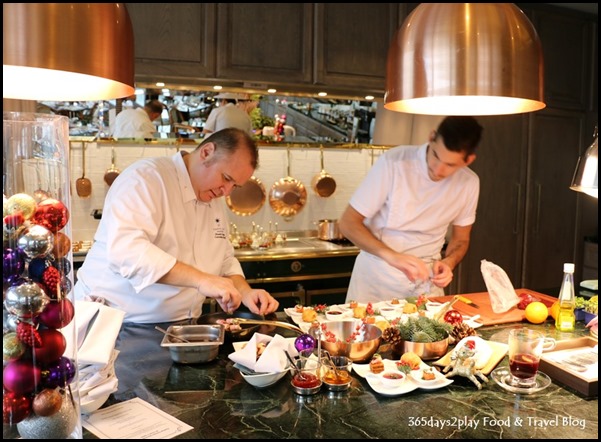 As this is Chef's Table, we got the opportunity to watch the chefs preparing the entire meal right next to us.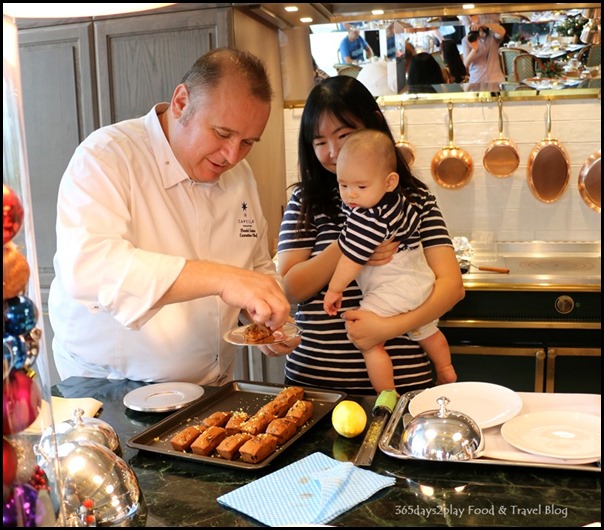 Chef explaining to Baby how to make the Citrus Peel Dundee cakes. Hopefully Baby, you will be great at cooking and baking when you are older. Then you can cook for your Mama!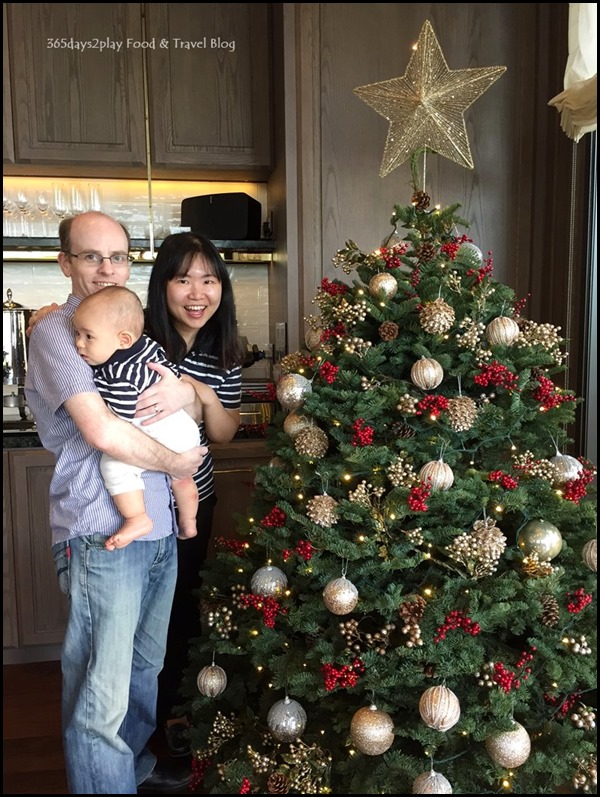 Mandatory family shot with the Christmas Tree. Baby decided he'd look at something else instead. I don't blame him, everything looks so pretty here! So much to see and savour!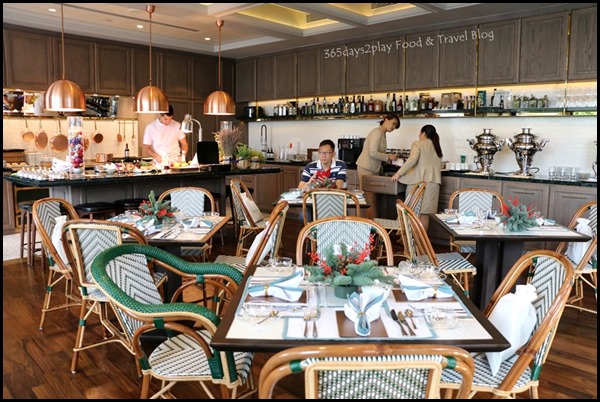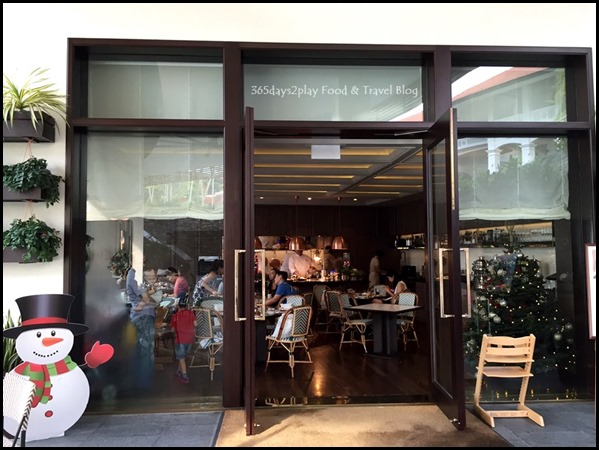 ---
Add me on Facebook, Instagram and Twitter if you want to be kept up to date with the latest happenings in the food and lifestyle scene in Singapore!
Read about my previous Afternoon Tea experience at The Knolls, Capella
---
Chef's Table at Capella Singapore
1 The Knolls, Sentosa Island, 098297
Tel : +65 6377 8888
Email : gr.singapore@capellahotels.com
Website : http://www.capellahotels.com/singapore
Capella Festive Afternoon Tea : 1 — 30 Dec (Weekdays Only) / 3 — 5pm / $39.90++ per pax
Festive Family Tea Experience : 3 & 17 Dec / 3 — 5pm / $52++ per pax
---