Finally had the chance to visit The Joy of Toys located at Clarke Quay Central Mall. I'd heard about it a couple of months back and found the concept to be quite attractive yet pretty unique in Singapore. It's a wonder why there aren't more of such indoor children's play areas around.
Ok when you think of a children's indoor playground / play area, you tend to visualise one where there are many slides, ball pits, tunnels etc for the children to run about and explore, aka gross motor skills type of play. Think Cool de Sac, Kids Amaze, The Polliwogs etc. There will also be a small area with fine motor skill toys and pretend play toys such as lego, puzzles, play kitchen, dolls etc, but these tend not to be the highlight of the business.
The Joy of Toys is quite different. There are no slides and tunnels. Per their website, they offer
Structured Play sections focussing on manipulatives, construction, as well as competitive games. These include developmental toys, family games and brain teasers.
Open-Ended Play sections encouraging pretend and role play. These include miniature play, doll play and food play.
There are a lot of wooden toys, and the whole area, especially the toddler area is furnished in a very pleasing and soothing way. While I was at the toddler area, I suffered from room envy and wondered more than once why I am not able to create a playroom looking like that for Edward.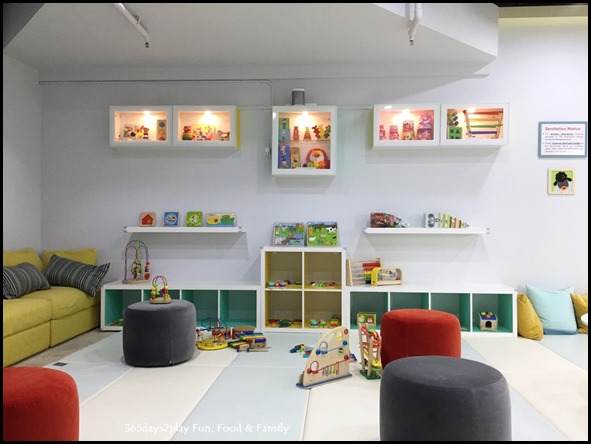 What's the difference between the toddler play space vs the main play space?