Misato is tucked away right inside The Centrepoint, where the new Gastro+ area is (or where the old Marks & Spencers was). I've been seeing Misato pop up on my social media feeds and was wondering if it is just a fad. I have to say, after having tried their food, this place is worth a visit due to the affordable pricing, the fabulous matcha desserts and the exquisite dinnerware that makes you feel like you are dining at a posh Japanese restaurant.
I am told they spent $400k for the dinnerware alone when setting up the restaurant! It is a pity that most people will not realise this when walking past because the restaurant decor looks rather casual to the untrained eye. So you heard it here first! Please go check out Misato and enjoy the atas food at casual prices!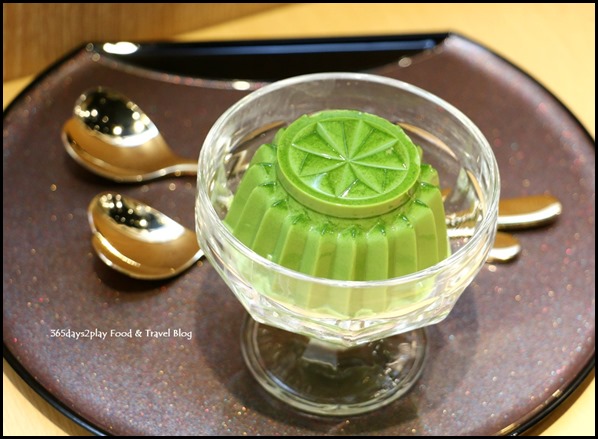 Matcha Bavarois (Premium green tea French pudding) $7.80
Back to the Matcha desserts. You might have seen this wobbly Matcha Bavarois on Instagram. This is not merely an Instagram-worthy dessert, it actually tastes as good as it looks. The matcha taste comes on strongly (very good quality Nara matcha imported from Japan is used), and the pudding is smooth and somewhere between soft and bouncy, if there can be such a thing. It's almost like eating matcha ice cream except in pudding form. Every bite was savoured! And it only costs $7.90!