*Media Invitation*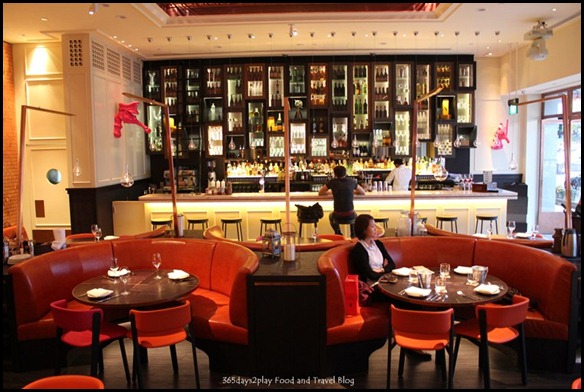 Singapore's latest seafood destination, The Pelican Seafood Bar & Grill is conceptualised by the team behind The Big Idea, which manages a stable of trendy concepts such as Kinki, Fat Cow, Marmalade Pantry and Bedrock Bar & Grill, The Pelican is the group's latest brainchild that showcases their trademark innovation and expertise in food, design, bar and hospitality.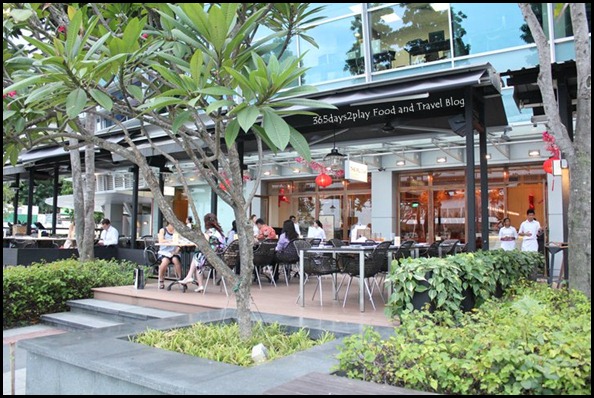 The Pelican's culinary team is led by Dan Segall, a well-known figure in the regional scene who has joined The Big Idea as Group Executive Chef. The American chef has built an illustrious international career since he was 16 and chalked up over 20 years of experience at many respected establishments. The Pelican's Head Chef, Isaac Tan, who successfully launched Bedrock Bar & Grill, also comes onboard with his rich international working experience and expertise with the wood fire grill and seafood, of which 8 years were spent in Sydney.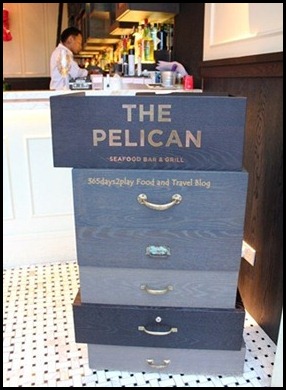 The menu is inspired by classic East Coast American cuisine. Diners will also be presented with a selection dubbed 'The Daily Catch' that is inspired by the ever-changing bounty of the sea. The dishes are meant for sharing and show off some lesser-known cooking techniques that are not often used in a kitchen at home.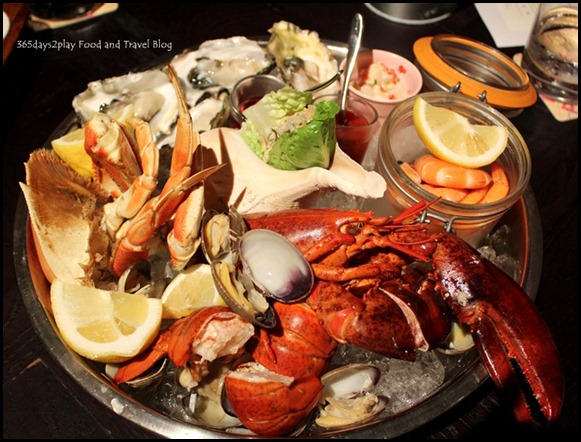 The Pelican Platter ($99 / serves 2 to 3)
Featuring seasonal raw oysters (we had the Fanny Bay oysters from Canada for this tasting session) US clams, US Dungeness crab, US poached prawns, Steamed whole Maine lobster from Boston with a lobster tomalley that is basically the liver and roe mixed with mustard and herbs stuffed into its shell, Marinated conch salad using US conch shell fish, US swordfish ceviche, With accompaniments of lemon, cocktail sauce and mignonette dressing
The Pelican Platter is definitely a must order if you plan to be at The Pelican. Apart from it being a humongous platter of crowd pleasing items, most of the items are prepared minimally such that you get to taste the fresh seafood in almost it's purest form.
I think I must be pretty deprived, because I don't think I've ever tasted crabs as good as the US Dungeness Crab! The sweet flesh came off so easily from the shell, which is a far cry from the messy affair I have to endure when eating crabs from Chinese restaurants. I wonder if it's because it's a different breed of crab? Another item worthy of attention was the US conch salad. It's something you don't find often and definitely a must try. It has the texture of a mix of clam and abalone.
Once again, a must order for seafood lovers who like strong in your face seafood flavours and ingredients that have not been masked behind a ton of sauce.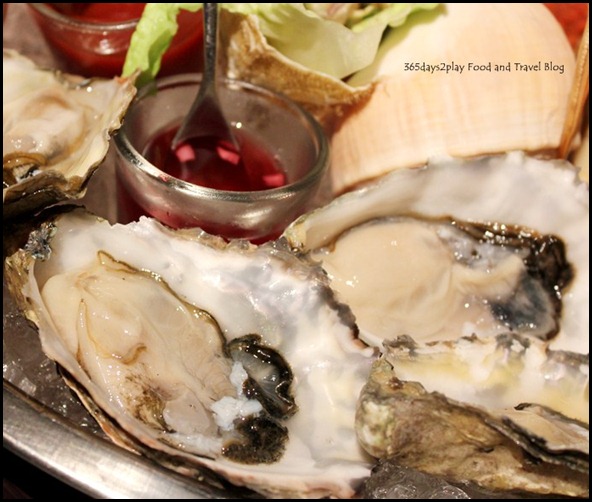 Seasonal raw oysters from The Pelican Platter. These here are the Fanny Bay oysters from Canada.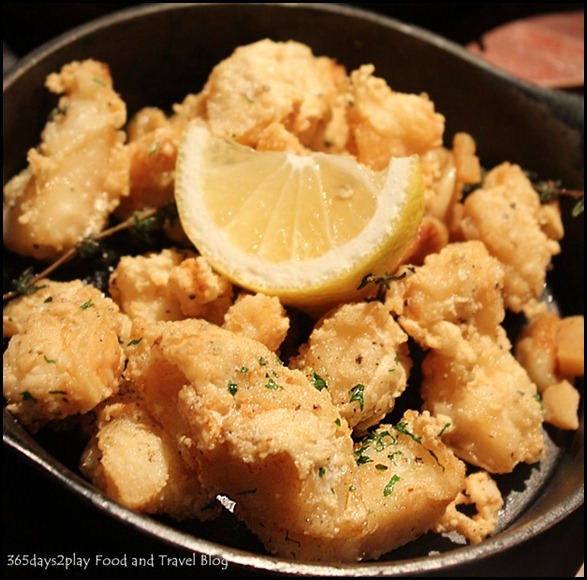 Cod's Tongue Casserole ($26)
This is the muscle from the codfish's throat area and is a delicacy with a bouncy texture like scallops, it is battered and fried then served with roast garlic and pork scratchings
You won't be the first if you took a double take at the word throat muscle. Never knew that the throat muscle of a fish would be singled out and cooked into a dish, but I would certainly like to single out this dish as yet another must order at The Pelican. The texture is very similar to squid, so it feels like I'm eating calamari and I'm sure everybody loves calamari!