*Media Invitation*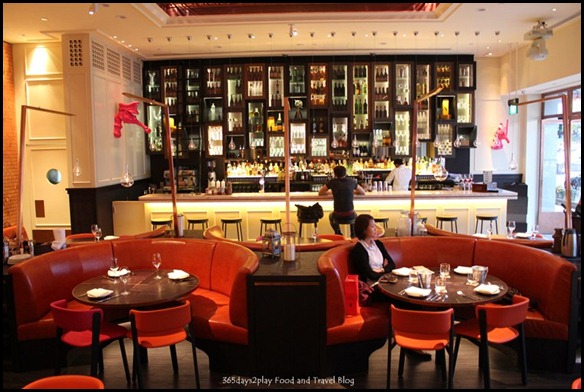 Singapore's latest seafood destination, The Pelican Seafood Bar & Grill is conceptualised by the team behind The Big Idea, which manages a stable of trendy concepts such as Kinki, Fat Cow, Marmalade Pantry and Bedrock Bar & Grill, The Pelican is the group's latest brainchild that showcases their trademark innovation and expertise in food, design, bar and hospitality.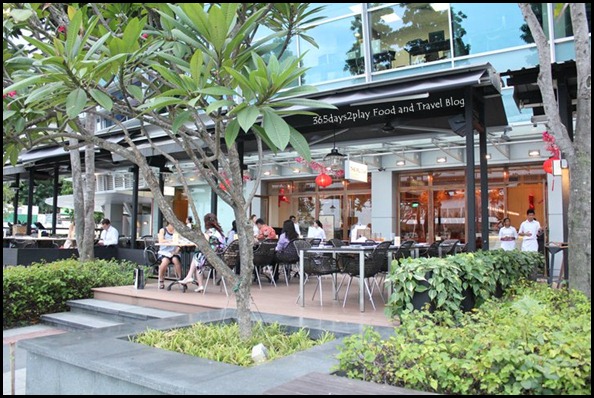 The Pelican's culinary team is led by Dan Segall, a well-known figure in the regional scene who has joined The Big Idea as Group Executive Chef. The American chef has built an illustrious international career since he was 16 and chalked up over 20 years of experience at many respected establishments. The Pelican's Head Chef, Isaac Tan, who successfully launched Bedrock Bar & Grill, also comes onboard with his rich international working experience and expertise with the wood fire grill and seafood, of which 8 years were spent in Sydney.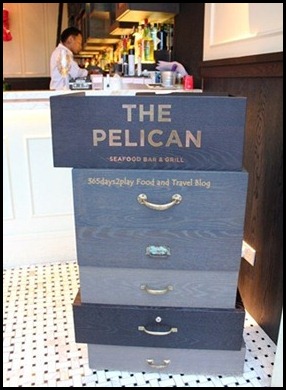 The menu is inspired by classic East Coast American cuisine. Diners will also be presented with a selection dubbed The Daily Catch' that is inspired by the ever-changing bounty of the sea. The dishes are meant for sharing and show off some lesser-known cooking techniques that are not often used in a kitchen at home.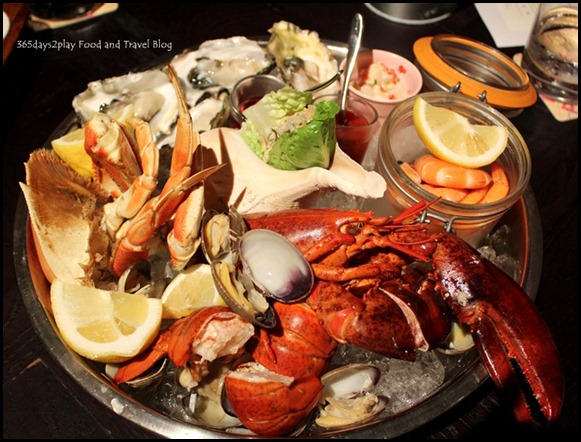 The Pelican Platter ($99 / serves 2 to 3)
Featuring seasonal raw oysters (we had the Fanny Bay oysters from Canada for this tasting session) US clams, US Dungeness crab, US poached prawns, Steamed whole Maine lobster from Boston with a lobster tomalley that is basically the liver and roe mixed with mustard and herbs stuffed into its shell, Marinated conch salad using US conch shell fish, US swordfish ceviche, With accompaniments of lemon, cocktail sauce and mignonette dressing
The Pelican Platter is definitely a must order if you plan to be at The Pelican. Apart from it being a humongous platter of crowd pleasing items, most of the items are prepared minimally such that you get to taste the fresh seafood in almost it's purest form.
I think I must be pretty deprived, because I don't think I've ever tasted crabs as good as the US Dungeness Crab! The sweet flesh came off so easily from the shell, which is a far cry from the messy affair I have to endure when eating crabs from Chinese restaurants. I wonder if it's because it's a different breed of crab? Another item worthy of attention was the US conch salad. It's something you don't find often and definitely a must try. It has the texture of a mix of clam and abalone.
Once again, a must order for seafood lovers who like strong in your face seafood flavours and ingredients that have not been masked behind a ton of sauce.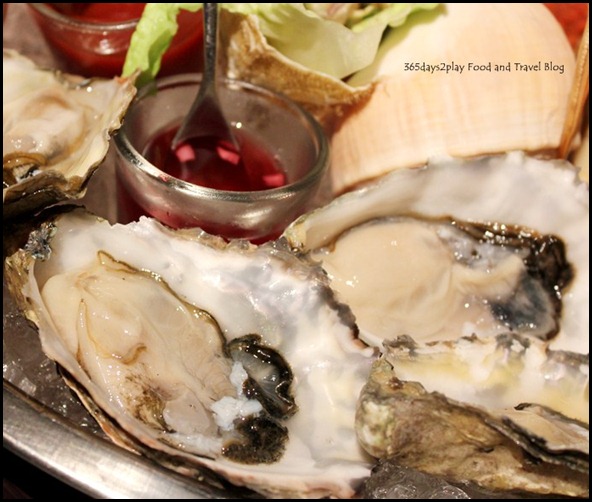 Seasonal raw oysters from The Pelican Platter. These here are the Fanny Bay oysters from Canada.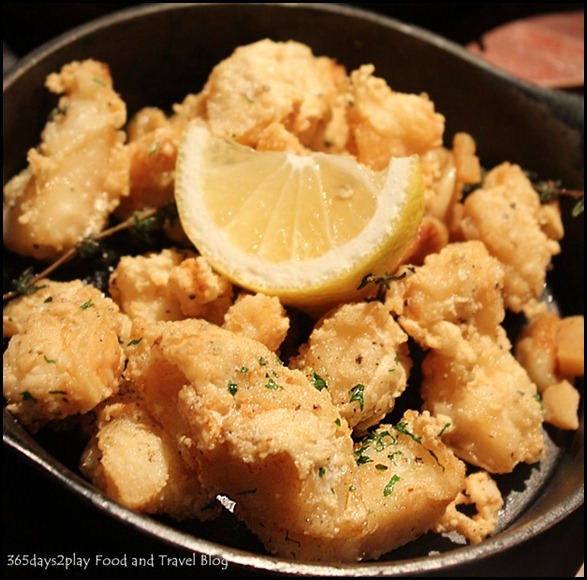 Cod's Tongue Casserole ($26)
This is the muscle from the codfish's throat area and is a delicacy with a bouncy texture like scallops, it is battered and fried then served with roast garlic and pork scratchings
You won't be the first if you took a double take at the word throat muscle. Never knew that the throat muscle of a fish would be singled out and cooked into a dish, but I would certainly like to single out this dish as yet another must order at The Pelican. The texture is very similar to squid, so it feels like I'm eating calamari and I'm sure everybody loves calamari!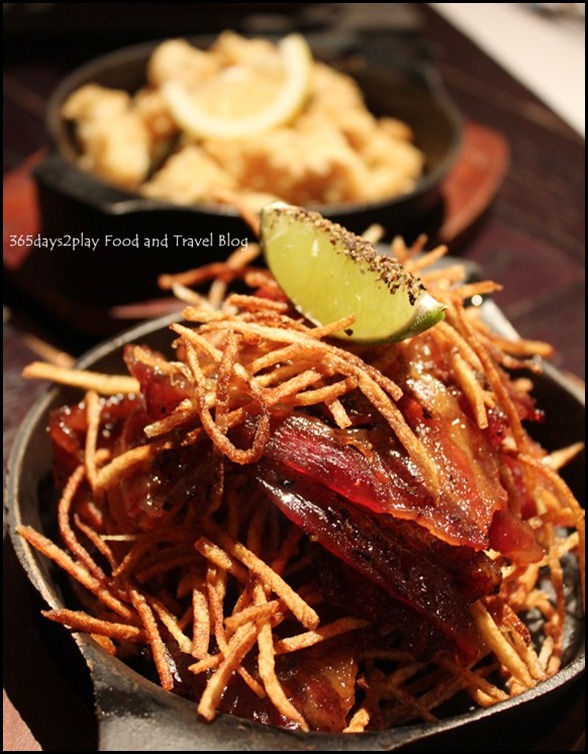 Black Peppered Candied Bacon ($18)
I think Bah Kwa sounds much better than Candied Bacon, but yeah, that's what Candied Bacon tastes like. It isn't totally the same, as the candied bacon seems to be sweeter and less salty too. Goes quite well with the fried potato sticks. You have been warned, this is very addictive…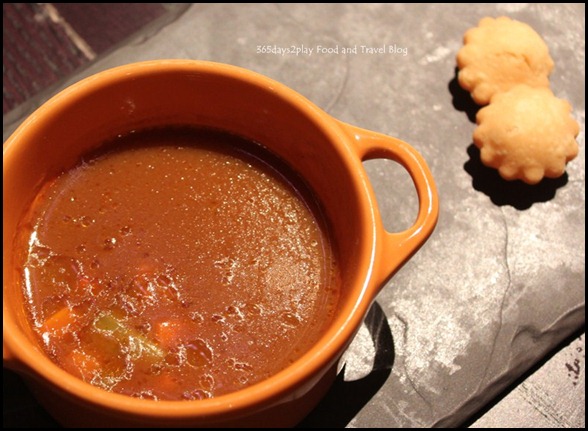 The Pelican Chowder ($16)
Different from the New-England white cream based clam chowder we are more familiar with, this chowder is Manhattan-style, meaning it's more of a bisque. I've never been that big a fan of the cream based clam chowder and after having this Manhattan-style chowder, I'm now a convert. If you want a rich soup that packs a real punch, Manhattan-style is the way to go as the bisque was made with half lobster and half clam stock, and had fish, prawns bacon and brown butter thrown in for added flavour!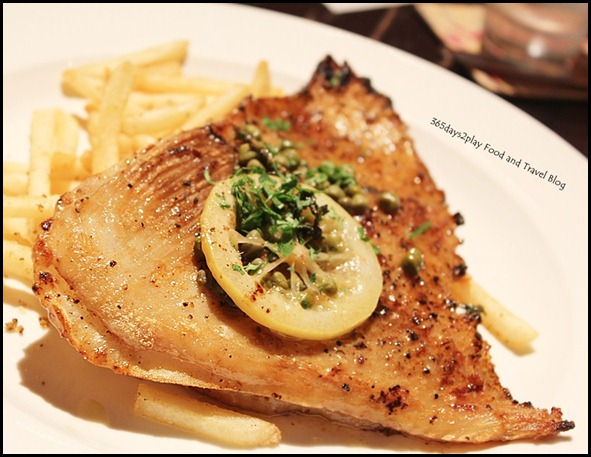 NZ Skate Wing Chop ($32)
If you like stingray, you should order the skate. I loved the smoky flavour from the wood fire grill. Flesh was tender and moist. A little heavy on the burnt lemon butter, the other diners didn't mind but I thought it was a tad bitter after a while. Served with shoestring fries.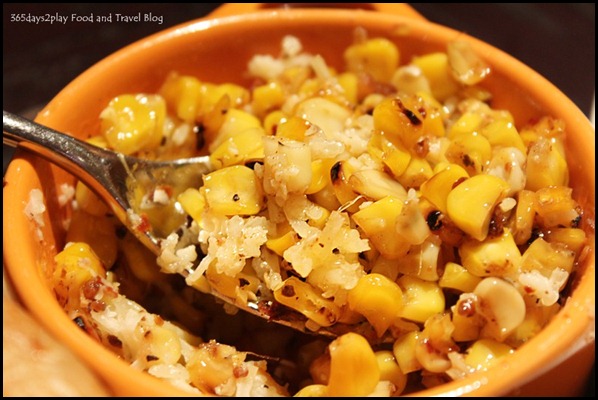 Wood-grilled Corn ($12) is tasty with sheep's milk cheese, chilli and squeeze of lime
Must must must order this! I've always liked corn nibblets and this wood-grilled corn was the best version I have ever eaten! The sheep's milk cheese really added a new dimension to the corn, aided on slightly by the mild chilli. A little on the greasy side, but OH SO GOOD!!!
Baked Snapper Pie ($36) A big shallow dish of pie covered with golden puff pastry good for sharing Inside there are snapper, asparagus, mushroom in a slightly creamy sauce
Didn't like the baked snapper pie at all. Didn't like the pastry and definitely didn't like the fish as it was tough and stringy. I was expecting some sort of a gravy or liquid encased within the pie, but it was just all so dry!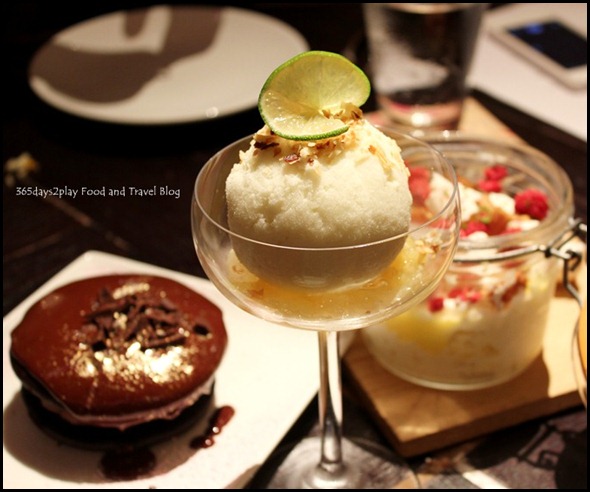 Dessert Time!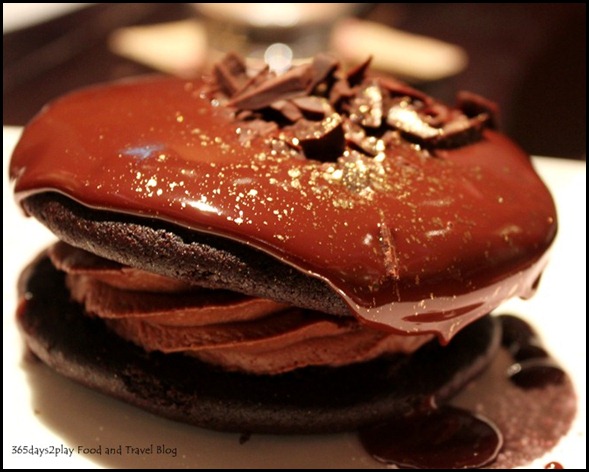 Double Chocolate Whoopie Pie ($16) Chocolate sponge cake sandwiched with chocolate mousse Covered with chocolate sauce, dark chocolate shavings, gold dust and pink icing sugar
Macarons are so passe! Whoopie pies are now the in thing! Never mind why this is called a whoopie pie, just think of this as one of the most decadent and delicious cake you have ever eaten! The chocolate sponge was light as air, and it just went so well with the chocolate mousse and chocolate sauce. I would visit The Pelican JUST to eat this whoopie pie again, it was this good!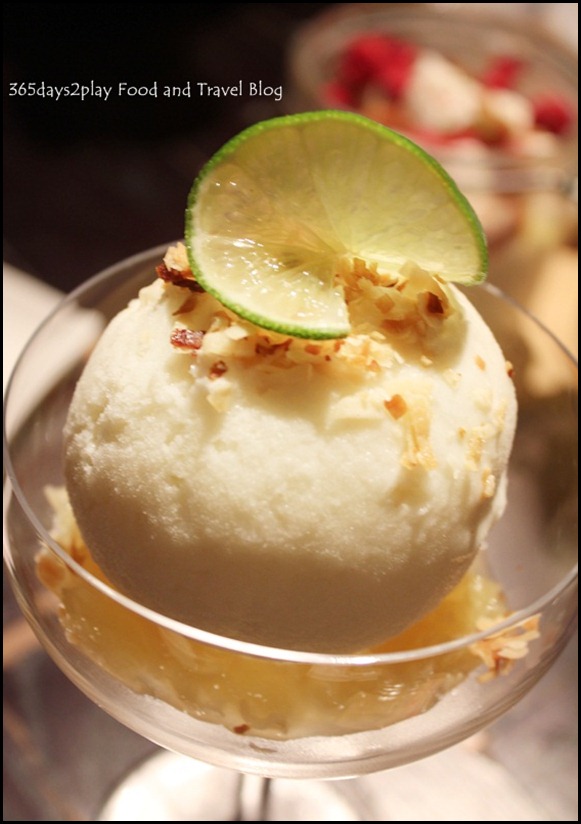 Pina Colada Sherbet ($14) A light dessert of homemade pina colada sherbet with sweet pineapple jam and toasted coconut
I seldom come across coconut ice cream, or perhaps I haven't tried enough. This was a very lovely version coconut ice cream.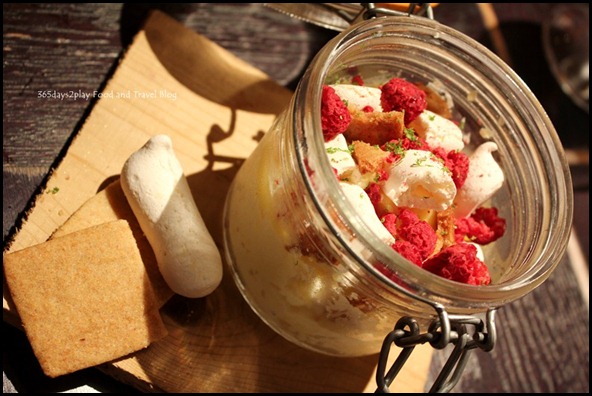 Lemon Meringue Mess ($14) Light-as-air meringue pieces with lemon curd, freshly grated lime, graham crackers and dehydrated raspberries — served in a pretty glass jar
Eton Mess in a jar. It was a bit too light, if you ask me, felt as if it were mostly cream. More of the meringue pieces would have been better to give texture. Also it was a little too sour with all the lemon curd.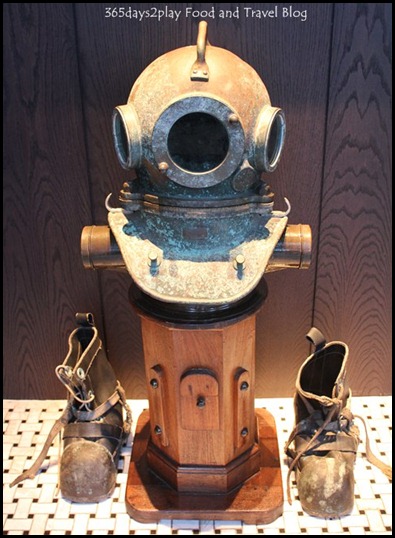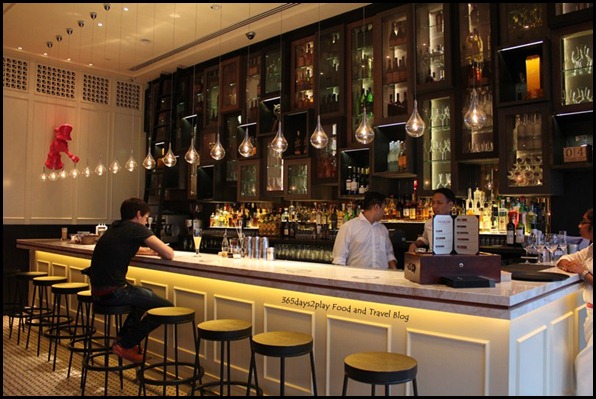 On the whole, we had a really good time at The Pelican. The food was great and the decor and ambience of the restaurant was lovely. Definitely a good restaurant to go for business lunches or business dinners. I'm sure the clients will be impressed.
~~~~~~~~~~
Add me on Facebook, Instagram and Twitter if you want to be kept up to date with the latest happenings in the food and lifestyle scene in Singapore!
~~~~~~~~~~
The Pelican Seafood Bar & Grill
Address #01-01 One Fullerton, 1 Fullerton Road, Singapore 049213
Tel +65 6438 0400
Email enquiry@thepelican.com.sg
Website www.thepelican.com.sg
Operating hours Lunch: Monday to Friday, 12noon to 3pm (last order 2.30pm)
Dinner: Monday to Saturday, 5pm to 1am (last order 10.30pm)
(Closed on Sundays)
Promotions Weekday Set Lunch at $35++ for three courses
Jolly Roger! Happy Hour – Mon to Fri (5pm to 8pm): 1-for-1 on house red and white wines, spirits, and Hoegarden beer on draft
Mon to Fri (5pm to closing): $35++ for a bucket of 5 Carlsberg bottles