Singapore Marriott Hotel has completed a S$35m refurbishment, one of the most extensive projects of its kind in the Hotel's 17 year history in Singapore. You will remember that before the Marriott Hotel, it was formerly the Dynasty Hotel.  Apart from the overhaul of all guest rooms, the once traditional hotel lobby has been converted into a welcoming open plan zone while Marriott Cafe boasts a sophisticated new ambience, extended seating and open kitchen block. A brand new F&B concept, Java+, has also been added.
I was lucky to be invited to check out all the restaurants in Marriott Hotel. It's interesting to know that I have not eaten in Marriott Hotel for more than 10 years! I vaguely remember that I tried out the Marriott Cafe, and Wan Hao Chinese Restaurant too. For some reason, despite my love for trying out hotel restaurants and new restaurants in general, I've always bypassed Marriott. Perhaps the Crossroads Cafe on the ground floor facing the streets always looks so full of tired Caucasians that I've never felt an urge to dine there. Also because it was not air-conditioned. But after this food trail, I'm glad to announce that Marriott Hotel has more than just the Crossroads Cafe. It also has the air-conditioned Marriott Cafe, yes right behind to the Crossroads Cafe. Anyway, enough talk, and on to the actual Marriott Hotel Restaurant Trail!
Marriott Hotel Restaurants
There are 5 restaurants in Marriott Hotel:-
Java+ – Takeaways, Sandwiches, Tapas
Marriott Cafe – Buffet buffet buffet
Crossroads Cafe
Pool Grill – Chic al fresco restaurant
Wan Hao Chinese Restaurant
Java+
First stop, Java+! Java+ is a premium retail deli outlet and offers a selection of premium cured meats, cheeses alongside homemade cakes freshly-baked breads, sandwiches, salads and quiches. If you're in the vicinity during lunch time and want a quick bite, you can grab a sandwich for $9.50 or a salad for about $8. Tapas are also available for those who wish to linger longer.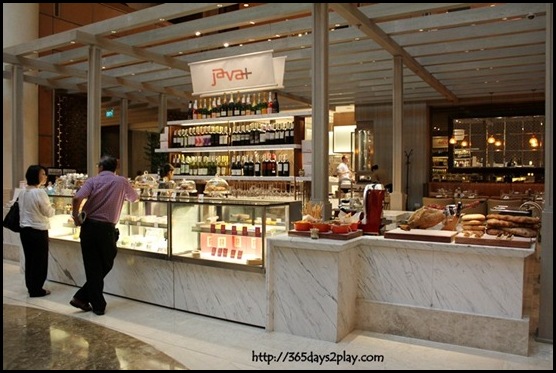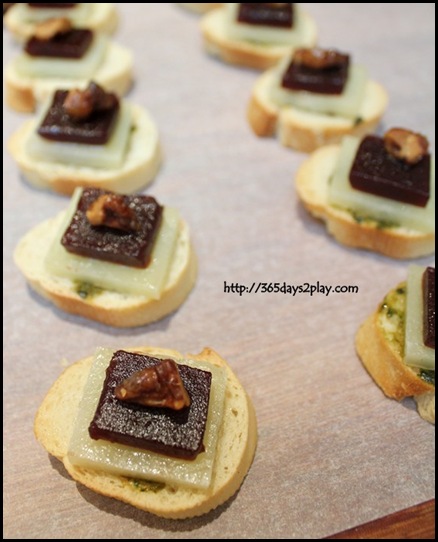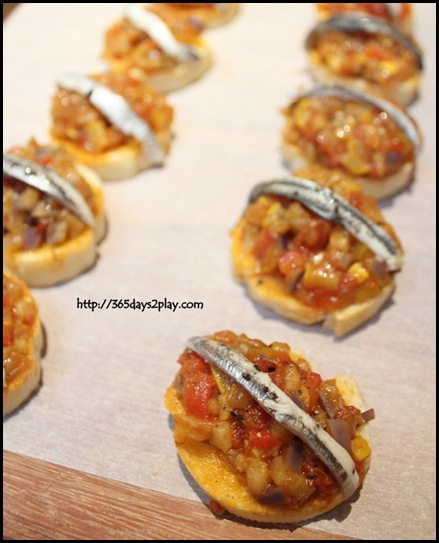 These 2 tapas were fantastic. The above one was a cheese and quince tapas. The sweetness of the quince went very well with the tartness of the cheese. The lower photo is that of a ratatouille tapas. I was amazed by the rich flavours of the ratatouille and to be frank, I've never actually been a big fan of ratatouille because of the strong tomato base. However, I was told by Marriott Executive Chef Kevin Thomson that if you cook the ratatouille ingredients individually, as they do so at Marriott, you would be able to taste the other vegetables that go into the ratatouille, and not just be overwhelmed by tomato. Fantastic, I will never look at ratatouille the same way again!