Singapore Marriott Hotel has completed a S$35m refurbishment, one of the most extensive projects of its kind in the Hotel's 17 year history in Singapore. You will remember that before the Marriott Hotel, it was formerly the Dynasty Hotel.  Apart from the overhaul of all guest rooms, the once traditional hotel lobby has been converted into a welcoming open plan zone while Marriott Cafe boasts a sophisticated new ambience, extended seating and open kitchen block. A brand new F&B concept, Java+, has also been added.
I was lucky to be invited to check out all the restaurants in Marriott Hotel. It's interesting to know that I have not eaten in Marriott Hotel for more than 10 years! I vaguely remember that I tried out the Marriott Cafe, and Wan Hao Chinese Restaurant too. For some reason, despite my love for trying out hotel restaurants and new restaurants in general, I've always bypassed Marriott. Perhaps the Crossroads Cafe on the ground floor facing the streets always looks so full of tired Caucasians that I've never felt an urge to dine there. Also because it was not air-conditioned. But after this food trail, I'm glad to announce that Marriott Hotel has more than just the Crossroads Cafe. It also has the air-conditioned Marriott Cafe, yes right behind to the Crossroads Cafe. Anyway, enough talk, and on to the actual Marriott Hotel Restaurant Trail!
Marriott Hotel Restaurants
There are 5 restaurants in Marriott Hotel:-
Java+ — Takeaways, Sandwiches, Tapas
Marriott Cafe — Buffet buffet buffet
Crossroads Cafe
Pool Grill — Chic al fresco restaurant
Wan Hao Chinese Restaurant
Java+
First stop, Java+! Java+ is a premium retail deli outlet and offers a selection of premium cured meats, cheeses alongside homemade cakes freshly-baked breads, sandwiches, salads and quiches. If you're in the vicinity during lunch time and want a quick bite, you can grab a sandwich for $9.50 or a salad for about $8. Tapas are also available for those who wish to linger longer.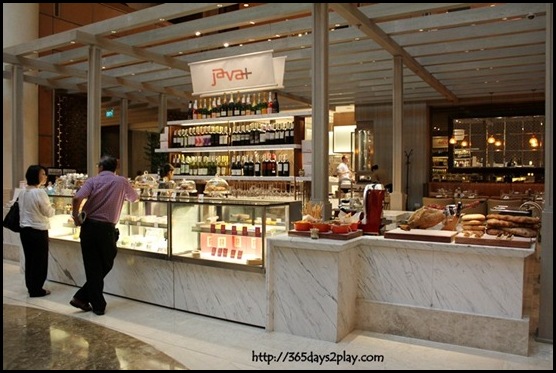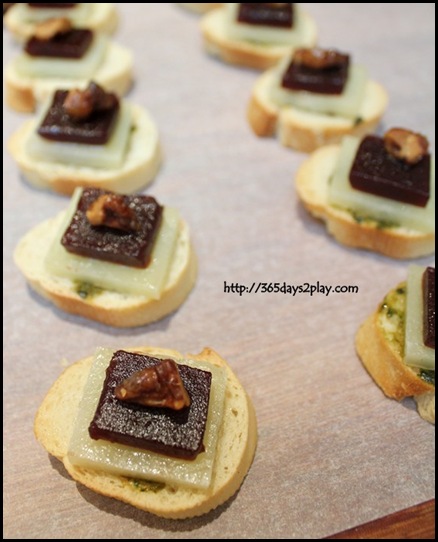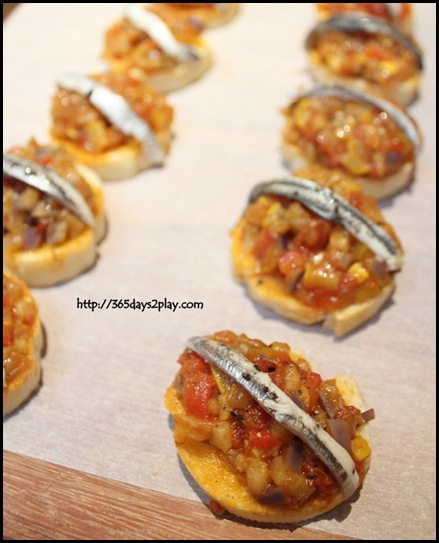 These 2 tapas were fantastic. The above one was a cheese and quince tapas. The sweetness of the quince went very well with the tartness of the cheese. The lower photo is that of a ratatouille tapas. I was amazed by the rich flavours of the ratatouille and to be frank, I've never actually been a big fan of ratatouille because of the strong tomato base. However, I was told by Marriott Executive Chef Kevin Thomson that if you cook the ratatouille ingredients individually, as they do so at Marriott, you would be able to taste the other vegetables that go into the ratatouille, and not just be overwhelmed by tomato. Fantastic, I will never look at ratatouille the same way again!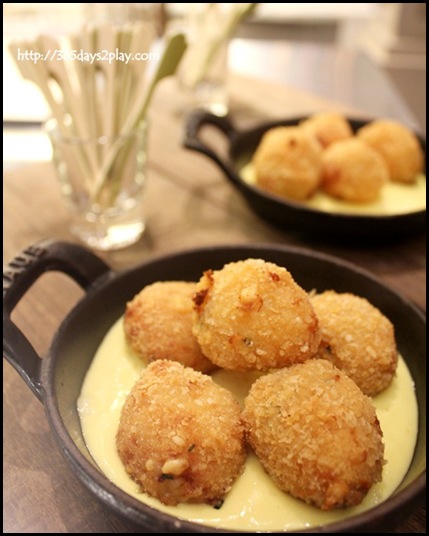 The best of the lot, shaved Iberico ham! You gotta try this for its really deep flavour!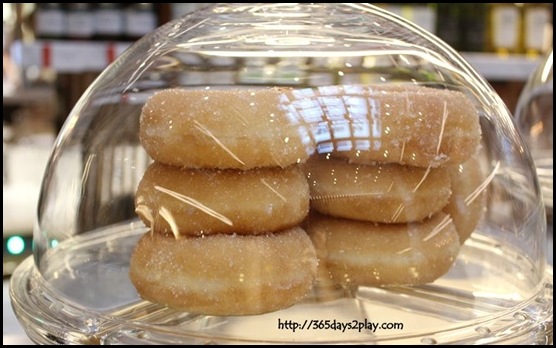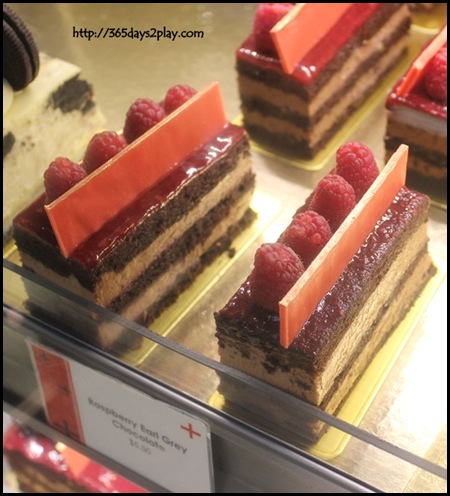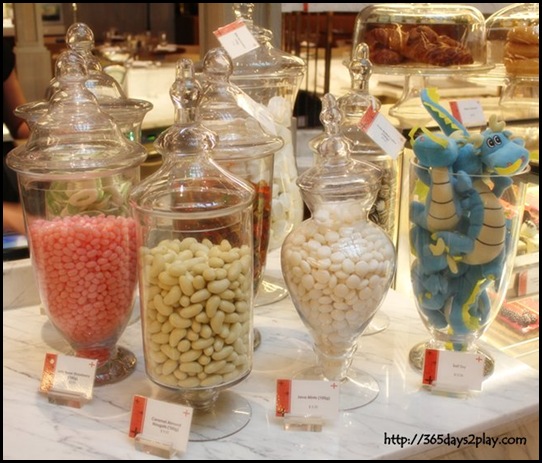 Wan Hao Chinese Restaurant
Wan Hao Restaurant has been around since the inception of Marriott Hotel in 1995. Apart from the usual lunch and dinner favourites, Wan Hao is also known for serving up authentic dim sum. In fact, the restaurant features a different dim sum theme every quarter.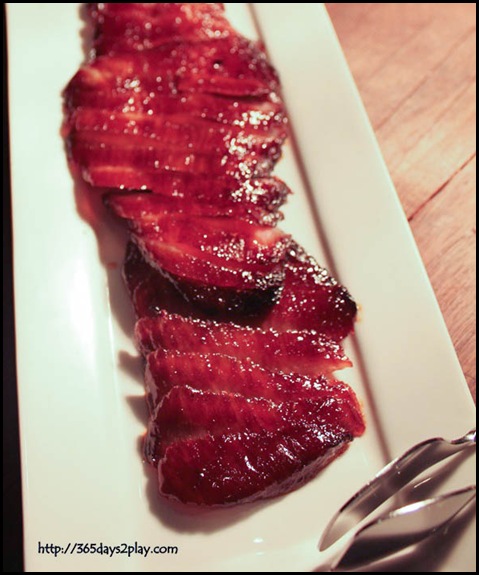 Spanish Iberico Pork Shoulder Char Siew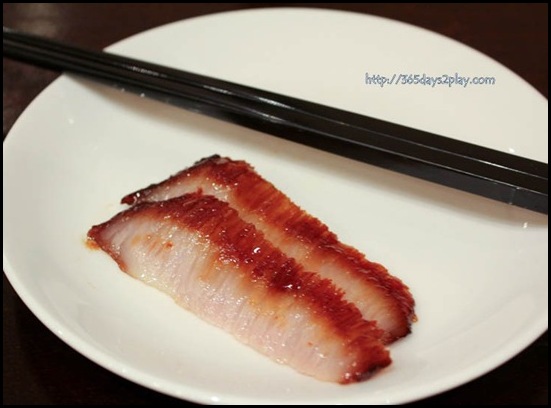 Without any hesitation at all, I can say that these are the most amazing Char Siew slices I have ever tasted in my life! The Iberico pigs are prized for their flavour and richness, in part due to their diet, so can you imagine Char Siew made using Iberico meat? If you've ever thought that Char Siew could some times be a little tough, banish the thought forever because these are the most tender Char Siew I've eaten, no doubt due to the higher fat content too! Really an amazing dish. If you want to wow your business clients, order this Iberico Char Siew. I guarantee you they will be blown away!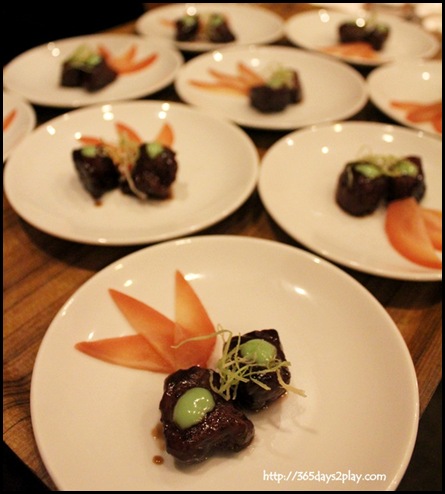 Wok Fried Murray Bridge Beef Tenderloin with Chilled Marinated Sour Plum Pear $30
Very tasty and tender beef tenderloin. Interesting touch with the sour plum pear but I'm not so sure if it's absolutely necessary.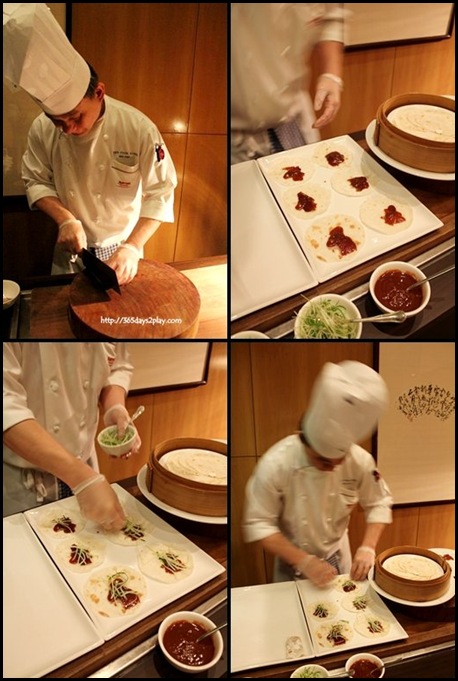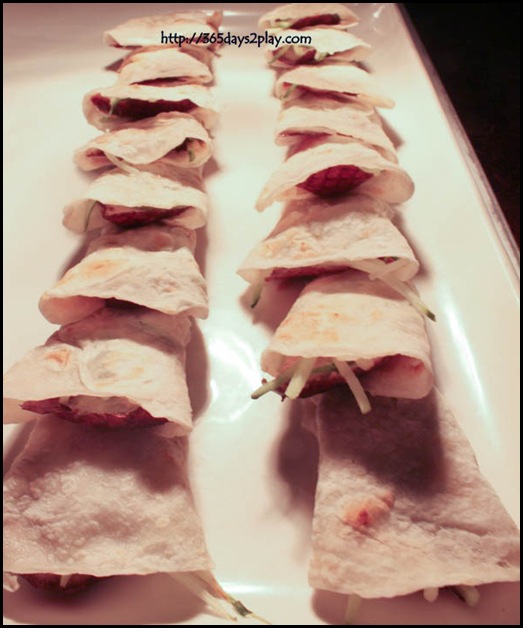 Peking Duck ($90 for whole duck served with crepe)
Quite nice, but I thought it was a little bit dry. Perhaps more of the sauce would be nice. Wonder if it's because of the super moist and tender Char Siew I just had?
Pool Grill
Pool Grill is an al fresco restaurant by the pool on the 5th floor of Marriott Hotel. It looks pretty romantic at night with the Orchard Road shopping centres as the beautiful backdrop. It certainly must be a very nice place to dine because we spotted a group of young Japanese ladies dressed to the nines there. They too spotted us and were super curious about the special Caesar salad performance we were watching.
Did I mention that the Pool Grill serves pretty affordable pizzas, at around $19-$24? I haven't tried them but it sounds very affordable for a hotel setting!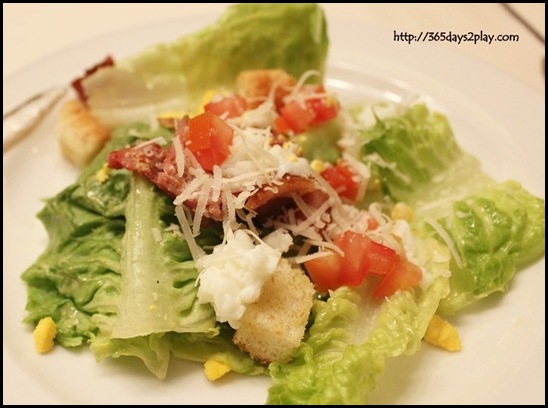 Caesar Salad $17. With Chicken Breast add $5, with smoked salmon add $6.
The Caesar Salad here is a must-try experience because it is prepared, tossed and served right in front of you! According to Executive Chef Kevin Thomson, this used to be a very common practice a decade or two ago, where you would get to enjoy some sort of a theatrical preparation of your food. Just think of your flambé steaks! I mentioned that Lawry's The Prime Rib does a Spinning Salad in front of guests too. The difference with Marriott is that even the dressing is made from scratch for your viewing pleasure! So, you can actually tweak taste of your dressing as you will be given the opportunity to taste the dressing before it's mixed into the salad.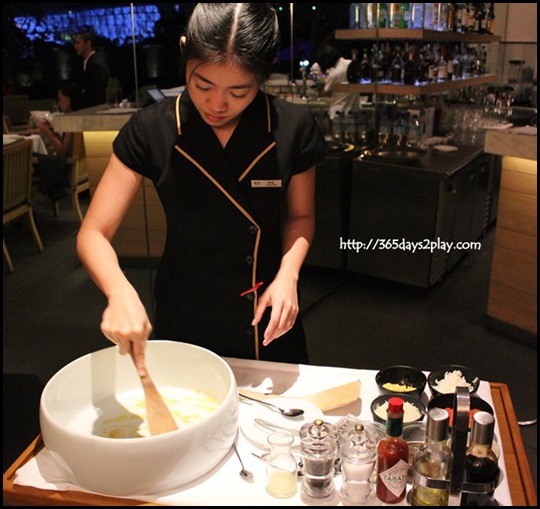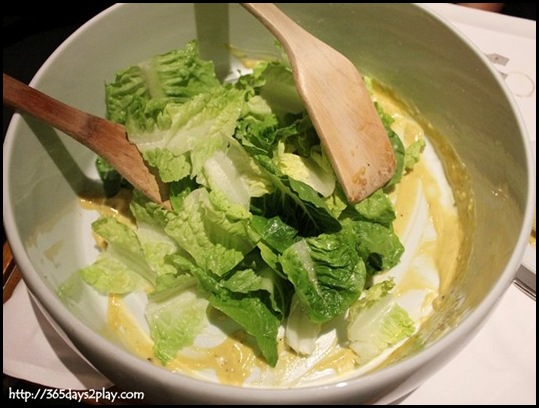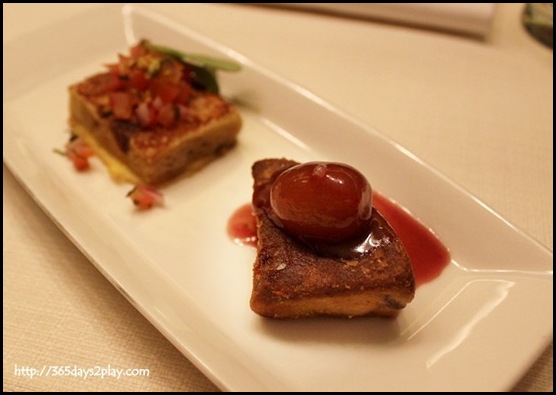 Foie Gras with Burgundy Grape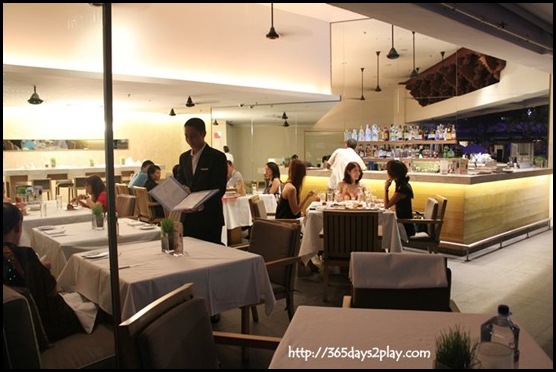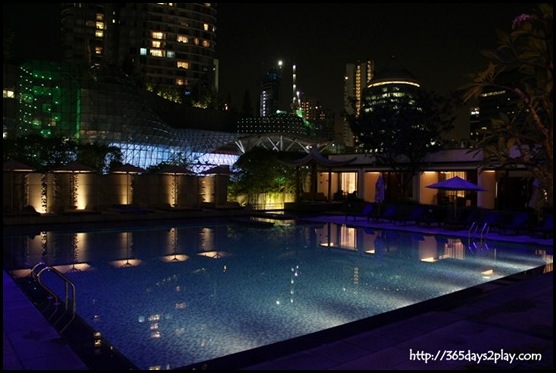 Romantic Backdrop?
Crossroads Cafe
Crossroads Cafe is the iconic cafe situated on the sidewalk of bustling Orchard Road. It serves both Western and local cuisine but we only tried some Western dishes for our food trail.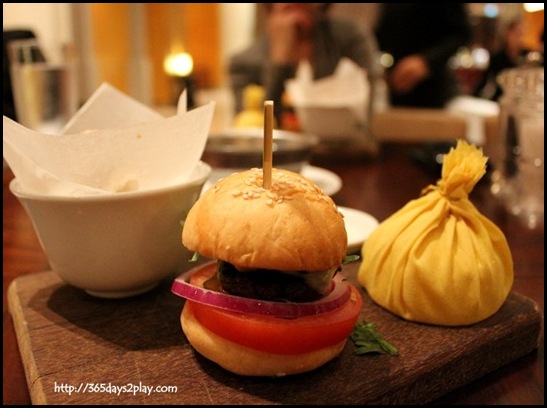 A little tasting portion of the Wagyu Burger $28 and the Salt & Pepper Calamari $16
I was starting to get quite full so I'm not sure if I truly enjoyed the Wagyu Burger? I thought the meat wasn't as juicy and fatty as usual. Also, it was almost well done, which was not how I like it.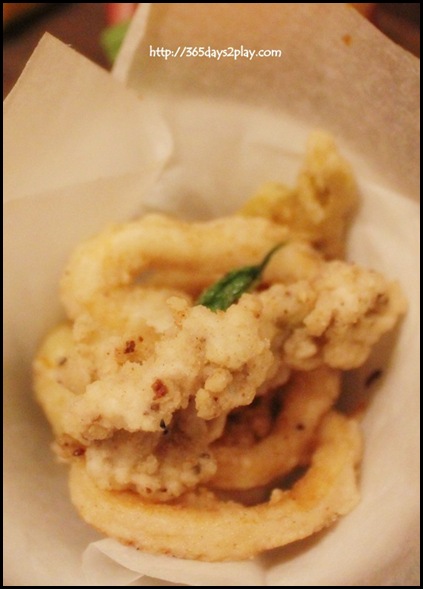 Closer look of the Salt & Pepper Calamari. A lemon is provided but don't overdose on it like I did because too much lemon made my calamari soggy and a little bitter. But otherwise, I thought the Calamari was pretty good. It wasn't oily tasting too, for a fried dish like this.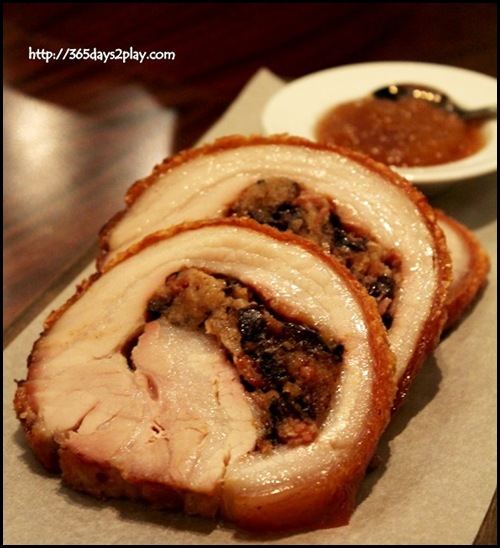 Roast Pork with stuffing and apple sauce
Very delicious. The meat was very tender, and I just loved how the crackling had a nice crunch to it. It was good that this roast pork wasn't salty tasting, which is a common faux pas.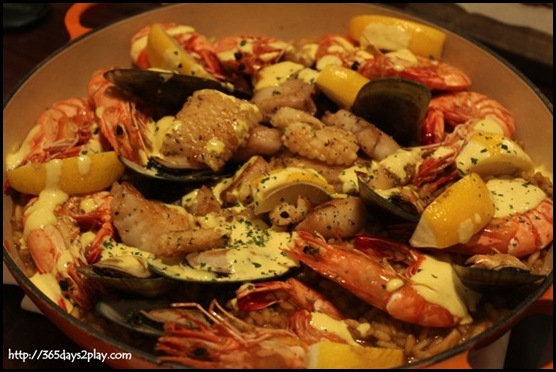 Seafood Paella
I only managed to try the rice. The broth used is lobster broth, so this dish is really rich.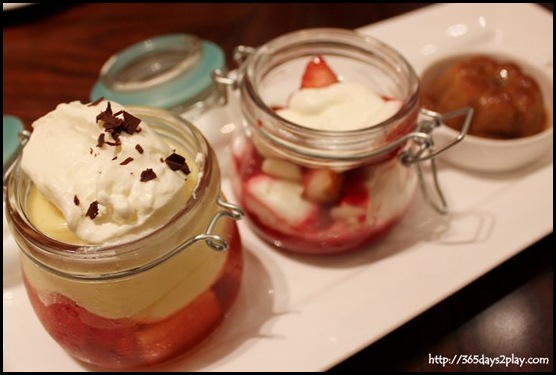 And the creme de la creme, the desserts! From left, Old School English Trifle $10, Eton Mess and Classic Sticky Date Pudding $12.
These are only sampling portions so don't worry that they look small here. The Old School English Trifle packs a strong punch under all the cream and custard. There is actually sherry and masala, which do a wonderful job of cutting through the creaminess of the trifle. I also liked the Eton Mess although I did think that perhaps a little bit more meringue should be added to give more texture to the otherwise very airy cream. The sticky date pudding was fabulous too. It was just sweet enough for me and the pudding was very cakey. It required a bit of strength on my part to cut it into two, but actually, I quite liked the denseness of it!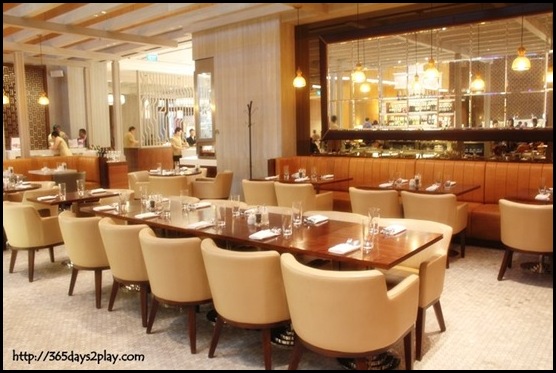 Marriott Cafe
That's all folks! So when you're in Orchard Road and lost for where to dine, do consider Marriott Hotel! I know I would.
320 Orchard Road · Singapore, 238865 Singapore
Phone: 65 6735 5800  Fax: 65 6735 9800
Dining Information : http://www.marriott.com/hotels/hotel-information/restaurant/sindt-singapore-marriott-hotel/