Checked out Sze Chuan Court 2 weeks ago with my parents after my luxurious massage session at the Fairmont Singapore Willow Stream Spa. I'd forgotten that I have the FAR card (Feed at Raffles Card) privileges tied to my AMEX card so I was pleasantly surprised to be told that I could enjoy a 33% discount since there were 3 people at the table.
You don't often hear of Sze Chuan Court being mentioned when it comes to dim sum, so I was quite keen to see what they would dish up. They also have a dim sum buffet going on for about $45 but we decided not to stuff ourselves too much this time round. On the whole, Sze Chuan Court serves up pretty good dim sum if you know which are the good items to order. There were some hits and misses when I went with my parents since it was our first time, but when I went back with the Partner again a second time, I knew to order my favourites. Best part is that if only 2 pax are dining, the discount is 50%! Only thing is, we kinda splurged and the bill ended up $20 more than when I had dined with my parents!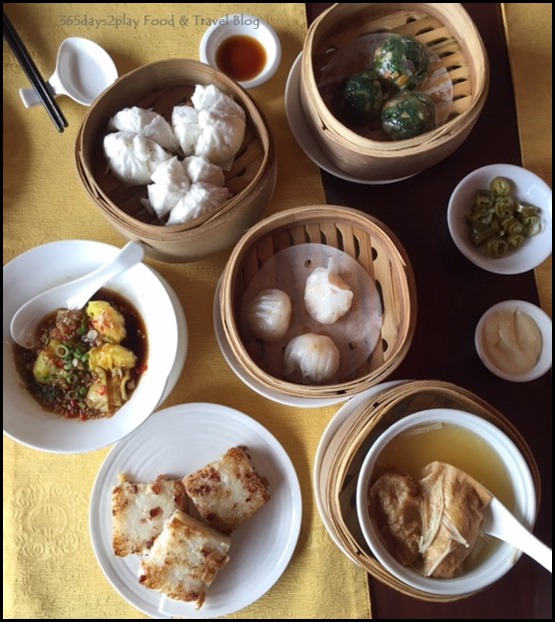 So, the must orders are the Braised Bean Curd Skin Roll with Enoki Mushrooms, the Fried Beancurd Prawn Dumpling with Celery and Water Chestnut and the Young Bamboo Shoot Prawn Dumpling. The char siew bao is not too bad too, but they put some almond essence (or similar) into the fillings and I don't particularly like anything with almond essence. Pity they don't have any rice rolls, those being our usual order at Cantonese restaurants. I suppose that's a HK/Cantonese dish.
Braised Bean Curd Skin Roll, Enoki Mushrooms, Superior Broth $7.80
Fried Beancurd Prawn Dumpling, Celery, Water Chestnut $8.80