Food Expeditions aka Food Trails are getting more popular in Singapore it seems. People are no longer just satisfied dining in a nice restaurant, they now want to make an adventure out of it. And if you have a good weekend afternoon to spare, with some friends who are game enough to join you, I say why not? It's money well spent, judging from the response garnered by the Fiji Water Signature Creations Expedition I attended last month.
You can read more about how the Fiji Water Signature Creations Expedition works here, but basically for $180, you get to try a signature dish each at 6 different restaurants, each paired with a glass of wine and FIJI Water. No need to worry about how to get around as we were chauffeured, and the whole event took 6 hours! After all the food and nearly unlimited amounts of wine, I saw many happy faces near the end of the day. Hic.
~~ Absinthe Restaurant Francais ~~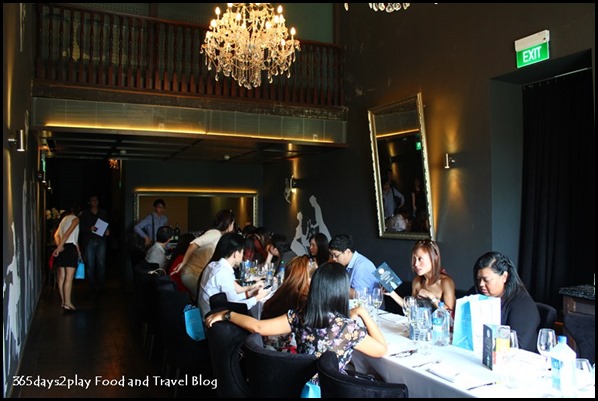 We started off the event by gathering at Absinthe Restaurant at Boat Quay.  I'd been to Absinthe Restaurant Francaise only once a few years ago, and that was when they were still at Bukit Pasoh. I love dining at French restaurants. The meal usually spans 3 hours and even though it is expensive, you are paying for 3 hours of luxurious enjoyment. Definitely not for people who like gobbling down their food fast. Love the shop house location, woody tones with ornate touches here and there! I definitely want to come back to Absinthe again for lunch.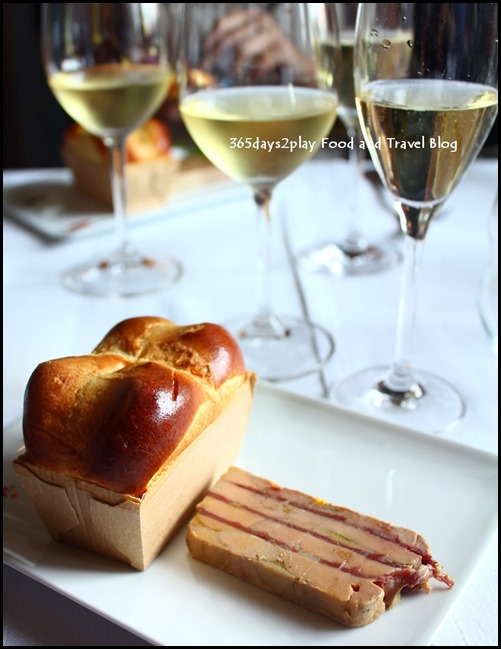 Foie Gras Terrine with Brioche by Chef Francois Mermilliod Served with Konrad Gewurztraminer 2013
Looks like I am having 3 wines, but nope, only 2 glasses are mine. One was the bubbly they served to make sure all the guests start off on a happy note. The Foie Gras Terrine was EXCELLENT. It was smooth and silky, and in quite a generous portion, really the next best thing to eating foie gras itself. The warm brioche was really fluffy and buttery tasting and actually warm when served. Don't you just hate the 1st world problem where your starter is so good that you want to eat it all, yet you worry it might fill you up too much and ruin your main meal?