Food Expeditions aka Food Trails are getting more popular in Singapore it seems. People are no longer just satisfied dining in a nice restaurant, they now want to make an adventure out of it. And if you have a good weekend afternoon to spare, with some friends who are game enough to join you, I say why not? It's money well spent, judging from the response garnered by the Fiji Water Signature Creations Expedition I attended last month.
You can read more about how the Fiji Water Signature Creations Expedition works here, but basically for $180, you get to try a signature dish each at 6 different restaurants, each paired with a glass of wine and FIJI Water. No need to worry about how to get around as we were chauffeured, and the whole event took 6 hours! After all the food and nearly unlimited amounts of wine, I saw many happy faces near the end of the day. Hic.
~~ Absinthe Restaurant Francais ~~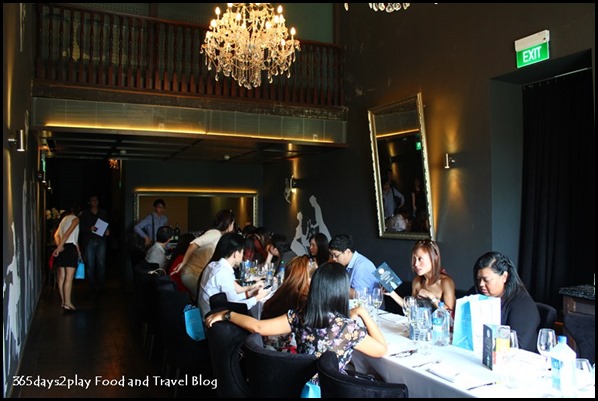 We started off the event by gathering at Absinthe Restaurant at Boat Quay.  I'd been to Absinthe Restaurant Francaise only once a few years ago, and that was when they were still at Bukit Pasoh. I love dining at French restaurants. The meal usually spans 3 hours and even though it is expensive, you are paying for 3 hours of luxurious enjoyment. Definitely not for people who like gobbling down their food fast. Love the shop house location, woody tones with ornate touches here and there! I definitely want to come back to Absinthe again for lunch.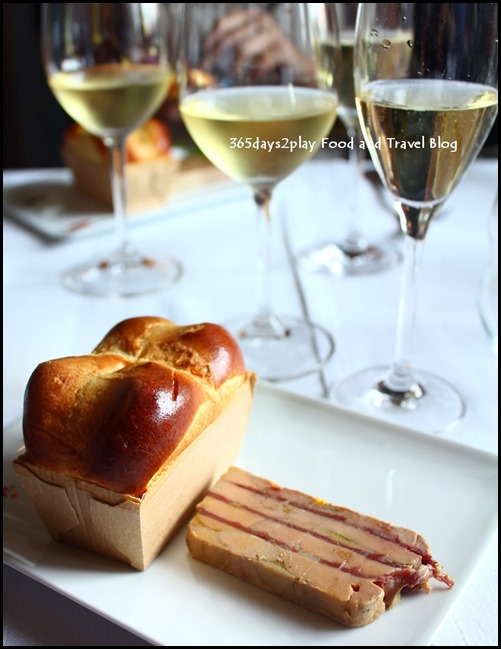 Foie Gras Terrine with Brioche by Chef Francois Mermilliod Served with Konrad Gewurztraminer 2013
Looks like I am having 3 wines, but nope, only 2 glasses are mine. One was the bubbly they served to make sure all the guests start off on a happy note. The Foie Gras Terrine was EXCELLENT. It was smooth and silky, and in quite a generous portion, really the next best thing to eating foie gras itself. The warm brioche was really fluffy and buttery tasting and actually warm when served. Don't you just hate the 1st world problem where your starter is so good that you want to eat it all, yet you worry it might fill you up too much and ruin your main meal?
~~ Hashi ~~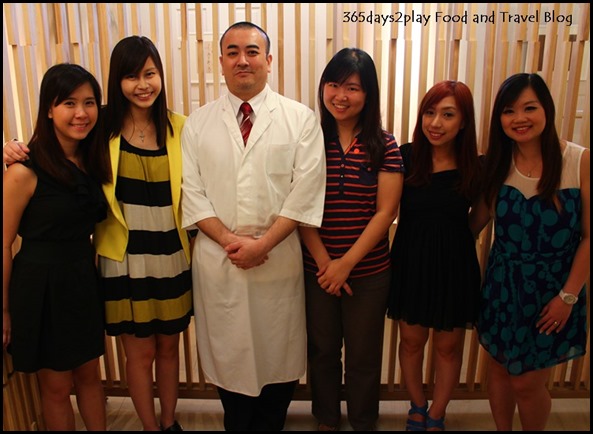 Chef Tadashi Takahashi, former head chef of Nobu Melbourne, helms Hashi now. Here's a picture of several bloggers with Chef Takahashi, including myself of course.
Fresh Live Prawn, Hokkaido Scallop and Vegetables with Japanese Jelly by Chef Tadashi Takahashi
Served with Evolucion Chardonnay 2011
Looks like a simple dish but wait till you try out the interesting jelly dashi made from fish broth. It was really refreshing and light on the palate! There is an overall smokiness to the dish from the vegetables being grilled over the naked fire.
~~ The Tippling Club ~~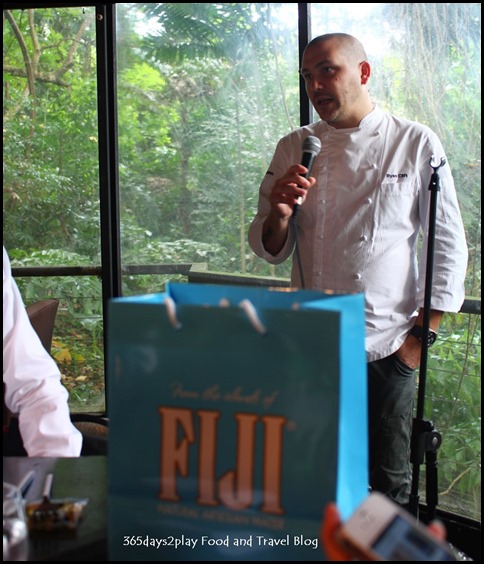 Chef Ryan Clift giving us the low down on his dish. He once told me he doesn't like bloggers. Wonder what he would think if he knew that there were a few bloggers amidst the whole contingent of diners…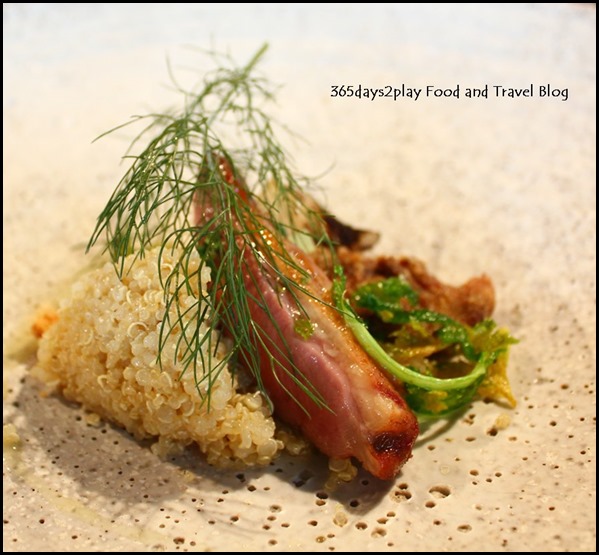 Pigeon, celery, quinoa, goats curd by Chef Ryan Clift
Served with Mount Fishtail Pinot Noir 2008
I wish I could have had a bigger slice of the baby finger sized slice of pigeon! that was the best part of the dish, as the rest of it was pretty bland in comparison. This is Chef Ryan's signature cooking style in that he likes to use rich meats paired with lighter tasting ingredients to give a clean finish to the dish. I am strangely fascinated by the holes on the plate. Feel like stuffing the quinoa into the holes…
~~ The Pelican ~~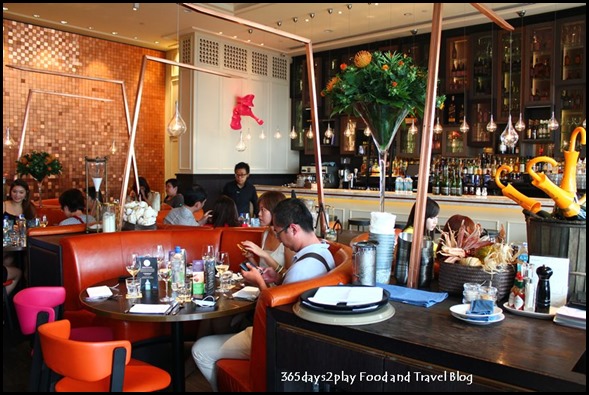 My 2nd time at The Pelican. Check out my full review of The Pelican. Great location for a restaurant if you ask me, being along the One Fullerton stretch. They must get superb views of the fireworks during National Day and New Year's Eve. A great spot to take unblocked photos of Marina Bay Sands Hotel too. I really like the cutesy nautical decor to this place. If you're looking for a good Western restaurant specialising in seafood, you have to come to The Pelican.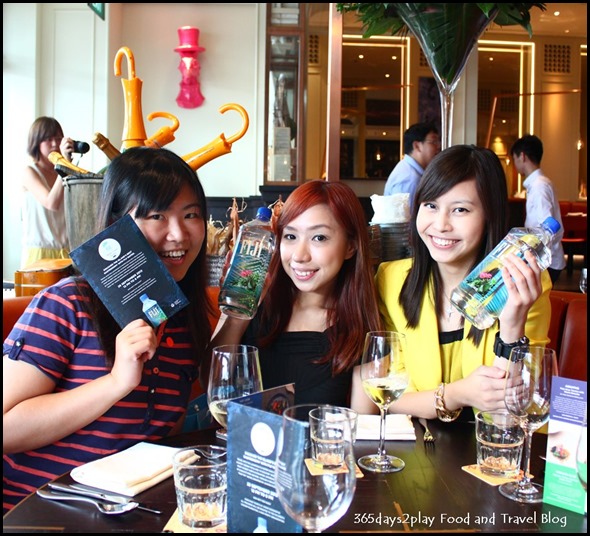 Me, Nadia of http://www.nadnut.com and Charleen of http://gninethree.com doing a bit of product promotion here… Fiji Water Go Go Go!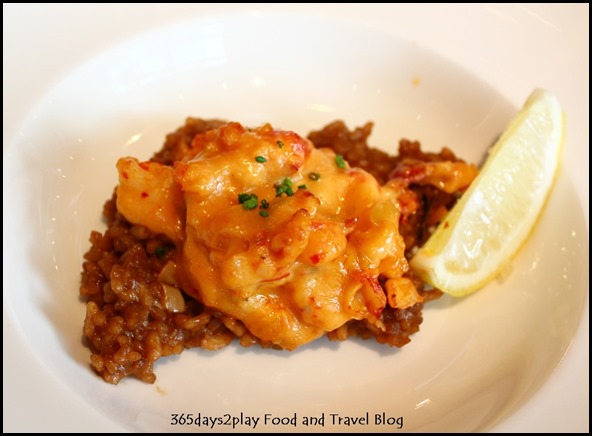 The Pelican Lobster Thermidor by Chef Issac Tan Served with Konrad Gruner Veltliner 2011
Lobster Thermidor….If you want to shovel loads of lobster into your mouth without fiddling with the shells, this is the thing for me, you. I like it that the lobster flavour comes through even though it has been cooked together with cream and parmesan, no easy feat for sure with nearly 50 ingredients being used in this dish!!
~~ The Fat Cow ~~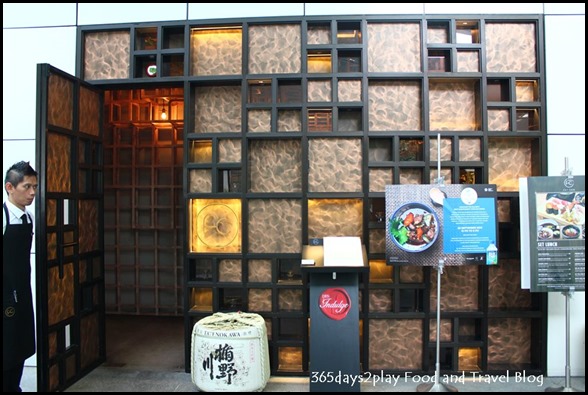 The Fat Cow is located at the Camden Medical Centre, aka centre for botox, facelifts and other manner of plastic surgery. We were joking that after a meal at The Fat Cow, we would then be given vouchers to patronise the clinics upstairs…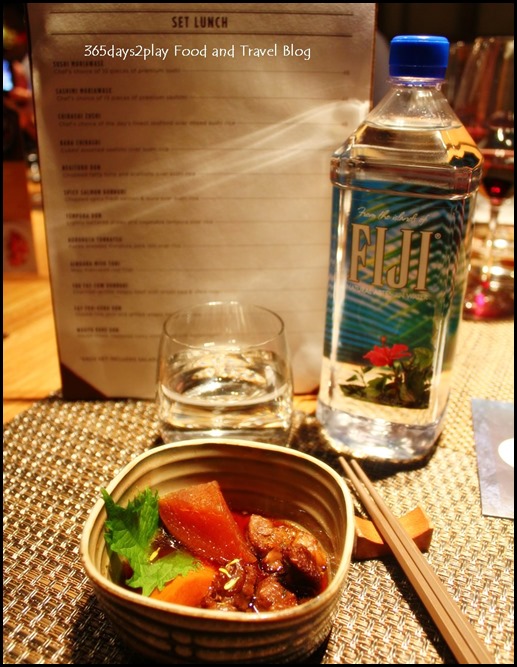 Interesting enough, The Fat Cow is a Japanese inspired steakhouse, but run by an Ang Moh, Chef Dan Segall, who has been working in Asian countries for more than 10 years, including Singapore and Hong Kong.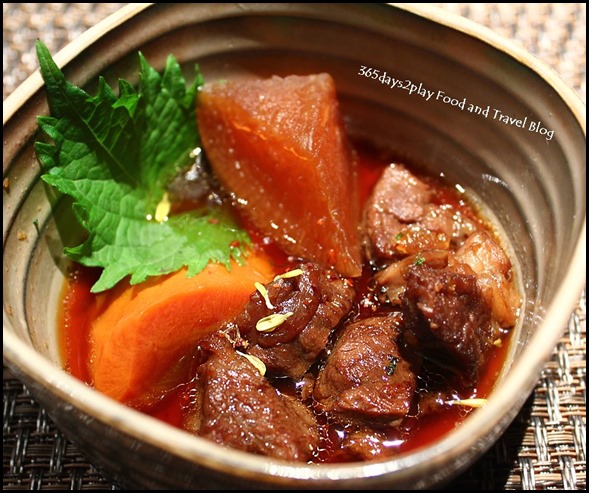 Wagyu No Kakuni by Chef Dan Segall Served with Chateau Timberlay Rouge 2008
There is a traditional homestyle dish in Japan made from pork belly and it is this same technique used on Japanese Wagyu beef rib. Boneless rib meat is simmered in shoyu, sake and mirin with plenty of ginger and a touch of yuzu. It's supposed to be simmered just long enough such that it retains its bite. Unfortunately, the technique was lost on me because I thought the meat to be tough and stringy for a piece of wagyu. This was unfortunately my least enjoyed dish of the day.
~~ Prive Grill ~~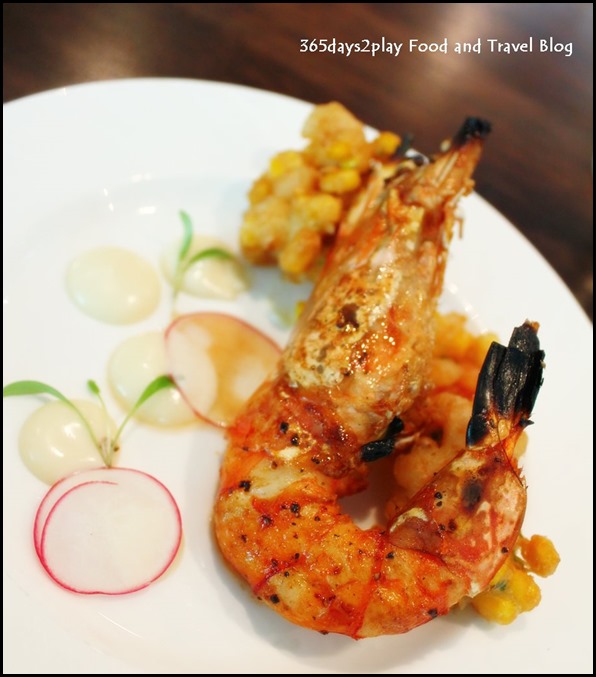 Hokkaido Corn and Shrimp Fritter with Lime Aioli by Chef Robin Ho Served with Konrad Riesling 2009
And last but not least, the jumbo prawn with corn fritter. I actually liked this version of prawn as compared to the milder version from Hashi. The charred flavour of the sweet and succulent prawn was thoroughly enjoyable. The corn fritter was pretty enjoyable too except it would have been better if crisper.
Thus concludes the $180 Fiji Water Signature Creations Expedition. Could have done with a bit more food for the price tag and especially for a meal spanning 6 hours, but if you drink copious amounts of wine, this makan trail would definitely be a bargain for you. It's a particularly good opportunity to try signature dishes from numerous restaurants, with the chance to speak with the chefs who created the dishes. Looking forward to the next Expedition organised by FoodNews!
---
Add me on Facebook, Instagram and Twitter if you want to be kept up to date with the latest happenings in the food and lifestyle scene in Singapore!
---