[Media Invite]
Five Nines (999.99), which used to be at Keong Saik Road, has now reopened on the 4th floor of Cuppage Plaza. Previously focussing on European cuisine, it has now shifted to serving affordable European-Japanese fare prepared with seasonal ingredients flown in from Japan several times a week. Lots of Japanese businessmen frequent Cuppage Plaza for the numerous Japanese restaurants there, so this is probably one of the reasons for the shift into Japanese-inspired food. Five Nines is a sister restaurant to Kappo Shunsui by Chef Tomo Watanabe, who led his restaurant Shunsui in Tokyo to Michelin Guide's Bib Gourmand fame from 2015 to 2017. The culinary team at Five Nines is led by 37 year old Head Chef Takashi Ohkawa who has close to 2 decades of experience from restaurants across Italy and Japan.
One of the highlights of Five Nines is its $49++ 6 course set menu. If you want to experience a bit of fine dining (food-wise), $49 is about as affordable as it can go in Singapore. See pictures below for my experience. You will have to make an advanced reservation for the set menu though as ingredients are limited.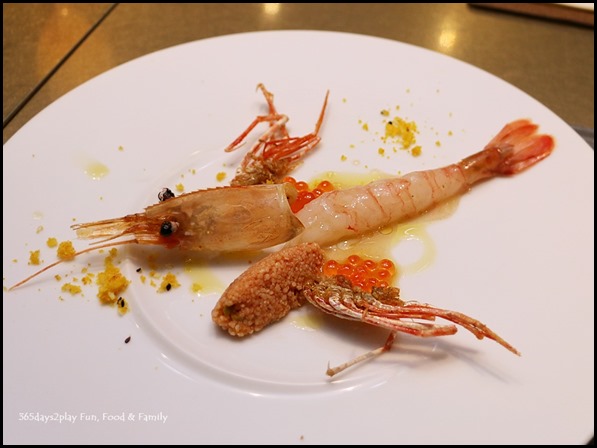 Marinated Botan Shrimp and Couscous Salad
If you've never had this, this raw shrimp tastes totally different from any cooked prawn you have ever eaten. When you bite into it, it has a certain firmness yet spring to it. This was prepared such that even the shell could be eaten.