[Media Invite]
Five Nines (999.99), which used to be at Keong Saik Road, has now reopened on the 4th floor of Cuppage Plaza. Previously focussing on European cuisine, it has now shifted to serving affordable European-Japanese fare prepared with seasonal ingredients flown in from Japan several times a week. Lots of Japanese businessmen frequent Cuppage Plaza for the numerous Japanese restaurants there, so this is probably one of the reasons for the shift into Japanese-inspired food. Five Nines is a sister restaurant to Kappo Shunsui by Chef Tomo Watanabe, who led his restaurant Shunsui in Tokyo to Michelin Guide's Bib Gourmand fame from 2015 to 2017. The culinary team at Five Nines is led by 37 year old Head Chef Takashi Ohkawa who has close to 2 decades of experience from restaurants across Italy and Japan.
One of the highlights of Five Nines is its $49++ 6 course set menu. If you want to experience a bit of fine dining (food-wise), $49 is about as affordable as it can go in Singapore. See pictures below for my experience. You will have to make an advanced reservation for the set menu though as ingredients are limited.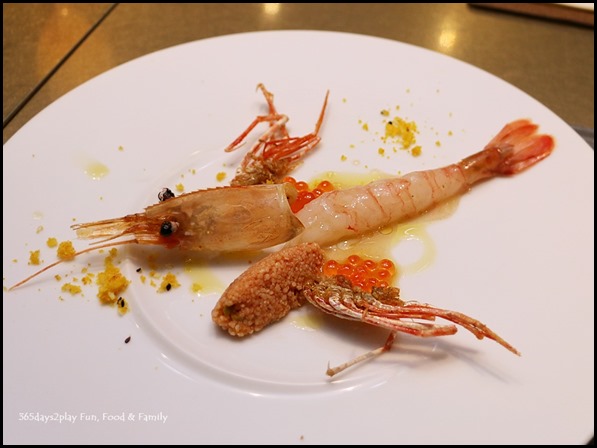 Marinated Botan Shrimp and Couscous Salad
If you've never had this, this raw shrimp tastes totally different from any cooked prawn you have ever eaten. When you bite into it, it has a certain firmness yet spring to it. This was prepared such that even the shell could be eaten.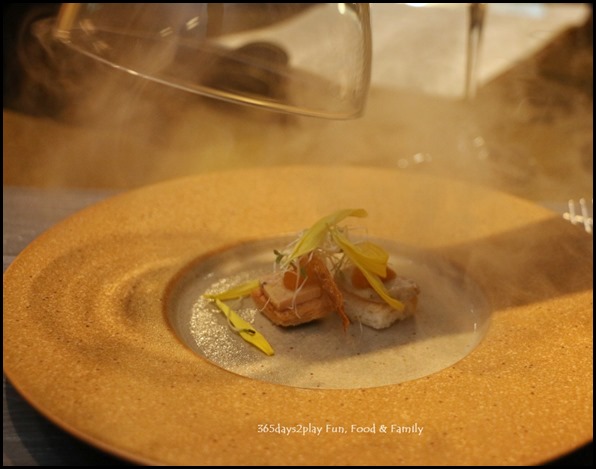 Foie Gras Terrine and Bruschetta  With Instant Smoked Orange Jam
A nice little parcel packing in a lot of flavours. Only problem….. TOO SMALL!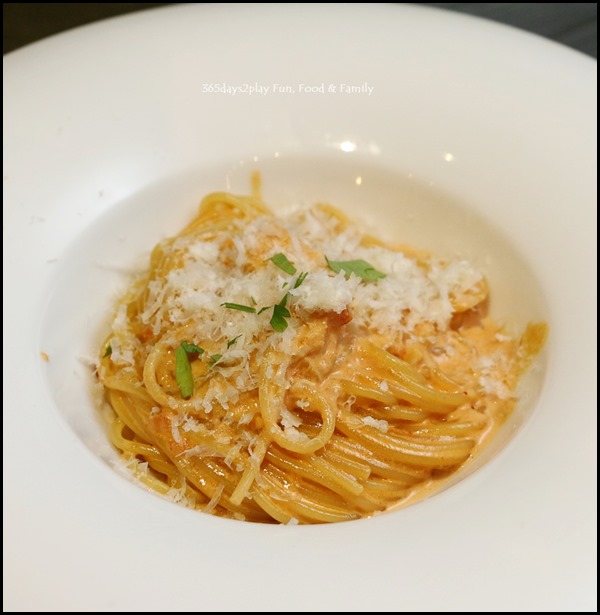 Lobster Spaghetti with Creamy Tomato Sauce (+$15)
For the pasta dishes, you have to choose between either this lobster spaghetti or the squid ink tagliolini. Both were equally tasty in my opinion, perhaps this lobster spaghetti just a little more so because I like cream sauce. But not sure if I would want to top up an additional $15 for this, given it's just an appetiser portion.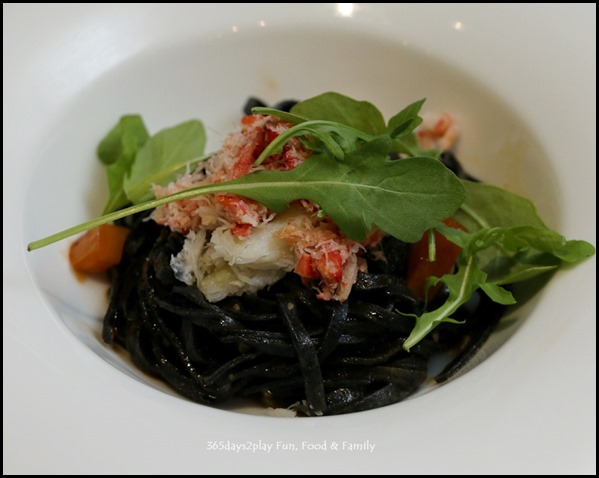 Garlic Flavored Squid Ink Tagliolini topped with snow crab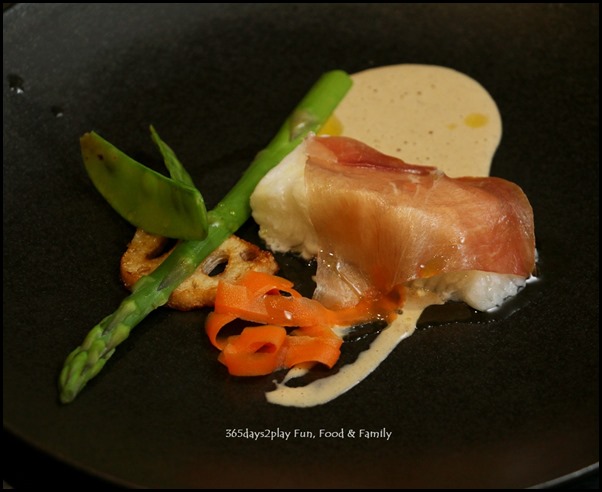 Steam Cod Fish Rolled With Parma Ham with porcini cream sauce
A lovely piece of cod fish that was soft and buttery tasting, exactly how I like it. I don't know why but quite often, Western restaurants seem to botch up their cod fish because it tends to taste so dry. This here passed the test.
Mozzarella and Lamb Tenderloin Fritto with celeriac puree and Japanese pepper
Any crumbed piece of meat stuffed with cheese always gets me excited. Enjoyed this version very much, lamb was tender and the cheese super gooey as you can see.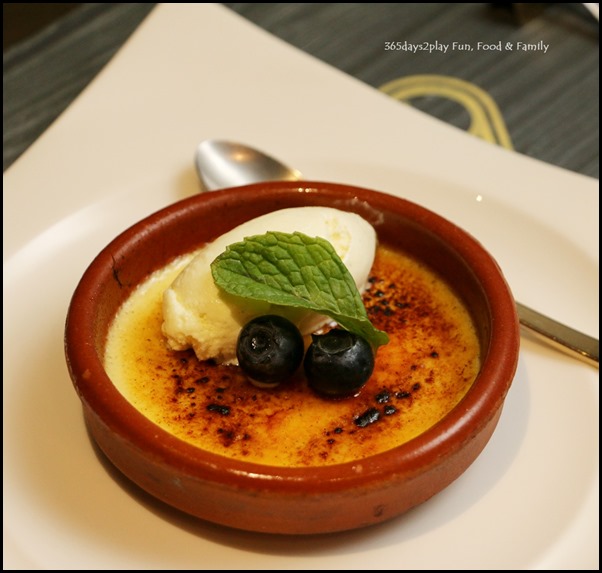 Crí¨me brí»lée
And finally, the dessert. Just a delicate layer of burnt sugar on a creamy custard. Executed well. If you have to pierce through the sugar with force, that's wrong already in my books.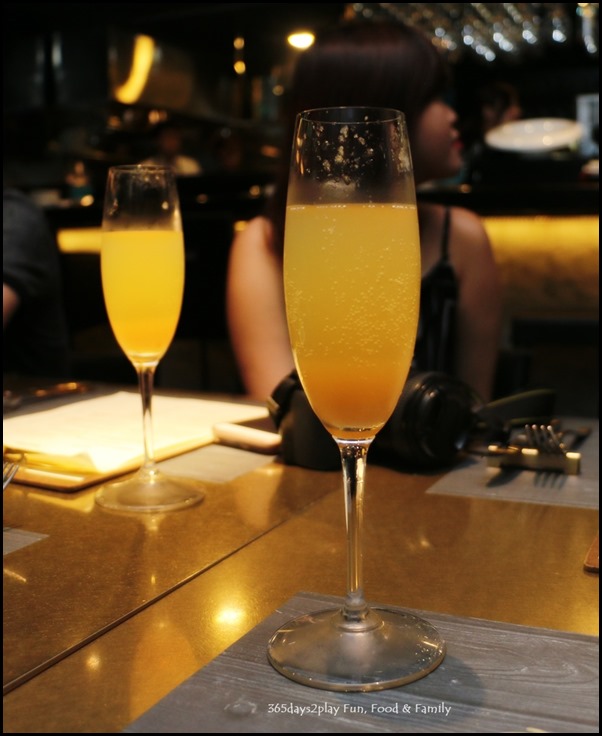 Premium Japanese Fresh Orange Spumante
I seldom order cocktails but this was really nice. Just a touch of alcohol, enough to make me happy but not so much that I feel guilty.
---
Add me on Facebook, Instagram and Twitter if you want to be kept up to date with the latest happenings in the food and lifestyle scene in Singapore!
---
Five Nines (999.99)
5 Koek Road, #04-04 Cuppage Plaza, Singapore 228796
Opening Hours: Tuesdays to Saturdays: 6.00pm to 2:30am
Sundays: 6.00pm to 11.00pm
Closed for dinners and on Mondays
Menus: 6-course set dinner menu till 9pm Priced at $49++ until 31 December 2017 and not available on Christmas and New Year's Eve and Christmas Day. Available by reservations only. A la carte menu till 2.30am Tapas-style and other main courses. Available for walk-ins.
Seating Capacity: 28
https://www.fivenines.sg/#menu
Read about my previous visit to the Keong Saik Five Nines