It's not often that I come across a restaurant with this many laudable dishes, but yes, nearly every single thing that I tried at 999.99 (Five Nines) at Keong Saik street was delicious and memorable. What sort of weird name is Five Nines, you may ask. Well, 999.99 is the finest form of gold and is considered the gold standard. The team at 999.99 holds themselves to this gold standard in the food that they serve, be it quality, service or presentation. Five Nines is helmed by Chef Masanao Saito, where his previous experience included being Head Chef of the Japanese Embassy in Sweden, serving Japanese Kaiseki and French cuisine to dignitaries.
Let's cut to the chase and let me tell you which dishes to order to maximise your dollar. Without a doubt, do not leave Five Nines without ordering either the Smoky Lamb with Eggplant, the Beef Tenderloin and Foie Gras, or the Lobster Gratin. These 3 were absolutely mind blowing.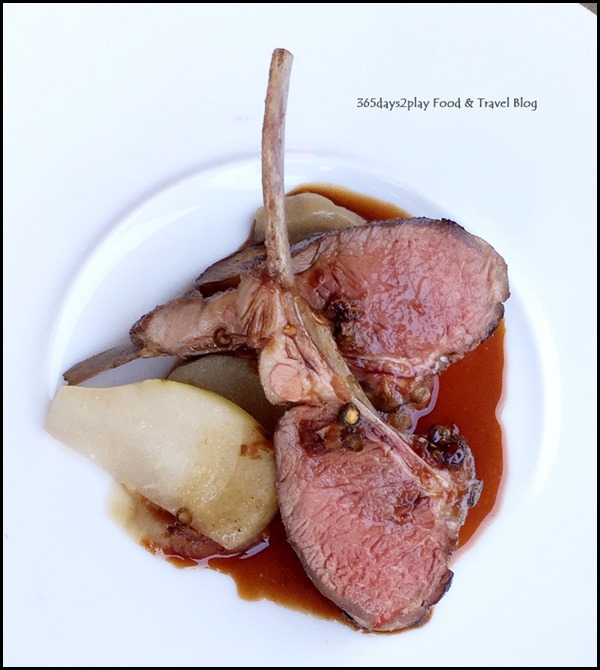 Smoky Lamb with eggplant $22
This is first presented at the table covered by a glass cover. Its contents are obscured from view by a delicate swirling smoke, elevating the anticipation. When the cover is lifted, the smoke dissipates quickly enough, but not before it leaves you with hints of apple and cherry wood, in which the lamb was smoked in. But this is not just a transient thing, because you can actually taste the smokiness in the lamb with every bite. And boy, was that lamb tender and bursting with flavour. I guarantee you, 2 is not enough.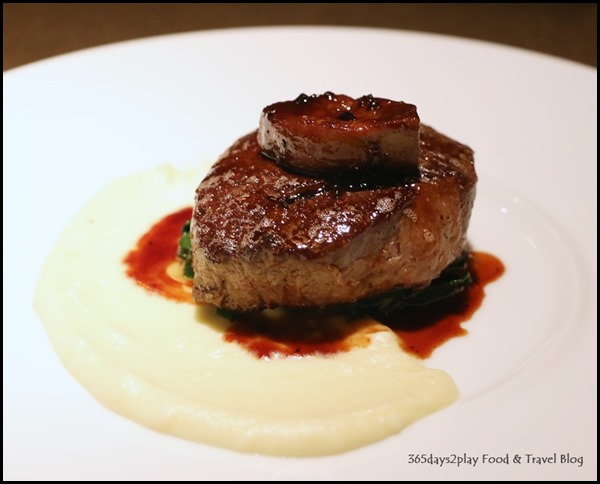 Beef Tenderloin & Foie Gras $29
Similar to the smoky lamb, the beef tenderloin was perfectly cooked, thus showcasing a great depth of flavour while maintaining a chewy bite. And in case you needed an extra oomph in the flavour department, a little piece of foie gras was tantalisingly perched atop the beef.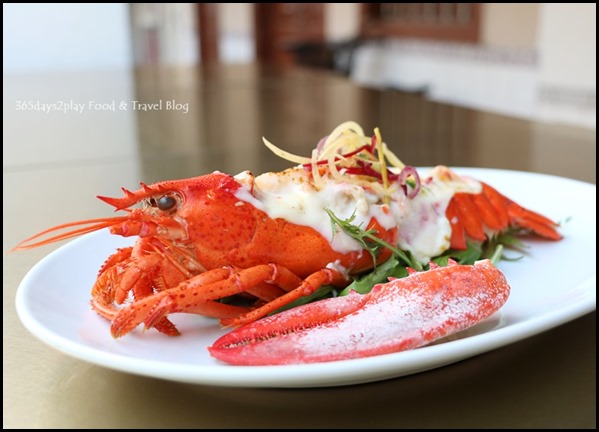 Lobster Gratin $29
This lobster gratin was faultless to a T. From the creamy béchamel sauce with crisp melted cheese topping to the generous cubes of tender lobster, to the ease of shovelling it all into your mouth, because as they say, once you start you can't stop! Of all the dishes, I did think this to be filling enough to act as a main dish, ie no need to top up with other main dishes.
First 20 customers of the day gets to order this at $19++ instead of $29++!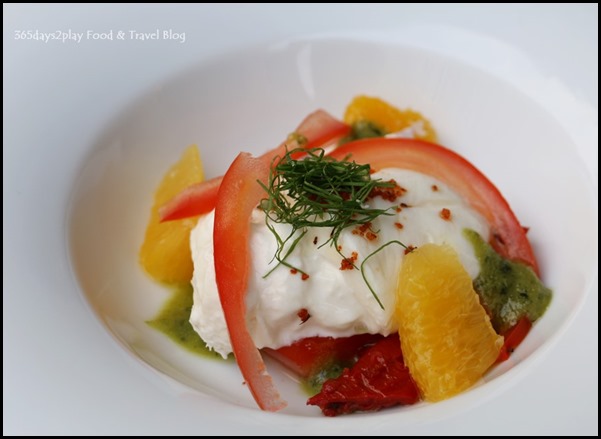 Burrata & Tomato Salad $14
Ahhhh burrata, my favourite way to enjoy mozzarella cheese! This version pairs the creamy cheese with sweet and citrusy elements.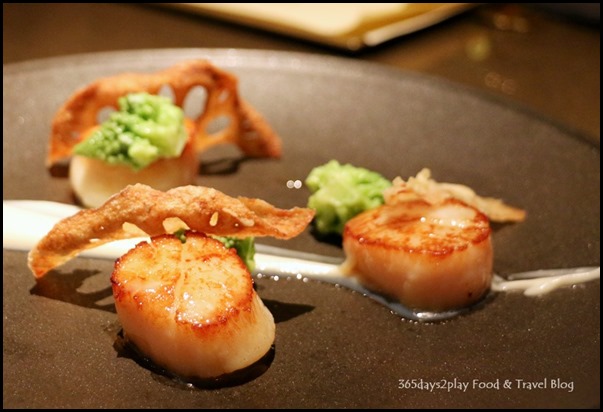 Scallops & Cauliflower $22
Yet another beautiful dish, the sweet scallops were seared well on the outside until slightly crisp, while still maintaining a tender and bouncy interior. A pity there were only 3!!!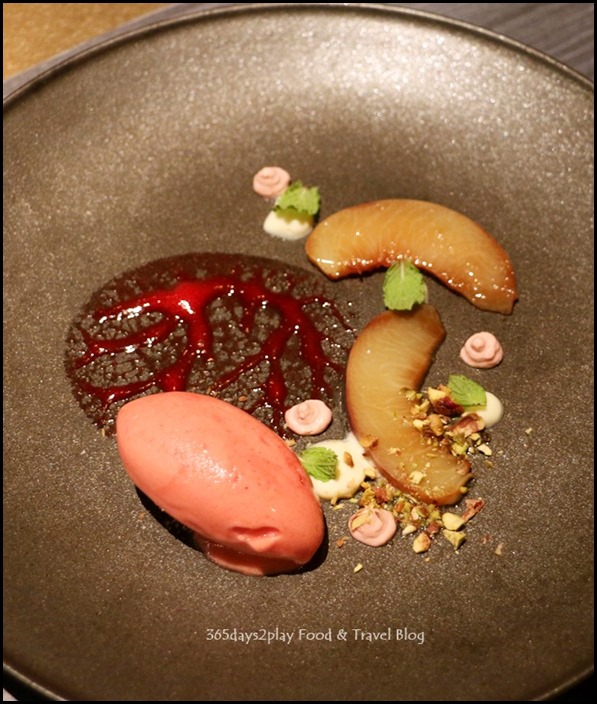 Peach Melba $9
The desserts at Five Nines are a little on the small side. Take for example this peach melba, tasty as it was, we were quite shocked to discover it to be essentially a scoop of ice cream with 2 slivers of peach.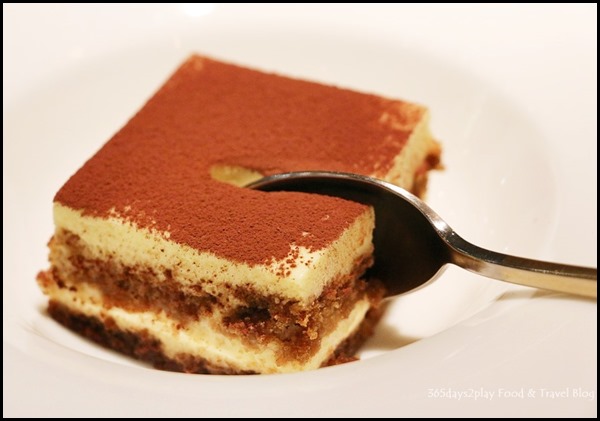 Tiramisu $8
Yes, we polished this off in about 4 scoops, although it was one of the best tiramisus I have eaten. The mascarpone had some body to it instead of being creamy nothingness, and went well with the liquor soaked sponge.
My only grouse would be that Five Nines is not actually as affordable as it touts itself to be. Although each dish seems somewhat more affordable than at other restaurants, it must be remembered that these are small plates, meaning the serving portion is slightly smaller than a normal main course. Unless you are able to limit yourself to only 1 dish per course, it is quite likely that the costs will add up when additional plates are ordered. Nevertheless, if you are able to snag the $19 lobster gratin or if you stick to the set lunch/dinner menus, it might then be a slightly more affordable meal for you.
---
Add me on Facebook, Instagram and Twitter if you want to be kept up to date with the latest happenings in the food and lifestyle scene in Singapore!
---
999.99 (Five Nines)
29 Keong Saik Road Singapore 089136
Operating hours : Monday to Friday    : 12 — 2.30pm ; 6pm — 12 am
                             Saturday & Sunday : 6pm — 12 am
Tel : 6221 7098
Email : info@fivenines.sg
Website : www.fivenines.sg
Facebook : https://www.facebook.com/99999sg
MRT Station : 8 minute walk from Outram Park MRT