Did you know that Kaiserhaus is Singapore's only restaurant serving classic dishes from Central Europe? If you've been to Germany, Austria or Hungary and want to reminisce, you just might want to check out Kaiserhaus. And if you do so by 24 November, you'll also get the opportunity to sample their Game menu dishes.
The game meat used at Kaiserhaus is sourced from sustainable free-ranging farms in Europe. These farms boast vast expanses of land, allowing the animals to forage on a natural diet, thus improving the quality and flavours of the meat. People who don't like strong flavours tend to shy away from game meat, thinking game to be reeking of animal smell. Personally, the game dishes I tried at Kaiserhaus are not so exotic tasting that you need to steel yourself in advance. In fact, it is a good thing to have more flavourful meats, why would you want bland tasting food? (Can never understand people who say lamb tastes "lamby", well don't eat meat then?!)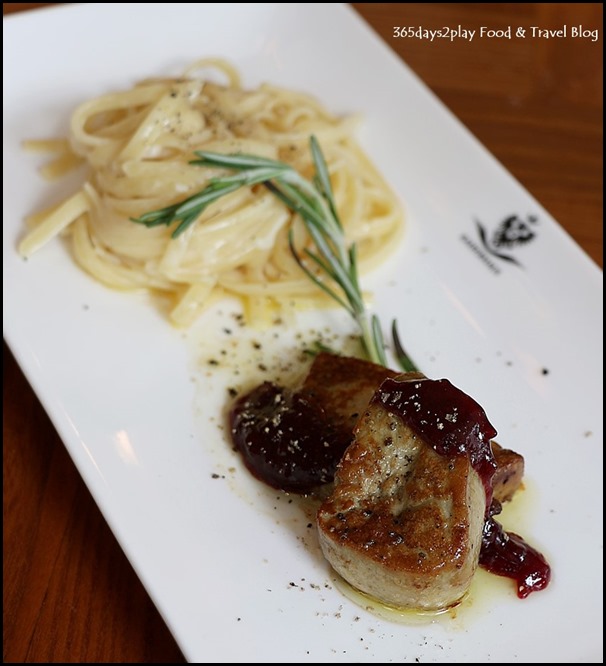 Ungarische Entenleber (Linguine in lemon butter sauce with Hungarian duck liver, drizzled with a trifle of cranberry glace) $25
Doesn't strike me as a game dish, but nevertheless a very good version of duck liver aka foie gras. I seldom come across duck liver served with pasta, but it was a very good idea to pair the 2 together as they complimented each other very well, with the tart and sweet cranberry glace helping to cut through the greasiness.