Today's Straits Times article on hip and cool Katong has reminded me that I have yet to publish my article on Group Therapy Cafe opening a second outlet at Katong V. If you're into cafe hopping, I'm sure you must have heard of Group Therapy Cafe. It's one of the 1st few cafes to open at Duxton Hill, back in 2011. That is just a short 3 years, but in the cafe hopping scene, Group Therapy Cafe can be considered old stalwarts!
Nowadays when cafes are really a dime a dozen, and there are more cafes opening than we have weekends to visit, knowing the good vs the average will help you save time and money. Group Therapy Cafe strikes me as having stood the test of time, although I think the quality dished out at their Duxton Hill branch is better than of the Katong V branch. I was wondering if I would see familiar faces at the Katong V branch, but I did not on my visit some weeks back. The look and feel of this Katong V branch is quite different. At Katong V, Group Therapy Cafe is located at the basement, which is a bit surprising since most cafes are about ambience, natural lighting etc. Still, if you're not there to take a gazillion food photos, the lighting probably wouldn't bother you like it bothered me.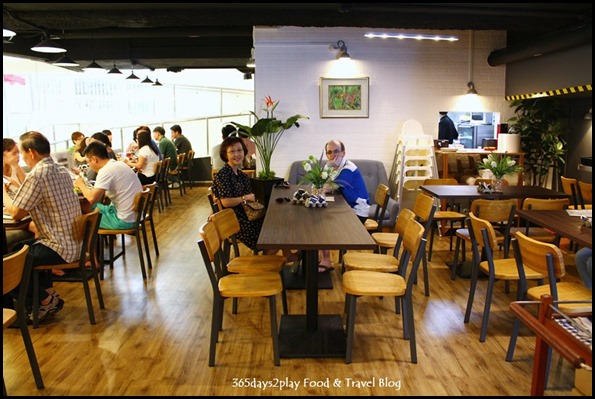 Pretty spacious and thank goodness no long queue when we went, although that might change after you read my article??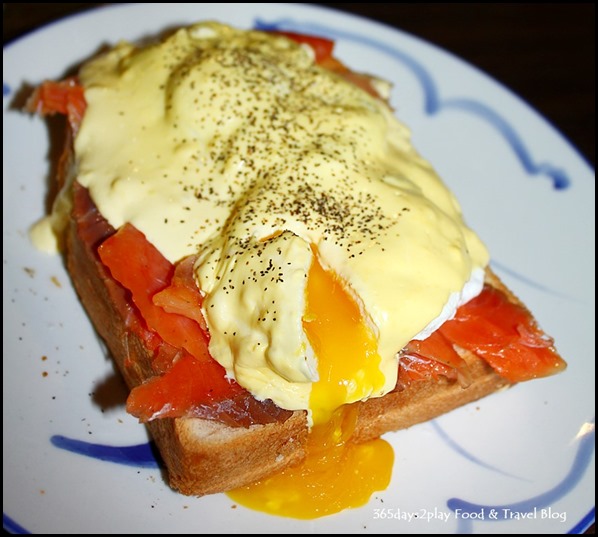 Poached Eggs on thick toast, smoked salmon, gruyere, hollandaise sauce $15
We absolutely had to order this Poached eggs on toast aka Eggs Benedict. It was our favourite order when we used to visit the Duxton Hill branch. The dish looks more or less the same, presentation wise, but the eggs were cooked just a tad longer than I would have liked. I like my yolks really runnnnny. We had to wait a few seconds after slicing open the egg to get this shot.
Check out my previous post on Group Therapy Cafe to see better looking pictures as well a full write up on this dish.