Today's Straits Times article on hip and cool Katong has reminded me that I have yet to publish my article on Group Therapy Cafe opening a second outlet at Katong V. If you're into cafe hopping, I'm sure you must have heard of Group Therapy Cafe. It's one of the 1st few cafes to open at Duxton Hill, back in 2011. That is just a short 3 years, but in the cafe hopping scene, Group Therapy Cafe can be considered old stalwarts!
Nowadays when cafes are really a dime a dozen, and there are more cafes opening than we have weekends to visit, knowing the good vs the average will help you save time and money. Group Therapy Cafe strikes me as having stood the test of time, although I think the quality dished out at their Duxton Hill branch is better than of the Katong V branch. I was wondering if I would see familiar faces at the Katong V branch, but I did not on my visit some weeks back. The look and feel of this Katong V branch is quite different. At Katong V, Group Therapy Cafe is located at the basement, which is a bit surprising since most cafes are about ambience, natural lighting etc. Still, if you're not there to take a gazillion food photos, the lighting probably wouldn't bother you like it bothered me.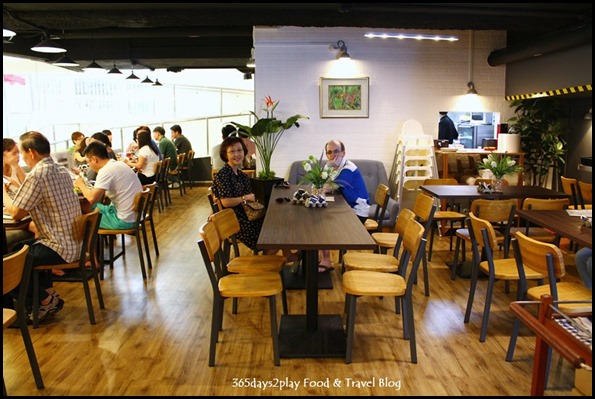 Pretty spacious and thank goodness no long queue when we went, although that might change after you read my article??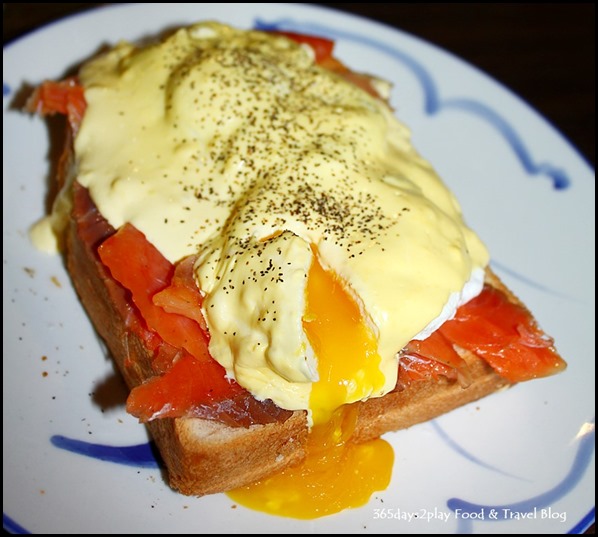 Poached Eggs on thick toast, smoked salmon, gruyere, hollandaise sauce $15
We absolutely had to order this Poached eggs on toast aka Eggs Benedict. It was our favourite order when we used to visit the Duxton Hill branch. The dish looks more or less the same, presentation wise, but the eggs were cooked just a tad longer than I would have liked. I like my yolks really runnnnny. We had to wait a few seconds after slicing open the egg to get this shot.
Check out my previous post on Group Therapy Cafe to see better looking pictures as well a full write up on this dish.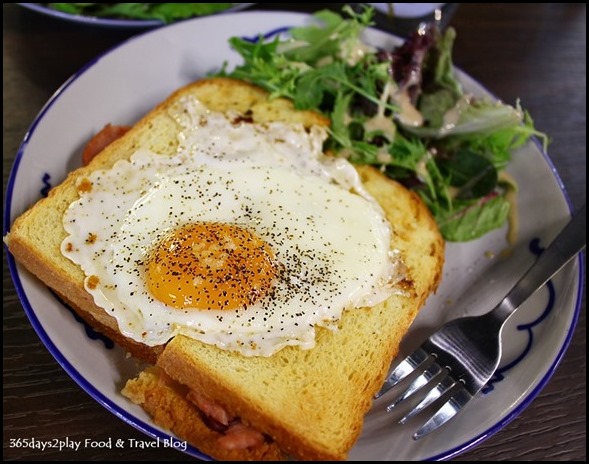 Croque Madame (Smoked ham, bacon, melted cheese between brioche and sunny side up) $14
It seems they were a little heavy handed on the eggs that day as this sunny side up was not as sunny as it should have been. Brioche was a little stiff too. It's quite a waste to use brioche bread when the qualities of brioche are not evident. Well to me anyway, brioche is suppose to be fluffy and soft, or at least taste richer than normal bread. You won't believe how much butter goes into making a brioche, so when it's as hard as toast, I rather have normal bread please. Don't want to eat all that butter for nothing.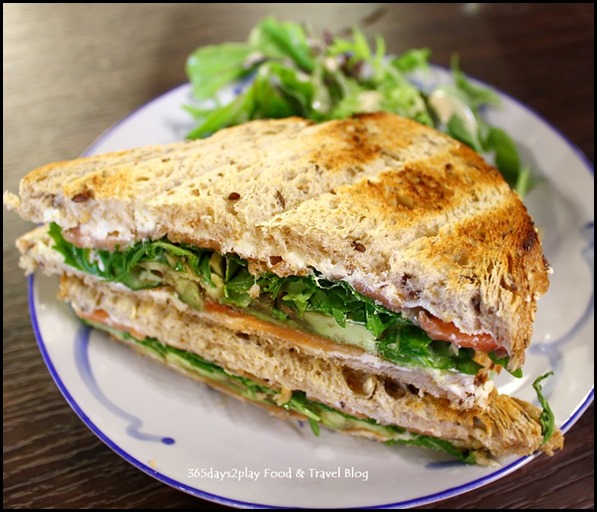 Salmon Avocado Multigrain with cream cheese, arugula with a side salad $12
Who says brunch is always about eggs? We can have healthy sandwiches too. Smoked salmon and cream cheese always go so well together you really don't need many other ingredients. The avocadoes were a little hard though, we would have preferred them pureed into a paste for easier eating. Bread was great and nicely toasted.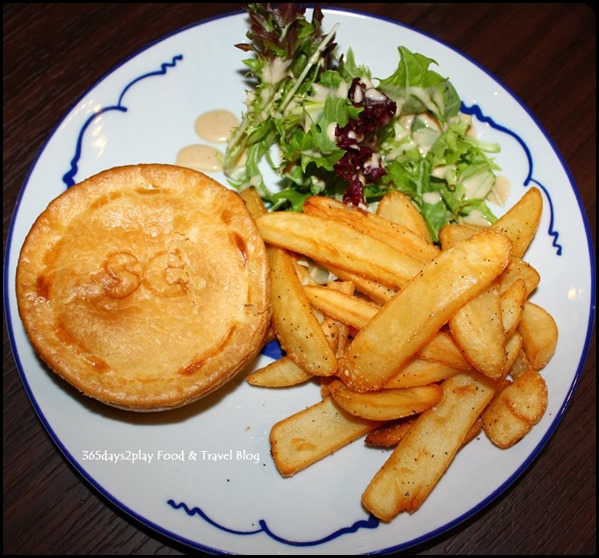 Steak & Cheese Pie with lean beef cubes and melted cheddar in a shortcrust pastry $15
The Partner ordered this and enjoyed this very much. The beef was not stringy, the pastry was nice and crisp, it was an all round good steak pie. The chunky fries were also nice, really crisp on the outside and still fluffy on the inside.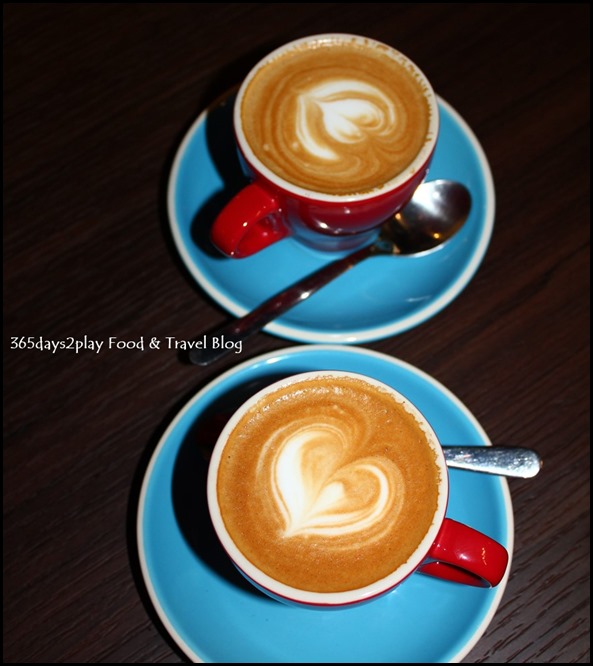 And how could we leave Group Therapy Cafe without trying out their coffee? I love the coffee at their Duxton outlet. These were quite good, but a little on the bitter side. I usually do not add sugar to my flat whites, but in this case, I had to add some.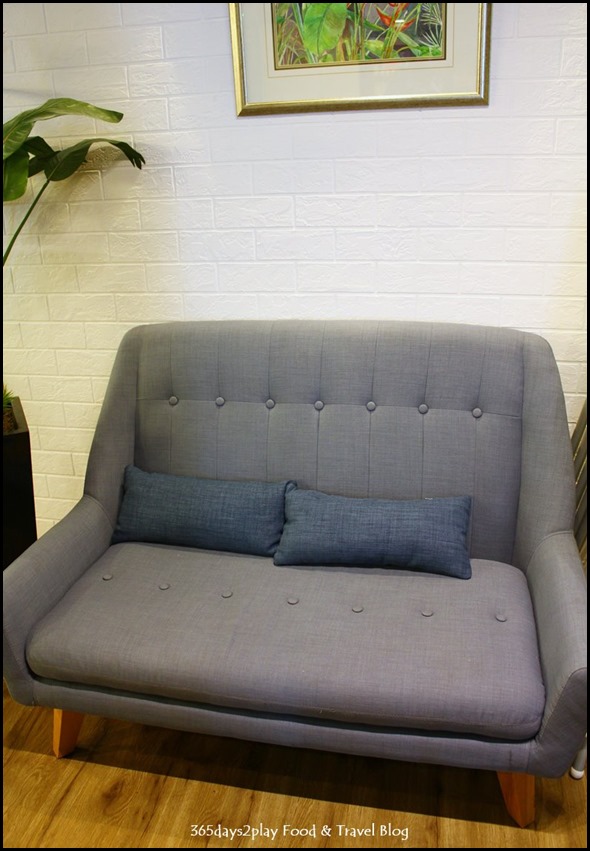 Saw this chic looking sofa in a gorgeous colour. I've been furniture hunting lately so I've been checking out places to buy the types of furniture that I like. I always thought that I would like Scandinavian designs the most, but I realise after my massive furniture hunting that I love New England or Parisian styled homes. I'm not exactly sure what style this sofa is, but I love it too.
What I definitely do know is that I absolutely abhor the modern Italian style. None of those leather sofas or shiny table tops thank you very much. I'll be writing more about my furniture hunting experience so watch this space.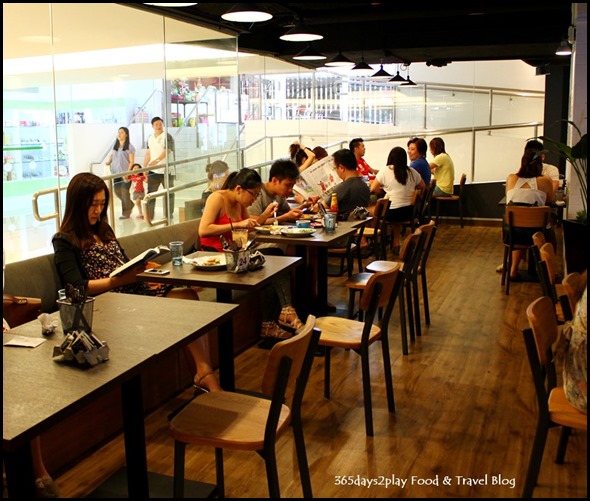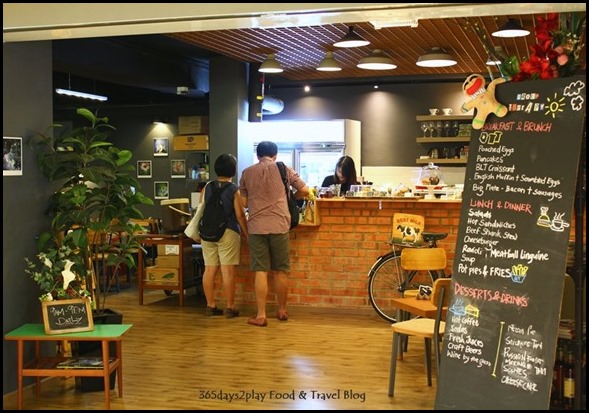 ---
Add me on Facebook, Instagram and Twitter if you want to be kept up to date with the latest happenings in the food and lifestyle scene in Singapore!
Check out Group Therapy Cafe at Duxton Hill
Check out other places to visit in the East
What to eat at Tanjong Katong Road
---
Group Therapy Cafe at Katong V
30 East Coast Road, Katong V, #01-11
Open Daily from 9 am — 9 pm
http: www.gtcoffee.com