Had a nice lunch at Itacho Sushi Restaurant a few days ago with an ex-colleague. It was only my second visit to Itacho. I know that a number of people swear by Itacho, but my first visit to Itacho roughly a year ago was nothing memorable. Apart from the quality of the food, one of the reasons why people like going to Itacho is because of the seemingly cheaper price. That's true, some items really are ridiculously cheap. But you couldn't make a meal out of those items because the restaurant limits you to like 2 pieces per person. So invariably, one has to order some stuff from the main menu eventually, and the prices add up.
Having said that, eating at Itacho isn't expensive (even if it is not super cheap), they have a huge range of sushi and quite a number of sushi items in the menu aren't available in other restaurants like Sushi Tei, so it makes for an interesting experience.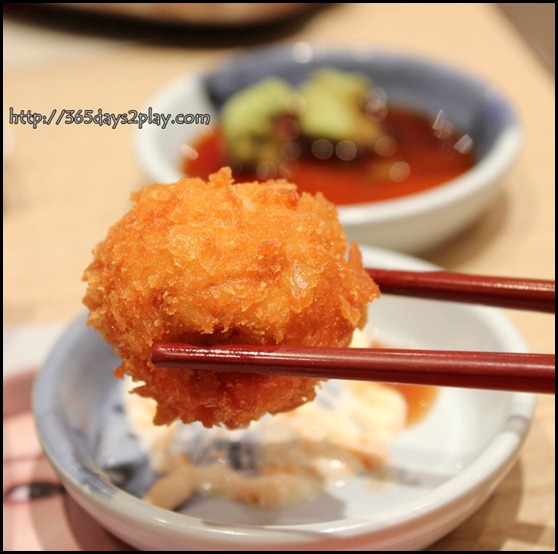 Smoked Duck Croquette Ball, 2 for $3.70 U.P $7
The croquette ball was extremely delicious. It was piping hot when it arrived, and had such a crisp exterior, while delivering a luxuriously creamy filling when bitten into. On hindsight, I don't think the smoked duck flavour was very strong, which is a little disappointing considering the price and the size.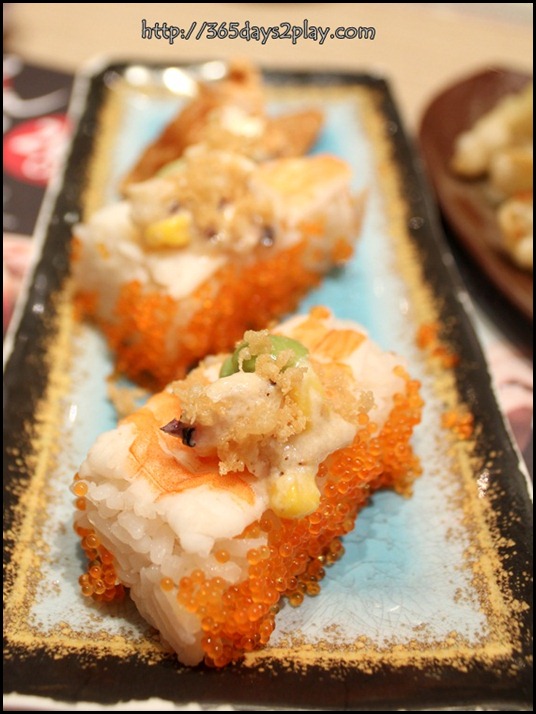 Box made shrimp with fish roe, 2 for $2.20 U.P $2.50