Had a nice lunch at Itacho Sushi Restaurant a few days ago with an ex-colleague. It was only my second visit to Itacho. I know that a number of people swear by Itacho, but my first visit to Itacho roughly a year ago was nothing memorable. Apart from the quality of the food, one of the reasons why people like going to Itacho is because of the seemingly cheaper price. That's true, some items really are ridiculously cheap. But you couldn't make a meal out of those items because the restaurant limits you to like 2 pieces per person. So invariably, one has to order some stuff from the main menu eventually, and the prices add up.
Having said that, eating at Itacho isn't expensive (even if it is not super cheap), they have a huge range of sushi and quite a number of sushi items in the menu aren't available in other restaurants like Sushi Tei, so it makes for an interesting experience.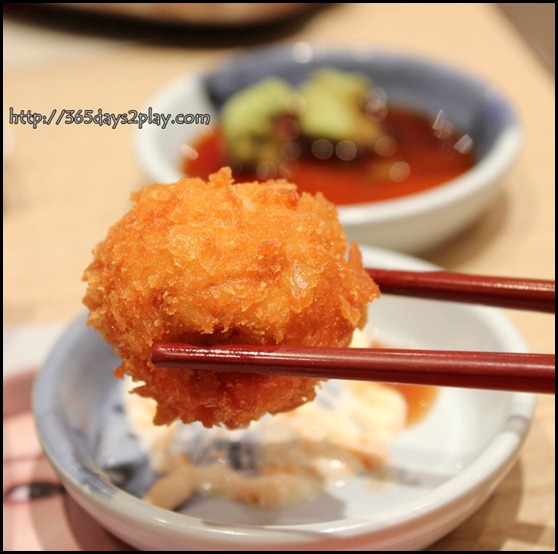 Smoked Duck Croquette Ball, 2 for $3.70 U.P $7
The croquette ball was extremely delicious. It was piping hot when it arrived, and had such a crisp exterior, while delivering a luxuriously creamy filling when bitten into. On hindsight, I don't think the smoked duck flavour was very strong, which is a little disappointing considering the price and the size.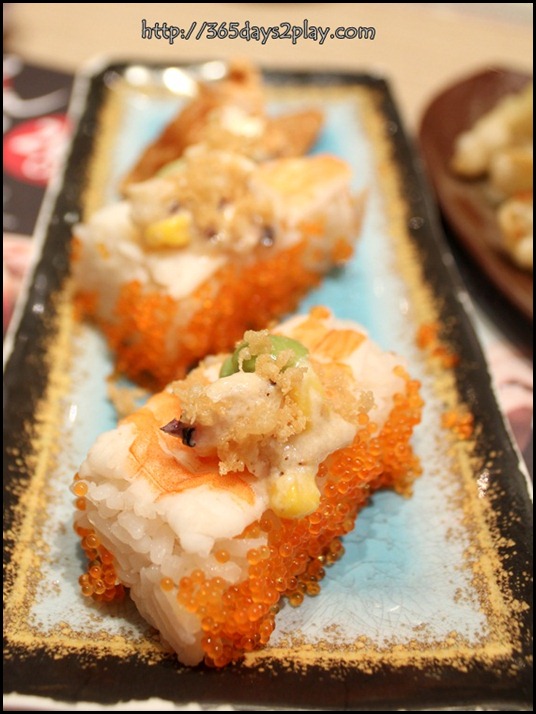 Box made shrimp with fish roe, 2 for $2.20 U.P $2.50
Although this one looked a little messy, as the fish roe were threatening to fall all over the place, this sushi was pretty delicious. The combination of shrimp and fish roe was great. Also, the sushi rice is a little warm, for all the sushi. I've never encountered that before. I wonder if this is just signature of Itacho, or do a lot of Japanese restaurants do this?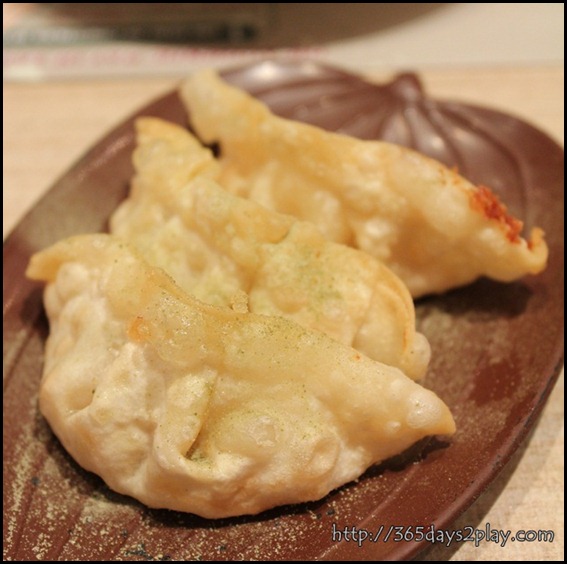 Deep fried shrimp gyoza with green tea salt, 3 for $2.40 U.P $2.70
Not exactly the most healthy of things to order, at least it did not taste oily. The gyoza skin was a little hard, but luckily the minced shrimp within was deliciously juicy. We tried to split the 3rd piece between the 2 of us, but because it was too hard to do so with chopsticks, I let my friend have the 3rd piece.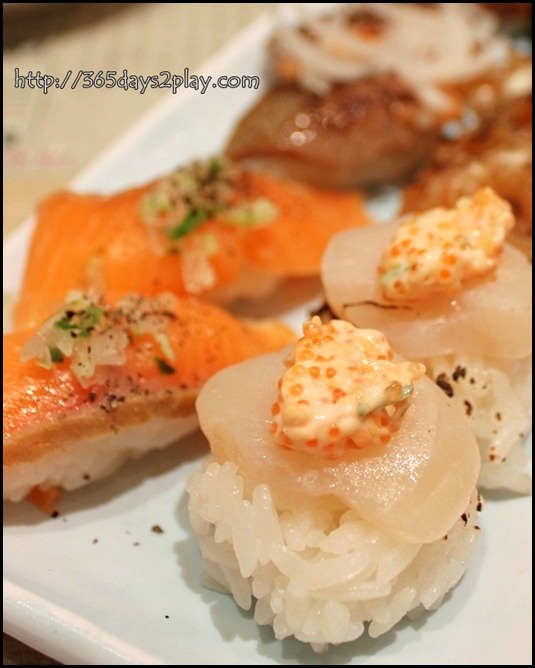 Roasted scallop with flying fish salad, 1 for $1.50 and Smoked Salmon with Black Pepper,1 for $1.60 U.P $1.80
The rest of the sushi was served on a long platter. More or less they all tasted pretty good. For people who like light tastes, these sushi we ordered would be perfect.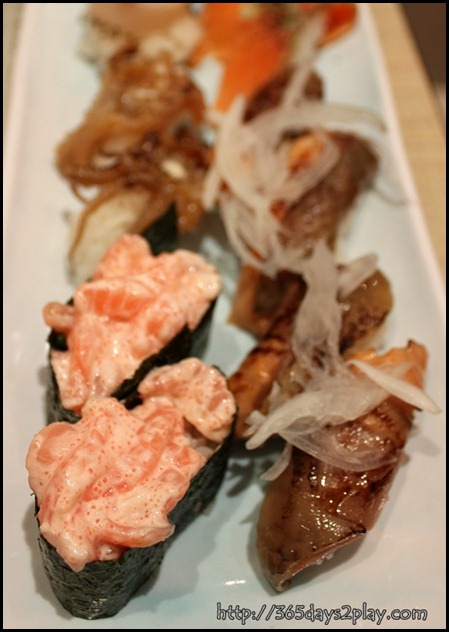 Left is Squid with spicy cod fish caviar $1 U.P $1.20 and right is Salmon with Soy Sauce $0.40 U.P $0.80
The squid with spicy cod fish caviar was fantastically delicious. It really hit the spot and I wish I'd ordered more. The salmon with soy sauce was partially cooked and in my opinion, was not as nice as a raw piece of fresh salmon.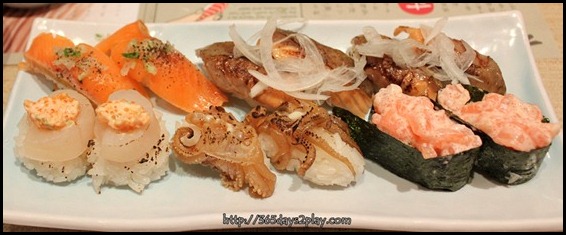 Middle sushi is Roasted Squid Leg Sushi $1.20 U.P $2.40
The Roasted squid leg was a little bit of a let down. I thought the rice tasted stronger than the squid itself!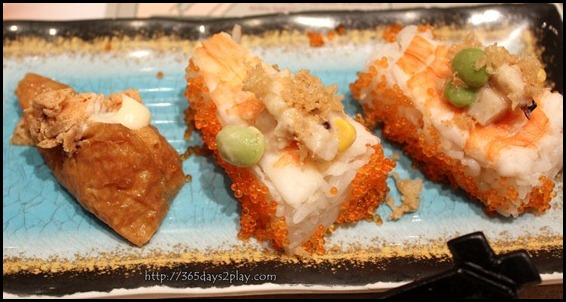 Left is Inari with Spicy Salmon $1.00 U.P $1.50
Last and certainly least, in terms of size, was the Inari with Spicy Salmon on the left. It was so tiny, when it was served I thought it was garnishing for the 2 sushi to the right of it! But despite the size, it was tasty. The sweet inari paired very well with the spicy salmon.
The whole bill amounted to $28 for 2 people, after taxes and tea. We definitely could have ordered more, as we were only about 85% full.
Itacho Sushi Restaurant
Outlet 1 : ION Orchard #B2-18, 2 Orchard Turn
Outlet 2: Plaza Singapura, #02-35, 68 Orchard Road
Outlet 3 : Bugis Junction, 200 Victoria Street, B1-05
Outlet 4 : Changi Airport T3, 03-30/31
Outlet 5 : JCube 02-35 Singapore, Singapore
11:00 am – 10:00 pm
Phone
ION : (65) 6509 8911 PS : (65) 63378922 BJ : (65) 63378911 T3 : (65) 62418911 JC :(65) 66844083