Savour 2016 is back this year from 12 – 15 May and is currently on-going as we speak! This year, being the 5th year that Savour has been held, the format has changed into 3 exciting, specially-themed editions.
The 2016 Calendar:
SAVOUR Gourmet : 12 – 15 May
SAVOUR Wines : 8 – 11 September
SAVOUR Christmas : 17 – 20 November
But more importantly, this year's SAVOUR Gourmet will feature FREE ENTRY! A total of 10 restaurants are featured at the Gourmet Village, and dishes are priced at the more affordable pricing of either $6 or $12. Cash and credit are now also accepted on the grounds. You can also purchase the SAVOUR Experience Pack for $30 which includes vouchers to be spent at the Gourmet Village and Jasons Gourmet Market, a goodie bag and an exclusive Xiao Long Bao from 3-michelin starred Bo Innovation (otherwise not available to the public)!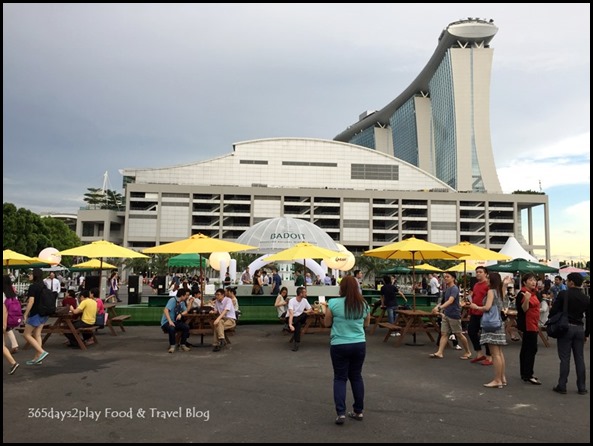 2016 also marks the debut of DBS Live Your Dream initiative, which provides emerging home-grown talents a platform to showcase their culinary skills. You can play a part in helping to pick out the next culinary star by voting for your favourite up and coming chef during the 4 day event.
The 10 restaurants featured are
Artichoke – Jonathan Lee with mentor Bjorn Shen
Buona Terra – William Bai with mentor Denis Lucchi
CATO – Tommy KJim with mentor Ethan Li
Gattopardo – Kenneth Oh with mentor Lino Sauro
abyrinth – Han Liguang (slugging it out on his own)
Lower East Side – Michael Yeong with mentor Claudio Sandri
Salt Tapas & Bar – Ronald Li with mentor Luke Mangan
Saveur Art – Tyler Lai (slugging it out on his own)
Guest Team R&D – Eric Chong (Masterchef Canada Winner) with mentor Alvin Leung
I had a sneak peek on Thursday, and my was the whole place teeming with activity. Did I mention that the location is also more accessible this year? It's located at the empty field next to Marina Bay Sands, so for those coming by public transport, just take the MRT to Bayfront MRT Station and it will be a 5 minute walk to SAVOUR.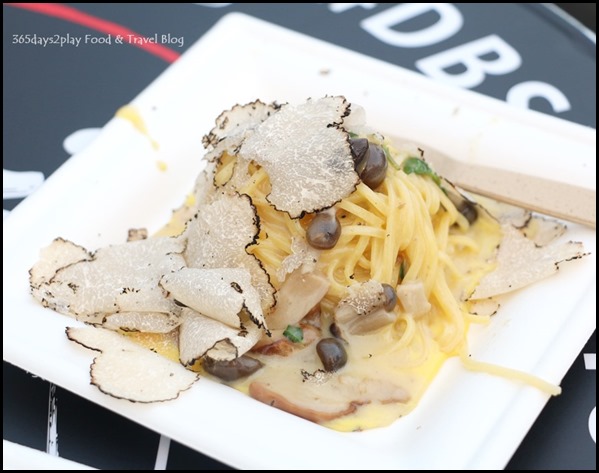 Buona Terra – Homemade Tagliolini Mushrooms, Saffron, Parmesan and Black Truffle $12