*Media Invite*
After our cocktails by the pool and tour of the hotel, we were treated to a sumptuous dinner at Jia Wei Chinese Restaurant. We had a cosy little private room all to ourselves. The private room seats 20 (2 round tables of 10), and when not in use, the sliding walls can be removed so that there is more space for for the rest of the restaurant. I liked it one of the walls was made of glass, which allowed us to overlook the hotel lobby. Private dining rooms can be very claustrophobic, with their stark white walls and dim lighting, but this one at Jia Wei had a nice warm ambience to it.
Jia Wei is but one of the 5 restaurants available at Grand Mercure Roxy. Featuring contemporary oriental design and décor amidst a fine-dining ambiance, Jia Wei Chinese Restaurant offers both exquisite fusion and authentic Chinese cuisine created by the award-winning Chinese Executive Chef Lee Tuck Seng . Opened in December 2007, the cuisine specialties at Jia Wei include the Traditional Hong Kong Dim Sum ( 香传统港点心), Peking Duck (北京烤鸭), Live Seafood (活海鲜) and Double Boiled Soup (炖汤).
I'm always slightly apprehensive about big blogger events if I'm going alone as I always fear I would be left alone with no one to talk to. I'm not the most extroverted of people although I pretend to try, but really I'm a scaredy cat inside ha! Thank goodness Melvin of A Winsome Life was next to me. Met him at the Greenwich V event just 2 weeks ago! Janet of OMY was at my table too so that was a relief. As usual I worried for nothing because conversation flowed freely and it was a wonderful evening.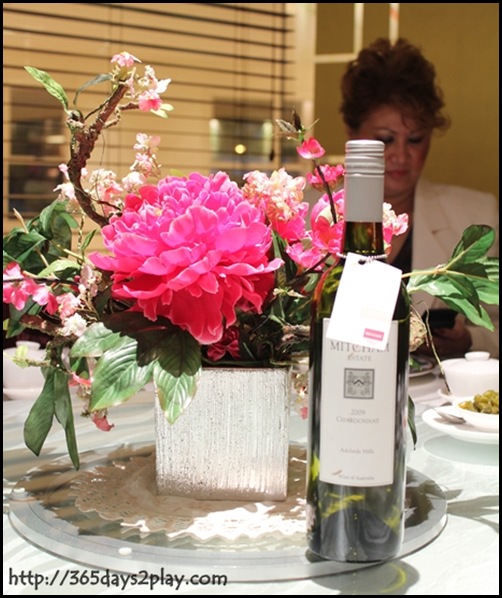 Lovely table centrepiece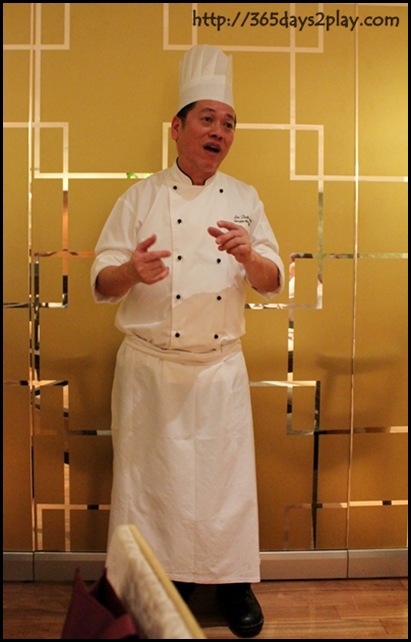 The chef here to welcome us as well as to introduce Jia Wei's signature dishes.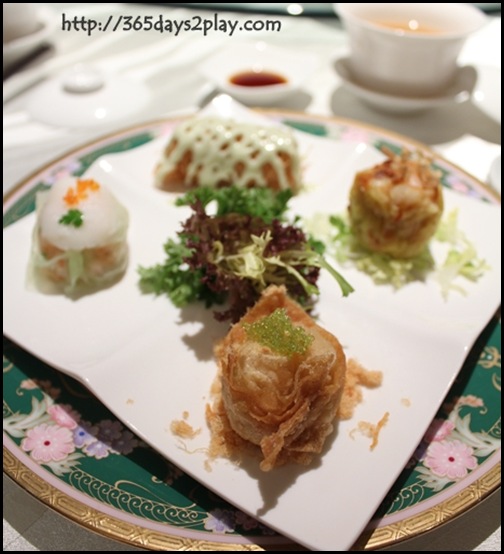 Deep-fried Seafood Roll with Mixed Fruit
Steamed Scallop Dumpling
Siew Mai with Cordyceps Flower
Deep-fried Prawn Dumpling with Shark's Fin
It was great to have dim sum for dinner. I'm the type of person that can have dim sum any time of the day. I was really pleased to find out that you can even order dim sum as late as 5pm! I know you can always go to the hawker centre types for late night dim sum, but the standard there is really terrible! For me, good dim sum is made with prawns, not pork! The dim sum at Jia Wei is pretty good, although there is room for improvement, such as in the skin of the prawn dumpling, which was slightly thick.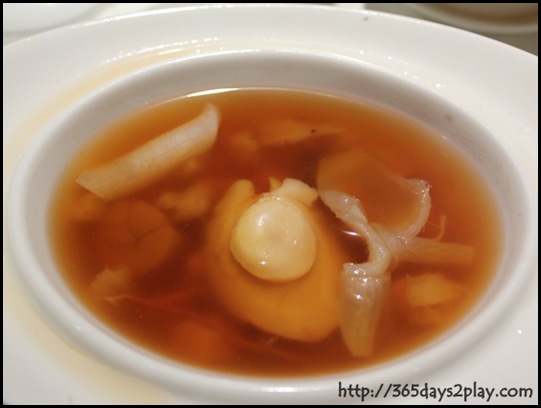 Double boiled fish maw soup with cordyceps flower, abalone and conpoy
For those of you who feel like you need some nourishment, this is a very good soup to order. It is loaded with good stuff and you can tell that the liquid has been infused with the nutrients from the ingredients as it makes your lips sticky when you press them together. That's collagen that's causing the stickiness! Soup that just happens to be thickened with starch will not make your lips sticky. Try this trick out.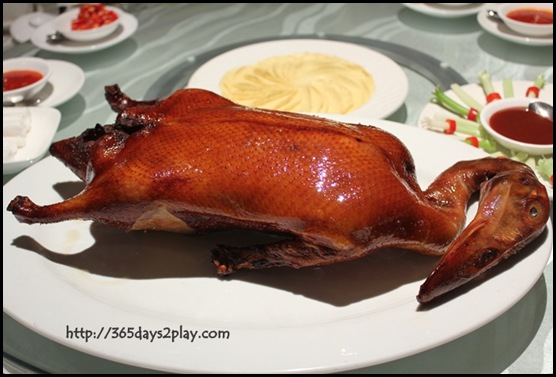 Peking Duck
The Peking Duck elicited lots of excited "oohs" and "ahhs" from our table. Seriously, who can resist this? The skin was crispy and the flesh tender. Paired with the pancake and some sauce, it tasted really wonderful.