*Media Invite*
Orchard Central is very much the quieter kid on the block as compared to the bustling 313 Somerset Mall. Or perhaps I should use "was", as I've no doubt that people have been thronging the mall since the opening of Dean & Deluca on the 4th Floor? Do check out the 2 basement levels if you go to Orchard Central. There's a whole row of shops selling quaint little trinkets. And did you know that there is an underpass that connects Centrepoint Mall to Orchard Central?
Apart from Medz Restaurant, where my friend held her daughter's 1st birthday, there is also Covelli. Covelli Italian Bistro and Wine Bar is a pretty posh looking Italian Restaurant. It has a cosy stonewall entrance, and a black and white themed decor. When you see it for the 1st time, you might assume that it would cost a hefty penny to dine there, but the reality couldn't be further. Most of their pizzas cost between $20 – $22, which is very reasonable price. The reason why I'm even mentioning pizza even though I didn't get to try it for dinner is because the people at the next table ordered a pizza. It was so humongous, it was almost covered the entire table.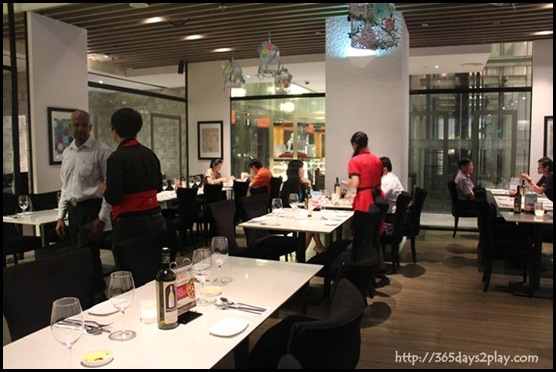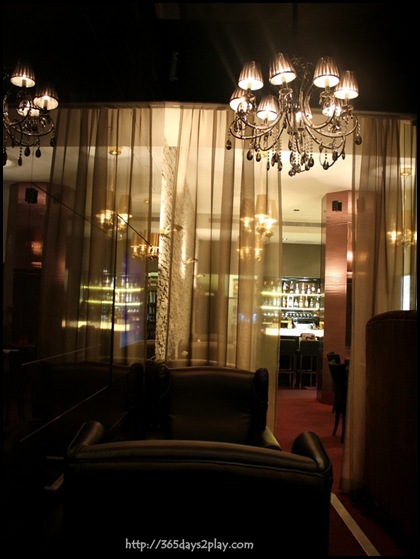 This is part of the separate bar area tucked away in a quiet private corner.
My dining companion and I got to sample a few signature dishes at Covelli. The pictures shown here are smaller than the size of the dishes you would get as a paying customer.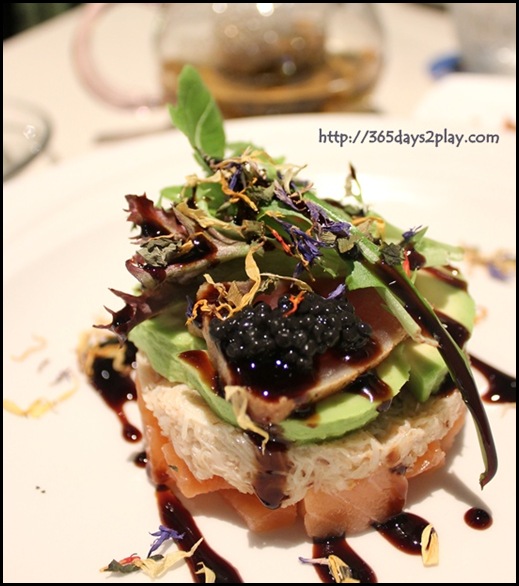 Antipasto Fruitti di Mare (Tataki Tuna, cured Salmon, Crabmeat and Avocado topped with Avruga Caviar & Balsamic Reduction) $18
For those of you who want a bit of everything, this might just be the dish for you. There was a lot going on in this dish, as you can see from the picture and the descriptive text. For my 1st mouthful, I made sure to get a bit of everything. It was a little overwhelming as the taste of the crab and the caviar were most prominent. Subsequently, I prised everything apart and enjoyed the layers individually, and found the dish to be more enjoyable. I could at least finally taste the lovely cured salmon, which is something I love very much.