*Media Invite*
Orchard Central is very much the quieter kid on the block as compared to the bustling 313 Somerset Mall. Or perhaps I should use "was", as I've no doubt that people have been thronging the mall since the opening of Dean & Deluca on the 4th Floor? Do check out the 2 basement levels if you go to Orchard Central. There's a whole row of shops selling quaint little trinkets. And did you know that there is an underpass that connects Centrepoint Mall to Orchard Central?
Apart from Medz Restaurant, where my friend held her daughter's 1st birthday, there is also Covelli. Covelli Italian Bistro and Wine Bar is a pretty posh looking Italian Restaurant. It has a cosy stonewall entrance, and a black and white themed decor. When you see it for the 1st time, you might assume that it would cost a hefty penny to dine there, but the reality couldn't be further. Most of their pizzas cost between $20 — $22, which is very reasonable price. The reason why I'm even mentioning pizza even though I didn't get to try it for dinner is because the people at the next table ordered a pizza. It was so humongous, it was almost covered the entire table.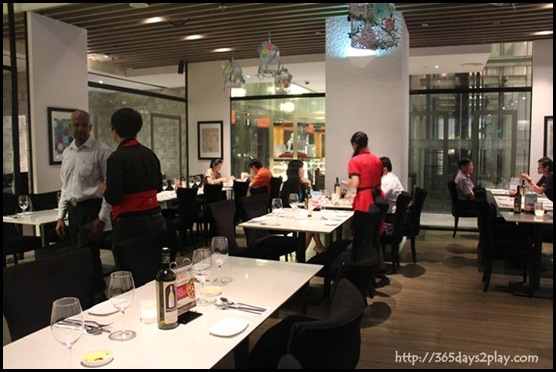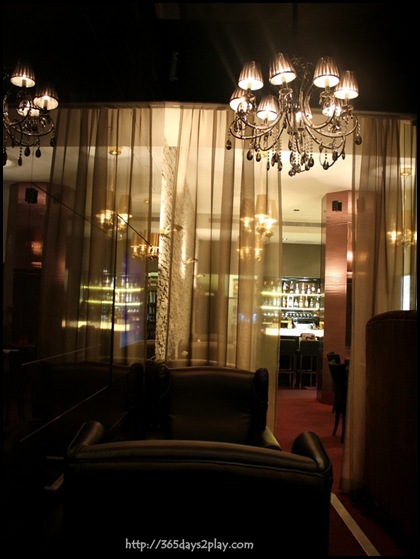 This is part of the separate bar area tucked away in a quiet private corner.
My dining companion and I got to sample a few signature dishes at Covelli. The pictures shown here are smaller than the size of the dishes you would get as a paying customer.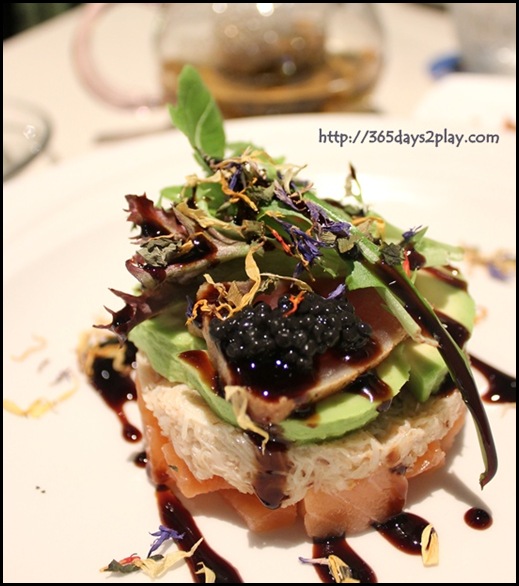 Antipasto Fruitti di Mare (Tataki Tuna, cured Salmon, Crabmeat and Avocado topped with Avruga Caviar & Balsamic Reduction) $18
For those of you who want a bit of everything, this might just be the dish for you. There was a lot going on in this dish, as you can see from the picture and the descriptive text. For my 1st mouthful, I made sure to get a bit of everything. It was a little overwhelming as the taste of the crab and the caviar were most prominent. Subsequently, I prised everything apart and enjoyed the layers individually, and found the dish to be more enjoyable. I could at least finally taste the lovely cured salmon, which is something I love very much.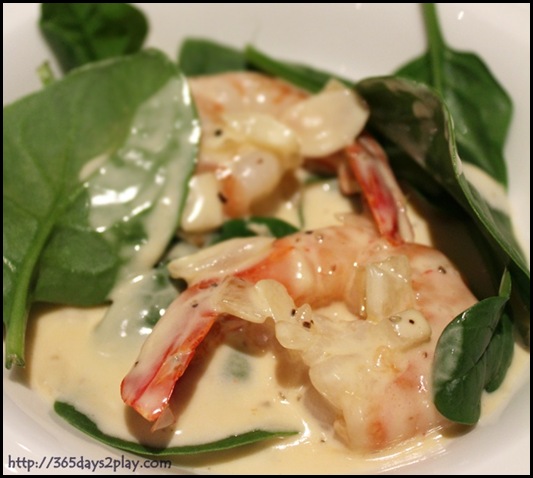 Baby Spinach Salad with Sauteed Tiger Prawns in Garlic-Devon Cream $14
I liked the prawns which were really succulent, but to me, this was more of a prawn dish with the salad as an afterthought. Also, the garlic-devon cream, while tasty, was in such a generous quantity that nobody would ever mistake this dish to be a salad dish.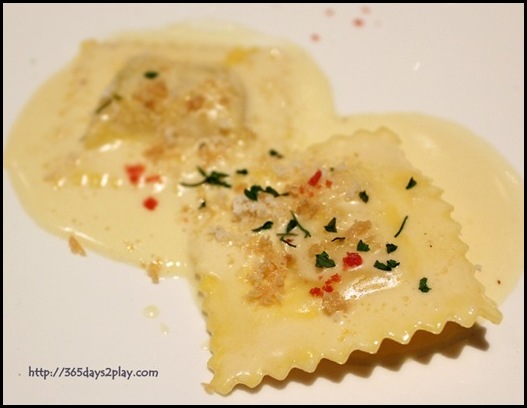 Ravioli filled with Black Truffle & Cheese in Brown Butter Cream Sauce topped with grated Hazelnuts $20
This was one of my favourite dishes. A pity we were only given 2 pieces of ravioli to try! The ravioli had a really nice bite to it. The cheese within the ravioli had the texture of meat, and the brown butter had a delicious nutty sweetness. The grated hazelnuts really completed the dish. Seldom find grated hazelnuts in a main course. They were slow roasted and imparted an earthy flavour to the dish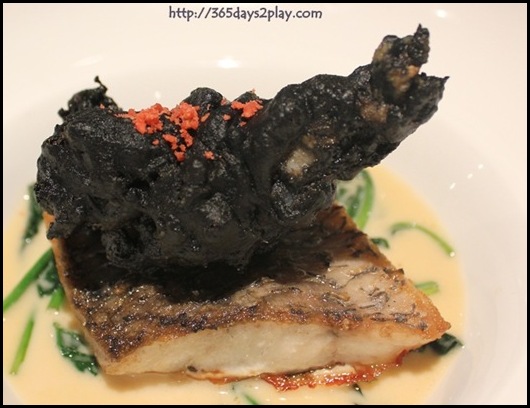 Pan Roasted Barramundi with Charcoal Lobster served with Baby Spinach in Gewurztraminer Cream $28
Yeah yeah, I already know what you are thinking. You wouldn't be the first to wonder what on earth the dog dragged in. That black lump was actually the Charcoal Lobster. At first I was told that the lobster itself was marinated till black, but later, I realised the black was just an outer covering of batter, beer batter mind you. It tasted like normal deep fried batter though, didn't manage to detect any hint of beer, nor of the ingredient that caused the blackness. The Barramundi was so-so to me, but don't take my word for it because I'm really very very fussy with fish, and unless it's a fatty fish or the flesh is silky smooth, I'd most likely find it so-so.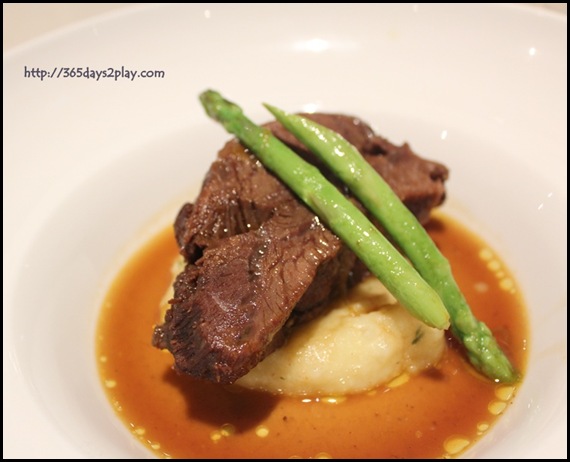 24 hrs slow braised USDA boneless Beef Short Ribs served with Truffle Mash $32
Possibly my most favourite dish of the evening. The beef short ribs was oh-so melt in the mouth! Every sliver of meat off my fork hardly required any chewing. The flavours were well retained too. The 24hrs of slow braising definitely did not go to waste! If I return to Covelli, it would be a difficult choice for me between the Truffle Ravioli or this beef short ribs. The chef could do well to cut down on the truffle flavour of the mash and in the jus as it was a tad heavy, considering that this was a meat dish.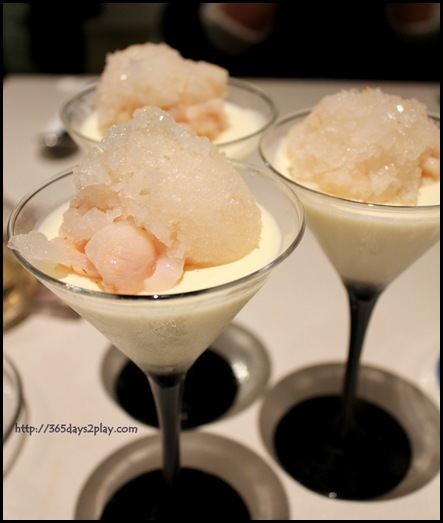 Lychee Champagne Panna Cotta $10
The Lychee Champagne Panna Cotta was a delightful end to the whole meal. I loved the lightness of the lychee ice shavings after the heavy, sauce laden dinner. The lychee shavings may be a little too sweet for some, but it was just perfect for me. The Panna Cotta was creamy and soft.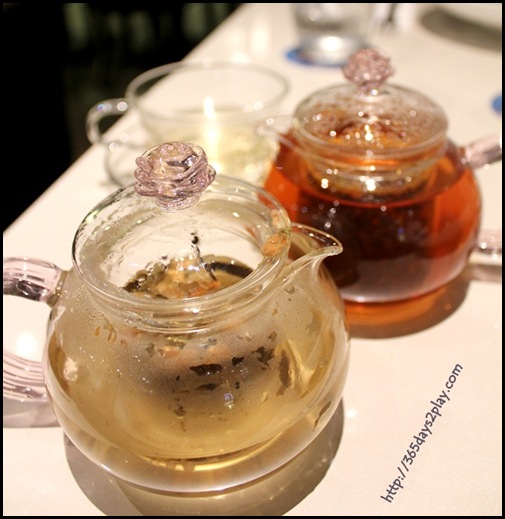 Lord William's Promise $8.50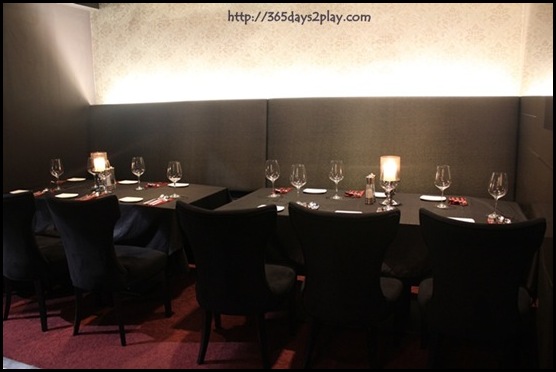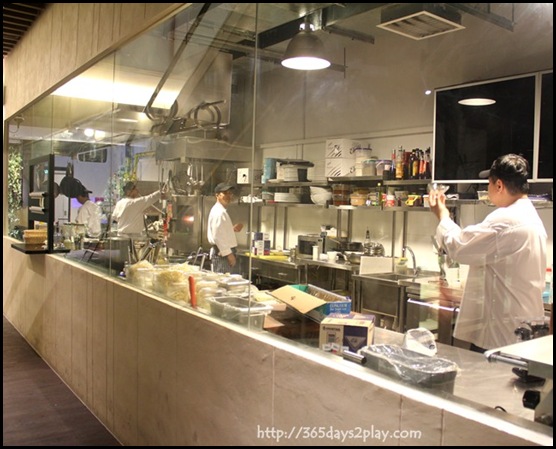 *Thank you to Covelli and Shu Yin of Publicist for hosting the dinner.
Covelli Italian Bistro & Wine Bar
A: 181 Orchard Road, #B2-13/22,
    Orchard Central, Singapore 198785.   Map to get to Covelli
T: 6238 6400 / 8181 8023
E: info@covelli.com.sg
F: www.facebook.com/covelli.singapore