There aren't that many restaurants and chill out places in the Pasir Panjang area so we were all quite happy to chance upon the existence of Hosted on the Patio. It's so tucked away in a former old school now turned office block (I think) that unless you work there, you would not know it existed!
I've been to Hosted on the Patio a number of times for lunch. It's a pretty cool place. Right at the entrance, there is a little swing to greet you. There are some al fresco seats but obviously sane people will not choose to sit outside in the mid day heat, especially when dressed in office clothes.
I will blog about lunch at Hosted another day. Instead, I shall blog about our drinks and nibbles session last week. Last Wednesday was one of my colleague's last day at work so she hosted us to drinks at Hosted. Here are some of the pictures of the bittersweet event. Happy for her that she is moving to a better place, but sad that I'm losing a close colleague who has been with the company for 13 years!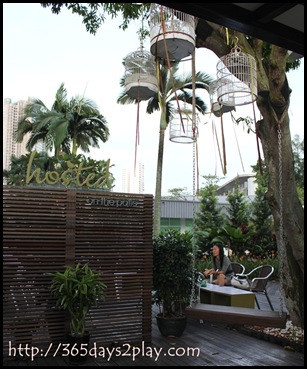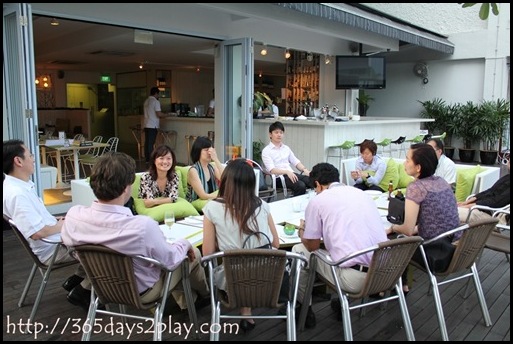 In the evening, it becomes lovely to sit outside. The cube tables can be rearranged into any configuration that you like to suit the size of your group. The staff are really patient and will help you to shift stuff around on request.
Rambutan Freeze $9 — Rambutans blended in with the ice. Good for a hot day but just a tad too sweet for my liking. I don't really know where the red colour comes from either.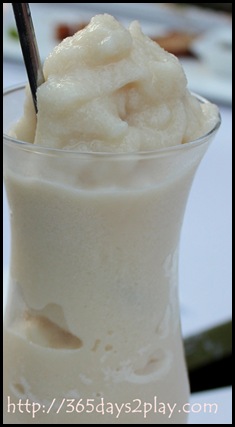 Lychee Freeze $9
Angus Beef Tenderloin $18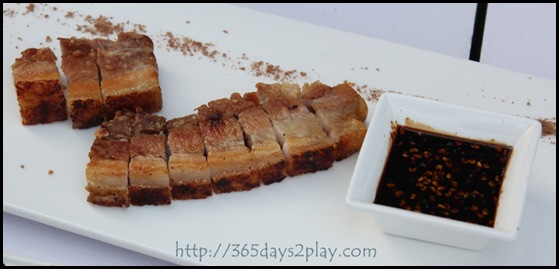 Crispy Kurobota Pork Belly $14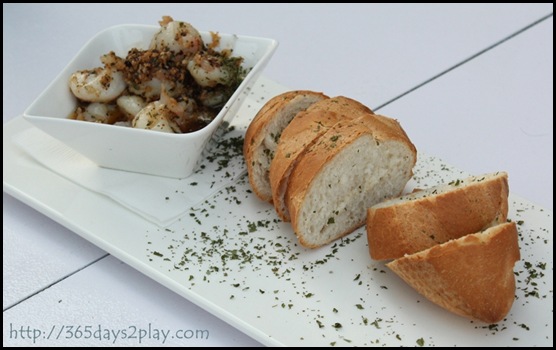 Garlic Prawns $16
Pizza Skins $8 — Yes you heard right. Fried pizza base. Quite good actually. Tastes like chips, just more substantial. And they come with side dips which are pretty good too.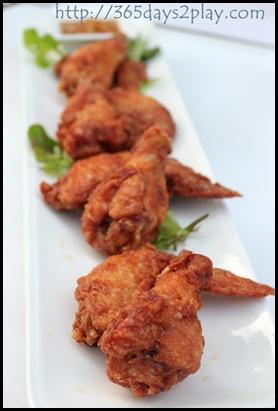 Fried Chicken Wings $12 — Fried with prawn paste. Tastes very good. Of all the appetisers, this is the best in my opinion.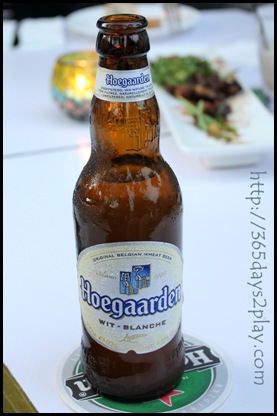 One for One beer from 6 — 8pm!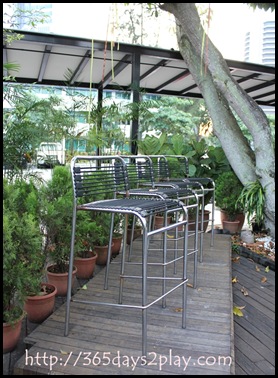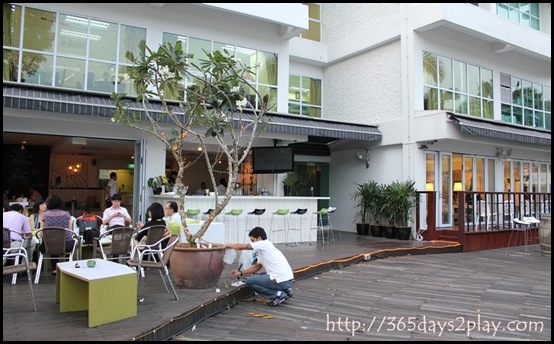 Quite cool to have an office above a bar. Anytime you feel stressed can come down for a drink and go back upstairs happy. Better still, invite your boss to join you and you don't have to go back to work.
Hosted on the Patio
Mon – Thu:     11:30am – 2:30pm  |  6:00pm – 11:00pm
Fri – Sat:         11:30am – 2:30pm  |  5:30pm – 12:00am
Sun:                Closed
Happy Hour:   6:00pm – 8.00pm (Mon – Thu)
991B Alexandra Road #01-10
Singapore 119970
Tel: (+65) 6276 7337
Fax: (+65) 6276 7336
Email: bookings@hosted.sg