I'm in such a wedding mood again after attending my good friend's wedding on Saturday that I decided to blog a little more about my own wedding! I realise I haven't shared any of my Pre-Wedding photos so this post is going to be all about that. I'm a little shy so I'll just post a few pictures for now. Maybe I'll post a few more later depending on my mood.
I would just like to give a shout out to My Dream Wedding. They did a FANTASTIC job on the wedding photos! I love all the wedding photos I had, and it was really difficult to have to sieve through the lot to select the 35 shots that came with the wedding package! Kudos to Jackson my photographer, Charmaine my makeup artist, as well as the ever patient Aven (wedding dress coordinator) who kindly let me try on nearly the entire wardrobe of wedding dresses.
I thought Charmaine did an exemplary job on my make up. The make up looked so natural on me, if only I could look as pretty every single day! Jackson was tireless in the number of shots he took for us, trying to get us to smile and to position ourselves at the right angles so as to look the most flattering! I can tell you it is not an easy job when you could so easily close one eye and just simply snap the shot. I enjoyed the process tremendously and I was still raring to have more photographs taken even towards the end!
PS: This is not a sponsored post! I truly mean what I say when I say I love my Pre-Wedding Photos! (I mean what I say in every single post, but just in case you need some assurance!)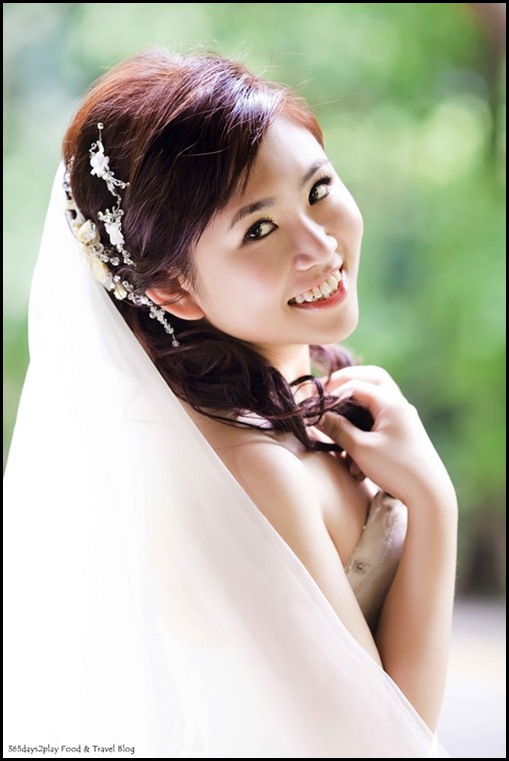 Picture of myself first, since this is, ahem, my blog… If I may say so, I love this shot to bits!
Okay you gotta click into the post if you wanna see more pictures!