*Media Invite*
I was seriously elated when I received an invitation to try out The Halia Restaurant, a beautiful restaurant nestled in the heart of the Botanic Gardens. There is something magical and mystical about dining amidst lush greenery.
Up until then, I'd never dined at Halia before, but for those of you who have, The Halia Restaurant has rejuvenated itself with a new look, menu and culinary team since October 2011. Chef Reynaldo Arriola helms the kitchen now. "Halia" is a Malay word for ginger and the restaurant is aptly named so because it is smack in the middle of the Ginger Garden at the Singapore Botanic Gardens. The restaurant now boasts a new show kitchen with counter seats, which I think is pretty rare for a Western restaurant.
It can be a tad inconvenient to get to The Halia Restaurant as it's almost in the middle of the Botanic Gardens, but it helps that there is now a Botanic Gardens MRT station, which means it is only about a 10 – 15 minute walk after you get out of the station.
Ms Karen Wee of FoodNews hosted the dinner for 5 lucky diners, myself included.  Because there were so many of us, we were able to sample a great number of dishes. It's almost incredible how we managed to finish all the food (there were hardly any leftovers!) and if you don't believe me, you can count the number of dishes!! Between the 6 of us, we polished off 5 appetisers, 7 Mains and 3 desserts, with additional servings for some of the dishes too!
Most of the photos used are provided by The Halia Restaurant, as they have a professional photographer lah. My excuse is that it was dark when I took my pictures. 🙂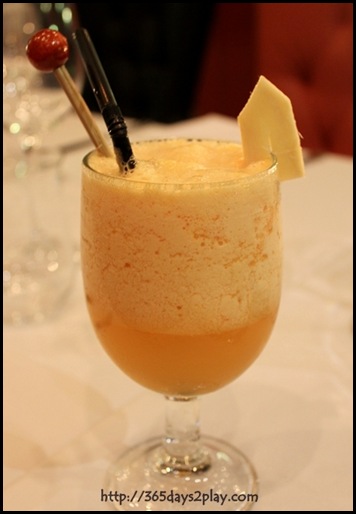 Ginger Jive – Ice blended fresh ginger, fruit punch, orange & honey @ $12++ – We started off the evening with a refreshing Ginger Jive drink. Refreshing it was indeed especially after an arduous day at work. Love it that it's all healthy ingredients that is used! Preps you for any "unhealthy" things you might eat next… The ginger leaves a nice warm buzz in the chest too.
APPETISERS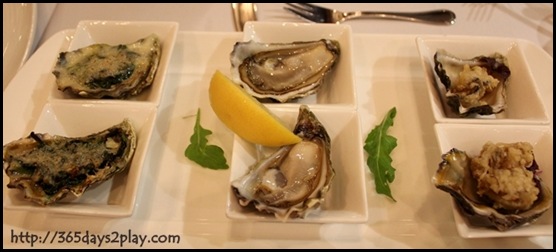 Half dozen Sydney Rock Oysters @ $35++ – Oysters done in 3 different ways. I used to think that I only like my oysters fresh shucked and unadulterated, ie just with some lemon juice, and maybe some tabasco sauce if I'm in the mood. However, the tempura & ponzu oysters on the right were fantastic. The tempura was light and crispy, and the oyster just ever so lightly cooked such that it was still flavourful and succulent. The sauteed baby spinach with Pernod deglaze, nutmeg & parmesan gratin oysters on the left were also very good.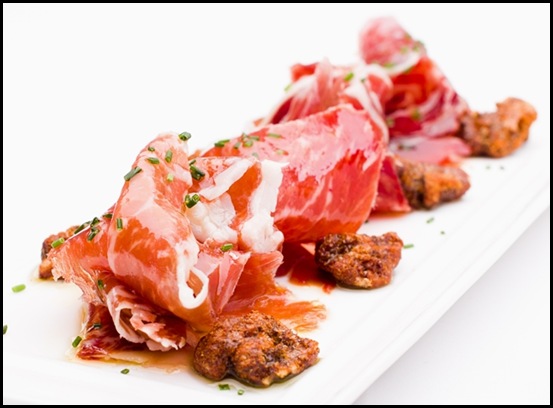 Next up Jamon Iberico Bellota, baked yuzu walnut and olive oil @ $30++. When this dish arrived, I tell you, there was an audible collective whoop of joy from all at the table. Just looking at the dish itself was a treat to the eyes. Jamón ibérico is a type of ham from Spain. It is very expensive, very delicious and not widely available outside of Spain. Each slice of this salty and fatty savoury goodness will send your tongue into the high heavens.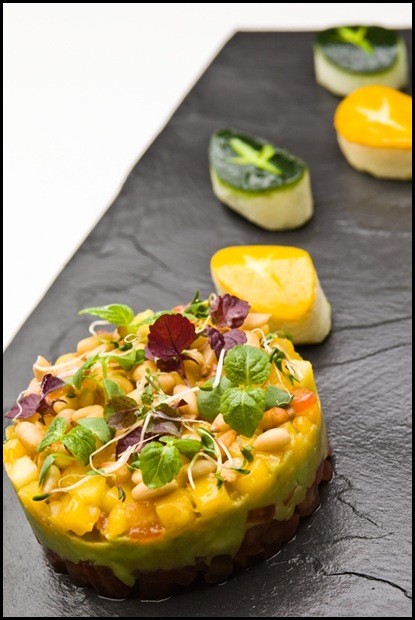 Tian of vine ripened tomato, pine nut, guacamole, mango salsa, shiso and braised courgette @ $28++ – After the saltiness of the Jamón ibérico, it was nice to enjoy this vegetarian appetiser. Love the sweet mango salsa while the pine nuts gave the dish a good crunch.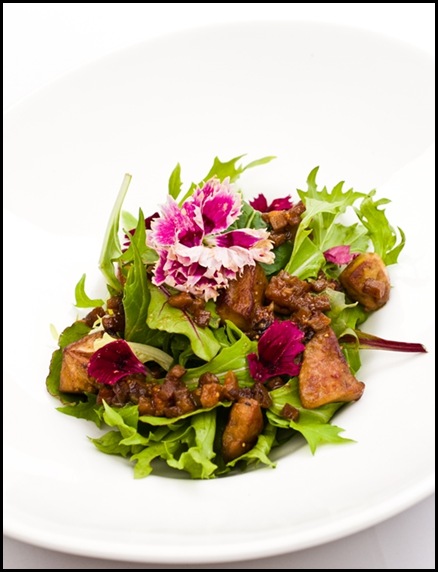 Salad leaves, ginger-infused foie gras, balsamic deglaze, green apple, fresh fig and piment flakes @ $29++ – The salad leaves were lost to me as my focus was only on the foie gras. The nicely seared outer skin gave way to a melt in the mouth fatty richness of foie. I don't think I need to say much about foie gras, except to say that it was simply fantastic.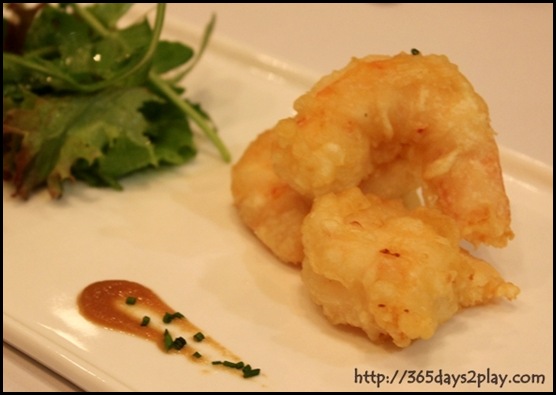 Tempura of white prawn, salad leaves with light lemon vinaigrette, baby shiso, beetroot and celeriac reduction @ $28++ – The 5th appetiser of the night, tempura of white prawn. The prawn was succulent and juicy under the tempura batter. Not that this wasn't nice, but for just $2 extra, I'd highly recommend that you go for the Jamón ibérico.