*Media Invite*
I was seriously elated when I received an invitation to try out The Halia Restaurant, a beautiful restaurant nestled in the heart of the Botanic Gardens. There is something magical and mystical about dining amidst lush greenery.
Up until then, I'd never dined at Halia before, but for those of you who have, The Halia Restaurant has rejuvenated itself with a new look, menu and culinary team since October 2011. Chef Reynaldo Arriola helms the kitchen now. "Halia" is a Malay word for ginger and the restaurant is aptly named so because it is smack in the middle of the Ginger Garden at the Singapore Botanic Gardens. The restaurant now boasts a new show kitchen with counter seats, which I think is pretty rare for a Western restaurant.
It can be a tad inconvenient to get to The Halia Restaurant as it's almost in the middle of the Botanic Gardens, but it helps that there is now a Botanic Gardens MRT station, which means it is only about a 10 — 15 minute walk after you get out of the station.
Ms Karen Wee of FoodNews hosted the dinner for 5 lucky diners, myself included.  Because there were so many of us, we were able to sample a great number of dishes. It's almost incredible how we managed to finish all the food (there were hardly any leftovers!) and if you don't believe me, you can count the number of dishes!! Between the 6 of us, we polished off 5 appetisers, 7 Mains and 3 desserts, with additional servings for some of the dishes too!
Most of the photos used are provided by The Halia Restaurant, as they have a professional photographer lah. My excuse is that it was dark when I took my pictures. 🙂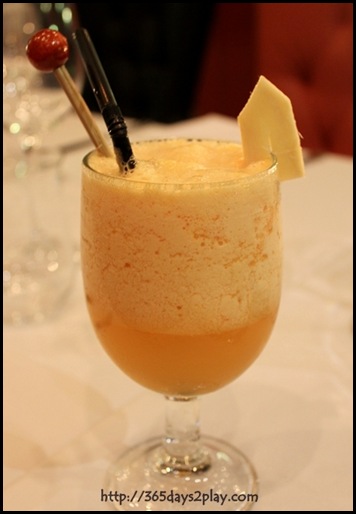 Ginger Jive – Ice blended fresh ginger, fruit punch, orange & honey @ $12++ — We started off the evening with a refreshing Ginger Jive drink. Refreshing it was indeed especially after an arduous day at work. Love it that it's all healthy ingredients that is used! Preps you for any "unhealthy" things you might eat next… The ginger leaves a nice warm buzz in the chest too.
APPETISERS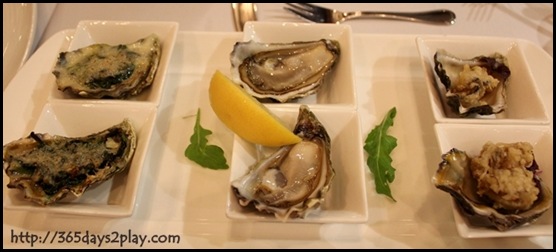 Half dozen Sydney Rock Oysters @ $35++ — Oysters done in 3 different ways. I used to think that I only like my oysters fresh shucked and unadulterated, ie just with some lemon juice, and maybe some tabasco sauce if I'm in the mood. However, the tempura & ponzu oysters on the right were fantastic. The tempura was light and crispy, and the oyster just ever so lightly cooked such that it was still flavourful and succulent. The sauteed baby spinach with Pernod deglaze, nutmeg & parmesan gratin oysters on the left were also very good.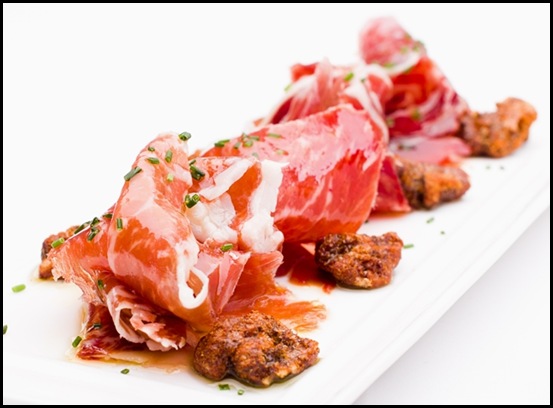 Next up Jamon Iberico Bellota, baked yuzu walnut and olive oil @ $30++. When this dish arrived, I tell you, there was an audible collective whoop of joy from all at the table. Just looking at the dish itself was a treat to the eyes. Jamón ibérico is a type of ham from Spain. It is very expensive, very delicious and not widely available outside of Spain. Each slice of this salty and fatty savoury goodness will send your tongue into the high heavens.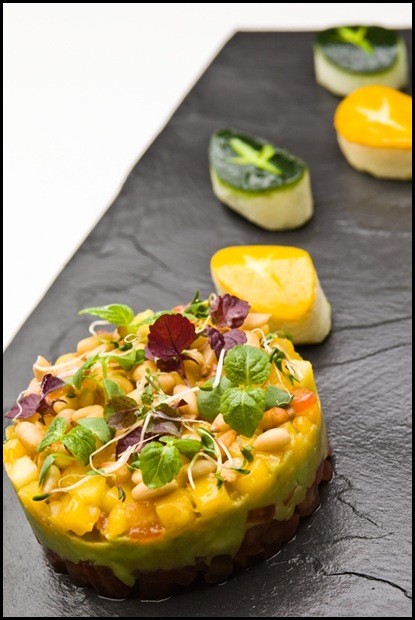 Tian of vine ripened tomato, pine nut, guacamole, mango salsa, shiso and braised courgette @ $28++ — After the saltiness of the Jamón ibérico, it was nice to enjoy this vegetarian appetiser. Love the sweet mango salsa while the pine nuts gave the dish a good crunch.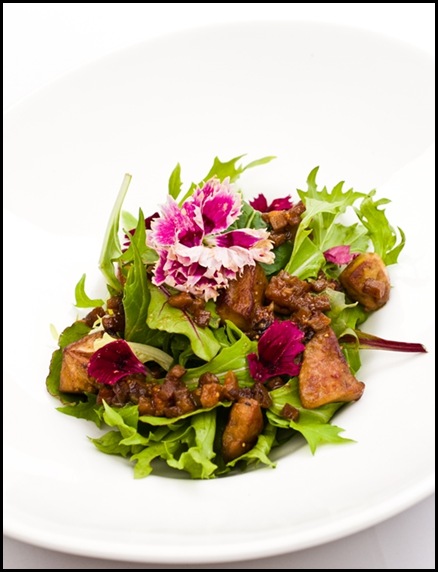 Salad leaves, ginger-infused foie gras, balsamic deglaze, green apple, fresh fig and piment flakes @ $29++ — The salad leaves were lost to me as my focus was only on the foie gras. The nicely seared outer skin gave way to a melt in the mouth fatty richness of foie. I don't think I need to say much about foie gras, except to say that it was simply fantastic.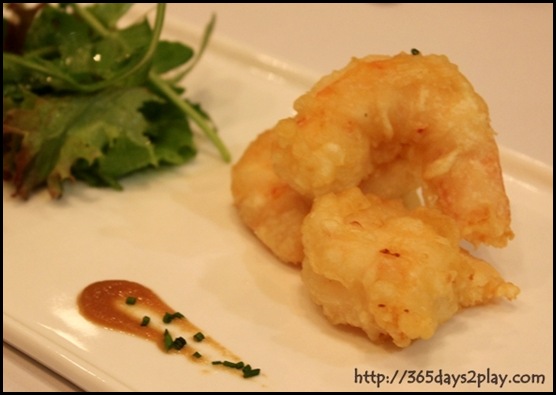 Tempura of white prawn, salad leaves with light lemon vinaigrette, baby shiso, beetroot and celeriac reduction @ $28++ — The 5th appetiser of the night, tempura of white prawn. The prawn was succulent and juicy under the tempura batter. Not that this wasn't nice, but for just $2 extra, I'd highly recommend that you go for the Jamón ibérico.
Main Course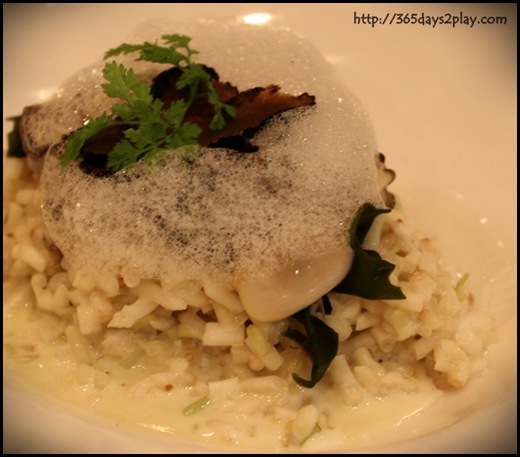 Sauteed risotto soja, mascarpone and parmesan, poached oysters in natural jus, seasonal truffle, seaweed, mushroom emulsion and white wine reduction @ $42++ — This is one of Chef Reynaldo's special creations. It seems that he got the job at The Halia Restaurant after having wowed the chefs at the restaurant with this innovative dish. Everyone knows what risotto is, but have you heard of risotto made with BEAN SPROUTS? Those white bits aren't rice! So for once, eating risotto isn't a heavy mushy affair. The soja bean sprouts remain individual. Unfortunately, I didn't particularly like this dish. I don't fancy bean sprouts all that much and I thought they tasted a little raw, as Chef Reynaldo has opted to cook the sprouts lightly so as to still retain the crunch of the sprouts.
Blackmore Wagyu rump Score 9+ (180 gm), Garlic saffron mash potato, sautéed baby spinach, madeira jus @ $86++ — Very delicious Wagyu rump. I left it to my fellow diners to devour most of it as I focussed my efforts on the garlic saffron mash potato which was oh so fantastic. When mash potato is well done, you just wish you had a whole bowl of it to eat. And when it's mash potato infused with garlic and saffron flavours, you just want to eat and eat and eat….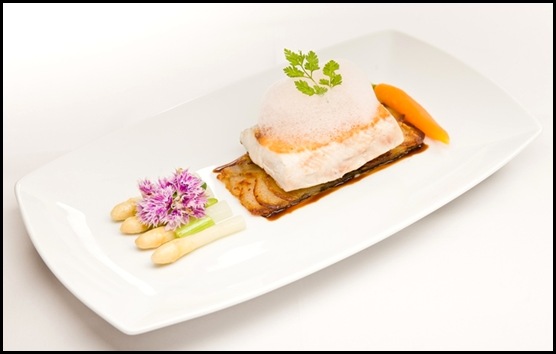 Pan-fried Hiramasa kingfish with grapefruit foam, jamón Ibérico in potato galette, panaché of vegetables @ $48++ — The grapefruit foam imparted a very interesting "almost there, taste it or you'll miss it" citrus flavour to the fish. I didn't like this dish that much either as I thought the fish to be more done than I would have preferred.
Grilled half lobster, mushroom risotto, seasonal truffle @ $80++ – I'm afraid the lobster was quite a disappointment to me. It was very dry and very difficult to pry out of the shell. The fragrant mushroom risotto on the other hand was more the highlight of the dish in my opinion. There were shavings of truffle all over the risotto so you could spoon in the risotto and chomp on the truffle at the same time. I'm not too sure of the lobster flavours would have gone down well with the mushroom risotto though.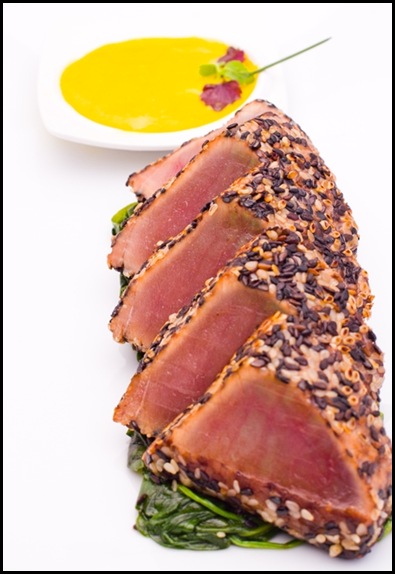 Black and white sesame seed crust farmed blue fin tuna tataki marinated in soy, with sautéed baby spinach and saffron cream sauce $62++ — Felt a little guilty eating this as blue fin tuna is endangered. I wouldn't have ordered this on my own as I'm not a fan of tuna. I did appreciate the light sear on the tuna as well as the sesame seeds, which lent extra flavours to the tuna.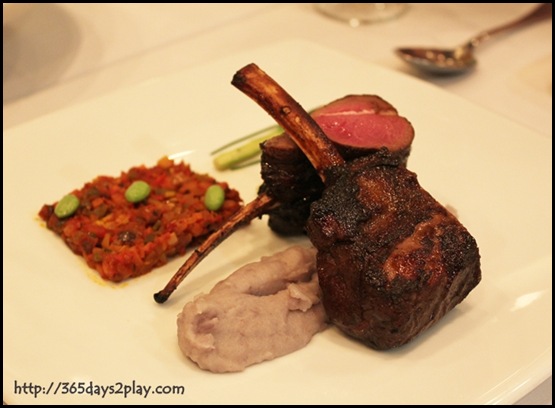 Roasted New Zealand rack of lamb marinated in Javanese spice, with ratatouille, purple potato puree and lamb jus @ $55++ — I actually preferred the rack of lamb to the wagyu beef. I thought this to be extremely tender and flavourful. The Javanese spices added an extra oomph to what was already a tasty meat. I really wanted to pick up the bone and just gnaw on one entire piece myself, but social etiquette forbade me from doing so. The purple potato puree was also excellent, creamy tasting with good mouth feel. The Halia Restaurant really knows how to do a good mash!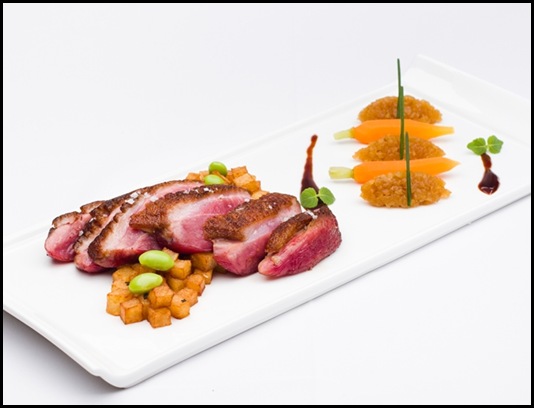 Pan-seared Challans duck breast, lyonnaise potato, apple and cinnamon compote, duck jus @ $62++ — For me, this was hands down the best main course of the night. The crispy skin on the duck breast was as crisp as can be, whereby I could almost hear it crackle as my teeth chomped down on it. That skin is unforgettable. I didn't even know that the skin could be cooked this way. The layer of skin seems to be thicker than usual too, almost double the thickness of what I think duck skin thickness is! It was so fantastic. And the duck breast was so tender, I thought I was eating duck thigh instead. It's rare to find duck on the menu, and one this good is even rarer. Order this if you don't know what to order.
DESSERTS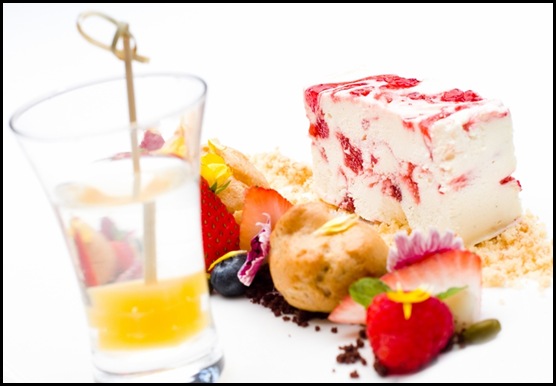 Strawberries & Cream, edible garden, passionfruit lychee dew @ $19++
"¢ wild strawberry ripple, cream cheese & vanilla ice cream on  shortbread crumb 
"¢ raspberry, blueberry, flowers, chocolate choux pebbles on almond cocoa soil 
"¢ passionfruit jelly in shooter of sweet lychee liqueur syrup
If you don't know what to order, you can order this as there's quite a variety of sweet goodies on the plate. That ain't no normal strawberry cake you see there. The texture was very light, almost as if I was spooning up cold air laden with fruit.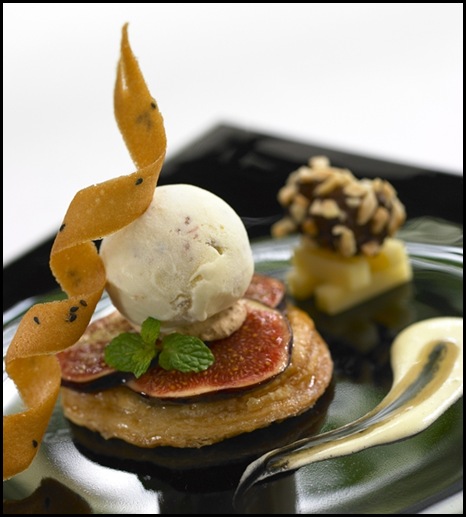 Freshly baked fig tart, bacon pear ice cream, almond date, brie cheese, sour cream sabayon, wild mountain honey @ $16++ — If you need to bite into your desserts, this would be a more substantial dish to order. I loved the sticky yet flaky fig tart! It was really delicious.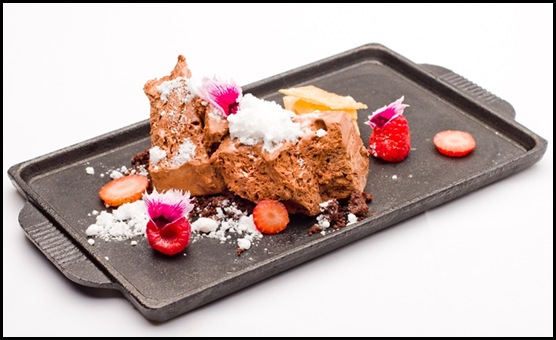 Solid chocolate air & white truffle snow with savoury egg custard filo stack and fresh red berries @ $16++ – When they call it chocolate air, they aren't kidding! If the strawberry cake from dessert 1 wasn't airy enough, this is even airier. Flatten it on the roof of your mouth with your tongue and it's gone, leaving behind a rich chocolaty flavour.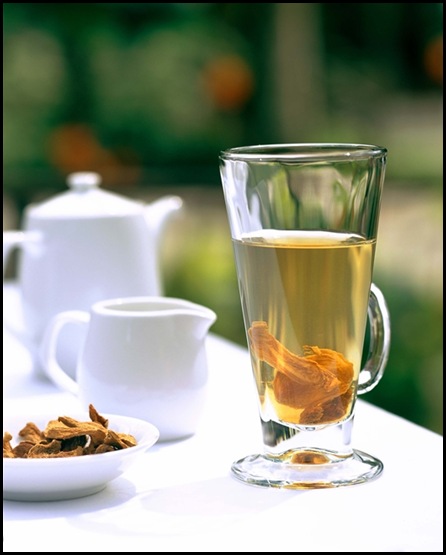 And finally, (as if you still have space) Hot Halia Infusion – House specialty of sun-dried ginger & wild mountain honey @ $10++ Calms the nerves, leaves you with a warm glow and lets you forget about all the rich food you've just consumed.
*Thanks Karen for hosting the wonderful dinner at Halia! It was truly a memorable evening for me.*
The Halia Restaurant
1 Cluny Road, Ginger Garden (Enter via Tyersall Avenue)
Singapore Botanic Gardens, Singapore 259569
Tel: +65 8444-1148 (Reservations not accepted for brunch and tea)
Meal Service Hours
WEEKDAY
Lunch 12 noon to 3pm
Light Meal 3pm to 4pm
Dinner 6.30 pm to 10pm (last seating)
WEEKEND & PUBLIC HOLIDAY
A la carte Brunch (walk-in only) 10am to 4pm
Premium Tea Service (walk-in only) 3pm to 5pm
Dinner 6.30 pm to 10pm (last seating)