I love going to Goodwood Park Hotel. It exudes a nostalgia of bygone eras and was also one of the hotels I was seriously considering as a venue for my wedding. So it was without hesitation that I accepted the invitation to check out the newly renovated Shima Restaurant. In case this sounds familiar, yes Shima Restaurant has been around since 1980! It is in fact Singapore's first fine-dining Teppanyaki restaurant.
The restaurant was previously opened by Katsuhiro Watanabe, a former Singapore resident who has since retired and back in Japan. Last year, JR Foods bought over Shima Restaurant, hence the facelift, which now sees Shima Restaurant downsizing from a double storey restaurant to a single storey one. To be frank, I didn't know about the existence of Shima Restaurant until the invite. Apparently my parents have dined at Shima once more than 10 years ago, and spent a bomb there! Come to think of it, Goodwood Park has TWO Japanese restaurants, the other one being Tatsuya.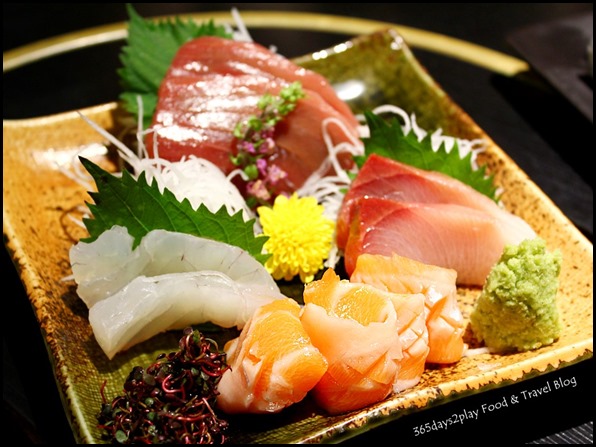 4 Kinds of Sashimi Moriawase (Maguro, Tai, Yellowtail and Salmon) $45
We were there to check out the Sukiyaki set, although we did get a chance to sample the sashimi and teppanyaki as well. First up, the sashimi moriawase set, that had all the bloggers oohing and ahhhing at the voluptuous slices of raw fish. You can really taste the freshness in the fish, in addition to the more pronounced and slightly sweeter flavours. Those salmon sashimi slices were hands down, my favourite item of the evening. If only I didn't have to share this with 2 other bloggers!