I love going to Goodwood Park Hotel. It exudes a nostalgia of bygone eras and was also one of the hotels I was seriously considering as a venue for my wedding. So it was without hesitation that I accepted the invitation to check out the newly renovated Shima Restaurant. In case this sounds familiar, yes Shima Restaurant has been around since 1980! It is in fact Singapore's first fine-dining Teppanyaki restaurant.
The restaurant was previously opened by Katsuhiro Watanabe, a former Singapore resident who has since retired and back in Japan. Last year, JR Foods bought over Shima Restaurant, hence the facelift, which now sees Shima Restaurant downsizing from a double storey restaurant to a single storey one. To be frank, I didn't know about the existence of Shima Restaurant until the invite. Apparently my parents have dined at Shima once more than 10 years ago, and spent a bomb there! Come to think of it, Goodwood Park has TWO Japanese restaurants, the other one being Tatsuya.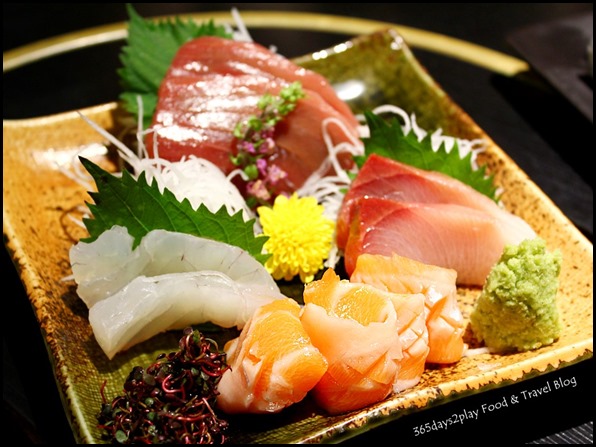 4 Kinds of Sashimi Moriawase (Maguro, Tai, Yellowtail and Salmon) $45
We were there to check out the Sukiyaki set, although we did get a chance to sample the sashimi and teppanyaki as well. First up, the sashimi moriawase set, that had all the bloggers oohing and ahhhing at the voluptuous slices of raw fish. You can really taste the freshness in the fish, in addition to the more pronounced and slightly sweeter flavours. Those salmon sashimi slices were hands down, my favourite item of the evening. If only I didn't have to share this with 2 other bloggers!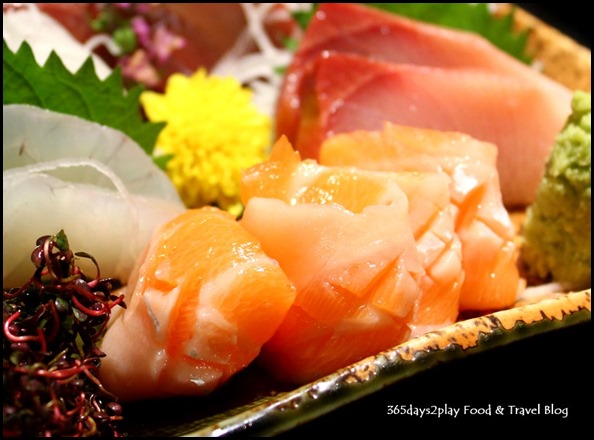 Let's have another look at those mouth-watering slices of salmon slices shall we?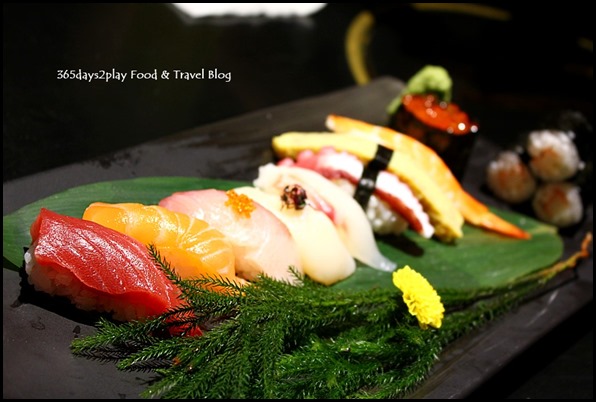 10 Kinds of Sushi Moriawase $75
Of the 10 different sushi that were featured here, I only managed to get my hands on one of the rolls. Although it just looked like a simple plan roll of rice enveloping a crabstick, I was amazed that how sweet and delicious the roll. This is what you get when you couple fresh ingredients and a skilled chef, simplicity at its best.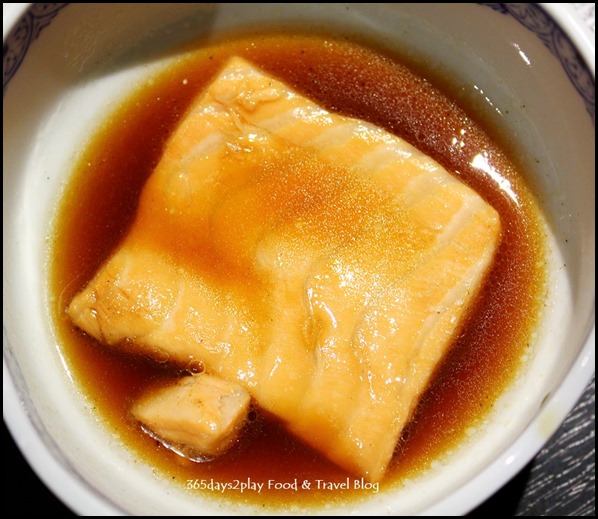 We also got to sample the teppanyaki salmon belly, which strikes me more as a poached salmon belly in soya sauce, although a very tender and melt in the mouth piece.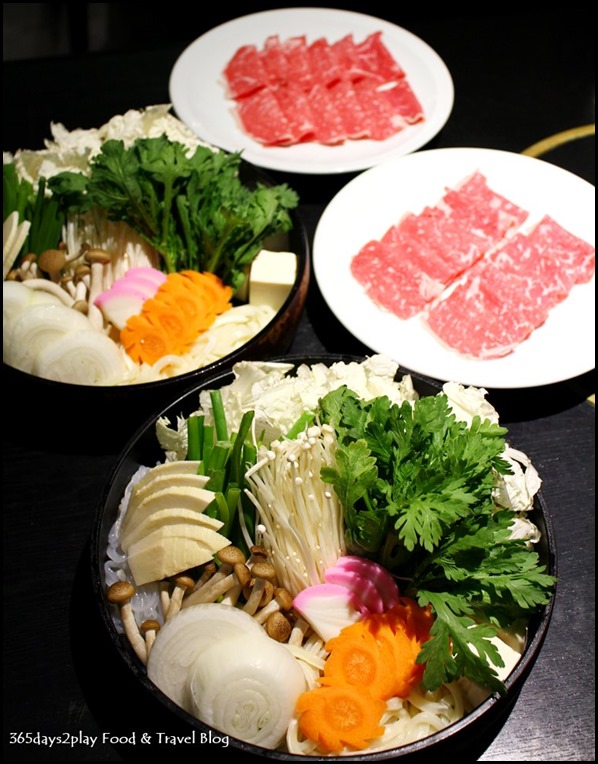 After the appetisers, we dived straight into the Sukiyaki set. Costing $80 if you opt for the US Ribeye, it comes with this huge tray of vegetables and bean curd. You also get one plate of the ribeye slices. Additional plates of beef cost $60 each. Or you could go for the more luxurious Australian Wagyu set at $110 or piece de la resistance, the Japanese Wagyu set at $170.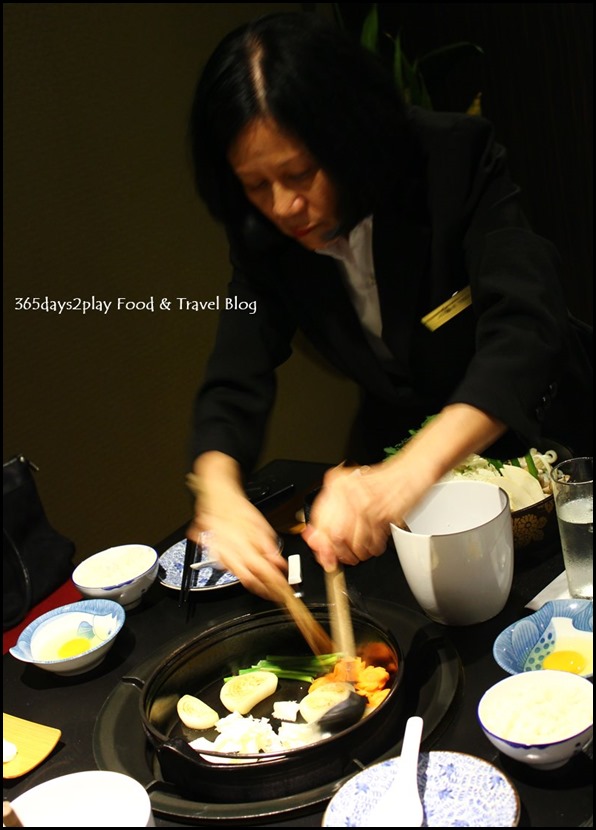 With that kind of pricing, you don't have to lift a finger to cook your meal. The experienced staff will come by to do the cooking for you while you partake in the performance or continue your genteel conversation. There is a specific method to everything, and that includes which vegetables to go into the hot pot first.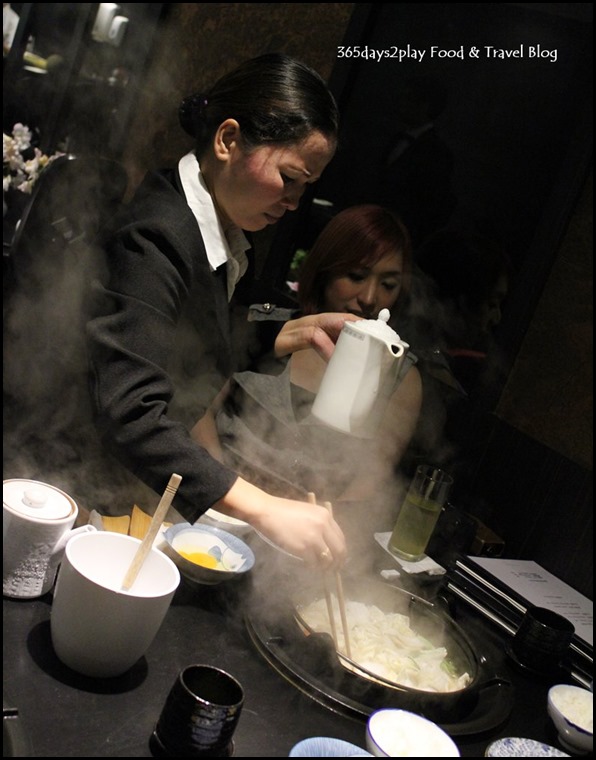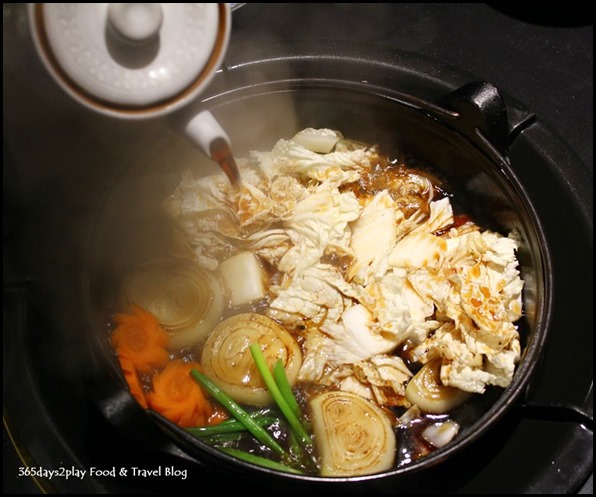 The Sukiyaki sauce that you see being poured into the pot features Shima Restaurant's very own secret Teriyaki sauce following a time-honoured recipe. All we know is that Dutch onions and other secret ingredients are thrown in and slow-boiled to a rich, sweet and flavoursome sauce. The waitstaff are able to customise the richness of the sauce at the table, depending on your preference. I found myself favouring a lighter and less sweet, broth-like consistency, whereas some of my other companions preferred the the sauce to be sweeter and thicker, like a sauce or gravy.
I must say the broth was indeed extremely flavourful and palatable. I had no qualms fishing out vegetable after vegetable and just pairing those with rice, almost forgetting that there was beef to plough through as well.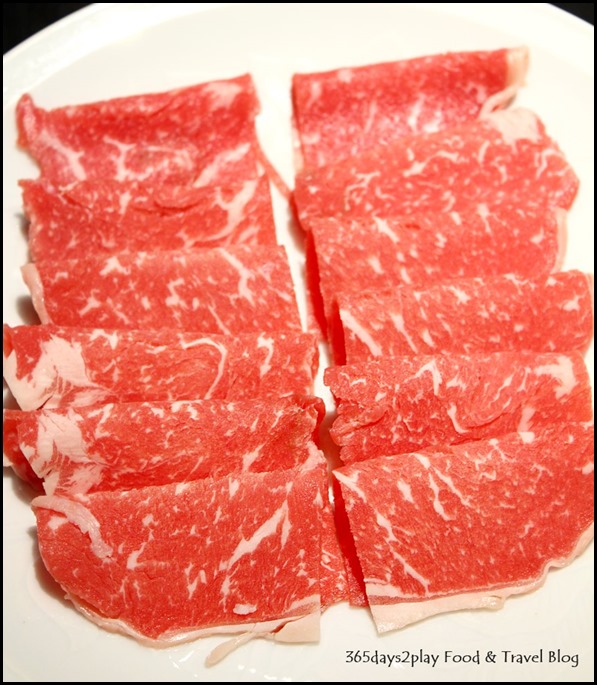 This is US Prime Ribeye here, and every ala- carte plate costs $60! The ribeye was sliced very thinly, such that a few swishes in the boiling broth and it is ready to be eaten.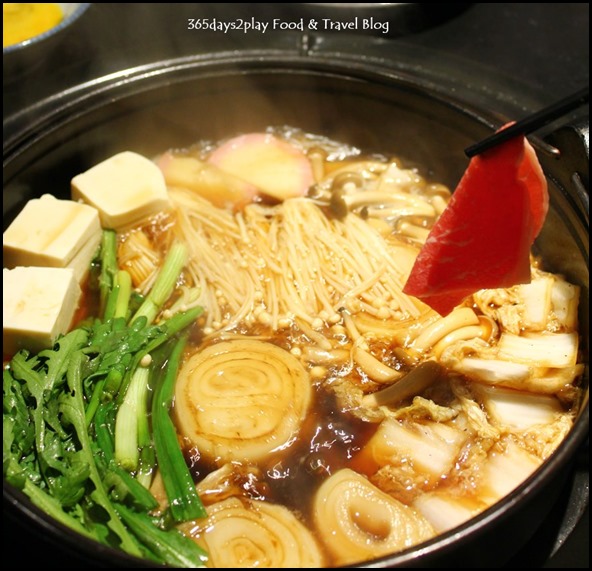 Like so
Although I found it a little pricey at $60 per plate, I was told that their regulars simply can't get enough of the beef and are able to whack a few plates in one sitting!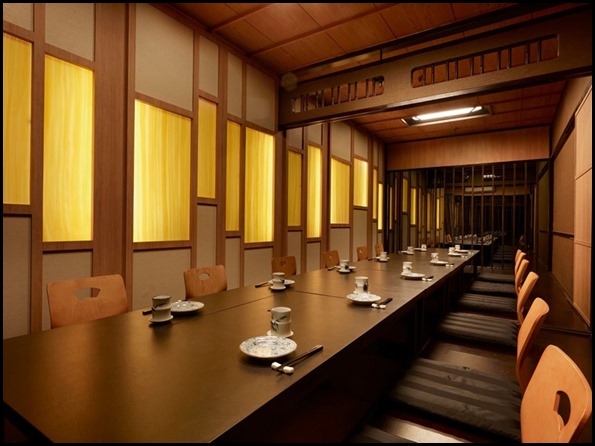 Although I feel the interior of the restaurant still looks a little dated and nothing to shout about even after their renovations, the private room does look inviting and traditional. There are 2 private rooms available for booking and each room seats 10.
---
Add me on Facebook, Instagram and Twitter if you want to be kept up to date with the latest happenings in the food and lifestyle scene in Singapore!
Other Goodwood Park restaurants
---
Shima Restaurant at Goodwood Park Hotel
Level 1, Goodwood Park Hotel
22 Scotts Road
Singapore 228221
Mon – Sun: 12:00 pm – 3:00 pm, 6:00 pm – 10:00 pm
Phone : 6734 6281